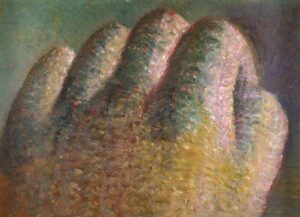 In the second part of her lyrical essay exploring creativity, Michelle Payette-Daoust writes about 'otherness' and 'opening the door to suffering', using as illustrations, blogs published over the last three years on this site. As in the first part, Michelle also looks at my creative role as link-man and commissioning editor.
Michelle writes:
When I accepted an invitation to write about his blog, I knew that the challenge would be to circumscribe it without diminishing it. Having only discovered the blog in late 2016, I had lots of catching up to do.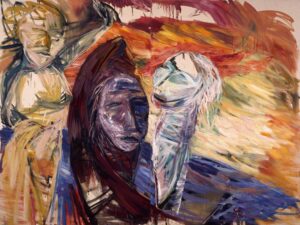 Reading through the blog's archives in a short time helped me to distinguish its landscape. It's a blog with no name. What started out as a memoir—its author refers to it as "an autobiography in […] bite-sized chunks"— became social when the interviews started, featuring a diverse list of guests invited to go deep into their creativity and to share their journey.
Leslie describes this opening up of his blog as an extension of his mixed-arts shows: "[…] where I try to get local writers, artists and musicians to briefly introduce their work in ways that help the audience to understand what they're doing—then they perform", presenting "imaginative recreation [s] of their own worlds".
What a visitor to the blog soon appreciates is the candour of the guests' responses. Perhaps this is to be expected when creative people share their life stories, but I feel sure that some of it, at least, is attributable to the sensitivity of the questions, and to the fact that their interviewer has travelled a parallel road.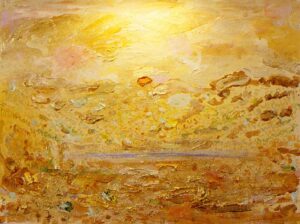 In fact, the signposts guiding visitors through the blog are provided by Leslie's intermingled accounts of his personal journey, from his childhood and adolescence lived in the liminal spaces where he was able to survive, to maturity and a creative, connected life. By their titles alone: The Past Is Another Country, It's the Journey that Counts, My Secret Life, My Imaginary Autobiography, and the five-part My Outing series, the posts make clear to the reader that a profound sense of otherness permeates the author's life experience and his writing.
It's a theme that runs through the conversations with many interviewees. Singer-songwiter Daria Kulesh refers to a feeling of being "a bit different" and having "an affinity for others who don't quite fit in." Deafness awareness and British Sign Language teacher Jill Hipson and deaf writer and artist Melissa Mostyn describe, in turn, moments of "feeling acutely alone and isolated in the hearing world", and of understanding and readily accepting being different from a very early age.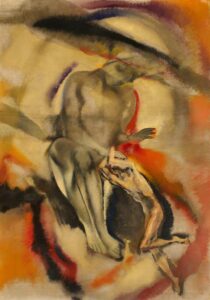 Poet Caroline Hagood happily expresses her otherness in her poetry and embraces her eccentricity, saying: "Writing is my place to get really, really weird, to let it all hang out."
Novelist Robin Gregory lives her otherness every day as the adoptive mother of a special needs child, though the roots of her feelings of not belonging reach down into a traumatic childhood which, she says, was her "[…] first wilderness experience.". Such a sad and evocative expression.
In his role as shaper and co-presenter, Leslie has been fearless in his willingness to open the door to the suffering that is so often the companion of difference, loneliness, alienation and memory.
'The past remains inside of us, in tight fists of feeling. […] What we choose to remember and how we shape it is who we are." – Leslie, The Past Is Another Country
His writing returns again and again to his formative years, retrieving memories that are mostly painful and chronicling his family's move away from London to Sheffield, then Northumberland—to ever harsher environments for a solitary child carrying the heavy burden of a secret life, a "funny habit".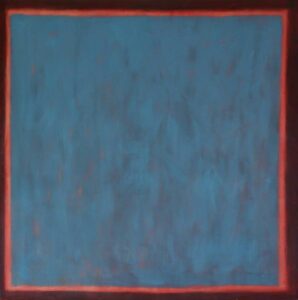 Like their interviewer, many contributors to the blog reveal the painful life experiences that might have derailed them had they not fueled the fire of their creativity. Their testimony is deeply moving.
In Can Art Heal Life?, visual artist Catherina Petit-van Hoey evokes her earlier struggles with depression, alcoholism and the recent personal tragedy of losing a young adult daughter, explaining how meditation and artistic creation offered her the possibility to "alchemise" her personal grief "into a piece of work which also represents the age-old search for eternal life beyond death and suffering".
Life spares no one as it metes out hardship. In her interview, Melissa Mostyn describes a series of decimating blows to her life: depression, grief, domestic abuse and the traumatic birth of her daughter Isobel, later diagnosed with cerebral palsy; events that might well have crushed her writing and her creative efforts. Instead, they unleashed "a richer creativity"—a bearing of her soul—culminating in the production of a documentary film and the publication of a memoir.
In Robin Gregory's life, it was the adoption of Julien, a baby boy with special needs, that spurred the personal growth that lead to the publishing of her award-winning debut novel.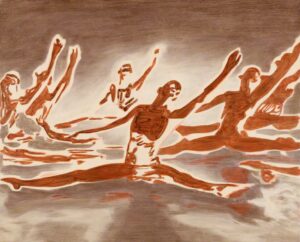 "I was literally kidnapped by the story. I couldn't turn it off. Characters, dialogue, plots came pouring out, day and night. Every day, life with Julien was presenting me with new spiritual lessons to practice, with forgotten memories and new scenarios, that needed to be included in the story. I was living it as I wrote it."
After being diagnosed with two debilitating medical conditions, Raine Geoghegan, a former actress, dancer, theatre director and choreographer, turned to teaching and writing. In her life,
"Illness opened a door. It provided me with quiet, solitude and the space to focus on writing poetry, to go deeper into what it was that I needed to express. […] Writing, particularly poetry, feeds and sustains me. "
 As their lives expand and contract like breaths, Leslie's guests have chosen to travel inward in an effort to mine their pain, drawing creative energy from it and transforming it into works of self-expression, healing, beauty and power.
"Creativity can turn awful experiences into art, it teaches us to listen more deeply to ourselves and also to 'tune into' others." –  Daria Kulesh
POSTSCRIPT: THE CREATIVE PROCESS OF WRITING THIS BLOG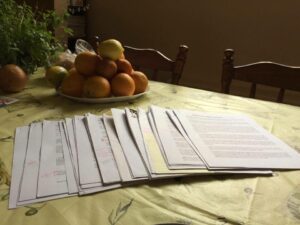 Leslie: I know it took you months to write your three pieces about my blog. Any observations on the quirks of redrafting and putting it all together? What was your writing process, including daily mental and physical habits?
Michelle: This assignment presented several challenges—including a months-long period of preparation—and often felt more journalistic or academic than creative.
I was in a strange predicament, considering that I'd been given a free hand to write about creative people reflecting upon their creativity. It was all wonderfully self-referential—and daunting.
Moving forward was a matter of defining my intentions; of determining how my subjectivity would factor into each essay. In spite of my academic training as a historian, I see myself as an emotional writer, and believe that my writing works best and reaches my reader more truthfully when I'm able to draw from the emotional climate of my life at any given moment to help me make sense of my thoughts and concerns—which seems like a huge contradiction given that I've been told many times that I'm too analytical (my osteopath constantly scolds me for being too much "up inside my head"!).
This is the dance that the writer in me does. There is a voice, a narrator whirring away virtually non-stop in my mind, waiting, it seems, for a moment of emotional clarity to set some of its chatter down on paper. When circumstances prevent me from stopping and doing this—which of course happens a lot—I experience what I would describe as the discomfort of an internal pressure and sometimes even pain. I'm learning to live more easily with these postponements by making serial appointments with my laptop, and have got better and better at keeping them as writing has moved ever closer to the centre of my life.
Pulling everything together to write these essays was painstaking. Holding onto so many threads at the same time in order to weave them together required me to immerse myself in the blog material for more extended periods of time.
There are people who can write in cafés or in front of the television, but I'm not one of them. I need solitude. A place where there's just me, head and heart.
MICHELLE PAYETTE-DAOUST writes two blogs for her library—one in French and one in English—and a third personal blog where she shares what she's learned from her students, children and  life.
You can read, WHERE THE WORLD EXPANDS, part one of this essay about creativity here.
Next week in part three, EACH OF US IS A WORLD,  Michelle writes about the personal  stories we tell, using blogs from this site to illustrate her ideas.
ABOUT LESLIE TATE'S BOOKS:
Love's Register tells the story of romantic love and climate change over four UK generations. Beginning with 'climate children' Joe, Mia and Cass and ending with Hereiti's night sea journey across Oceania, the book's voices take us through family conflicts in the 1920s, the pressures of the 'free-love 60s', open relationships in the feminist 80s/90s and a contemporary late-life love affair. Love's Register is a family saga and a modern psychological novel that explores the way we live now.
Heaven's Rage is a memoir that explores addiction, cross-dressing, bullying and the hidden sides of families, discovering at their core the transformative power of words to rewire the brain and reconnect with life. "A Robin Red breast in a Cage / Puts all Heaven in a Rage" – William Blake. You can read more about/buy Heaven's Rage here.
The Dream Speaks Back, written by Sue Hampton, Cy Henty and Leslie Tate, is a joint autobiography exploring imagination and the adult search for the inner child. The book looks at gender difference, growing up in unusual families and mental health issues. It's also a very funny portrait of working in the arts, full of crazy characters, their ups and downs, and their stories. You can buy a signed copy of The Dream Speaks Back here.