An account, written on Easter Sunday, 2019, of my arrest in London during the climate change protest :
'It's 8.30am and I've just got home after being arrested yesterday on Waterloo Bridge at about 4.00pm – yes, I was part of the Extinction Rebellion London occupation…
I've been reluctant to be arrested up to now because I've been organising some spoken words slots on our stage, but when Sue Hampton, my wife, got arrested on Thursday I found out about the process, which made it a lot less scary. My arrest began when the police came towards us in lined-up squads then suddenly cut through the crowds, aiming for the covered truck that we use as a stage with all its speakers, amplifiers, mikes etc. People dashed back from their sitting positions at the front (where we offer ourselves for arrest).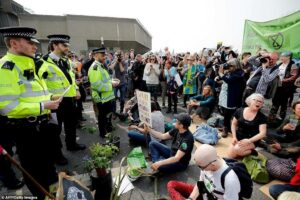 I was one of the last to dive in through the police cordon surrounding the vehicle – then waited for at least half an hour, singing songs and chatting (and trying to keep out of the blazing sun) until the specialist equipment squad arrived with their bags to unstick the people superglued to the underside of the truck and cut the tubes between people who'd locked-on. When the police had got them free they then spread outwards from the truck, creating a space where they could come up and caution us to leave or we'd be arrested on two counts – obstructing a highway and non-compliance with a 'section 14' condition the police have put on Waterloo Bridge. I told my cautioning officer about climate change and my reasons for civil disobedience before saying I wouldn't walk away. She repeated what I was being arrested for and took me, with another police officer, down to a waiting transport van. I walked. Others lay of the ground or went floppy and had to be carried by several officers. One by one they picked us off and took us down to dozens of arresting vehicles. It was a massive operation and continued, after I'd been taken to the police station, for at least twelve hours. When I'd got into the van we then waited while it was loaded with four 'prisoners' as we were called and four accompanying officers. Then there was a much longer wait while they discussed on radio which police station might have space for us. The cells were all crowded, of course, with Extinction Rebellion 'prisoners'. Nearly all the officers were extremely respectful, pleasant, chatty and open to information about climate (though they do their duty, as they see it, and don't question orders). In the van one officer was a complete eccentric and debated social/political ideas in a surprising (and sometimes quite offensive) way. But he was an oddball in the group of police I met. One thing that came out was that none of the officers were Tories. When our van was finally assigned to Walworth Road Police station, we drove there within minutes, went in through the back gates, but then waited for hours before going in to have our details taken and then be locked up. This included fingerprints, DNA swabs and photographs. I talked to all the officers, and the one who booked me in turned out to be a lesbian who was soon getting married; the one who took my fingerprints was strongly on our side.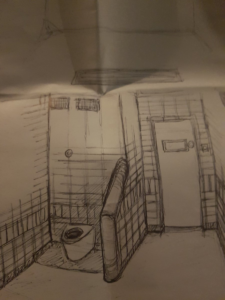 The cell they took me to was bare except for a lidless steel toilet and a bench with a thin mattress-cum-cushion + pillow. I waited in there overnight, getting very little sleep thanks to the passers-by who I couldn't see but heard clearly behind the heavy iron door. I'd had very little sleep on the bridge since Monday and at one point I had a rush of floaters across my eyes in a waterfall effect. The officers were attentive, opening the view-hole to ask if I was OK, bringing me some pretty poor pre-packaged veggie food (which the station officer in charge apologise for) and pushing blankets through to me. The isolating effect dulls your senses and slows your mind to a crawl. My main thoughts were about Sue and how I'd get home afterwards. The officer in charge, as well as commenting on the food, gave me a clear picture of what would happen next and discussed how I would get home afterwards. He was obviously a caring man. But even with the blankets I was cold, tired and uncomfortable. Finally, after several hours, I was called to interview with the Extinction-Rebellion-recommended solicitor present. We discussed a statement in private beforehand, and then I was recorded answering an officer's questions (following my solicitor's advice to say 'no comment'). I was returned to my cell briefly, then booked out and reunited with Extinction Rebellion support workers waiting to see me in the police station lobby.
The journey back to Berkhamsted was difficult at 3.30am on a Easter Sunday, partly because Euston is closed for four days and partly because the tube doesn't run till later, so I visited Waterloo Bridge briefly to discover that the police had only just left, towing our vehicle-as-stage away after spending hours getting the brave souls on top of the vehicle down (sawing through the chains they'd used to attach themselves to the vehicle) and spending a further two hours repairing the lorry when the axle broke. They've left a hole in our vibrant Waterloo space but the protestors are still there in numbers, catching a few short hours of sleep before we begin serving food, playing instruments, running workshops, meeting and chatting with people from everywhere and sharing lots of hugs. Waterloo will renew. I'm home now and happy. Climate justice now!'
Sue Hampton writes:                                                                   'Leslie and I spent six days with Extinction Rebellion on Waterloo Bridge, where he was MC for the Spoken Word on the stage that was a lorry, and where we were both arrested for obstruction of the highway and breach of Section 14 because all sites except Marble Arch were 'out of bounds'. It was a profoundly inspiring experience, living differently with Green values and with love and respect for each other, the earth and the police binding us together and with the non-violent ethos of Extinction Rebellion holding under what was sometimes intense pressure as vans arrived and officers advanced on the 'heart line' of arrestables (people at the front who were willing to get a criminal record). I visited Oxford Circus when numbers were needed and found it a more crowded but equally supportive space with a different energy. Once only Marble Arch remained, we spent a day there, and I heard a powerful speech from Caroline Lucas before heading over to take part in a die-in under the blue whale at the Natural History Museum with Extinction Rebellion families. As I write, no one knows what's next, but the rebellion will not be over until Extinction Rebellion's demands are met.'
ABOUT LESLIE TATE'S BOOKS:
Love's Register tells the story of romantic love and climate change over four UK generations. Beginning with 'climate children' Joe, Mia and Cass and ending with Hereiti's night sea journey across Oceania, the book's voices take us through family conflicts in the 1920s, the pressures of the 'free-love 60s', open relationships in the feminist 80s/90s and a contemporary late-life love affair. Love's Register is a family saga and a modern psychological novel that explores the way we live now.
Heaven's Rage is a memoir that explores addiction, cross-dressing, bullying and the hidden sides of families, discovering at their core the transformative power of words to rewire the brain and reconnect with life. "A Robin Red breast in a Cage / Puts all Heaven in a Rage" – William Blake. You can read more about/buy Heaven's Rage here.
The Dream Speaks Back, written by Sue Hampton, Cy Henty and Leslie Tate, is a joint autobiography exploring imagination and the adult search for the inner child. The book looks at gender difference, growing up in unusual families and mental health issues. It's also a very funny portrait of working in the arts, full of crazy characters, their ups and downs, and their stories. You can buy a signed copy of The Dream Speaks Back here.