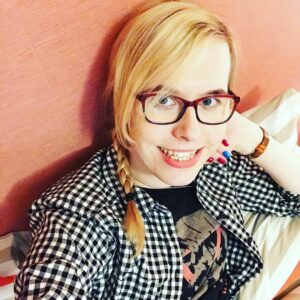 Author Niamh Calderwood talks about acting, writing, transitioning in Sunderland and finding herself in a deep and loving relationship. As part of her journey, Niamh talks about joining Extinction Rebellion and living with an awareness of climate breakdown.
Leslie: You're a multi-disciplinary creative person with an emphasis on crafting words. Can you describe your passions, your projects and what inspires your creative work, please.
Niamh: When I first began my creative journey it was all about escapism. I was a troubled kid, and having the opportunity to disappear into another person's life through acting (mostly on stage, but a little bit on screen too) was a necessity in my formative years. I wouldn't have survived high school (John Spence Community High in Tynemouth) or my first few years of college in Newcastle if I hadn't been able to pretend to be someone else.
Battling with my inner demons was exhausting, so I didn't want to move to London and 'chase the dream' which is why I stayed up North and pretty much lived in the Performance Academy in Newcastle College for five years. By the time I graduated with my budget drama school degree I had developed an unhealthy relationship with alcohol and found myself less motivated to put myself out there as a performer, turning instead to many dark nights of writing terrible literary fiction, drinking too much bourbon, and almost dying under the weight of clinical depression and gender dysphoria.
But, I have found you can only go on that way for a limited amount of time before something snaps and you either throw in the towel all together or you start dealing with your issues. When I was 22 I was riding my motorcycle and suddenly found myself underneath an articulated lorry. It was a shock to the system, and I decided there and then that I had to live life for myself, because this life is finite and one day a truck might knock you off your bike. A week later I came out to my family as trans and began the arduous process of transitioning socially and medically from male to female.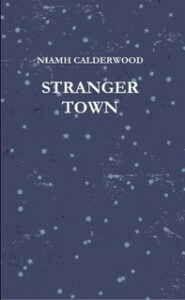 I kept my head down during the early stages of transition, became somewhat reclusive, and kept myself occupied with creative writing. I wrote my first novel, Stranger Town, whilst in these early days, and it was a cathartic experience that helped me in so many ways. Writing saved me many times. When I was too unstable, financially and mentally, to compete with other performers in the creative industries, I could always turn to writing as an outlet. Fiction is an unlimited art form.
I've started so many writing projects, and I've finished a few too. I'm currently working on a surreal comic fantasy novel. I'd like to think it's what Tolkien would have written if Tolkien were a cynical 27-year-old transgender woman living in 2019. It is the classic hero's journey story we all know and love, but riddled with thinly veiled seething socio-economic-political commentary, and surreal humour. Game of Thrones meets The Mighty Boosh with a dash of- help me, oh please someone help me, this is a cry for attention, I can't take it anymore…
Leslie: Where does queerness fit into your life? What are the dangers and rewards of being LGBTQIA in Sunderland?
Niamh: At different stages of my life I've identified with almost every letter of the LGBTQIA+ spectrum. Sometimes it's easier to just say I'm queer, because it is such an all-encompassing powerful descriptor, and I feel like it gets the point across. But really, I'm a lesbian. I've been with men in the past, and if you were to look at my relationship history you would be forgiven for thinking I was in fact very bisexual, but ultimately, after much deliberating and experimentation, I have found that femininity wins out for me, and above being queer or transgender, I view myself as a gay woman. It is a liberating gift to finally arrive at a label that fits me so comfortably, after trying on many hats and battling with my sense of self all my life.
It's incredibly rewarding to walk down the street where I live, knowing I have fought and won to be myself, and nobody can take my sense of self away from me, no matter how hard they try. I've faced adversity in many forms: I've been threatened, I've had people shout the T word at me from moving vehicles, and I've had complete strangers make very personal inquiries regarding my genitalia. But all in all, I feel safe enough for now. I'm sure I wouldn't feel quite so comfortable if I were not a white Northerner who knows how to talk herself out of a sticky situation…
https://youtu.be/Ssa4NE9QK-U
Leslie: In the past, Sunderland elected National Front councillors. Can you describe the physical and human city for people not familiar with the N.E. How has it changed and how has it stayed much the same over time?
Niamh: I've moved around the North East a bit, and have settled for now by the sea in Sunderland, where my soon-to-be wife was born and bred. My mother also lived in Sunderland as a child, but her memories are hazy. Sunderland is a post-industrial city. It thrived during the industrial revolution, and was then hollowed out by the decline of industry in the UK. The service industry hasn't filled the gap left by the manufacturing industry.
This seemingly led to more people leaning- albeit misguidedly- towards anti-immigration policy in the hope it would bring about some kind of renaissance for the former industrial glory of Northern England. I like to think Sunderland is now becoming a progressive and multi-cultural city with lots to offer people from all walks of life.
Leslie: Can you describe, please, your Extinction Rebellion activities in the N.E. – the people, the behaviour, the feelings.
Niamh: We first got involved with Extinction Rebellion after attending a meeting where Roger Hallam talked. He confirmed everything we'd been worrying about for a long time. It's heart stopping, it's terrifying, and it's all backed by hard science. We are in a climate emergency. We wanted to get involved in a big way, so we got involved with some friends setting up a local group- XR Wearside- that could collaborate with the already established XR Sunderland, looping in Whitburn, Washington, Seaham and all, and focus on taking direct action against the climate emergency.
Currently, we're trying to coax the local councillor, a young Conservative politician, into putting solid plans into action regarding the Climate Emergency, which Sunderland City Council declared months ago. So far there have been no signs of the promised draft of the new carbon emissions plan, and we want to see what they're going to do. We're hopeful that out efforts will yield results, and we have a group action plan that will be realised over the next few months.
At the moment we have around 40 people in our group, but there are a handful of core members who are ready and willing to take action. We're fighting for the survival of the human race, so there is a lot at stake, and I count myself amongst the members of the rebellion as one who will make personal sacrifices if it means we have even the slightest chance of slowing down the damage we're inflicting on our planet.
Leslie:How do you live with a deeply felt understanding of climate change?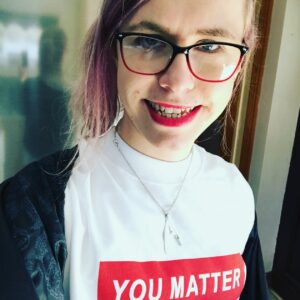 Niamh: Honestly, I struggle with it. I cry a lot, I get angry and upset. I'm frustrated and I'm raging. I want to be constantly fighting for our future, but capitalist society couldn't care less and I have to go to work and be a cog in the machine and make money so I can spend money on rent and food and consumerist goods to fill the void in my soul generated by the aforementioned capitalist society. Having a dark sense of humour certainly helps me through my deeply felt understanding of the bleakness of our situation. Sometimes it does all seem too much though, like no matter how hard we try or what we do, nothing will change, and we'll just get swept up in the societal march off the edge of a cliff, but I haven't given up yet. This lass has still got some fight in her.
Leslie:What is beautiful or connected about the life you're living right now?
Niamh: I could talk about living by the sea, or the harmony I have finally found between my identity and my physical form, but my soon-to-bewife is beautiful above all else, inside and out, and the connection between us is the thing I care about the most. I've never felt more connected to another human being than I do with her. From the moment we met she has been a positive influence on me.
With her support I have learned so much about myself and discovered a previously unknown level of self-awareness and acceptance. She is my best friend, and this is a heavy note to end on, but if it weren't for her I genuinely don't think I'd be here today.
Thank you for interviewing me Leslie.
Next week author Anna Orridge talks about the psychological impact of writing cli-fi and her own personal creative methods.
ABOUT LESLIE TATE'S BOOKS:
Love's Register tells the story of romantic love and climate change over four UK generations. Beginning with 'climate children' Joe, Mia and Cass and ending with Hereiti's night sea journey across Oceania, the book's voices take us through family conflicts in the 1920s, the pressures of the 'free-love 60s', open relationships in the feminist 80s/90s and a contemporary late-life love affair. Love's Register is a family saga and a modern psychological novel that explores the way we live now.
Heaven's Rage is a memoir that explores addiction, cross-dressing, bullying and the hidden sides of families, discovering at their core the transformative power of words to rewire the brain and reconnect with life. "A Robin Red breast in a Cage / Puts all Heaven in a Rage" – William Blake. You can read more about/buy Heaven's Rage here.
The Dream Speaks Back, written by Sue Hampton, Cy Henty and Leslie Tate, is a joint autobiography exploring imagination and the adult search for the inner child. The book looks at gender difference, growing up in unusual families and mental health issues. It's also a very funny portrait of working in the arts, full of crazy characters, their ups and downs, and their stories. You can buy a signed copy of The Dream Speaks Back here