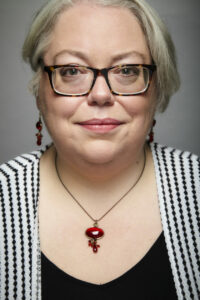 I interviewed Lisa Holdsworth  scriptwriter for TV episodes of New Tricks, Robin Hood, Emmerdale, Waterloo Road  and more recently, Midsomer Murders, including the fans' favourite 'Death by Cheese' episode. Lisa is chair of the Writers' Guild of Great Britain (WGGB) and  has been shortlisted for a BAFTA award for her television writing. She talks about how she became a scriptwriter and what it's like for writers in British TV today.
Leslie: From childhood onwards, what directed you towards TV script writing?
Lisa: I was a voracious reader as a child and I loved TV. I was initially interested in being a performer and went to drama classes. It was all just elaborate ways of story-telling which I eventually realised was what I loved to do.
Leslie: How did you get into the industry and what were the challenges you faced once you'd got started?
Lisa: I did a degree in London and then came back to Leeds. I wrote dozens of letters asking for work experience and eventually got a 2 month placement at Yorkshire TV but in factual TV. I wasn't sure how I was going to make the leap to drama but I knew it was better to be in a TV job than outside. I ended up working for a factual TV production company and got to know Kay Mellor's son-in-law. I asked him to pass a script I had written to her and she gave me some career advice. A little later, she offered me a job as her PA – still not quite the writing job I wanted. However, whilst I was there, I pitched an idea for an episode of Fat Friends and that became my first script commission. Even then I had to go back to secretarial work until the episode was broadcast and I was able to start looking for other writing work.
Leslie: For you, what have been the most important TV scripts you've worked on – why them?
Lisa: The thing about TV writing, all the scripts feel important when you are writing. It is a very consuming profession and you need to keep your enthusiasm levels at a high! However, my episode of Fat Friends was about the long term effects of bullying and I felt it said something important.
Leslie: What are you most proud of in your TV writing career, and why?
Lisa: Keeping going! It is really not easy to sustain a career in this industry and many great writers have fallen by the wayside due to lack of support and financial constraints. I've been doing this for 20 years and I'm pretty proud of that.

Leslie: What were the 'unwritten rules' you were expected to follow on various series? How have you changed and adapted your writing over time?
Lisa: It's always changing. The thing I would say to writers is take all the 'expert' advice with a pinch of salt, Our industry is constantly developing and twisting. For example, the idea that you could have a character look into camera and give you her inner monologue was very much out of fashion until Fleabag – and then it was everywhere! And now it feels pretty passé. You should do whatever works for your story and characters.
Leslie: How do you try to improve the diversity of your scripts?
Lisa: Don't assume that white/male/straight/able-bodied is the default for your characters. So often, I see character descriptions that do not mention the race, physicality or sexuality of a character UNLESS they are black, gay or disabled – and usually because their race etc has some bearing on the story. Look at your characters and ask yourself what the casting director will assume from the way they are written and then be clear about what you want to see on screen/stage.
Leslie: What is a 'shadow script' in TV and why is it a bad development in the industry?
Lisa: A shadow script is usually written by writers hoping to get on a soap or continuing drama. They are asked to write an episode that an existing writer has already been commissioned to write to see if they can produce a script of similar quality in the same time frame. The shadow writer is often expected to take edits and produce multiple drafts for a fraction of a script fee and often for free. It can be incredibly time-consuming for a writer and without remuneration can be an expensive exercise in futility. Especially if there is no job at the end of it. That means it rules out writers without an independent income which has devastating effect on diversity. The WGGB has successfully campaigned for them to be stopped.
Leslie: As an active member of the Writers' Guild GB what are the bad practices you see most often in the TV writing world?
Lisa: Asking writers to do too much work for free. Development execs (who are salaried) expect multiple documents for no money. Writing is a profession not a hobby! If you are demanding time and effort then it must be rewarded with fair pay. There is also a complete lack of respect for writers' home lives with late notes, multiple drafts, ridiculous story changes and unreasonably tight deadlines eating up writers' evenings and weekends. This is particularly impactful on female writers who may have caring responsibilities. And there is still a huge amount of cronyism and nepotism in our industry – we are nowhere near being a meritocracy or inclusive.
Leslie: As a counter-balance, what have been your good experiences as a TV writer?

Lisa: There are some genuine good eggs out there. And I've been on some shows where I have had an absolute ball, been listened to and left feeling very valued. I had a great time on Call The Midwife with a predominantly female production team that was caring, thoughtful and inclusive. All Creatures Great and Small was brilliant fun. I loved writing on Robin Hood and was flown out to Budapest to watch my episode filming. And my time at Emmerdale was very precious because the writing team were such great people to spend time with.
Leslie: In an ideal world, what would you like to see as the content and style of the kind of TV shows you've worked on?
Lisa: I would like to see less dead bodies and more warmth, community and high emotional stakes. I love a good love story and drama that is about things that are small in the great scheme of things but huge to those experiencing them.
Leslie: What have you learned about yourself from working as a TV scriptwriter?
Lisa: I can hit a deadline! I have a good work ethic and can come up with story solutions very quickly. Oh, and there is no such thing as writers' block.
Next week I interview Art Therapist and Counsellor Charlotte Jane Kessler about her therapeutic work in health/drug centres and her art therapy and grief work in women's circles.
ABOUT LESLIE TATE'S BOOKS:
Love's Register tells the story of romantic love and climate change over four UK generations. Beginning with 'climate children' Joe, Mia and Cass and ending with Hereiti's night sea journey across Oceania, the book's voices take us through family conflicts in the 1920s, the pressures of the 'free-love 60s', open relationships in the feminist 80s/90s and a contemporary late-life love affair. Love's Register is a family saga and a modern psychological novel that explores the way we live now.                                                                     A signed copy of Love's Register is available in pounds sterling here. Paperback in other currencies here. (Don't worry if you see 'shipping rate £10.00' in your basket – you'll find it's much less when you pay.) Ebook available here (all currencies). 
Heaven's Rage is a memoir that explores addiction, cross-dressing, bullying and the hidden sides of families, discovering at their core the transformative power of words to rewire the brain and reconnect with life. "A Robin Red breast in a Cage / Puts all Heaven in a Rage" – William Blake. You can read more about/buy Heaven's Rage here.
The Dream Speaks Back, written by Sue Hampton, Cy Henty and Leslie Tate, is a joint autobiography exploring imagination and the adult search for the inner child. The book looks at gender difference, growing up in unusual families and mental health issues. It's also a very funny portrait of working in the arts, full of crazy characters, their ups and downs, and their stories. You can buy a signed copy of The Dream Speaks Back here.
Purple is a coming-of-age novel, a portrait of modern love and a family saga. Set in the North of England, it follows the story of shy ingénue Matthew Lavender living through the wildness of the 60s and his grandmother Mary, born into a traditional working-class family. You can read more about/buy Purple here.
Blue tells the story of Richard and Vanessa Lavender, who join a 90s feminist collective sharing childcare, political activism and open relationships. You can read more about/buy Blue here.
Violet is about late-life love. It begins in 2003 with Beth Jarvis and James Lavender on a blind date in a London restaurant. Attracted by James's openness, Beth feels an immediate, deep connection between his honesty and her own romantic faith. From then on they bond, exchanging love-texts, exploring sea walks and gardens and sharing their past lives with flashbacks to Beth's rural childhood and her marriage to a dark, charismatic minister… Signed copies of Violet can be bought here.