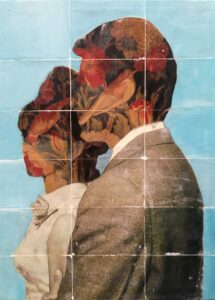 I interviewed Iranian-born artist Maliheh Zafarnezhad about her transformational East-West art focussing on women's feelings and experiences in exile. Maliheh has lived in Iran, Ireland and the UK, working as a gallery assistant, curator, filmmaker, editor and graphic designer.
Leslie: What are the connections between your early life in Iran and your later development as an artist and film maker?
Maliheh: I was born in a traditional Iranian family in a  small city called Sabzevar. My father was a teacher but he was also a musician and composer. He taught me how to play santur which is an Iranian traditional instrument. I think the music was the first and main reason that introduced me to the art world. During my college time, when I was studying Geology in University, I had visited an art exhibition by a traditional painter that really encouraged me to start painting. So I started to learn how to draw and paint from scratch and being a geology student also helped me to become a nature painter after I finished my B.Sc. I painted nature for more than five years enjoying my practice in the wild countryside of Iran. I had a teacher at that time who encouraged me to see bright colours in nature and use them in my painting. I used to sit for hours and observe and paint live from nature (you can still see those bright colours in my works).
Leslie: What has Ireland brought to your cultural and expressive experience?
Maliheh: After my migration to Ireland I became another person. I was not enjoying painting from nature any more as it was all green to me and totally different to Iran. The weather was always rainy so I couldn't sit outside and paint for that long. Being in a completely new environment and culture led me to become a portrait painter. I was surrounded by new people, so I decide to explore them and paint them. But something was missing. Being away from my origin and roots made me think more about Iranian Art and what we had in the past. It's very interesting as I was not into Islamic art when I was living in Iran. So I started to take pictures of people, painting from the pictures and then adding some Iranian motifs and also words in Farsi to it.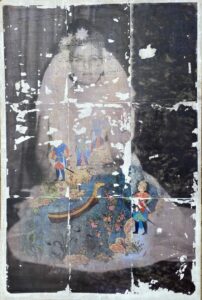 It was after this that I decided to take an MA in History of Art and write a thesis about Iranian art. I was always interested in painting women as I think women are very complicated creatures with so many different personalities, behaviours, emotions and pains. That's why I also decided to do a gender analysis in my MA thesis and it was on the mural paintings of a Safavid palace in Isfahan. I researched different social classes of women who were living in Isfahan during the Safavid Dynasty and investigated if the women on the wall paintings were inspired from real women or not.
Leslie: In what ways has your approach to art changed? How and why have the techniques you use developed?
Maliheh: Photo transfer and collage has been my main medium during recent years. I had tried photo transfer technique a-few times when I was in Ireland and loved it as it gave me beautiful patterns and a sense of metamorphosis. The feeling of something becoming something else or fading to it! It was exactly what I wanted to show in my work because I had also experienced it after immigration! I also became a mother in my last year of living in Ireland and that has a huge impact on concept of my works. You can see so many examples of mother and baby in my work.
The use of old photographs has come into my work mostly after my second immigration, when I moved from Ireland to UK in 2016. I've started to use old photos from my own family album and transfer them to a bigger surface. Adding elements from Iranian miniatures to old photos happened later; it was exactly the thing I was always looking for! I also started to use some cut images from fashion magazines together with Islamic motifs, as it was a part of my practice of mixing east and west!
Leslie: Could you take a few representative mixed-media artworks of yours and describe the techniques and the underlying intentions of your artworks, please .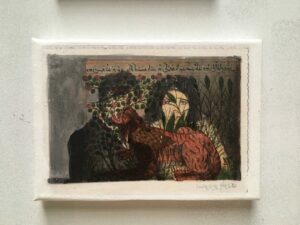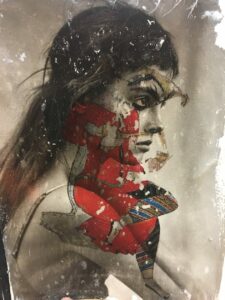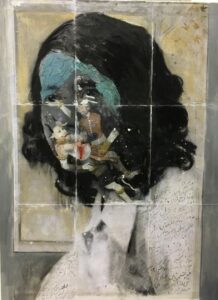 Maliheh: I usually cover the faces of people in my work with ornaments and patterns that attempt to symbolise the emotions and feelings of the faces. For instance, the tiger symbolising rage which can be seen in the face of a man posed for a photo next to his wife. Moreover, such symbolised emotions are depicted in eastern, ancient and miniature style. For a western viewer this way of conceiving emotions is therefore unusual as if it's coming from a different world/era. Especially when it's mixed with an image of a western woman it gives the viewer a paradoxical feeling that looks very exotic or inconceivable. Raising a question mark is my job, seeking an answer to that is the viewer's job – for instance in  Monomania. People may see different answers, paving the way to a multitude of meanings, emotions and feelings. Sometimes I use Iranian motifs just because they are beautiful and I love the combination of their bright colours with black and white photos so it doesn't have to have a meaning to work. But most of the time I'm trying to make artwork that can talk to its viewer. Women in my work talk about their pain, their love stories, their motherhood and their social issues. I mix an image of a horse rider derived from a Safavid manuscript with a B&W portrait of a lady in order to talk about love in a very eastern way! But it can convey a totally different meaning to western viewers. I use the fighting scene between Rostam and white demon on my mother's face to show that superheroes are not always men, they can also be women.
Leslie: What parts of your personal story and 'multi-cultural diaspora' have taught you the most as an artist and citizen? What have been the key learning experiences on the way?
Maliheh: As an Iranian born artist now living in the diaspora, inspiration in my artworks usually emerges out of a multi-national identity, mixed culture, immigration experiences and childhood memories from Iran. I has spent most of my life in my native country forced to navigate a web of restrictions as a woman. Hence, most of my artworks are dominated by portraits of women filled by thought-provoking messages about love, feelings, loyalty, obligation and social issues.
Next week I interview TV, film and radio scriptwriter Annalisa Dinnella, who performs stand-up comedy and has about 5% vision.
ABOUT LESLIE TATE'S BOOKS:
Love's Register tells the story of romantic love and climate change over four UK generations. Beginning with 'climate children' Joe, Mia and Cass and ending with Hereiti's night sea journey across Oceania, the book's voices take us through family conflicts in the 1920s, the pressures of the 'free-love 60s', open relationships in the feminist 80s/90s and a contemporary late-life love affair. Love's Register is a family saga and a modern psychological novel that explores the way we live now.                                                                   A signed copy of Love's Register is available in pounds sterling here. Paperback in other currencies here. (Don't worry if you see 'shipping rate £10.00' in your basket – you'll find it's much less when you pay.) Ebook available here (all currencies). 
Heaven's Rage is a memoir that explores addiction, cross-dressing, bullying and the hidden sides of families, discovering at their core the transformative power of words to rewire the brain and reconnect with life. "A Robin Red breast in a Cage / Puts all Heaven in a Rage" – William Blake. You can read more about/buy Heaven's Rage here.
The Dream Speaks Back, written by Sue Hampton, Cy Henty and Leslie Tate, is a joint autobiography exploring imagination and the adult search for the inner child. The book looks at gender difference, growing up in unusual families and mental health issues. It's also a very funny portrait of working in the arts, full of crazy characters, their ups and downs, and their stories. You can buy a signed copy of The Dream Speaks Back here.
Purple is a coming-of-age novel, a portrait of modern love and a family saga. Set in the North of England, it follows the story of shy ingénue Matthew Lavender living through the wildness of the 60s and his grandmother Mary, born into a traditional working-class family. You can read more about/buy Purple here.
Blue tells the story of Richard and Vanessa Lavender, who join a 90s feminist collective sharing childcare, political activism and open relationships. You can read more about/buy Blue here.
Violet is about late-life love. It begins in 2003 with Beth Jarvis and James Lavender on a blind date in a London restaurant. Attracted by James's openness, Beth feels an immediate, deep connection between his honesty and her own romantic faith. From then on they bond, exchanging love-texts, exploring sea walks and gardens and sharing their past lives with flashbacks to Beth's rural childhood and her marriage to a dark, charismatic minister… Signed copies of Violet can be bought here.