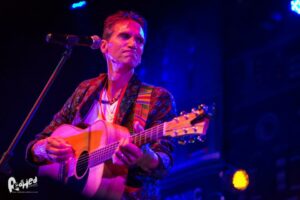 Musician Erik Windrich, this week's interviewee, played with his brother Lucien to 120,000 people in a South African concert.  Their group eVOID were 'the most successful and influential of the white South African punk bands to take up African-inspired images and sounds in their sonic rebellion against apartheid' (Wikipedia). Today, Erik teaches performing arts in a London comprehensive school.
Leslie: At the height of Apartheid you toured S. Africa with eVOID in beads and painted faces, performing tribal dances and wearing colourful ethno-gypsy clothes.  What were the positive and negative reactions you faced? Why did you stop playing in South Africa and move to Europe?
Erik: We turned professional in 1979 – our first contract was in Bulawayo, Zimbabwe. By the end of 1984 we were as popular as Boy George and Culture Club – Warner/WEA records had shared posters promoting us both. We started out as a covers band with a few originals but in 5 years we had played throughout South Africa and had built a strong following. Our sound and our image developed over this time as we explored what was on our doorstep – Africa rather than Europe. It was the key to our success but we had negative and positive reactions. We loved the vibrancy of traditional African dress – and made our own versions with modern twists. Some thought it was exploitative – but the detractors were mostly white, fearful of the changing times. Anyone who bothered to listen to the lyrics and experience the 'vibe' couldn't doubt our commitment to the wider social cause. We were full of energy, a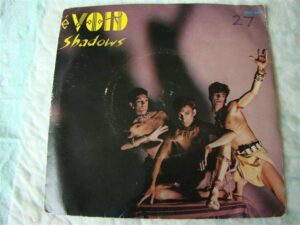 heady mixture of rock, pop and mbqanga guitar. Many couldn't believe that we were a 'local' band – our delivery was international because we wanted 'that' success.
My mind was made up to leave in early 1985 as I was called up for National Service (Army). I was 25… not a school leaver! Originally I was exempt from national service because I was born in Netherlands (I immigrated when I was 2) with our whole family. But the racist government of the day needed to draft as many able-bodied men as they could – even if it meant forcing me to become a South African citizen. I voted with my conscience and was never going to join them in their campaign of racism and murder. Three brothers (and their partners) arrived in London in Feb 1985.
Leslie: You played Afro-rock with your group eVOID. Can you describe this sound and the influences that went into it?
Erik: The sound: Jivey, funky grooves – an interplay of guitar, keyboards and rhythm section meshed with pop-rock – melody, hooks and lyrics were carefully constructed. The sound was built around a 3-piece. Lucien on guitar & vocal, me on bass synthesiser (left hand) and keyboard (right hand) and lead vocal; and a drummer.
International Influences: Genesis, Yes, Free, Hendrix, Rory Gallagher, Jethro Tull, Pink Floyd, Kraftwerk, Bob Marley, The Clash, Peter Gabriel, Police. Mostly British bands as they were the most interesting – we thought American a bit more predictable – but there were some outstanding like Doobie Bros, Fleetwood Mac, Steely Dan, Talking Heads.
SA influences: Soul Brothers, Mahlathini, Juluka, Spokes Mashiyane, Dollar Brand (Abdullah Ibrahim), Philip Tabane.
Leslie: You say you used to 'brainstorm your way forward' with Karl, your drummer, and your brother Lucien. Can you describe the creative process that went into your act?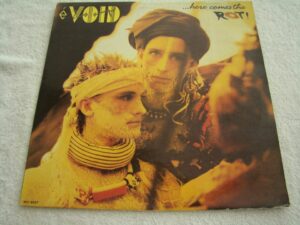 Erik: Lots of lively discussion and planning. We were all determined to be the next big thing – so we plotted our way forward, thinking of performance, visuals (clothing), songs and ways to promote. It was very much a zeitgeist thing – of it's time and we looked for every opportunity to crest the wave.
Leslie: How did Nic Hauser and you publicise the band?
Erik: We ran a poster campaign 'The new constitution for dance' to echo the political dreams of many who had no voice. It was a well known ploy to hide political messages in pop-songs, especially amongst the black artists who had huge followings but no true recognition within the apartheid system.
Leslie: As a group you had one or two terms you coined as your own. Would you like to offer us a short eVOID dictionary with words, meanings and derivations?
Erik: Here are our four main ones:
Ethnotronics: electronic/digital versions of indigenous and found sounds – ethnic-electronic;
Fadget: person obsessed with fashion and appearance – fad-gadget;
Junk Jive: twangy guitar and using everyday objects as percussion;
Race of Tan: the inevitable inter-breeding of people of different cultures and background – where colour won't be an issue;
Leslie: Looking over your long history of involvement in music, which African artists and groups stand out for you? Why them?
Erik: South African music (Mbaqanga; Marabe; Township Jazz; Kwaito) has a very distinctive flavour – Paul Simon's 'Graceland' firmly putting the South African sound on the international stage (stealing our thunder… and many deserving black artists before us!)
Reggae for its universal sound and message
West Africa for being truly global in its reach – Youssou N'Dour, Salif Keita,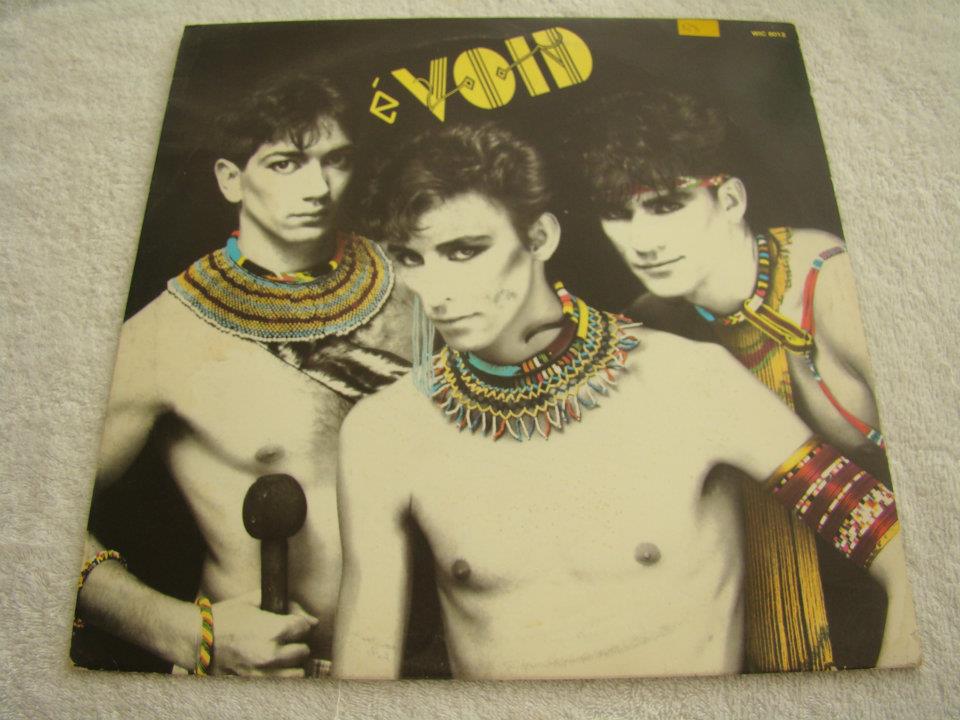 Leslie: What would you like to add about your time in England? How has it been different? What do you feel has been your 'finest hour' as a musician?
Erik: I've written better songs, musically and lyrically since being here in the UK – but they are not as popular or widely known as the early eVOID material. That's a tough one and it makes the point about 'timing' in a career – you have your moment and you have to make the most of it. Our finest was probably the 'Concert in the Park' in January 1985 – a fundraising event for starvation in Southern Africa that was held at Ellis Park (the rugby stadium). There were 27 bands – we were at our peak and onstage at 7.30/8pm – the day started at 11am. There were 120,000 people – a racially mixed audience (first time ever at Ellis Park stadium). We really rocked that night – people went crazy, and I recall, during 'Junk Jive', announcing.. "Today we are making history – and you are part of it. This isn't some empty dreams or empty promises – this is ACTION!!"..and then we got 120,000 people to sway their arms in unison! What a buzz!
 Next Monday, April 9th, I ask actor, writer, artist & comedian Cy Henty about his stage career – including touring with Russell Brand and a run at The Pleasance Theatre, Edinburgh.
ABOUT LESLIE TATE'S BOOKS:
Love's Register tells the story of romantic love and climate change over four UK generations. Beginning with 'climate children' Joe, Mia and Cass and ending with Hereiti's night sea journey across Oceania, the book's voices take us through family conflicts in the 1920s, the pressures of the 'free-love 60s', open relationships in the feminist 80s/90s and a contemporary late-life love affair. Love's Register is a family saga and a modern psychological novel that explores the way we live now.
Heaven's Rage is a memoir that explores addiction, cross-dressing, bullying and the hidden sides of families, discovering at their core the transformative power of words to rewire the brain and reconnect with life. "A Robin Red breast in a Cage / Puts all Heaven in a Rage" – William Blake. You can read more about/buy Heaven's Rage here.
The Dream Speaks Back, written by Sue Hampton, Cy Henty and Leslie Tate, is a joint autobiography exploring imagination and the adult search for the inner child. The book looks at gender difference, growing up in unusual families and mental health issues. It's also a very funny portrait of working in the arts, full of crazy characters, their ups and downs, and their stories. You can buy a signed copy of The Dream Speaks Back here