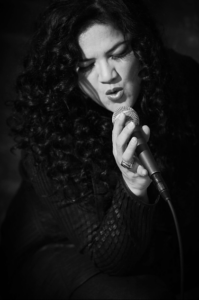 I interviewed Alaskan singer/songwriter Kelly Moneymaker.  Kelly is a deeply musical soul, having shared stages and collaborated with Todd Rundgren, Diana Ross, George Clinton, Keith Urban and Ringo Starr. Her band 'In the Black' have similar musical CVs, having played with Tower of Power, Hugh Laurie, Macy Gray and Tom Jones…
Leslie: What were the key stages in developing and maturing your voice?
Kelly: When I was two years old, my mom thought she'd left the radio on and then discovered I was singing. Music was my natural form of expression, which is good because I can't draw a decent stick-person. I think the best way to develop your style is to just get out there and do it. You learn the do's and don'ts along the way. I've found helpful information about my voice through illness during touring or recording. The show must go on and you find a new way around any and all obstacles. Raw feeling is what draws me to the artists I enjoy listening to. I try to convey all that gets "stirred up" when I'm singing, which is why I love the emotive mix of rock/funk/soul/blues and the stories of folk/country.
Leslie: How did growing up in Alaska extend and deepen your soul?
Kelly: Being stuck inside during long, cold, dark winters definitely allows you time to explore the nooks and crannies of your psyche. When summer comes around, it's a massive explosion of energy and light! I believe we are built that way – made of darkness and light. I think people who navigate both waters have a deeper appreciation for the opportunities each might offer.
Leslie: I think you're a slow writer of music. How does it come to you and how do you extend/edit your material?
Kelly: Sometimes it can be a very slow process. It took us nine years to fully complete the Race Against The Sky album. The band and I recorded it but we weren't happy, so we scrapped it and started over again. It was definitely a labor of love. Sometimes a song might've floated around in bits and pieces for months or years until I was able to puzzle it together. Other tunes might write themselves in five minutes. I never think about how it'll come out or how songs will fit together on an album, which can be difficult when I have to perform them back-to-back live! Sometimes I wish I could write a 'cruiser' – a one octave melody I can sing all night long.
Leslie: Who are your biggest influences and why?
Kelly: Our home stereo was overworked and underpaid when I was growing up. My mom was into Elvis and The Beatles. Poppa admires STAX artists such as Otis Redding, Jackie Wilson, BB King, Ike & Tina Turner, etc. My brother had an enviable vinyl collection: Average White Band, Doobie Brothers, Hendrix, Pink Floyd, Tom Petty, Earth Wind & Fire, Queen, Stevie Wonder, Parliament, etc. I played sax so I was into Parker and Coltrane but I also loved AC/DC and Black Sabbath. You can probably hear elements of all these artists in the music I write. The people I have worked with have been my biggest influences and teachers though.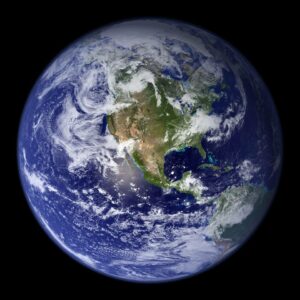 Leslie: How has your 'green' relationship to nature affected your growth and development as an artist?
Kelly: My brain has a tendency to drag race but when I dig my feet into the dirt, I feel grounded. I don't sleep much, so I try to nurture my body with organic food. I'm at my best creatively when I feel connected to the environment and other humans. Ever notice how you are struck with an incredible idea, only to find out someone else had it before you or simultaneously? We all cohabitate the floating spaceship Earth and we are indeed connected so I try to nurture the Mother who nurtures me. I think it helps me musically because I feel that exchange of energy with the band and audience when I'm singing. I have to laugh because I just envisioned my dad saying, "Well, ain't that a bunch of hippy-dippy bull****".
Leslie: What are the stories you want to tell through your music?
Kelly: I don't premeditate a song or story. When an idea strikes, I try to honor it and enjoy the journey. I'm having a blast writing children's songs at the moment. Talk about a journey – I feel like I've had a romp on the 'monkey-bars' after I've sung a few kids' tunes!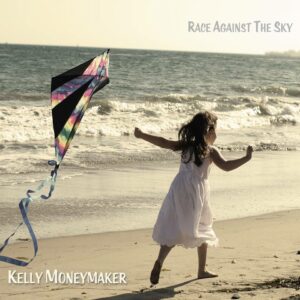 Leslie: How did you put together a wonderful number like 'Race Against The Sky'?
Kelly: Thanks–I appreciate your kind words about 'Race Against The Sky'. My exceptionally talented band, "In The Black" has been with me for many years and they inspire me every time we get together. Herman Matthews (drums), Gabriel Moses (guitar), Michael Mennell (bass) are my band-family.
I wrote "Race Against The Sky" with guitarist Jen Leigh before she moved to Austin, Texas. It was a simple guitar/vocal demo but when I brought the idea into the studio, the guys made it come to life. Gabriel expanded the melodic guitar line into something so unique and special, it brings a lump to my throat each time I hear it. Herman has been dubbed 'a human metronome with feel' so he brings his special flavor to the rhythm tracks. Mike Mennell is a living music encyclopedia and we've been unable to stump him with requests. We all come from the rock-meets-soul school but they have such a wide and deep knowledge of music, it's mind-blowing. We definitely play off each other's ideas and we try different approaches to see where an idea might land. If it's not working, we try something else but 9 times out of 10, they nail it straight out of the gates. Most of the songs on the STONE LP were done in one take. We all have warped senses-of-humor, so it's a love-fest. I think you can hear that in the tracks.
Leslie: What makes your latest album 'Stone' strong, individual and an advance on your previous work?
Kelly: I don't know if 'Stone' is an advance on previous work- maybe apples and oranges? The "Race Against The Sky" record is an intimate journey so you have to take time to acquaint yourself with it – you gotta put on your headphones and chill out. 'Stone' on the other hand, is about getting your ya-yas out. We are hoping the energy and joy we felt in the studio is contagious.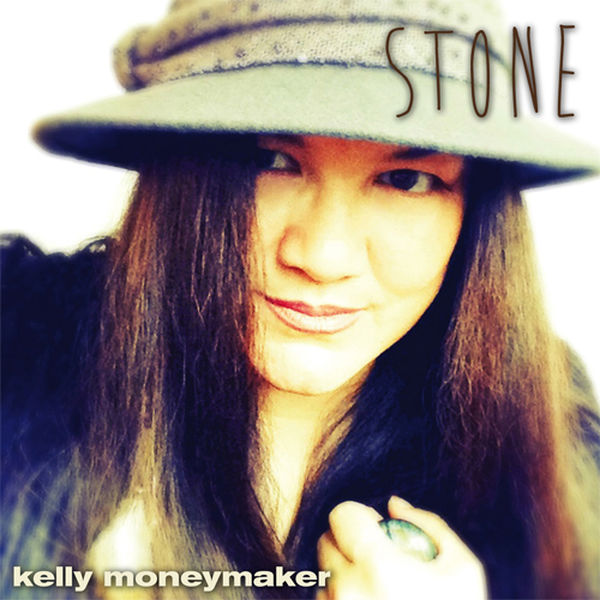 ABOUT LESLIE TATE'S BOOKS:
Love's Register tells the story of romantic love and climate change over four UK generations. Beginning with 'climate children' Joe, Mia and Cass and ending with Hereiti's night sea journey across Oceania, the book's voices take us through family conflicts in the 1920s, the pressures of the 'free-love 60s', open relationships in the feminist 80s/90s and a contemporary late-life love affair. Love's Register is a family saga and a modern psychological novel that explores the way we live now.
Heaven's Rage is a memoir that explores addiction, cross-dressing, bullying and the hidden sides of families, discovering at their core the transformative power of words to rewire the brain and reconnect with life. "A Robin Red breast in a Cage / Puts all Heaven in a Rage" – William Blake. You can read more about/buy Heaven's Rage here.
The Dream Speaks Back, written by Sue Hampton, Cy Henty and Leslie Tate, is a joint autobiography exploring imagination and the adult search for the inner child. The book looks at gender difference, growing up in unusual families and mental health issues. It's also a very funny portrait of working in the arts, full of crazy characters, their ups and downs, and their stories. You can buy a signed copy of The Dream Speaks Back here