I interviewed violinist, singer and teacher Marjorie Lazaro about her experiences of post-war Britain. After writing an opera libretto, short stories and pieces for music, artwork and voice, Marjorie has recently published her debut novel, A Person of Significance, set in the 1950s.
Leslie: Your novel A Person of Significance begins with Garrad, newly-arrived from Rangoon, encountering racism in 50s London.  Garrad soon links up with young people who are different. What led you to write this particular book, rather than any other? What are the different social patterns it explores? How did you research it?
Marjorie: I lived through those years in London, relatively new to the big city. Released from university life, I felt free to explore the society in which I found myself. There was no career plan; I wanted to find out what made things tick.  We had no idea of wanting to own property, so everybody was mobile, moving to wherever was convenient for work, friends or other interests. I was involved in music and interested in musicians. I met people from all over the world, who were beginning to flood into London for study or to pick up skills they would take back home with them. I read the prejudice on the front doors of boarding houses, and was appalled. From my own pleasant accommodation, I saw how others lived. I learned the ways of musical culture of the period, realised how easily I had access because of who I was (a middle class white girl) and how others, however gifted, were excluded. It was politely done: we did not hear of bricks through windows or petrol bombs through letter boxes, still less routine street stabbings. But if you looked, you knew it was there. I did no research in this area – I knew it.
Leslie: How much of the novel contains incidents/scenes you have witnessed, how much is made up?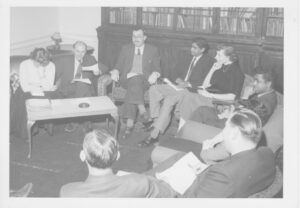 Marjorie: The beginning of the novel is based closely on a situation and events real to me, particularly those taking place in International House; I worked for a time in a similar establishment. I witnessed scenes in which exclusion was enacted, made others up. I visited a similar family, and heard the conversations about Burma and family members left behind there. As the novel progresses, more is invented. The character of Thérèse is made up, as are most of the characters that enter the story later. The letters are invented, though the general family background is authentic.
Leslie: How different was 50s Britain to today?
Marjorie: Unbelievably different. I was born and brought up in a Dorset market town, in the unusually orderly environment of a grammar school with boarders. This was followed by evacuation to a small town in the fells of Yorkshire, and then my own boarding schools. No wonder I am accused of being institutionalised! However, alongside that goes independence, a love of place and a willingness to look outwards. Arriving in London, I found incredibly broad horizons, an unbelievable range of people and opportunities to engage in music-making, politics, talk and friendships. And of course love. WW2 came and went; against the odds, I lost nobody close to me. Battered London was drawing breath after the storm, offering little luxury. We still had ration books. Those a year or two older had been in the forces, and were a race apart. My contemporaries and I were naive, a bit in awe of those who had been actively engaged with The War, but ready to make our own way. The nation was trying to rebuild.
Leslie: As a Quaker and writer, what conclusions do you draw about human nature/behaviour from your lifelong experiences?
I became a Quaker about forty years ago, coming to that way of life partly as an important means of reconnecting with my own Englishness, in the tradition of the Age of Enlightenment. Although raised in the Church of England, and with feelings of affection towards its sacraments, liturgy and music, I had learned early to think critically about the dangers of religious dogmatism. From then onwards, I have been unable to make close friends with those whose ideas are too fixed, but warm to those whose values are constant. Kindness, honesty, trust and a sense of order I have found to be typical of Quakers. In contrast, the world seems chaotic and unpredictable. Yet we have an absolute need for the life of the imagination too. As a writer I try to reflect life as I experience it; to discern how behaviour patterns itself through a person's relationships and work in the world; and to try to understand how individuals and society impact upon each other: a tall order but worth attempting.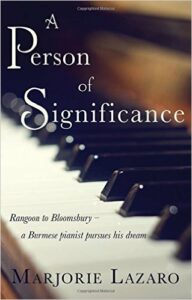 I feel both pessimistic and optimisticabout people today – we barely understand yet the impact that technology is having on our thinking and behaviour, but we know it is great. We are oppressed every day by hearing of the brutalities and treacheries perpetrated by some of those in power, yet we witness the extraordinary ability of people in extremity to survive.  We are so terrified of climate change that we deny, or at least fail to act to prevent it. Perhaps indifference and blind stupidity are the worst sins of all.
Leslie: What was the driving passion that kept you writing A Person of Significance till the end?
Marjorie:  I finished writing A Person of Significance with the same passion as I began it – to tell the story of one of many gifted individuals trying to make his way in a world that seemed familiar to someone educated under the British Raj, but was in fact quite alien. The forces operating against his natural ambitions were, though invisible, still implacable: enough to destroy a weaker man. The existence of prejudice was, and still is, denied by many; not to be talked about. Yet the seeds of future violence were there, plain to be seen, and the impact of this widespread experience has led to resentment amongst persons and communities today. Surely we ought to do better with today's immigrants now settling in our localities?
Next Week Paul Sandford, an interfaith minister rooted in both Druidic and Buddhist practices, guest blogs about POLITICS, RELIGION AND SEX.
ABOUT LESLIE TATE'S BOOKS:
Love's Register tells the story of romantic love and climate change over four UK generations. Beginning with 'climate children' Joe, Mia and Cass and ending with Hereiti's night sea journey across Oceania, the book's voices take us through family conflicts in the 1920s, the pressures of the 'free-love 60s', open relationships in the feminist 80s/90s and a contemporary late-life love affair. Love's Register is a family saga and a modern psychological novel that explores the way we live now.
Heaven's Rage is a memoir that explores addiction, cross-dressing, bullying and the hidden sides of families, discovering at their core the transformative power of words to rewire the brain and reconnect with life. "A Robin Red breast in a Cage / Puts all Heaven in a Rage" – William Blake. You can read more about/buy Heaven's Rage here.
The Dream Speaks Back, written by Sue Hampton, Cy Henty and Leslie Tate, is a joint autobiography exploring imagination and the adult search for the inner child. The book looks at gender difference, growing up in unusual families and mental health issues. It's also a very funny portrait of working in the arts, full of crazy characters, their ups and downs, and their stories. You can buy a signed copy of The Dream Speaks Back here