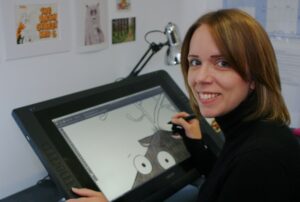 I asked Hannah Marks, who works as a children's book illustrator, what has inspired her own, very distinctive style. Hannah is a graphic designer currently living in the Hertfordshire countryside just north of London.
Leslie: How did your interest in illustrating children's books begin?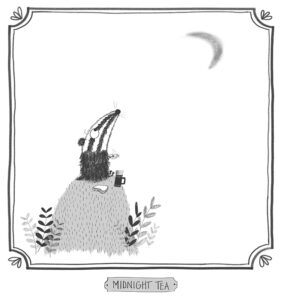 Hannah. About five years ago, and quite by accident, I discovered a love for children's book illustration while working as a graphic designer. I'm self-taught, which I originally thought might be a stumbling block as many illustrators have university degrees, but it's turned out not to be an issue, quite the opposite. My artwork is all digital; I use Photoshop throughout the illustration process from the initial sketches and composition to outlining and colouring, and I like to use brushes, textures, and patterns that are as natural-looking as possible to give an organic feel.
Leslie: As an artist, where do you get your ideas and personal support from?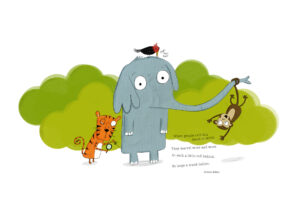 Hannah: Much of my work and colour palette is inspired by classic styles, from Victoriana and steampunk through to 1970's illustration.  Miroslav Šašek is a particular favourite, and other inspiration comes from contemporary illustrators such as Lauren Child with her use of collage and patterns, and Alex T Smith whose characters are filled with humour. I'm also a big fan of the Impressionists – Van Gogh, Sisley and Pissarro – I really like their work.
As far as personal support goes, once a month I meet with a group of illustrators in Chelmsford, Essex, where over drinks we share what we've been getting up to – the trials and tribulations of being an artist! We often set a brief to complete for the following month which has included packaging design, book covers, festival posters and Christmas cards.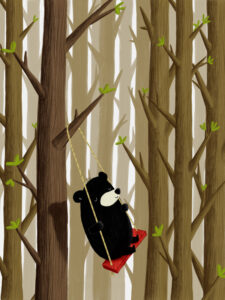 Leslie: How do you work as an artist? Do you practise a routine with specific forms of preparation or are you quite improvisatory?
Hannah: For picture books I start by reading through the text several times, scribbling ideas as notes on the pages as I go. For some pages an idea may come quickly, and for others it can take more time to develop – every project is different. I do a lot research for each project (Pinterest is a very useful) and gather photos, illustrations, information, etc. Next I'll plan out the book with thumbnails and sketches which are then sent to the publisher for review. The roughs can go back and forth a few times, and once the ok is given I'll move on to colouring.
Colouring, for me, usually starts with outlining followed laying down base colours, patterns, textures and shading and it can take quite a while to get all these elements to work together properly. They go back to the publisher again, then I'll make any final amendments before handing in the finished artwork.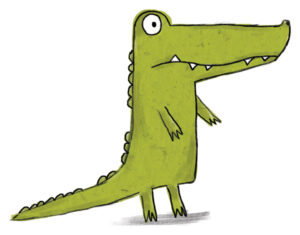 Leslie: How has your work as an artist grown and developed?
Hannah: In August 2015, after submitting to – and being rejected by – a number of illustration agencies, Astound offered to represent me, and they have been amazing. Last year was quite busy! I worked for several clients and each project was very different. My commissions included a book app for children, adult colouring books, a book cover, and my first picture book -Tracy Tracy Gunaratnam's 'Hamster Sitter Wanted', which is due to be published later this year by Maverick.
I also design greetings cards, and for the adult market I use a similar colour palette to my illustration work; they have a hand-drawn, vintage feel but in a contemporary style. For children's cards I prefer to use bright, bold colours and cute anthropomorphic characters to give them a sense of fun.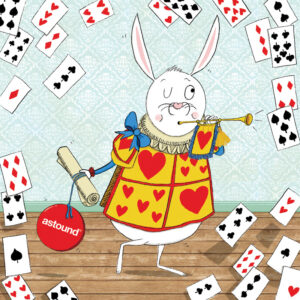 Leslie: Other than money, what drives you to work as an illustrator?
Hannah: I love to draw! And also getting my work published; seeing in print and knowing that it'll be around for a while to come really drives me.
Next week NATALIE SCOTT talks about her prison writing uncovering forgotten histories, her use of dramatic monologue and poetry as therapy.
ABOUT LESLIE TATE'S BOOKS:
Love's Register tells the story of romantic love and climate change over four UK generations. Beginning with 'climate children' Joe, Mia and Cass and ending with Hereiti's night sea journey across Oceania, the book's voices take us through family conflicts in the 1920s, the pressures of the 'free-love 60s', open relationships in the feminist 80s/90s and a contemporary late-life love affair. Love's Register is a family saga and a modern psychological novel that explores the way we live now.
Heaven's Rage is a memoir that explores addiction, cross-dressing, bullying and the hidden sides of families, discovering at their core the transformative power of words to rewire the brain and reconnect with life. "A Robin Red breast in a Cage / Puts all Heaven in a Rage" – William Blake. You can read more about/buy Heaven's Rage here.
The Dream Speaks Back, written by Sue Hampton, Cy Henty and Leslie Tate, is a joint autobiography exploring imagination and the adult search for the inner child. The book looks at gender difference, growing up in unusual families and mental health issues. It's also a very funny portrait of working in the arts, full of crazy characters, their ups and downs, and their stories. You can buy a signed copy of The Dream Speaks Back here