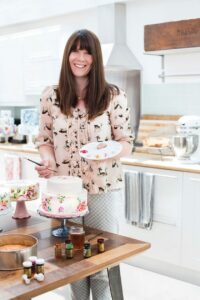 I asked expert cake-painter Natasha Collins about the creative and practical skills that go into her range of painted 'Nevie-Pie Cakes'. Natasha is well-known in the industry for her work with The Stay Puft Company which has included The Kerrang awards, the bridge of cake for Westfield's opening, 'Cakey Perry' high teas and a Christmas range for Selfridges.
Leslie: What you do at Nevie-Pie Cakes, and what are and the materials and skills that go into what you do?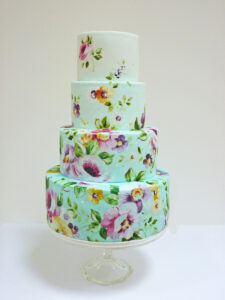 Natasha: Nevie-Pie Cakes is a boutique cake-making company based in Berkhamsted, Herts. I specialise in painted cakes, so rather than using traditional cake decorating methods I paint the decoration on to the surface of the cake using edible paints. I trained as an illustrator and then worked for years as a textile designer but I had to leave work when I had my children. I have always loved baking and when I was a child I would decorate my family's birthday cakes with marzipan models, so when I had my own children I started making more and more complex cakes with sugarpaste models for them. Eventually I thought that I could start making cakes commercially as a hobby business before I went back to work.  My business just took off and as one of the originators of the painted cake trend I have been able to travel nationally and internationally teaching my technique. I have had a book on the subject published and another cake decorating book published last year (The Painted Cake and The Homemade Wedding Cake published by Murdoch Books)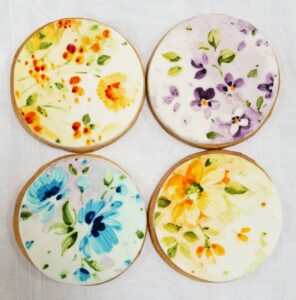 You only need a little bit of equipment to paint onto fondant. When I started I used normal food colour pastes, most brands are OK to use for painting, although some are impossible to use. However since then I have formulated my own range of colours and brushes that are perfect for painting (The Natasha Collins Edible Paint range with Squires Kitchen) The colours can be used with water and you only need a couple of brushes, but they must be a synthetic brush, natural bristles splay very quickly with all the stickiness of the sugarpaste.
Leslie: What first set you off as a cake painter? How have you learned and improved your skills?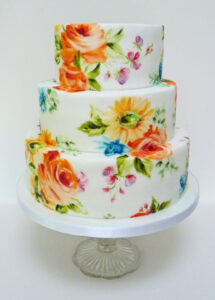 Natasha: One of the first commissions I received needed a 'Happy Birthday' message written on it. I tried for hours with a piping bag to get the message onto the cake, but it just wasn't happening, so eventually I had the idea to try and paint the message on with some food colour. It worked brilliantly and so the next day I made some cookies and painted them with my signature flowers. I haven't looked back since.
I would say that my painting skills haven't really improved as I was already at a professional level after years in the design industry. However my cake decorating skills definitely have improved. I haven't taken any formal classes but I'm lucky enough to know lots of top professionals in the industry and everyone is very generous in sharing their knowledge.
Leslie: Who and what do you draw your inspiration from? Why them?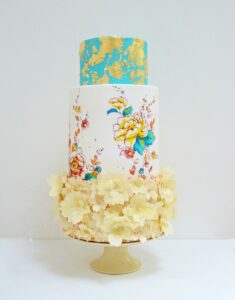 Natasha: I find inspiration everywhere. After a career in textile design I look at lots of fabrics and prints. I also collect vintage children's books as I love the images in these. Often brides want me to use the flowers in their bouquets as the design on their cake. I will look at photos of these flowers to make sure I get them right.
I have started a series on my Instagram feed where I paint a flower a week, this is really good at helping me to expand my portfolio of flowers.
Leslie: How do you deal with things going wrong when you paint a cake?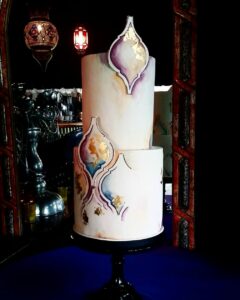 Natasha: The paint can be washed of the fondant with just  a little water, so any mistakes are easily rectified. I tend to paint in a very intuitive way, after years of painting textiles I don't have to think too hard about it. Sometimes I am asked to include a cake topper of the happy couple so I paint them from photos because I do find faces hard to get spot-on. I normally wash these out four or five times until I am happy with it.
Leslie: Can you give me examples of how cake-painting has helped the people making or receiving the finished product? What does it do for people?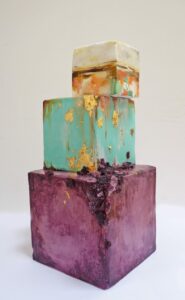 Natasha: Because of my profile in the cake-decorating industry and my book I receive lots of lovely messages from people I have inspired. Most of my students haven't painted since they were at school and are very nervous about picking up a paint brush. However by the end of a class they are really pleased with their results and it gives them a real boost of confidence to know that it is something they can do.
I once had a lovely email from a lady who had had to deal with some serious issues in her life and she had just about given up on her career as a cake decorator. However after getting my book she found a new lease of life and discovered that she could paint. I am so touched that I can help inspire people and bring creativity into their lives.
Leslie: In what ways is cake painting like and unlike fine art? Apart from making money, why would anyone want to do it?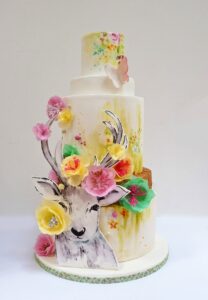 Natasha: I suppose cake painting is like fine art in that you are trying to create a beautiful image and the paints can be used to create anything that you wish. I don't consider myself a fine artist, I am a surface decorator. I love to create images that are ephemeral, that bring delight and then they're gone. I am so happy when I received glowing reviews not only on the painting but also saying how delicious the cake is. It is no good to produce an amazing-looking cake if it tastes like cardboard.
Anyone who wants to explore their creativity in an unusual (and tasty) medium should give it a go!
Next week's piece, BEN DRAKE COLLECTIVE – THE SONG COMES FIRST, features the Ben Drake Collective, a group of folk / rock musicians who work as a team, rather than as competing individuals.
ABOUT LESLIE TATE'S BOOKS:
Love's Register tells the story of romantic love and climate change over four UK generations. Beginning with 'climate children' Joe, Mia and Cass and ending with Hereiti's night sea journey across Oceania, the book's voices take us through family conflicts in the 1920s, the pressures of the 'free-love 60s', open relationships in the feminist 80s/90s and a contemporary late-life love affair. Love's Register is a family saga and a modern psychological novel that explores the way we live now.
Heaven's Rage is a memoir that explores addiction, cross-dressing, bullying and the hidden sides of families, discovering at their core the transformative power of words to rewire the brain and reconnect with life. "A Robin Red breast in a Cage / Puts all Heaven in a Rage" – William Blake. You can read more about/buy Heaven's Rage here.
The Dream Speaks Back, written by Sue Hampton, Cy Henty and Leslie Tate, is a joint autobiography exploring imagination and the adult search for the inner child. The book looks at gender difference, growing up in unusual families and mental health issues. It's also a very funny portrait of working in the arts, full of crazy characters, their ups and downs, and their stories. You can buy a signed copy of The Dream Speaks Back here