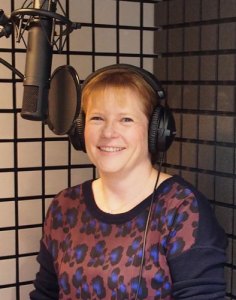 I interviewed Esther Wane, who is the voice reading several well-known audiobooks – including Enid Blyton's Malory Towers series, several of Jill Mansell novels,  Anatomy of a Scandal by Sarah Vaughan and The Wild Other by Clover Stroud. Esther is trained actor with her own recording studio in Herts, UK. I met Esther there while recording my own voiceover for Heaven's Rage, the film of my book. I asked Esther about her career: beginning in finance, going on stage and finding her vocation as a voiceover artist.
Leslie: Can you tell us how your work in voiceover began and developed? What have been the stand-out moments on the way?
Esther: Voiceover came about for me after a number of other avenues closed down. I had a bad car accident just before I started Drama School in 2012, which has left me with some ongoing issues. I managed to persist with my drama school training and tried to combine employment in finance with acting after I finished. However I found working for a training company in an office to be painful and exhausting and for that reason, when I went on tour with Hamlet (a dream come true), I found the experience of being away from home less enjoyable than I'd imagined.
On my return, my training job came to an end and I was left re-evaluating where I was. While working, I'd met an actor who had her own home voice studio and had been making some inroads with that. This planted a seed that maybe it was something I might be able to do. I contacted her and asked for her advice. A few months later I bought my first set of recording equipment, recorded my first voice reels, enrolled on a Voiceover Kickstart beginners course online and joined the Voiceover Network.
Through a lot of trial and error I learned about the technical side of voice recording; when I started I had no idea how to put the equipment together or how to use the software for editing. I also continued to develop my voice through playing with text, acting classes and vocal exercises.
After about a year and a few small jobs I went to the Voiceover Network event on audiobooks. Since thinking about voiceover as a possible career I'd been wanting to record one and had a stab of envy every time a friend told me they were, so I guessed it was somewhere I needed to explore.
In order to be seen by the producer I had to do an impersonation. I have never really done impersonations but I took on the challenge of Joanna Lumley. I had a few minutes to prepare so I thought about how I could connect with her as an actor and I watched a short video of her speaking to have an idea of the rhythm of her voice and the way she expresses herself. I went into the booth, nervous, and gave my performance. I came out feeling like I'd been flying. It was incredible. I loved it from that moment and knew I wanted to do it again.
I won the competition, a bottle of champagne, but more than that I won the attention of David Roper at Heavy Entertainment. A few months later he called me into his studio for an audition. I had the classic narrator's dream of not being able to remember how to read in spite of being an avid reader from the age of three The audition went well and I won the job, which was to record four Jill Mansell novels. The job went well and I have had many more since then. This year I recorded all twelve Malory Towers novels and love the idea that I am reading to a whole collection of young girls as they discover the joy of books and being lost in their imagination.
Leslie: What goes into a voiceover recording in terms of preparation, creative input and technique? What are the rewards and difficulties of the job?
Esther: For a voiceover recording you have to be ready with:
A voice that has stamina and expression.
Acting ability to tap into different characters and provide different interpretations if the director is looking for something else.
Studio equipment and recording capability should that be needed.
The skill to analyse and interpret different texts in order to present the inherent message in an engaging way.
When I have an audiobook to prepare I read it carefully, picking out the spine of the text, the trajectory of the story. I am a writer as well so I've read about the structure of story, including 'The Hero's Journey' by Joseph Campbell. This is a useful background to understanding the challenges and the development of the protagonist or other characters that forms the journey I will need to lead the listener along.
I then look at characters, who they are, how they are described, whether they have a particular accent or way of speaking that is mentioned in the text, how they relate to others and where they are positioned in the story. From there a number of challenges arise. Can I confidently perform in those accents? What do I need to practice? How might they move? Where do they lead from? What is their persona, the self they show the world? What are they hiding? What is their shadow, the part of self they hide from the world and possibly from themselves as well? What did they need as a child that was not recognised or met? What changes do they go through during the story?
During recording, if I am in someone else's studio, I go in with my preparation, having done a vocal warm up and then I let it all go. I stand on the high diving board ready to jump and then I leap and submerge myself in the world of the story. The characters come to life, they are part of me and are born out of my body. The story unfolds and I discover it anew along with the listeners. Any decisions I may have made in preparation could be dropped and new discoveries are made.
If I am recording in my studio this step is the same, except that when I make a mistake I have to stop, rewind and re-record. Generally I outsource the editing and mastering as there are others who are better at it and much quicker than me. I also respect the benefit of new ears coming to the story and recognising areas that don't work for a listener, even though they may have felt right to me.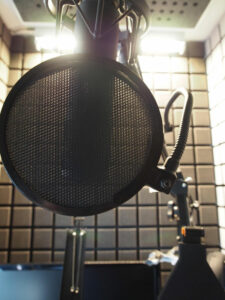 Leslie: You worked in finance. What's the story of your career move? What overlap and what difference is there between working in these two fields?
Esther: I dreamed about being an actor since I was a small child, loving my drama lessons and losing myself in the wonderful language of Shakespeare, the vibrant characters in Dickens and the burbling passion beneath the works of the Bronte sisters. I had a book called 'Stage Struck' and I read it most nights, dreaming of going to drama school and performing at the RSC.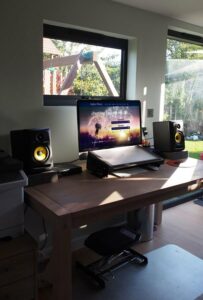 I didn't go then. I took the road more travelled and trained as a Barrister eventually joining the City as a Compliance Officer. I had a successful career and enjoyed my work. Then I had my daughter and I joined an amateur dramatics group again; all the same feelings were there and I wanted to know more, to be better. I carried on working but the City atmosphere was difficult after the financial crash and when I had my son I decided to use my maternity leave to explore my more creative side.
During that time I wrote a draft of a novel and attended classes at Royal Central School of Speech and Drama, following in Judi Dench's footsteps. I auditioned and won a place on their Diploma course, from there I auditioned and won a place on the MA cause in Acting at Arts Ed. In the interim I worked as a contractor at Lloyds. Then the car accident happened.
My initial plan was to try acting for a couple of years and then return to the City if I was not able to make it work. Unfortunately my injuries made it impossible for me to return to what I had done before so I have found something else.
I still work giving financial training and as a role-play actor for skills based training on a freelance basis as I also build up my voiceover business.
In terms of overlap: the business skills I learned and developed are essential to voiceover, knowing when it makes sense to invest, analysing where income could come from, managing costs and approaching it as an entrepreneur.
The main difference I find is that of marketing. As someone with a job I did not need to market myself particularly but you could be the best actor in the world and unrecognised because you are not marketing yourself. The Voiceover Network and Rachael Naylor have been brilliant at providing networking opportunities as well as training in essential marketing skills.
The performance aspect is also rather different but the discipline and stamina to commit to a job and see it through bring success in every sphere.
Leslie: What are your thoughts, as an actor and voiceover artist, about natural talent and training? What are the best ways of nurturing performance skills?
Esther: I have thought a great deal about this as a performer and a mother to two young children who love to perform. As an actor I have loved reading and performing for as long as I can remember. I love to imagine what it feels like to be a different person from the one I am. Every character I perform is an aspect of myself, not separate from me, but this person has made different choices than mine and has a different upbringing and set of experiences so their reactions are different. I find it fascinating to explore that and discover where in me the warrior or the refugee reside as well as the playful child or the addicted lover.
Watching my children, I think that a love of performance is innate, some people want to do it and others don't. However I would not underestimate the power of training and the need for it. To be a complete performer you have to understand your instrument, which is your self. This self needs to be explored and stretched in a way it is not in other spheres. You also need to develop your voice and your body to be able to manage the physical demands of any role you may play. This takes time, patience and endurance. On balance I would say, that it is 2% talent or love and 98% work or dedication.
In terms of nurturing performance skills my children go to a drama group on a Saturday run by people who are committed to the children. The performances are often developed and led by the children with the adults there to guide them but not to dictate. One of the best ways of nurturing performance is to let children play, give them time and space to explore their own imaginations, create their own worlds and discover what they care about.
Leslie: How do you deal with performance anxiety?
Esther: While at drama school I recognised the power of being able to remain calm while under pressure. As someone who has suffered with anxiety disorders and who does get nervous before a performance I had quite a lot of work to do on this. I meditate, around 20 minutes a day, whenever I can. I practice yoga, I walk in nature, I do breathing exercises and I write a journal most days in an effort to quieten my mind. It is a work in progress.
One thing I find helpful is the idea that fear is merely excitement without the breath so that if you can focus on breathing calmly while feeling nervous it can transform into excitement. I also love being in the recording studio and find that I am very relaxed there, which certainly helps!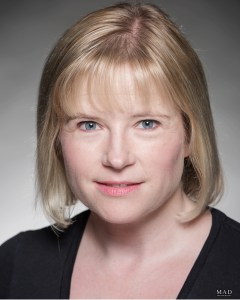 I also try to put my focus away from myself and into the story or my scene partner or the audience, that way self-consciousness lessens and if it creeps in I recognise it and take my attention back to where I want it to be. Again it is a work in progress.
Leslie: What are the creative qualities in yourself and others that you've learned to value through your career?
Esther: To me creativity is the ability to think differently about a situation and to solve problems. It springs from a willingness to experiment and try something that might not work and see what happens. It also involves taking a non-judgmental approach to the result that helps to facilitate learning from those 'mistakes' and try again with better understanding. Creativity is the commitment to making something better and recognising that every person or performance is always a work in progress.
Esther is recording and releasing her debut novel, "The Way Home" as a book and audiobook in May 2018. Details can be found here.
In the next blog CROSSING THE GENDER LINE, on March 7th, Leslie Tate tells the inside story of his cross-dressing.
ABOUT LESLIE TATE'S BOOKS:
Love's Register tells the story of romantic love and climate change over four UK generations. Beginning with 'climate children' Joe, Mia and Cass and ending with Hereiti's night sea journey across Oceania, the book's voices take us through family conflicts in the 1920s, the pressures of the 'free-love 60s', open relationships in the feminist 80s/90s and a contemporary late-life love affair. Love's Register is a family saga and a modern psychological novel that explores the way we live now.
Heaven's Rage is a memoir that explores addiction, cross-dressing, bullying and the hidden sides of families, discovering at their core the transformative power of words to rewire the brain and reconnect with life. "A Robin Red breast in a Cage / Puts all Heaven in a Rage" – William Blake. You can read more about/buy Heaven's Rage here.
The Dream Speaks Back, written by Sue Hampton, Cy Henty and Leslie Tate, is a joint autobiography exploring imagination and the adult search for the inner child. The book looks at gender difference, growing up in unusual families and mental health issues. It's also a very funny portrait of working in the arts, full of crazy characters, their ups and downs, and their stories. You can buy a signed copy of The Dream Speaks Back here.