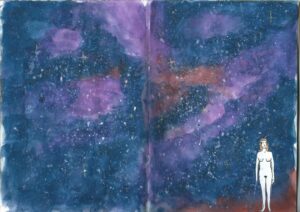 Part two of my novel 'Violet' is Beth's diary. It begins six years after her first meeting with James. Writing her diary gave me the chance to tell the story in self-contained episodes that could jump back and forth between incident and incident. It also allowed me to fill in the six years between the two parts with memories of the teenage stepchildren and aspects of character not covered in part one. But writing it also threw up some interesting challenges:
I had to echo the voice of a highly-literate woman but in an informal way so it came across as personal and not too book-bound.
Each episode was a mini-story and needed a discrete beginning, middle and end, while taking its place in the ongoing story.
As a diary of illness I wanted to focus on the spiritual journey rather than the harrowing physical details, so the style is quite often metaphorical. At the same time, as Beth's illness progressed, I needed to keep the style simple so the experience of illness could speak for itself.
As in life, Beth's illness comes and goes and is only identified by name quite late on.
At the back of the reader's mind is the question 'Will Beth die?' It's the fear that hangs over the whole diary and its possible resolution both fascinates and repels us.
Most of all, each diary entry was a miniature version of all those considerations. Here is the entry for 13.12.10:
Recently I've been dreaming about dancing. The dreams come in two main types. In both I appear with James in Strictly Come Dancing.
   Of course we're fans. On Saturday night the sofa's our front row where we get in close and study every move. We're marking what we can, talking about content and feel, but our focus is on passion, what the judges call connection. In other words, we want to know who fancies who.
   It's fun, that's why we do it. So we recall past winners, comment on costumes and go to bed excited with our heads full of kicks and lifts and promenade runs. You'd think we were kids at an all-night party. But behind each dance there's another story.
   And the dreams? Well, here are a few highlights.
   In the first type of dream I'm a professional. My name's Constantia and I'm from the island called Love. Strictly Love, where women wear sparkle and feathered headpieces and play opposite masked men who are B-list celebs. In this dream I Waltz in white, Rumba in red and Tango in orange and black. The music's coloured too, ranging from Quickstepping silver and blue-yellow Jive to rainbow Samba and Lindyhop green.
   James is my partner. In Series One he's on TV, possibly fronting wildlife, but mainly flower shows. He's won a silver-gilt at Chelsea and gold at Hampton Court. In Series Two to Five he's in rock, writing powerhouse classics for an indie band who everyone respects. From Six onwards he's in stand up, telling slaphappy jokes and truly, deeply, off-the-wall stories.
   He's a natural, takes well to the dance, and we bond straight away.
   There are others who appear, listed in the credits. Not surprisingly their names are familiar. So my dad presents, Ruth and Naomi cheer from the audience, Meg designs costumes, George leads the orchestra and the panel's made up of Charlie as Bruno, Hannah for Alesha, Amy/Rachael standing in for Len, while Craig's part is delivered by Conrad and Toby, backed up by my gran. My mum plays Tess.
   For several weeks James and I sweat and struggle, practicing our moves. We're busy as flies in our glass-walled studio. We use affirmations like nail it and staying in the zone. On camera we're a hit, week on week topping the leader board, and of course we fall in love.
   The second type of dream is slower and deeper. It's full of glides and turns and smoothly-flowing movements. The music's soft and impressionist. It comes in waves, one moment close then drifting off. In this dance I'm at peace and I lie back on James, breathing slowly. I'm rising and falling in time to the waves. Our hearts beat together. There's a wild, abandoned siren song singing in my ear. It's for us. The tune's our tune: The Power of Love. It reminds me of an imaginary film I carried in my head. My Dreamboat, I call it. I rerun the last scene where the lovers fall asleep and drift out to sea. It's what you might call the dream behind the dream.
   In all these dreams, when we reach the Strictly final we're in the lead. The public are behind us. The judges award us tens, saying we're amazing. The studio audience give us standing ovations. Then, on the last dance, in the final move, just when it seems we've won, my dizziness strikes. I lose my footing and fall. The floor seems to rise up and hit me. A hot needle shoots up my back. I'm lying, shivering in darkness, and something's grinding. My body's not moving. James is stooped over me, calling, but the blackness swells up and takes me in its arms.
   I wake.
In the UK, you can buy signed copies of 'Violet' here.
Paperback + ebook are available on Amazon UK here.
And on Amazon USA  here