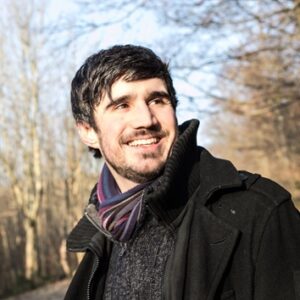 I interviewed Watford-based singer/songwriter Tom Craven who has played funk, pop, folk and high-energy rock and now runs his own events company. Tom says of himself: "My style is melodic song-writing. Involving big hooks, with generally acoustic-inspired arrangements. Mostly American in location, my music has included a lot of pop-rock sentiment, with melancholy rootsy vibes and a big emphasis on lyrical content. My heroes include Damien Rice, Neil Young, Tonic, Goo Goo Dolls, Gary Moore and Wishbone Ash."
Leslie: What's the story of your own musical development from childhood onwards?
Tom: There was never a quiet moment in my childhood. My parents brought me up on a diet of country, classic rock, prog rock and folk, with bands like Pink Floyd, Fairport Convention, Meatloaf and ELO always spinning on the deck. I was given a guitar for my 10th Birthday and taught by family friend James Harrison. So from age 11 I was performing in punk and ska bands, then at 17 I switched to the acoustic guitar and started writing my own songs. I'm still recording at home with James. It was him who pushed me to change the tracks on my EP In Rivers from how they began.
Leslie: You write and perform your own material. What is your composition process, please?
Tom: I'll strum a chord pattern or a melody over and over again, getting hooked into what makes that particular progression sound nice and full and how to keep that sound flowing into the next verse, bridge or chorus. The lyrics themselves usually emerge as a completely separate entity. They begin in the same way as the music then collide with one of the many melodies that I've been developing. I don't tend to have a set way or style in which to bring the lyrics and guitars together, it just happens! I'm a firm believer in allowing it to flow and not forcing creativity. The mood of the lyrics will then influence the way I perform and adapt the music and vice-versa. For example, my song Chances was first written as a poem and married up to music much later on a number of different live and recorded versions.
Leslie: Can you give examples of what inspired particular tunes and their lyrics, please?
Tom: One example is my song Heads Rule Hearts. I've always felt that the chorus lyrics 'Beginning over, beginning over again – Beginning to feel like us' sums up how we all can get caught up in overthinking from time to time and end up holding ourselves back from something that will be fundamentally good for us. Another example is the B-side of the same single, If Friendship is Leaving… My songs, especially in the early days, oozed sentimentality and a bittersweet sense of emotional turmoil. (We all have to start somewhere!). This track was about one of my closest friends leaving to go away to university. The lyrics themselves developed to become an open letter to anyone apart from someone they cared about. The third example is my song Magpie. This piece was inspired by people who kick their habits – something I admire. It's about 'expecting the unexpected' and taking your chances to find the good things in life.
Leslie: How do you fit words and melodies together, and how do you revise / change your work?
Tom: I like to wrap complex words around a melody then rework them. But generally I'll change the timing and emphasis rather than the words themselves. I've never been one to shy away from bigger, unusual words or hefty allegorical sentences or allusion-filled imagery.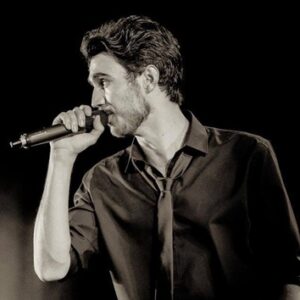 Leslie: What have you learned from other musicians you've work with such as Flux Pavilion and Joseph Suddick?
Tom: My long-time collaborator Matthew Parisi is a talented producer with the musical expertise to add instruments that make the songs sound as huge and as full as they can. For a decade he's taught me about the recording process at home and in the studio. Flux Pavilion and Joseph Suddick are both predominantly electronic music artists who were in rock bands when I first met them, and can play guitar, drums, keyboards or bass at any given time. From working with these producers and other musicians I've learnt to think outside the box and play tracks very differently to how I originally envisaged them.
Leslie: Can you give examples, please, of the kind of stories you tell through your music?
Tom: It varies from commentaries on organised religion, to today's political climate and the effect the media has on the way we think. My stories usually involve human behaviour, friends, personal relationships and social media.
Leslie: Can you describe, please, your work with Papermouth?
Tom: Papermouth is a personal, home-grown company hosting various creative events, set up by myself thanks to support from Watford Council. In five years we've put on musical events, art installations, social events poetry events, comic-cons, mini-festivals mainly in Watford but also as far afield as Belgium. We have brought in a number of acts from across the UK, but all with the core factor that local people have been involved. The company is still just me as the general co-ordinator working alongside the plethora of local talent to make these events fun and interesting and get everyone involved. If I could ramp this up into more of a day-job, rather than a hobby, then hell I would!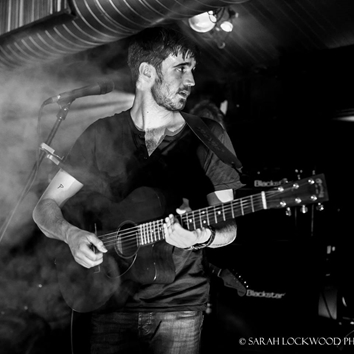 Leslie: How has the Watford music scene changed over the 10 years you've been recording your work?
Tom: I began performing at 17 at The Horns, which is still going strong. It's been a struggle since Taylors – a popular Watford centre for the bohemian/musical community – closed down around 2009. But recently open mics are popping up like wildfire and venues are starting to realise that this talent needs their outlet. I'm so proud to be part of this hotbed of talent in Watford and I will continue to perform myself and host Papermouth events that keep that the creative fire burning in this town.
Next week I interview 'developmental editor' Kendra Olson about how she works with writers.
ABOUT LESLIE TATE'S BOOKS:

Love's Register tells the story of romantic love and climate change over four UK generations. Beginning with 'climate children' Joe, Mia and Cass and ending with Hereiti's night sea journey across Oceania, the book's voices take us through family conflicts in the 1920s, the pressures of the 'free-love 60s', open relationships in the feminist 80s/90s and a contemporary late-life love affair. Love's Register is a family saga and a modern psychological novel that explores the way we live now.
Heaven's Rage is a memoir that explores addiction, cross-dressing, bullying and the hidden sides of families, discovering at their core the transformative power of words to rewire the brain and reconnect with life. "A Robin Red breast in a Cage / Puts all Heaven in a Rage" – William Blake. You can read more about/buy Heaven's Rage here.
The Dream Speaks Back, written by Sue Hampton, Cy Henty and Leslie Tate, is a joint autobiography exploring imagination and the adult search for the inner child. The book looks at gender difference, growing up in unusual families and mental health issues. It's also a very funny portrait of working in the arts, full of crazy characters, their ups and downs, and their stories. You can buy a signed copy of The Dream Speaks Back here.