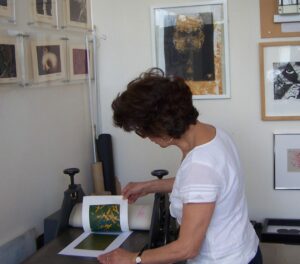 I interviewed artist, printmaker and teacher Sheila de Rosa, who is based in Tring, Hertfordshire. Sheila says about herself, "My art combines themes from Sublime Art, through Feminist Theory and into Maternal Subjectivity, and my projects often include a form of printed impression. Materials and form determine my subject matter."
Leslie: Can you tell us about your compositional methods, please.
Sheila: I don't have a 'one size fits all' methodology. I usually depend on my aesthetic sensibilities to find potential in the world around me. In other words, an image has to appeal to me. That image can be a drawing of people with lined faces; a photograph of a dead bird; interesting leaf skeletons or feathers; and yet again I sometimes just let my hand go for a walk over the plates creating designs and patterns. But I really do like layering two /three different images, one over the other, to create a tension – this is created by the shapes but also by the context and content of an image.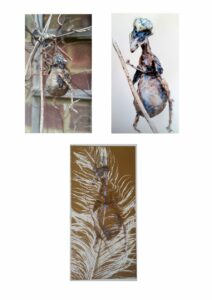 To the right is the progression from a gruesome photo and how it transforms into a final print …
Leslie: What helps you to find a creative mood/angle on a subject?
Sheila:I tend to wait for the spark of inspiration to hit me. Obviously, a commission depends on the brief given to me from a client and a project like 'Cross References' – fourteen images produced for Brighton Festival Fringe – drew inspiration from the interiors of several Catholic churches in and around Brighton. They aim to offer a contemporary and alternative view of Loneliness, Temptation & Forgiveness. The etchings are made using the ImagOn laminating film method and are individually hand pulled onto 280gsm cotton rag 'Somerset' paper from Cuthbert Mills; each in an edition of three.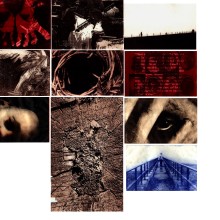 Leslie: What's the history of your studio?
Sheila: I found a space vacated by a greetings card company in Akeman Business Park, Tring. It appealed to me for its lightness and its views over the town and out to Ivinghoe Beacon in The Chilterns. After fourteen years, and having incorporated a small darkroom, I've established my Solar Plate Print workshops as a popular destination for many and various interested people. These include: school children who want to extend their portfolios; college students – some from the Royal College of Art; keen photographers who wanted to extend the image-making potential of their photos; a well-known film/milliner and many Art teachers.
Leslie: What have you learned from your commissioned work about the history of Tring?
Sheila: The history of Tring reflects a small, rural, isolated, market town. In Tring the high spot of the year for children was waiting to see what Christmas toys were in the windows of Batchelor's shop in Akeman Street. For the adult males attending the very many pubs and Maltsers (there are three pubs in Akeman Street alone), was how they found happiness! For the women, well they could look forward to sitting in a dingy room plaiting straw – and possibly breaking the monotony by walking down to Grace's shop to watch a funeral procession.

Leslie: How does the Japanese concept of Kintsugi relate to your social and artistic ideas?
Sheila: Kintsugi is the art of Precious Scars. It is a traditional oriental technique that mends broken pottery using precious metals, saving discarded items and enhancing the inimitable pattern created by the disaster of destruction. Once repaired the new pieces acquire a unique and attractive aesthetic. The unwanted fragments have now become the design. This technique creates works of art, each with its own story and beauty, thanks to the pattern of cracks formed when the object broke – much like the wounds that leave different marks on each of us.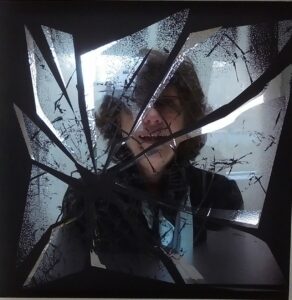 The Kintsugi technique suggests many things about the disposable nature of modern life and points to the need to find ways to cope with traumatic events in a positive way, learn from negative experiences, take the best from them and convince ourselves that it is exactly these experiences that make each person precious. In this way this art form is consistent with my commitment to approaching all things with an open mind and an attempt to illustrate the problems and possibilities of human existence.
Leslie: Can you describe the work of Kathe Kollwitz and how it has influenced you, please?
Sheila: Käthe Kollwitz was born in Prussia in 1867. Her etchings, lithographs and woodcuts continue the great tradition of social realism during the period between 1891 and 1924. Two important events dominate her output, The Weavers' Revolt and The Peasants War, and most poignantly the death of her son drove her to produce a lasting sculptural memorial. Apart from her work, I love her staunch commitment to Pacifism and her belief that it was her duty to empathise, through her work, with those who suffered in the world.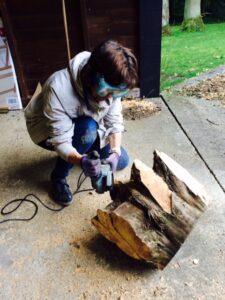 She was committed to social justice whilst being a most proficient draughtswoman and printmaker. She was a woman with a purpose, and a mother who suffered; and she managed to marry both her humanity and her immense artistic gifts. In a nutshell … she is everything I would like to be.
Next week begins a two-part feature about Polynesia, with words from Lillian Howan, author of a powerful novel set in Tahiti, and  her sister's panoramic photos of islands threatened by climate change.
ABOUT LESLIE TATE'S BOOKS:
Love's Register tells the story of romantic love and climate change over four UK generations. Beginning with 'climate children' Joe, Mia and Cass and ending with Hereiti's night sea journey across Oceania, the book's voices take us through family conflicts in the 1920s, the pressures of the 'free-love 60s', open relationships in the feminist 80s/90s and a contemporary late-life love affair. Love's Register is a family saga and a modern psychological novel that explores the way we live now.
Heaven's Rage is a memoir that explores addiction, cross-dressing, bullying and the hidden sides of families, discovering at their core the transformative power of words to rewire the brain and reconnect with life. "A Robin Red breast in a Cage / Puts all Heaven in a Rage" – William Blake. You can read more about/buy Heaven's Rage here.
The Dream Speaks Back, written by Sue Hampton, Cy Henty and Leslie Tate, is a joint autobiography exploring imagination and the adult search for the inner child. The book looks at gender difference, growing up in unusual families and mental health issues. It's also a very funny portrait of working in the arts, full of crazy characters, their ups and downs, and their stories. You can buy a signed copy of The Dream Speaks Back here.