I interviewed Ken Edwards who , with his wife Elaine, plays music that is influenced by 'Klezmer, Sephardic, Balkan, Cuban, folk-rock and jazz' – but in a style that is very much their own. I wanted to know how Ken and Elaine have kept their music fresh, alive and outside the box.
Leslie: You play in two groups with Elaine: Afrit Nebula and The Moors. Could you describe the musical difference between these two groups, please?
Ken: Our first band The Moors was founded in 2008 when we started jamming with local musicians, about four years after moving to Hastings Old Town from London. We'd become obsessed with Balkan music and also the music of the Jewish diaspora (although neither of us is Jewish). I come from Gibraltar and have an interest in Spanish and Latin American music too. So this was the material we were trying to play, and we taught the others the tunes we'd learned, and also some of my own songs and arrangements. By then, I'd switched to bass guitar, which I'd realised very late in life was my instrument. It was an epiphany, a bit like I imagine coming out must be: "Ah, so that's why I always listen to bass lines first, I'm really a bass player!" I'd previously played acoustic guitar and violin, both of which I'd taught myself over the years with a little help from the East London Late Starters Orchestra and COMA (Contemporary Music for All). I'm a part-time musician, regarding myself primarily as a writer, published by various independent presses, including the one I run,  Reality Street. I've a couple of novels and several books of unclassifiable prose and poetry, but for most of my career I've earned my living as a journalist. Elaine is the proper musician of the two of us, playing keyboard to a high standard and flute to a very high standard, then switching to saxophone shortly after we moved to Hastings. I owe her a great deal; she has shown me how much commitment it takes to be a real musician.
We used to have open rehearsals weekly at the Stag Inn, an Old Town pub famous for its folk music, and the word went around and people started turning up to listen to us. Pretty soon we realised we had a band (neither of us had ever led a band before) calling ourselves The Moors, after the mediaeval rulers of Spain. We were surprised at our immediate success locally as a gigging band, though getting a wider reputation was harder. The furthest afield we went was Brecon in Wales where we headed a festival of 'Eastern European Party Music' in 2013, though we were fake Eastern Europeans. That was fun. By then we'd recorded an album, and gone through a succession of drummers, though recently Andy Maby, our original drummer, rejoined us, and so we are back to the original line-up, with Jenny Benwell still on violin and Richard Butler on electric guitar.
Playing with The Moors continues to be enjoyable, but after nearly ten years my creativity with this band is on the wane. And I'd always wanted to play in a more experimental way, with more emphasis on improvising. Not necessarily 'jazz', but more in that direction. So around three years ago Elaine and I started jamming with Jamie Harris, a local percussionist, who for many years had been in a duo with Trevor Watts, one of the pioneers of free jazz (who lives in Hastings). Thus was Afrit Nebula born. This music challenged my musical competence to the limit, which I found scary and exciting, having been in a comfort zone with The Moors. Elaine was getting more and more into jazz too, raiding my extensive record collection, and increasingly blowing up a storm on soprano and tenor sax. The three of us found we were on the same wavelength and could work and write our own material together.
Afrit Nebula has now recorded an album which we're very pleased with, but we want to develop our live sound. Personally, I would like us to get into playing free-flowing sets, with one number segueing into another, rather than a series of discrete songs. We want to use our strengths: rhythmic vitality primarily, with Jamie's percussion strengths and amazing voice, and Elaine's awesome multi-instrumental skills. I try to keep up with them, with my bass-playing and backup vocals (with The Moors I do my best as the only vocalist). We all like to write too, so, unlike The Moors, 90 per cent of our material is original, bar the odd Ornette Coleman or Jimi Hendrix cover. We're heavily influenced by avant-jazz, rock, Afro-Cuban and Middle Eastern styles, but we can't and don't categorise our music.
One debate we're having right now is whether we should expand the trio format. On the album, there is a bit of overdubbing which we can't reproduce live. I wish Elaine could play horn and keyboard simultaneously! On some recent gigs we've been supplemented by our friend Rick on keyboard, but he's heavily committed elsewhere.
Leslie: What are the creative differences for you between composition, rehearsal and performance?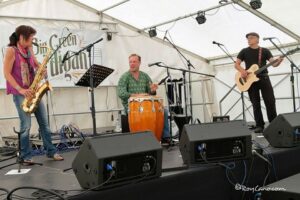 Ken: To me, it's very clear that performance is dependent on regular rehearsal. For a long time The Moors rehearsed every single week, and that's how we got good. We used to have difficulty with odd time signatures that Bulgarian or Middle Eastern music requires, such as 7/8 or 11/8, but they eventually became second nature. Nowadays the band only rehearses when a gig is coming up.
But now we have an intense rehearsal schedule for Afrit Nebula which we stick to, whether or not we have gigs. Sometimes we use rehearsal time to experiment with new compositions, maybe spending an hour on one idea which may develop into something else. One of us may bring an idea to the session, which might be just a riff or a rhythm, or could be an almost complete song, and we give it a good whacking to see what it will stand and where it can go. I'm the words person, but I also contribute musical ideas. Elaine is the guru of harmony, often using strange scales, whether Indian or Middle Eastern or derived from composers like Messiaen or Scriabin or Morton Feldman, or just made up. Jamie keeps us on our toes. No slacking!
Leslie: As teachers and highly disciplined musicians, how do you ensure that your musical training doesn't block personal originality and creative freedom?
Ken: I'm not a teacher and I don't know quite how disciplined I am as a musician – not as much as I should be, I'm sure. Elaine tells me her approach to teaching music, which she does for a living, has always been creative. Whether she's teaching very young children or (increasingly these days) adults, her main aim is to enthuse her pupils about music. Because if it's not about enjoyment it's nothing. With adult pupils, she likes to start where they are: not just technically, but in terms of what music they love, what they want to play. I think she is great at inspiring people, and also showing them that with proper application anything is attainable.
As to blocking of personal originality in creativity, in my experience this has much to do with habit. Coming out with the same old clichés is really annoying. So anything that breaks habits – jamming on an unfamiliar scale, putting elements arbitrarily together and seeing where they clash and where they cohere – has got to help.
Leslie: What's the significance of Hastings Old Town for your music?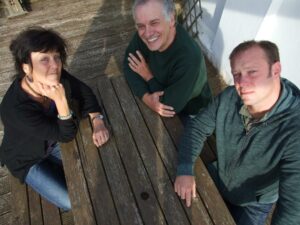 Ken: The music scene was one of the things that drew us to Hastings. The Old Town is terrific. I remember the week after we moved from London we went into the Jenny Lind Inn for a drink and heard this wonderful band with an amazing fiddle player. I mentioned to someone later how great it was to be able to walk down the road and hear an obscure fiddler playing such stuff and was told, "That wasn't an obscure musician, that was Peter Knight, who plays with Steeleye Span!" We never dreamed we'd go on to play numerous gigs at that pub with our own band. Most nights in the Old Town, and certainly at weekends, you have an extraordinary choice of live music. Not just the hackneyed old rock covers – there's some of that – but blues, Americana, English and Irish folk, and some modern jazz. There are a lot of really good musicians living in Hastings.
Only two grumbles: (1) music that busts genres or is a bit experimental has a harder time – it's more difficult to present Afrit Nebula as a pub band, though we have played a couple of times at the Jenny Lind – and also (2) people are used to hearing music in pubs for free, so less willing to pay at the door for a special gig or a launch.
Leslie: Who have been the greatest personal influences on your music – why them?
Ken: I'm afraid I go all the way back to the Sixties. So hearing the Beatles phasing in and out of the Radio Luxembourg airwaves in Gibraltar at the age of twelve was a massive formative influence. And all that followed: Bob Dylan, the Stones, Hendrix, etc. But then I went on to Miles Davis and John Coltrane and the new jazz of the era, and by the time punk came round I was into reggae and African music (which at the time you could really only buy at Stern's Record Shop off Tottenham Court Road in London), and then much later the Balkan and Eastern European stuff, including musicians like Ivo Papasov who plays Bulgarian flavoured jazz. But also, from an early age, a lot of classical and particularly contemporary composition. All the way from Bach and Monteverdi to Steve Reich or even Stockhausen. I remember Pierre Boulez in the Seventies bringing music by the likes of Ligeti to the Roundhouse in London, where I also saw the early Pink Floyd and the Art Ensemble of Chicago. I was and still am greedy for new sounds.
Leslie: Tell us about your Afrit Nebula album 'Triality'.
Ken: We're really pleased with this album, which was released back in February by FMR Records, who also put out records by Trevor Watts and other luminaries of the avant-jazz and free-improv scene.
We had assembled a good repertoire of original material. We'd released an EP ourselves of four numbers in 2015 (Punkique) but this time we wanted to put together a really well produced full-length album, and we decided to spend a bit of money on this.
We brought in our friend Darren Eve, who is actually Jamie's son-in-law and has his own recording studio in the Czech Republic, and he came over and recorded the album in Elaine's and my front room, which was converted into a temporary studio for a week last August. There was a bit of overdubbing, for example backing vocals, extra percussion, keyboards by Elaine, acoustic guitar by me and Darren, but mostly it was live recording. We had eight original numbers and decided to add a version of Ornette Coleman's "Lonely Woman", which the three of us improvised live and only needed two takes.
I did the CD cover design myself, as I'd done for The Moors' records. Jamie negotiated a deal with FMR Records to manufacture the CDs and market it both as a CD and as a download. I'm particularly pleased with the production and the band's playing on "Breathe", which is based on texts by me (from one of my books), spoken simultaneously by all three of us, and has some of Jamie's most amazing singing and Elaine's most impassioned tenor sax playing.
You can stream the music and buy the album here.
Next week I interview white witch, novelist and prize-winning blogger Marjorie Mallon about her active creative life and the community of creative minds she works with.
ABOUT LESLIE TATE'S BOOKS:
Love's Register tells the story of romantic love and climate change over four UK generations. Beginning with 'climate children' Joe, Mia and Cass and ending with Hereiti's night sea journey across Oceania, the book's voices take us through family conflicts in the 1920s, the pressures of the 'free-love 60s', open relationships in the feminist 80s/90s and a contemporary late-life love affair. Love's Register is a family saga and a modern psychological novel that explores the way we live now.
Heaven's Rage is a memoir that explores addiction, cross-dressing, bullying and the hidden sides of families, discovering at their core the transformative power of words to rewire the brain and reconnect with life. "A Robin Red breast in a Cage / Puts all Heaven in a Rage" – William Blake. You can read more about/buy Heaven's Rage here.
The Dream Speaks Back, written by Sue Hampton, Cy Henty and Leslie Tate, is a joint autobiography exploring imagination and the adult search for the inner child. The book looks at gender difference, growing up in unusual families and mental health issues. It's also a very funny portrait of working in the arts, full of crazy characters, their ups and downs, and their stories. You can buy a signed copy of The Dream Speaks Back here