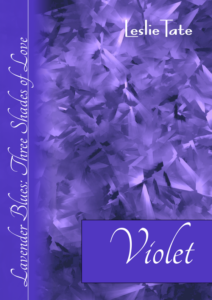 This review of Violet first appeared in the American journal of the arts Cutthroat 24.
Quiet Courage                                      by Emma Claire Sweeney
The final novel in the Lavender Blues trilogy by British author Leslie Tate moves us beyond the earlier books' explorations of free love, traditional courtship and open marriage into a lyrical and poignant meditation on late-life love.
Functioning perfectly as a stand-alone novel as well as drawing the trilogy to a close, Violet is narrated by deep-thinking Beth and high-spirited James. It opens with the blind date that changes the remaining course of both their lives, capturing the childlike exuberance of early-stage romance as well as the inevitable trepidation of those on whom love has already left a deep scar. And it turns out that both Beth and James have good reason to fear.
Structured to resemble the workings of memory, Violet reaches backwards as well as forwards in time, finally excavating the dark pit of Beth's past. The warmth offered by her parents and the wider family of their liberal church, it turns out, has done little to help her resist the magnetism of Conrad, an aspiring preacher. After they wed, her husband's enigma soon shades into coldness, his conviction into the exertion of an unbending will. The romantic Beth, whose parents provided her with such a fine example of enduring love, has always believed in the sanctity of marriage. But her own experiences as both a wife and mother force her to face up to life's complexity.
Easy-going James has made his peace with his previous marriage before he embarks on the romance with Beth. But, for him, the future will prove more perilous than the past, and Beth will be the source of both his sorrow and solace.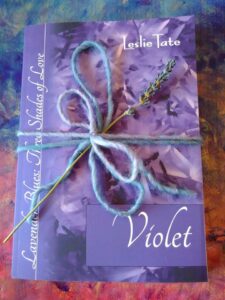 Although Violet's setting and characters are unmistakably and endearingly British, in its insistence on nuance, its insight into the extraordinariness of the ordinary, and its investigation of faith, it shares its DNA with great North American novelists. Bringing to mind writers such as Carol Shields and Marilynne Robinson, Violet dares to offer neither the false consolation of easy answers nor the luxury of adolescent despair – a quietly courageous novel about the bravery of the everyday.
Emma Claire Sweeney is author of the award-winning novel, Owl Song at Dawn, and she co-authored with Emily Midorikawa A Secret Sisterhood: The Literary Friendships of Jane Austen, Charlotte Brontë, George Eliot and Virginia Woolf. Together, Emily and Emma also run the literary friendship site SomethingRhymed.com.
Links for Violet: