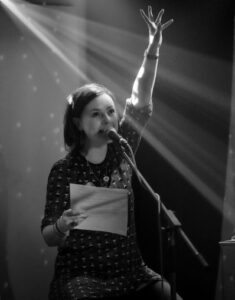 I interviewed Lisette Auton, disabled writer, activist, spoken word artist, theatre maker & creative practitioner. Lisette has been chosen as a Penguin RHUK WriteNow Mentee, one of ten out of 1700 applicants. She often works with groups that are underrepresented in the mainstream – for instance with disabled people, and in her work with Middlesbrough Institute of Modern Art celebrating older people. As guest editor for Disability Arts Online, Lisette used the platform to focus on Northern Emerging Disabled Artists. Lisette says about her spoken word performances: "I deliver passionate, high octane, physical pieces about disability, mental health, politics and quite often also my freckles."
Leslie: Can you tell us what your training in devised performance involved?
Lisette: I was fortunate to go to Bretton Hall College, which was part of Leeds University and in the grounds of Yorkshire Sculpture Park. A magical experience, but sadly one that no longer exists. It's basically acting without the script. Training to work in groups or solo to create a piece of theatre from scratch using a variety of different methods depending on the source material and the outcome desired. We also had movement, voice and even stage combat classes. The reason I went to Bretton was because I wanted to work in the arts but not necessarily be an actor. I knew I wanted to work within the community but not teach, and this specialist course allowed us to create work and then run a schools' tour and deliver workshops, as well as working in prisons and probation hostels. My dad thought I'd just go and spend three years learning how to be a tree, but that was only for the first year….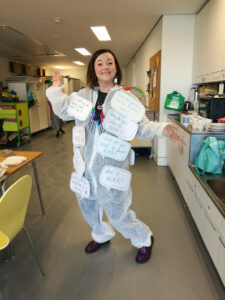 Leslie Could you sum up the other areas of creativity you've worked in, please.
Lisette: It's an eclectic mix! The tagline on my website says 'Does Stuff with Words' and that just about sums it up. My brain doesn't function well just on one project at a time, I need diversity of ideas and mediums so that I can be busy on one thing while an idea for something else bubbles away. As a disabled artist one of my impairments is fatigue – by doing things this way I can balance physical and thinking work. My best work is often done eyes closed, lying in bed, just pondering. It took me a while before I realised this was work too and an essential part of my process. I've worked for the army on festivals, I've acted, I work as a creative practitioner and lead workshops, as a poet-in residence, a spoken-word performer, a poet and a writer. I'm currently one of Penguin RHUK's WriteNow mentees, which is a great opportunity to spend a year with an editor working on my middle grade children's novel THE WRECKLINGS. It's an adventure novel based in the North East coast which is populated by a whole host of disabled characters – including a Captain with a kitten in his beard. Penguin have been phenomenal in terms of access and support and also in building the relationship with my editor. I'm learning so much.
Leslie: How do you discover and develop performance ideas? To what extent is your work an 'adaptation from life'?
Lisette: It always begins with a kernel of life. From something I hear on the radio, I read, something that makes me have a rich or shocking emotional reaction. I write it down, because they are so easily forgotten. I can't bear to think of all the amazing ideas or snippets which have been lost to, 'I'll remember that'. Then it sits in my 'brain percolator'. It stews with other things. Usually a colliding viewpoint, or a different angle and all of a sudden it becomes a 'Thing'. I don't know whether it's due to impairment and managing ways to work, or just if that's the way my brain works, but time that others may spend drafting on the page or computer, I spend drafting in my head. I need quiet thinking time. It's not waiting for the muse to strike, it's playing with words. I close my eyes and I can 'see' them, I alter them and move them around as you would on the computer screen. Once that process has happened it comes out in one go, fully-formed. From there the fun begins – big pieces of paper for scrawling ideas, developing a persona for each piece, a way of standing, of being. Once I start to learn it, I find my tongue trips and it has to change. Pieces develop once they go out in the world too, based on reactions or how I'm feeling. Sometimes it's really close to home, autobiographical, for example in a spoken-word piece such as 'Wheelchair Ettiquette' – sadly and frustratingly all those things actually happened. But then in another piece I'm a circus ringmaster and as yet, I can't legitimately add that to my CV.
Leslie: How did your creativity begin, grow and develop?
Lisette: There is a photo of me, 'ickle, sitting on a tiny red chair reading Chicken Licken. That the picture was upside down and I was wearing no pants is incidental. We didn't have much money growing up, at all, but we had books, and visits to the local library – which was when I realised I could bring them home! And my mum and dad would go without so that we could take a music lesson, or go on a school trip. I was always in school plays – with one highlight having an allergic reaction to the straw in my scarecrow costume. My parents allowed me to develop my acting, didn't always understand it, but support was there. Until I wanted to go to university and they couldn't understand that I didn't want to be an actor or a teacher – I wanted to be what I am now. That fear comes from a background where you got a 'proper' job and you held on to it – something I fought against, although it wasn't easy. Now, the support I get from my family is absolutely phenomenal and I couldn't do what I do without them. Simple as that.
Leslie: Could you expand on the idea that your 'work seeks to make the invisible visible'.
Lisette: In the mainstream, on our TVs, in our theatres, in our books, the world we see is not the world we live in. It is not even a teensy bit slightly representative and that makes me sad and angry. If you don't see yourself represented, how do you ever believe that the arts are open to you? We work out our lives and our histories through telling our stories, and all stories have a right to be told. And diverse stories make for great, successful work for everyone. They aren't niche, or weird, or there-there pat on the head tokenistic, they are phenomenal pieces of art that hold a mirror up to our world – to challenge and celebrate. There is no excuse to say that there aren't directors, actors, writers etc making this work – they are. And if they aren't, what are you doing to encourage and enable and skill? I am playing a tiny part in this, but it's central to how I work, that EVERYONE deserves and is entitled to be creative and for there to be a platform for their work. So as a creative practitioner I work with people who are often not represented by or are excluded from the mainstream. And in my artistic work as a writer and a performer I use my platform to give space for disabled and womxn's voices.
Leslie: Who are the creative people who've inspired you – why them?
Lisette: Two people I am exceedingly lucky that have agreed to mentor me, as a result of an Arts Council grant, are Carmen Marcus and Kaite O'Reilly. Carmen is local to me, based in Saltburn, and has written a staggeringly beautiful novel called 'How Saints Die'. She has also navigated London literary world as a North-East working class writer. Her workshops are just unbelievable – if you get a chance to go on one, you'll learn so much! Kaite is a disabled playwright and poet – international, award-winning, awesome. I had read two of her books, including 'Atypical Plays for Atypical Actors' and was blown away by what was possible. I was on a panel at DaDaFest and she was there and came over to say hi and congratulate me. I properly fan-girled and then went along to her book launch. We kept in touch and she has been an amazing support. I still can't quite believe I'm going to get to work one-on-one with them.
Two creative powerhouses who have always championed me and been there from the beginning are Claire Pounder, Learning Curator at MIMA and Vici Wreford-Sinnott, playwright and director. They have held my hand when necessary and provided encouragement and support. They are also incredible practitioners and I learn so much from them.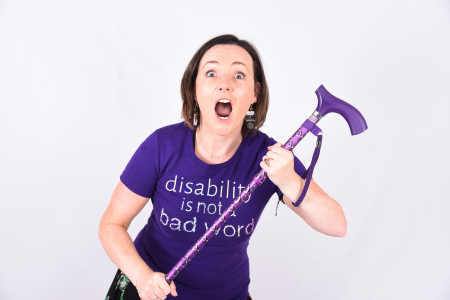 Leslie: What have you learned about yourself and other people from your projects and performances?
Lisette: That I can't do this solo. That although writing is a solo craft, there is the need for connections and solidarity, to learn, laugh and support each other. I am incredibly lucky to have stumbled upon some cracking people and groups, and from each one of those, more connections grow. I was on a course called Writers' Block North East and from that I have writing friends, and a 'writing husband', Tom, an exceptional writer, who reads all my words, provides support and kicks my backside when necessary, and I do the same in return. I wouldn't have made it onto the WriteNow programme without him. My fellow mentees there are incredible too and understand exactly what it's like to be in the middle of this strange and ginormous process. Out of Writers' Block there developed a fabulous writing group – 6 of us, at varying stages, but all serious about our work. We meet up for monthly wine, writing and world-overhauling sessions. I wouldn't be without them. Then there are the sisters of the TWP – Tees Women Poets – a collective with Kirsten Luckins at the helm. They have pushed me beyond what I thought I could ever do. The entire spoken-word scene in the North East is pretty darn out of this world – welcoming supportive and a new family. I also went on a course at ARC for creative practitioners, that's a few years ago now and we're still there for each other.
I've learned that anything is possible. That I want to learn, to push, to try and fail, to give it a whirl, to see and hear everything possible and then try that too.
That the majority of people are kind and supportive and will do anything they can to help you. And the ones that don't are easily avoided.
That it's really hard work. That none of this comes easily. That I didn't know I could be this knackered. That it's an eternal balance between health and work and family. That if I don't create I get ill, it keeps me quite literally sane, though there is a fine balance and sometimes I scare myself when I teeter on the precipice.
That this makes me, me. And that I wouldn't have it any other way.
Next week science ghostwriter and journalist Maxine Lipman talks about how her rational beliefs were turned upside down by a friend's uncanny pre-death predictions.
ABOUT LESLIE TATE'S BOOKS:
Love's Register tells the story of romantic love and climate change over four UK generations. Beginning with 'climate children' Joe, Mia and Cass and ending with Hereiti's night sea journey across Oceania, the book's voices take us through family conflicts in the 1920s, the pressures of the 'free-love 60s', open relationships in the feminist 80s/90s and a contemporary late-life love affair. Love's Register is a family saga and a modern psychological novel that explores the way we live now.
Heaven's Rage is a memoir that explores addiction, cross-dressing, bullying and the hidden sides of families, discovering at their core the transformative power of words to rewire the brain and reconnect with life. "A Robin Red breast in a Cage / Puts all Heaven in a Rage" – William Blake. You can read more about/buy Heaven's Rage here.
The Dream Speaks Back, written by Sue Hampton, Cy Henty and Leslie Tate, is a joint autobiography exploring imagination and the adult search for the inner child. The book looks at gender difference, growing up in unusual families and mental health issues. It's also a very funny portrait of working in the arts, full of crazy characters, their ups and downs, and their stories. You can buy a signed copy of The Dream Speaks Back here