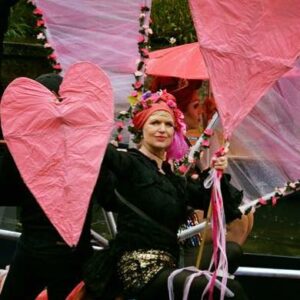 I interviewed Cambridge-based participatory artist Hilary Cox Condron who describes herself as, "Passionate about using creativity, culture, stories and collaboration to connect, strengthen and shape communities." Hilary works with many groups across the city. In her own words she has, "A true commitment to equality, diversity, social inclusion, the environment and place-making through the arts." The Chair of Cambridge United once introduced Hilary as, "Community glue."
Leslie: You're a community artist. Can you tell us about where that passion came from and the key milestones on the way to developing your current work?
Hilary: Yes – I had an epiphany moment in Johannesburg in 1995. I took a year out of design and illustration work in the UK and painted murals in South Africa. I became friends with a group of boys who were living on the street – they would come and join me to paint, I'd make rice, we'd sit in the market in the evening and we'd make beads. We set up a stall to sell them. We painted, talked, danced and looked after each other. One day, sitting on the kerb drinking lemonade, a man came to shout abuse at them (nothing unusual) – along the lines of being worthless, good for nothing blah blah. One of the boys waited for a break in the rant, looked the man in the eye and said, "I'm not worthless. I made this today," and opened his hand to reveal one of the beads he'd made. I had no idea that that was what we were doing – I thought we were just having fun. Those boys were my biggest teachers – I joined an issue-based community theatre group when I got back here – tackling bullying, racism and teenage pregnancy through theatre and the arts. And every arts project and collaboration since is because of those children.
I co-wrote the arts programme for The Street Child World Cup a few years later… working with street children from 8 different countries – exploring their experiences and the Rights of the Child through the arts – and feeding those findings into The Durban Declaration which helped improve street children's rights in each of those countries.
Leslie: Can you tell us, please, about a few projects you've started that show the range of what you do.
Hilary: I recently ran the arts workshops to create Cambridge's first ever PRIDE flotilla parade. I am Artist in Residence for The Ironworks – working with local residents to help support the community through my practice as new homes are built. I've just been at Latitude Festival with Extinction Rebellion. I collaborate with Kettle's Yard gallery to deliver workshops about social change through the arts, for example creating artwork exploring extinction inspired by the work of Oscar Murillo. I work with Jimmy's homeless shelter – creating exhibitions and installations, raising awareness of homelessness and celebrating how wonderous we all are as we create. I've ran creative social history projects gathering stories and creating exhibitions, soundscapes, films and books. I had an 18 month commission to make a local estate 'happier'…
Leslie: In what ways has living in Cambridge helped/inspired your art?
Hilary: Cambridge has the greatest social divide of any city in the UK. That is an issue that hugely influences my artwork – I'm passionate about using the arts to tackle that – to fight elitism – I use my practice to help give people a voice, open up the city to people who may not feel it belongs to them – to increase democracy.
And Cambridge is also home to so many socially engaged artists – and I love to collaborate, share ideas and skills and energy.
Leslie: What are the main issues you tackle in your work – and how do you do it without seeming too didactic?
Hilary: Right now the climate crisis is very high on my agenda – I'm very involved with Extinction Rebellion. Herstory. Social equality. Homelessness.
Creating together is part of our essence – I offer an opportunity to explore an issue creatively and gently together. I have huge faith in people's creativity (even if they don't) – I leave a lot of space open to change – I often have no idea how a project is going to end up – it's exciting! Conversations happen as we shape the creativity together. Sharing the artwork then raises awareness, starts new narratives and provokes action through a more visceral experience.
Leslie: How do you set about involving people in a project?
Hilary: Various ways – often just popping up in front of people and places. I create a bit of a buzz on social media, I pop up in parks or at existing events – I talk to people about what they would like. I use cake as bribery. I listen.
Leslie: What would you say are the dos and don'ts of community projects? What have you learned about yourself from this sort of work?
Hilary: Listen, listen and listen more. Never believe you have the answer… the answer is somewhere else out there. I don't believe there is such a thing as 'hard to reach communities' – just hard to reach art. I am constantly humbled by greatness in unexpected places. Be kind. Be generous. Enjoy people. Share skills, connections and energy. Have faith in people's innate creativity. Never lose sight of the role art plays in social change… always inspire action.
I guess those are the things I have learned along the way. More than ever before I am being reminded of how restorative it is to create together – how much it strengthens our resolve and nurtured us – and I feel in need of that a lot right now.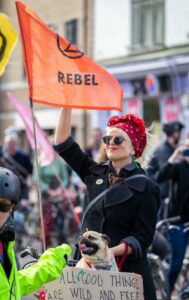 Leslie: Could you explain what an artistic 'legacy' might look like in practice when you say you want to leave '…a legacy of artwork through books, film, installations, exhibitions and oral histories'.
Hilary: I think of an artistic legacy as being something active, transformative and inspiring. I hope that the collaboratively created artwork – the books, film, installations, exhibitions and oral histories – continue to take you on a journey… bringing people and places to life and inspiring thought, actions and change. That's a good legacy isn't it?…
Next week Tom Fox talks about BUILDING NEW INSTRUMENTS using recycled and reclaimed materials.
ABOUT LESLIE TATE'S BOOKS:
Love's Register tells the story of romantic love and climate change over four UK generations. Beginning with 'climate children' Joe, Mia and Cass and ending with Hereiti's night sea journey across Oceania, the book's voices take us through family conflicts in the 1920s, the pressures of the 'free-love 60s', open relationships in the feminist 80s/90s and a contemporary late-life love affair. Love's Register is a family saga and a modern psychological novel that explores the way we live now.
Heaven's Rage is a memoir that explores addiction, cross-dressing, bullying and the hidden sides of families, discovering at their core the transformative power of words to rewire the brain and reconnect with life. "A Robin Red breast in a Cage / Puts all Heaven in a Rage" – William Blake. You can read more about/buy Heaven's Rage here.
The Dream Speaks Back, written by Sue Hampton, Cy Henty and Leslie Tate, is a joint autobiography exploring imagination and the adult search for the inner child. The book looks at gender difference, growing up in unusual families and mental health issues. It's also a very funny portrait of working in the arts, full of crazy characters, their ups and downs, and their stories. You can buy a signed copy of The Dream Speaks Back here