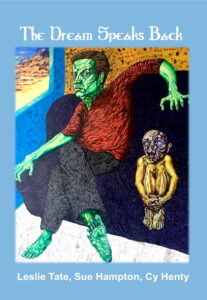 If it was a piece of music, The Dream Speaks Back, would be a jazz number, passing the lead between different soloists. Written by Sue Hampton, Cy Henty and myself, Leslie Tate, it's a triple autobiography.
So how do you go about putting together a book written by three authors? In the case of The Dream Speaks Back, it came together, in Lautréamont's famous phrase, 'like the chance encounter on an ironing board of a sewing machine and an umbrella'. But behind the surreal adventures and personal stories was my organising work as an editor.
I structured the book so it moves back and forth between a succession of scenes that cue each other. And as the three of us write very differently it became like walking through a series of contrasting rooms, all belonging to the same house.
To give a few examples:
Cy Henty's section begins with an interview where he talks about retaining a child-like openness to experience. By way of illustration, he describes his work in two comedy double acts.
Cy: When my first comedy partner Sam Ball and I used to improvise in a warehouse many years ago, we would think of it as therapy in a way, but it was also 'play'; and it is the ability to play that is lost. We would take on different characters, surprising each other, trying to outwit each other – but also often exploring many dark paths within ourselves and being quite brutal toward each other. Sometimes this led to hilarious results... occasionally we'd go too far and that material was rarely put on stage! Always we would share a drink afterwards and feel relaxed and happy. The 'play therapy' had not only given us some great material but exorcised a lot of our fears as we tried to make sense of an often cruel and incomprehensible world.

My second comedy partner Al Ronald and I also play in the same way, and challenge each other. The philosophy of our partnership is to remind our audience of the dynamic, beautiful yet chaotic position we are truly in. On a rock, spinning around a huge radioactive fireball in a void…
As the book progresses, the narrative voice switches. So this part of Cy's interview leads onto Sue Hampton, writing in the voice of her girl-self, describing her love for her father:
Daddy wasn't always home when the little girl went to bed but when his train was an early one they met him from the station, even if it was dark. There were so many men with raincoats and brown briefcases and polished shoes, but Daddy was different on the inside, and they were the only ones who knew. At bedtime, Mummy played the same tune on the piano so they could march around the living room twice, and once more for luck, and then along the hall to their twin beds. But if Daddy was home, when they'd cleaned their teeth and were tucked up in their jimjams, playtime was about to begin.

Sometimes, when her brother was only small, Mummy read a Thomas the Tank Engine story. The same one. The one where Mrs Kindly waved her red dressing gown and shouted, "Help!" as loudly as she could. Then Daddy would charge all the way from his armchair to the rescue. As if he thought there was a monster or a fire and there was no time to lose. His eyes would be wide open and he'd crash in like a train off the rails. The little girl and her brother would laugh so much they couldn't sit up straight for ages.
What follows is a number of short, echoing responses to Cy's interview that open up my wildly imaginative childhood. This kind of writing I call imaginary autobiography; it aims to explore my most revealing fantasies.
I met Cy Henty ten times before I met him.

The first time, we were playing with my dad making goony noises on the beach. Cy was Bloodknock, I was Bluebottle – and we dug for treasure, built dams to stop the tide and waved our arms at seagulls to scare 'em. Later, with the wind in our faces, we drew stick people with our fingers in the sand. We named them Yuri, Neil and Buzz.

Back in the house, Cy was the ghost boy beside me on the stairs. Like me, he could hear heavy breathing. Noises made him jump. He was there behind curtains, in the voice on the landing and the face at the window, the light left on and the rattle in the pipes. No one else could see him.

Once a year, we both ran riot at our birthday party, shouting out of windows and bouncing on beds.
"I'm flying!" cried Cy.
"I'm Leslie!" I replied.
"So who am I?" asked Cy, pulling funny faces.
"I'm tall!" I cried, standing on a chair.

Our daredevil climbs and downhill races had us sent out to the garden, where I dived to the ground and scraped both knees. We both went white and shaky, crying a lot. Later in the night Cy told me about story time with his sister. When he fell asleep I sneaked into my parent's bedroom and played at dressing up.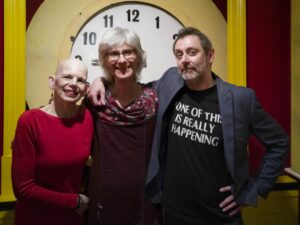 From that point on the writing develops, alternating Cy's bizarre experiences as a comedian and mental health worker with Sue's thoughts about being a writer with my lived experience as a non-binary person and chessplayer/worker/author. On the way there are multiple pen portraits of characters, including:
Cy's numerous stage & life personae, his friends and patients, and his gifted, eccentric mentor Uncle Dan.
Sue's family, teachers and schoolfriends.
My parents, grandparents, and friends and enemies at school.
In the words of the blurb: 'As life-writing, The Dream Speaks Back describes growing up in unusual families, how it feels to be 'different', and the adult search for the inner child. As an imaginative journey, it explores gender and mental health issues. It's also a very funny portrait of working in the arts, full of crazy characters, their ups and downs, and their stories.'
We wrote the book to tell our stories and show how imagination, creativity and gender roles really work. We hope it will astonish and delight an audience who enjoy faction – a freeform combination of autobiographical fact and poetic fiction.
You can buy signed copies of The Dream Speaks Back here.
You can buy copies of ebook & paperback at the TSL Publication Store here.
You can buy The Dream Speaks Back at Amazon USA in Dollars here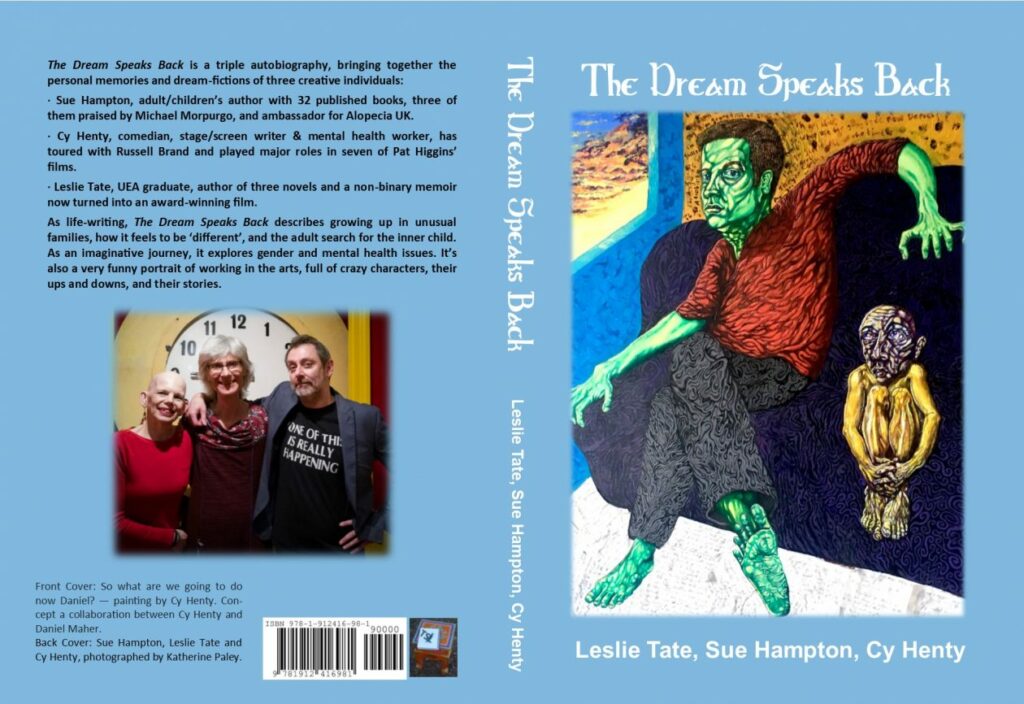 ABOUT LESLIE TATE'S BOOKS:
Love's Register tells the story of romantic love and climate change over four UK generations. Beginning with 'climate children' Joe, Mia and Cass and ending with Hereiti's night sea journey across Oceania, the book's voices take us through family conflicts in the 1920s, the pressures of the 'free-love 60s', open relationships in the feminist 80s/90s and a contemporary late-life love affair. Love's Register is a family saga and a modern psychological novel that explores the way we live now.
Heaven's Rage is a memoir that explores addiction, cross-dressing, bullying and the hidden sides of families, discovering at their core the transformative power of words to rewire the brain and reconnect with life. "A Robin Red breast in a Cage / Puts all Heaven in a Rage" – William Blake. You can read more about/buy Heaven's Rage here.
The Dream Speaks Back, written by Sue Hampton, Cy Henty and Leslie Tate, is a joint autobiography exploring imagination and the adult search for the inner child. The book looks at gender difference, growing up in unusual families and mental health issues. It's also a very funny portrait of working in the arts, full of crazy characters, their ups and downs, and their stories. You can buy a signed copy of The Dream Speaks Back here