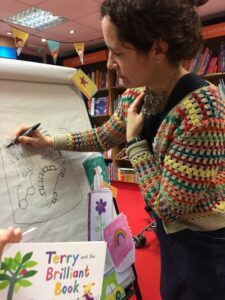 I interviewed author and children's books illustrator Nicola Kent, who was highly commended in the Macmillan Prize in 2016 and won the Independent Booksellers' Best New Illustrator Award in 2019.
Nicola says about herself: "I live in London with my partner, two children and a cat called Firelight. When I'm not working, I love to read, look after my garden, play cards and go adventuring in my camper van."
Leslie: How did your interest in writing and drawing begin, grow and develop?
Nicola: I've been drawing and making up stories all my life. I have a little book made with my mum when I was five, and another book of my poems made when I was about 8. And I loved books – I still have loads from my childhood. I was a bit put off by art at school because it was so focussed on still life which I found uninspiring. I am and always have been interested in the ordinary – streetscapes, kitchen cupboards – and I found more classic subjects a bit of a turn off. But when I did my first degree in English and Art, specialising in graphic design, I knew quickly that I wanted to find a career in which I could work with a combination of words and pictures.
Leslie: What did you learn from your time as a TV producer?
Nicola: I spent ten years working as a TV producer until I had my children when I decided to follow my dreams of making children's books. There are loads of skills I learned in TV that have been directly transferrable. Both careers are all about story-telling. Creating narrative, humour, emotion, being a strict self-editor. So, I came to picture books with an insight into structuring narrative and varying the scale of images to help create pace, which has been hugely valuable.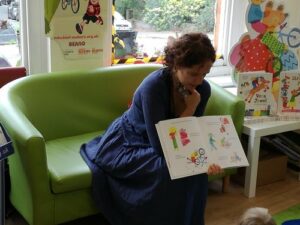 Leslie: What have been the milestones and who have been the key figures in helping you to become a professional illustrator? What have you learned from them about yourself?
Nicola: After I graduated from my first degree, when I was 22, I attended a short course in Children's Book Illustration at Chelsea School of Art run by Carolyn Dinan, who was immensely encouraging, and who has taught many now successful illustrators. At that time I was applying for a wide range of starter jobs where I could combine words with images, including jobs in children's publishing. I was offered a BBC Arts production traineeship, so the books went on hold, although I continued to make cards and the odd handmade book for people I knew.
After I had my daughter, my first solo adventure as a new mum was returning to Chelsea for another short course with Carolyn, and within a few years I enrolled on the MA in Children's Book Illustration at Cambridge School of Art and felt I had come home. It was then run by Martin Salisbury and Pam Smy and for me it was life changing. The MA's approach is to robustly help you find your own voice – which can be difficult when you are surrounded by so much awesome and diverse talent. I learned that you have to work very hard, allow yourself to make lots of mistakes, and that when you finally hit the right note you'll know. I've also learned it's crucial to try and create some separation from yourself and your work, so that you can be self-critical, and take criticism, as an important part of making the work better, and without feeling personally deflated.
On the MA, I also wrote a dissertation on the importance of domestic paraphernalia in picture books and that also helped me understand that my passion for everyday objects is part of a rich and important tradition in illustration.
The next milestone was my first book deal with Macmillan Children's Books. The team there were wonderful – so nurturing, fun to work with and taught me so much.
Leslie: How do you work creatively?
Nicola: I am still trying to identify a system to maximise creative efficiency but it alludes me! But what's fascinating how writing and illustrating bounce off each other right from the beginning of a new idea and, while there's often a very painful patch of following different roads in terms of an idea or trying different materials and hitting dead ends, suddenly something clicks and I'm excited and then I can quite quickly produce stories, characters and ways of creating artwork. I have a few different size sketchbooks on the go – an A5 for when I'm out and about, an A4 for developing ideas and an A3 for thumbnails and storyboards. I have recently started using Blackwell pencils which make such a lovely line, and this sort of thing does make a difference to how I feel about my work. I'm a very untidy creator, and it is important to have a good tidy of my workroom from time to time – it clears my head and inspires me to create new things. When I'm writing or, sometimes if I'm storyboarding, I'll go and work in a local café. I find the buzz of chatter and clinking cups a good backdrop for creativity until I've got a concept nailed.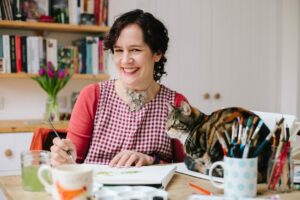 In terms of materials, I try all sorts of things. My first three books are in watercolour, line and ink stamps that I collaged digitally. I love the aesthetic of overlapping colours, a sort of printmaking aesthetic. For my next projects I am experimenting with emulsion paints and home screen printing, which I am really enjoying. If ever I'm feeling totally stuck, whether I'm meant to be writing or illustrating, getting messy with materials and just having a play with no particular goal is usually a surefire cure to shift the block.
Leslie: Where do you find your initial inspiration and how do you work on your ideas/sketches to finalise them?
Nicola: Ideas just pop into my head, often aided by a daily brisk walk. It's important I don't commit too much to paper till quite a lot of thinking and brewing have taken place. If I write ideas down before they're cooked it can be harder to undo the tangle. Once I've got the central concept of what I want to do – a scenario, theme and point – then I work very loosely and messily scrawling words and little illegible thumbnails to find the structure. I don't do really pretty roughs until the story is nailed because I find having to redraw when you've invested a lot in the drawing process can be a bit deflating, whereas if you keep it loose till you're ready you bring an excited energy to the final roughs.
I suppose my ideas come from observations of family life and children's development. So, in The Strongest Mum, it's about the Little Bear seeing for the first time that his mother is not invincible and how important it is that we help each other and that even the strongest people in our lives need a rest sometimes.
Vera Jewel is an exaggerated romp about the age old challenge of getting to school on time.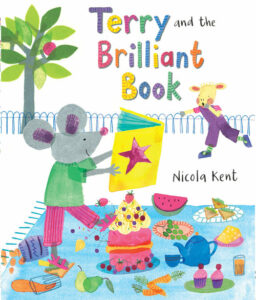 Terry and the Brilliant Book is about how children find passions and navigate tensions in friendship.
Leslie: How do your books portray women and girls?
Nicola: It's very important to me that my books include strong and interesting female characters.
My debut book, The Strongest Mum, is based on the experience of stay-at-home mothers of very young children. There are, of course, dads who stay at home with pre-school children, but it's still mostly women and they work so so hard, without necessarily feeling like they have anything to show for it. They are often sleep deprived and overwhelmed, but because they don't feel like they're actually doing much (even though they are!) they take on more and more and fail to find time for rest and self-care. They are coping well, but suddenly something can just tip the balance.
I remember a period when my daughter was two and my son was a newborn and I was just at full capacity. We lived in a first floor flat and I was home alone with them all day. We were getting ready to go out one day – I'd packed up all the bags: the nappies, the snacks, the water, the spare clothes, the entertainments, the wipes. Anyone with children of that age knows that leaving the house can feel like a miracle – just when you think you're ready one of them does a poo/falls over/has a tantrum… Anyway, finally we were out on the landing and I locked the flat door and looked down and realised I'd forgotten to put any shoes on! Sometimes when you're a mum, you are the last person you remember to look after, and I think that's what the book is really about – remembering to be a good parent to yourself.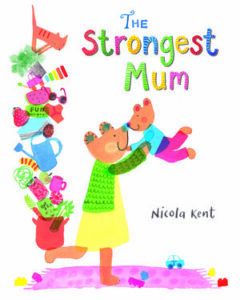 There's a second theme in The Strongest Mum which comes from Little Bear's adoration of nature's treasures. My son is 8 now and still finds little pine cones or conkers or lovely leaves that I end up carrying for him. I hope there's a message in the book that says this love of nature is something that comes very naturally to children and it's something I think it's really important to foster and nurture. It's easy when we're all so busy with all the stuff of modern life to overlook our more primitive instincts and I think they come out in our children and that we can learn a lot as adults spending time with children. So it's also about allowing yourself, as a parent, to sometimes slow down to their pace and see the world through their eyes and with their sense of wonder.
I hope that through a humorous tale, The Strongest Mum is a reminder of how strong women like Mother Bear are, and how we should all look after each other!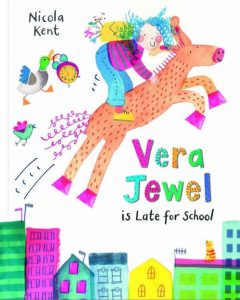 Vera Jewel is a character with great resilience and creativity. When I was writing it, my own daughter was in year 5 and had a teacher who was very interested in helping girls in particular to allow themselves to make mistakes as they often lead to a stronger result. She even had a 'mistake of the day' board. Vera is fearless, inventive, and gets there in the end, showing great kindness in the process.
Leslie: What's unique / special about illustrating for children and working with them creatively?
Nicola: Children are so funny, clever, curious and interesting. I love spending time with them and I love hearing their take on things. Often they see the world with extraordinary wisdom! It's a great honour to make books for them and also a huge responsibility. Books are part of the way we form our understanding of the world and evolve our own moral compass and I would only ever include themes or subjects that I wanted my own children to think about. My own prime parenting aim is to promote kindness, to others, to nature and to themselves, and I hope those themes come across in my work. When I'm doing workshops with children in which we create their own stories, I'm struck by the innate imagination and creativity in children. I think as authors and illustrators one of our first keys to success is to reconnect with that purity of imagination and bring it to life.
Next week I interview Liz Darcy-Jones about her sound poetry, her Biodanza, and her involvement in nature
ABOUT LESLIE TATE'S BOOKS:
Love's Register tells the story of romantic love and climate change over four UK generations. Beginning with 'climate children' Joe, Mia and Cass and ending with Hereiti's night sea journey across Oceania, the book's voices take us through family conflicts in the 1920s, the pressures of the 'free-love 60s', open relationships in the feminist 80s/90s and a contemporary late-life love affair. Love's Register is a family saga and a modern psychological novel that explores the way we live now.
Heaven's Rage is a memoir that explores addiction, cross-dressing, bullying and the hidden sides of families, discovering at their core the transformative power of words to rewire the brain and reconnect with life. "A Robin Red breast in a Cage / Puts all Heaven in a Rage" – William Blake. You can read more about/buy Heaven's Rage here.
The Dream Speaks Back, written by Sue Hampton, Cy Henty and Leslie Tate, is a joint autobiography exploring imagination and the adult search for the inner child. The book looks at gender difference, growing up in unusual families and mental health issues. It's also a very funny portrait of working in the arts, full of crazy characters, their ups and downs, and their stories. You can buy a signed copy of The Dream Speaks Back here