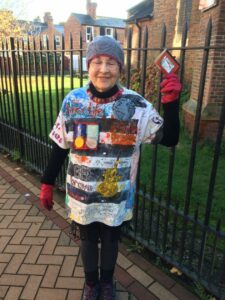 I interviewed environmentalists Judy Marsh and Julian Marsh. Judy acted for 27 years as Judy Liebert, working at the Royal Court, Traverse, National Theatres and appearing in 'The History Man', 'EastEnders', 'Peak Practice' and other TV dramas. In 1993 Judy retrained as an artist and has subsequently exhibited in numerous galleries.
Trained as an architect, Julian Marsh was a partner in Marsh: Grochowski Architects and a professor of architecture at Sheffield Hallam University, specialising in sustainable buildings. He has chaired RIBA awards and been a Lottery Assessor for the Arts Council of Wales. Julian is also a multi-tasking musician who sings and plays in a band with a choir.
Judy and Julian are committed members of Extinction Rebellion.
Leslie to Judy & Julian: What activities have you been involved in during your working lives?
Judy: As a woman born at the end of the war, a working life was something that had to be juggled with a domestic life. I was an actor and a single mother, with no family close by so I worked in various shops close to where I lived in London to keep the wolf from the door. I worked for a picture framer and soon I could make frames and glaze quicker than my employer. I drove a van for a florist delivering bouquets and could find myself holding and comforting someone recently bereaved, or laugh with others at the joy of romance, childbirth, or other congratulations that could feel to be of my very own making. I worked for an estate agent, instructed to comb through other estate agents' properties for hours on end. I worked for a well-known posh kitchen shop. I worked for a fine wine merchant and poured and swilled very expensive little tasters for many famous people. Decorating and gardening too.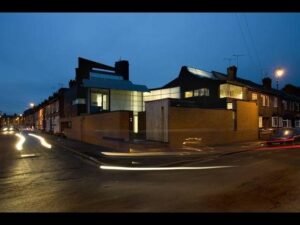 Julian: I have spent most of my working life involved in architecture and building, either as a practitioner or a teacher. This has led to a very wide spectrum of experiences and the need often to 'have a go' without much experience in order to learn and get better. The world of Architecture is a strange one, needing clarity and determination – something that so often turns to arrogance – and extreme sensitivity; to people's lives, abilities and the environmental context.
Leslie to Julian and Judy: What are the most important learning experiences for you at work?
Julian: Probably the two most important things I have understood through my work is the need for humility and the importance of remembering what it was like to know very little. Other less positive things would be to never get carried away by success – because the future is unpredictable and to be tenacious and keep going, looking for ways around seemingly unsurmountable obstacles.
The need for humility comes from the fact that there is always something you can learn from others. When making a building it needs to be seen as a collaboration with the others involved. Working with skilled tradesmen and discussing how to achieve what the building needs can be incredibly enlightening. This was most evident when Jude and I built our own house. We decided that the process should be entirely non-confrontational, that we would have physical roles within the team of people who worked on it and that we would take our time and not have the pressure of a programme so that changes could be made as we learnt our way through the building.
I spent the last 10 years of my working life as Professor at Sheffield Hallam University. A wonderful experience teaching in a committedly environmental school with students who were hungry to learn and totally without attitude. When I started I felt something of a fraud, not having a particularly academic background, but found that the most useful gift I had was that I could still remember what it was like to be a student starting out in architecture, still remember the confusion and insecurity that I had felt and in which I was not alone. Empathy is essential in teaching.
Judy: Again, as a woman born at the end of the war the oppression I felt was huge. Because I was a single parent, I couldn't join my friends' babysitting club because I hadn't got a partner. However, as the saying goes what doesn't kill you makes you stronger. I retrained as an artist. After 25 years I at last feel I've got the hang of it. The most important thing I've learnt… wait for the moment… prepare for the moment… be ready for the moment and… with a bit of luck it just might go one's way…
My life and experience are the basis of my work. So, it would make sense to show you some of the pieces I have made which are deeply personal and use them to illuminate my experiences and attitudes.
The first is 'my chest of drawers'. Something that always fascinates others and has them wanting to root through them.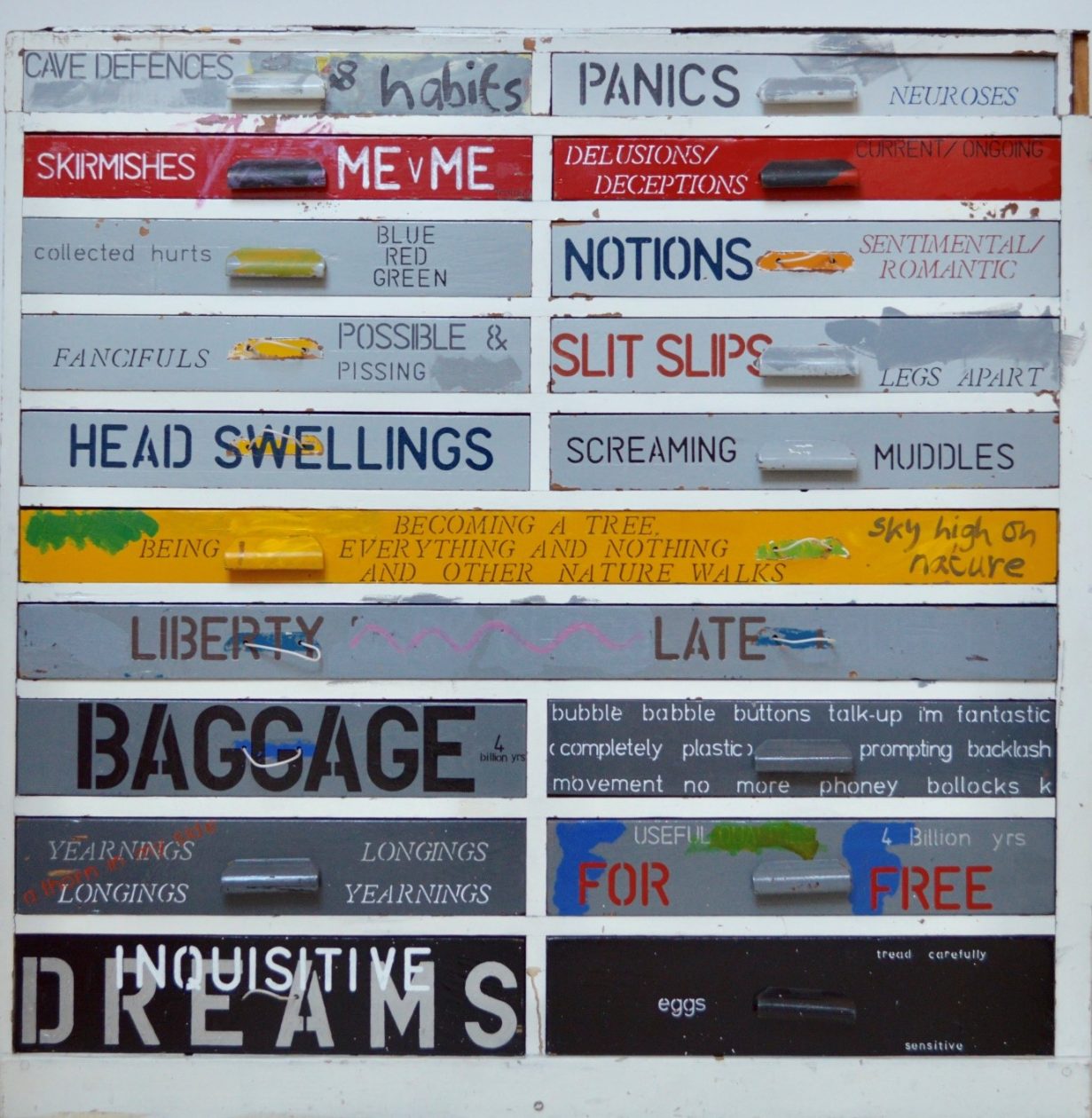 The drawers' contents are of course all metaphorical. They tell the story of my inner life, its delusions, pain, and eventual liberation. Starting with Cave Defences, the primitive selves that are still very active within us. Moving on to the common mental battles we all have within ourselves. Sex, self delusions and the healing power of nature, eventually leading to a tentative personal liberty.
The second is called 'pallette'. I am sitting within and on the periodic table. All the elements of life that we know of are under, around and within me. (More have been discovered since I finished the painting!) I'm wrapped in a cardigan patterned with my d.n.a.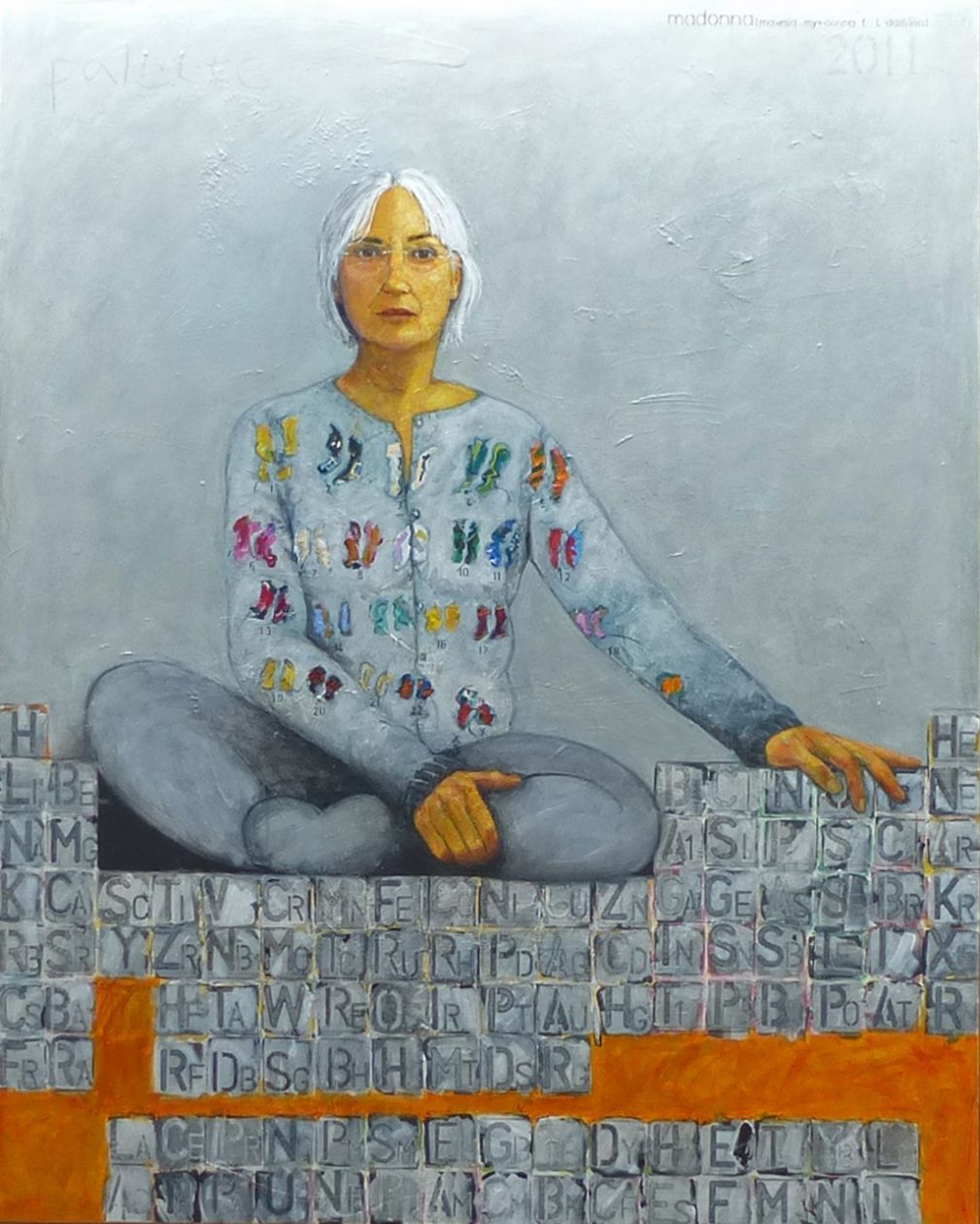 Leslie to Judy and Julian: What more remains to be done in the activities you have both been part of to combat climate change?
Judy: Personally I try to have as low a carbon footprint as I can manage. I am quite critical of a lot of XR's enterprises/activities. I try to watch the faces of those who are watching us and in the main I don't see 'the suspension of disbelief' that I know, from being an actor, is the only way to people's hearts. And getting to someone's heart with a physical 'chemical' experience is the only way to change people's minds. You have to move them. It's a technique. It's very very hard and difficult.
For 3 years I have also been working on a piece called 'Vote for Planet Earth'. This huge artwork which has taken over 3 years to paint has 252 figures, every nationality on earth, and a dog and a cat, queueing to vote for the planet, set against a hot red burning earth. It is a call for the world to come together over the Climate Crisis. The painting is shortly going into the Offices of Nottingham City Council – an encouragement for our socialist and environmentalist city to keep up the good work. The painting is based on the images of the first free and fair elections in South Africa in 1994. I was deeply moved by the long colourful queues snaking their way to the polling stations. The painting is a call for all people of planet earth to come together for its wellbeing.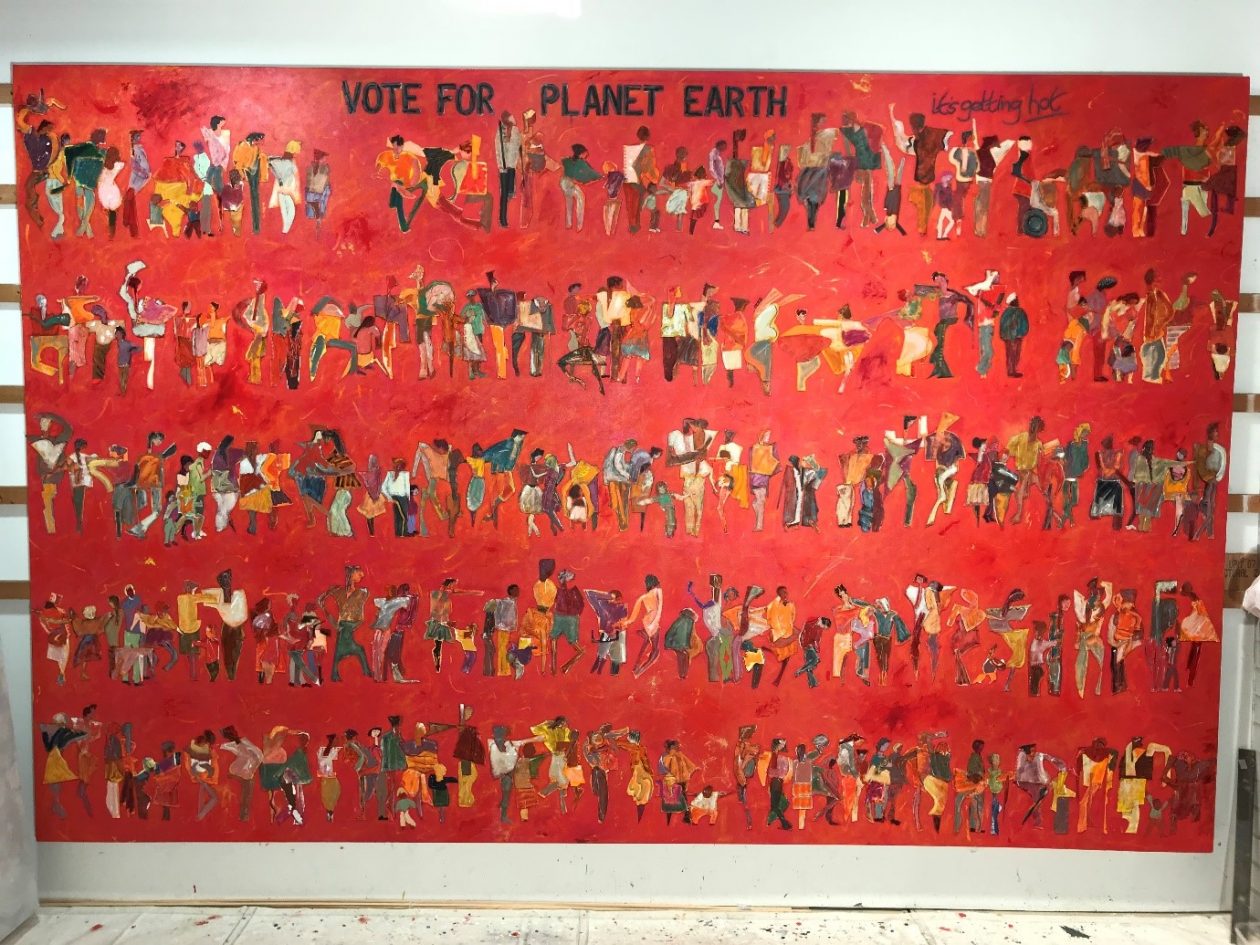 Julian: The list is endless given the enormity of the task. Both Jude and I have tried through the process of building our house to live a much lower carbon lifestyle and that is both challenging and fun. Working locally in Mozes, our community energy group, has been really interesting and has involved me in some interesting research, but it seems like we are just beginning. Trying to get both clients and government committed to building low energy buildings has been interesting but also very frustrating as other concerns often outweigh environmental imperatives. Working with XR has helped remove some of that frustration and it has been heartening to see how powerful the message has become. It is also interesting to be part of an alternative way of acting and decision making which is bottom up and consensual and which seems to be the only way politics can now go if it is lead to a more equal society.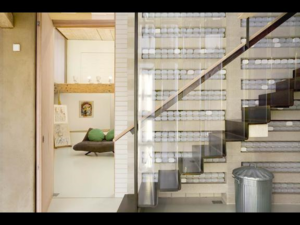 Leslie to Julian and Judy: You are both independent thinkers. What helped you from childhood onwards to remain critical and reflective?
Julian: Being critical and (to a certain extent) reflective are things you inevitably learn in the process of learning to be an architect. If you can't stand back and analyse where you are, you can't move forward. You will inevitably end up in an ideas cul-de-sac with nowhere to go. Learning where not to go becomes as important as knowing how to move forward. I say reflective to a certain degree because I don't think I am particularly good at reflection in any depth. I don't have enough patience and ability to make enough space. Having seen how good Jude is at this I feel quite inadequate.
Judy: I'm not sure there is such a thing as an independent thinker. It depends on one's experiences. As a child I was a 'loner' and from a very early age passionately in love with nature. Reflection and critical thinking came later and slowly through my training, first as an actor, then as an artist. Constant observation of oneself, others, relationships, circumstances, internally and externally, is prerequisite to both professions. Slaughtering the wretched ego is the ultimate liberating factor… but it will keep knocking on the door…. damn it.
Leslie to Judy and Julian: What are the sustaining/nourishing experiences you enjoy today?
Judy: well, I'm still in love with nature… and I'm blessed with a wonderful partner… both emotionally nourishing… and I'm very fond of food.
Julian: Having now left the making of architecture behind, concentrating on influencing those still doing it or commissioning it is an interesting and rewarding area of action and study. Nottingham has a target of becoming carbon neutral by 2028 – a massive task, and supporting that aim is vital.
The experience of living with an artist is a wonderful part of my life, experiencing the constant flow of ideas and expressions. I have recently started cataloguing Jude's work – of which there is a huge output – and am constantly finding pieces I had not seen before and marvelling over their beauty.
I find the thing that sustains the soul is music; writing, recording and playing blues and gospel, often in a community setting. That is very precious.
Next week writer & psychologist Andy Miller talks about mixing genres as an author.
ABOUT LESLIE TATE'S BOOKS:
Love's Register tells the story of romantic love and climate change over four UK generations. Beginning with 'climate children' Joe, Mia and Cass and ending with Hereiti's night sea journey across Oceania, the book's voices take us through family conflicts in the 1920s, the pressures of the 'free-love 60s', open relationships in the feminist 80s/90s and a contemporary late-life love affair. Love's Register is a family saga and a modern psychological novel that explores the way we live now.
Heaven's Rage is a memoir that explores addiction, cross-dressing, bullying and the hidden sides of families, discovering at their core the transformative power of words to rewire the brain and reconnect with life. "A Robin Red breast in a Cage / Puts all Heaven in a Rage" – William Blake. You can read more about/buy Heaven's Rage here.
The Dream Speaks Back, written by Sue Hampton, Cy Henty and Leslie Tate, is a joint autobiography exploring imagination and the adult search for the inner child. The book looks at gender difference, growing up in unusual families and mental health issues. It's also a very funny portrait of working in the arts, full of crazy characters, their ups and downs, and their stories. You can buy a signed copy of The Dream Speaks Back here