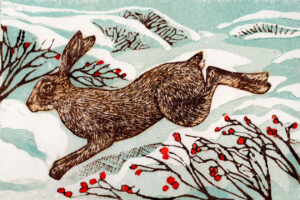 I interviewed artist Sarah Bays about her drypoint Intaglio prints, monotypes and lino cuts. Sarah says about herself, "I am a printmaker living in Norwich producing prints from a small etching press on a tea trolley in the corner of my dining room… I am often inspired by my morning dog walks, the pattern of light through the trees and the shadows cast by the morning sun." 
Leslie: How did you first discover and grow your artistic self, please?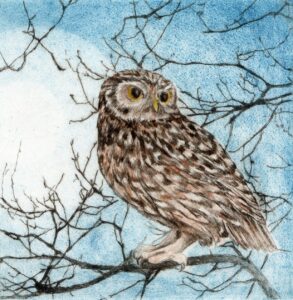 Sarah: As corny as it sounds, for as long as I can remember I have loved to draw. As the daughter of an art teacher. I was always encouraged to be creative. After art college the need to earn a living resulted in a very non-artistic job and although I still drew and painted in my spare time it became more of a hobby, especially once children came along. However, once they were both at school, with more time to myself, I started printmaking, remembering how much I had enjoyed it on my art foundation course. Encouraged by friends and family, I spent the money I was going to spend on a new sofa on a small etching press and started experimenting.
Leslie: How did you learn the printmaking process, what is it, and how has it shaped and developed your art?
Sarah: Aside from what I could remember from art college I got books from the library and looked at the internet for instructions and then experimented to see what could be achieved. I was also very lucky to have the annual Norwich Print Fair to visit for inspiration and advice and was delighted to eventually become a part of this. I started with drypoint initially as it utilised my love of drawing and, as it didn't involve etching with acid, was less hazardous to do at home. Likewise, lino printing which I felt lent itself to more colourful work and which I sometimes combine with drypoint.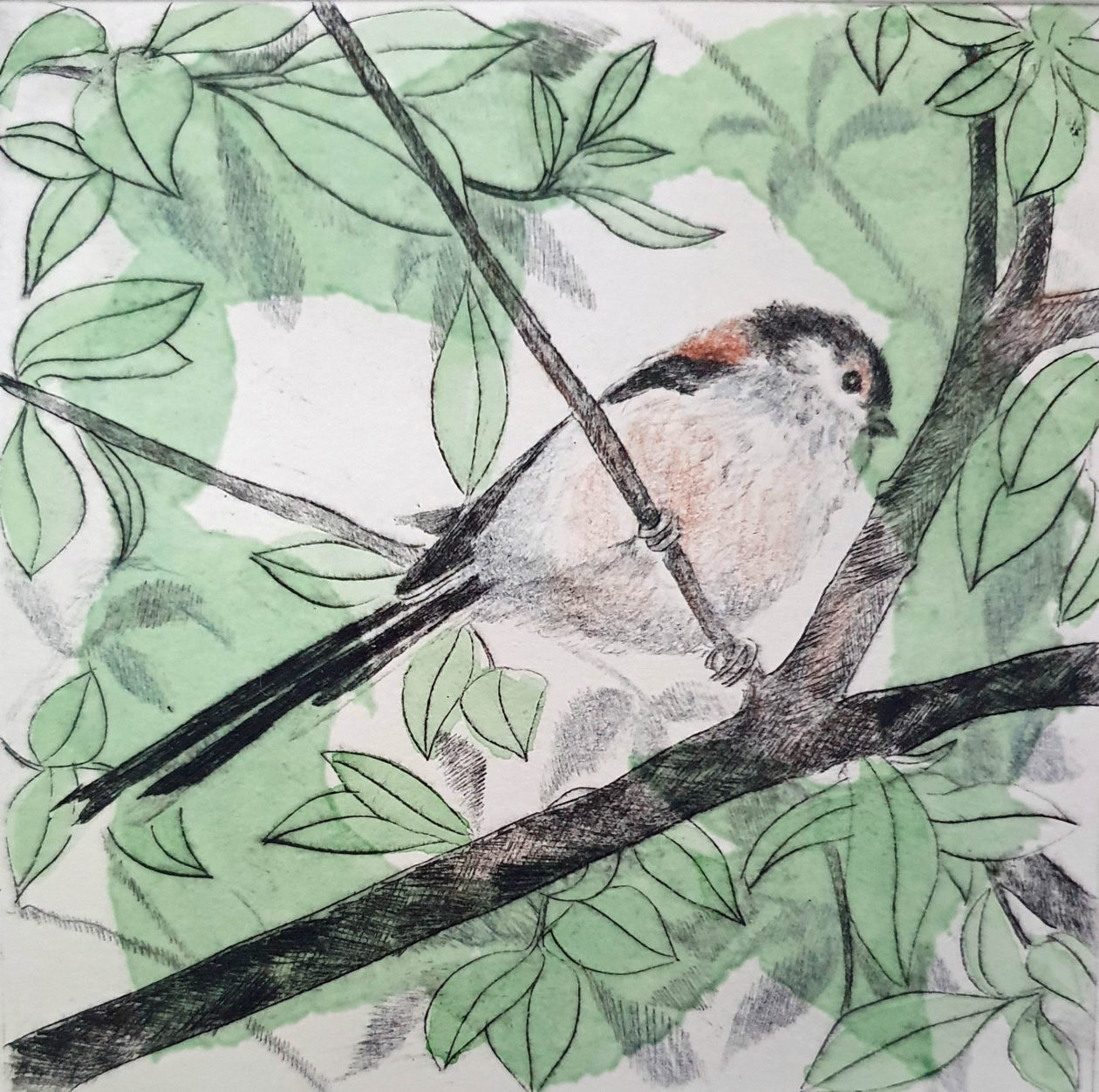 Leslie: What are your other favourite artistic processes? How are they done and why are they important? In what direction have they taken your art?
Sarah: Monoprints for me are a more spontaneous form of printmaking, a good contrast to the planning and precision involved with linocuts and drypoints. Although the results are more unpredictable I enjoy the freedom of the process as I let the picture evolve naturally as I go along rather than having something specific in mind. The technique I use is more "painterly" adding to and taking away colour from the printing surface. (more often than not a gelli plate) building up layers and using different tools (eg a sponge or my fingers or a spatula) to make marks.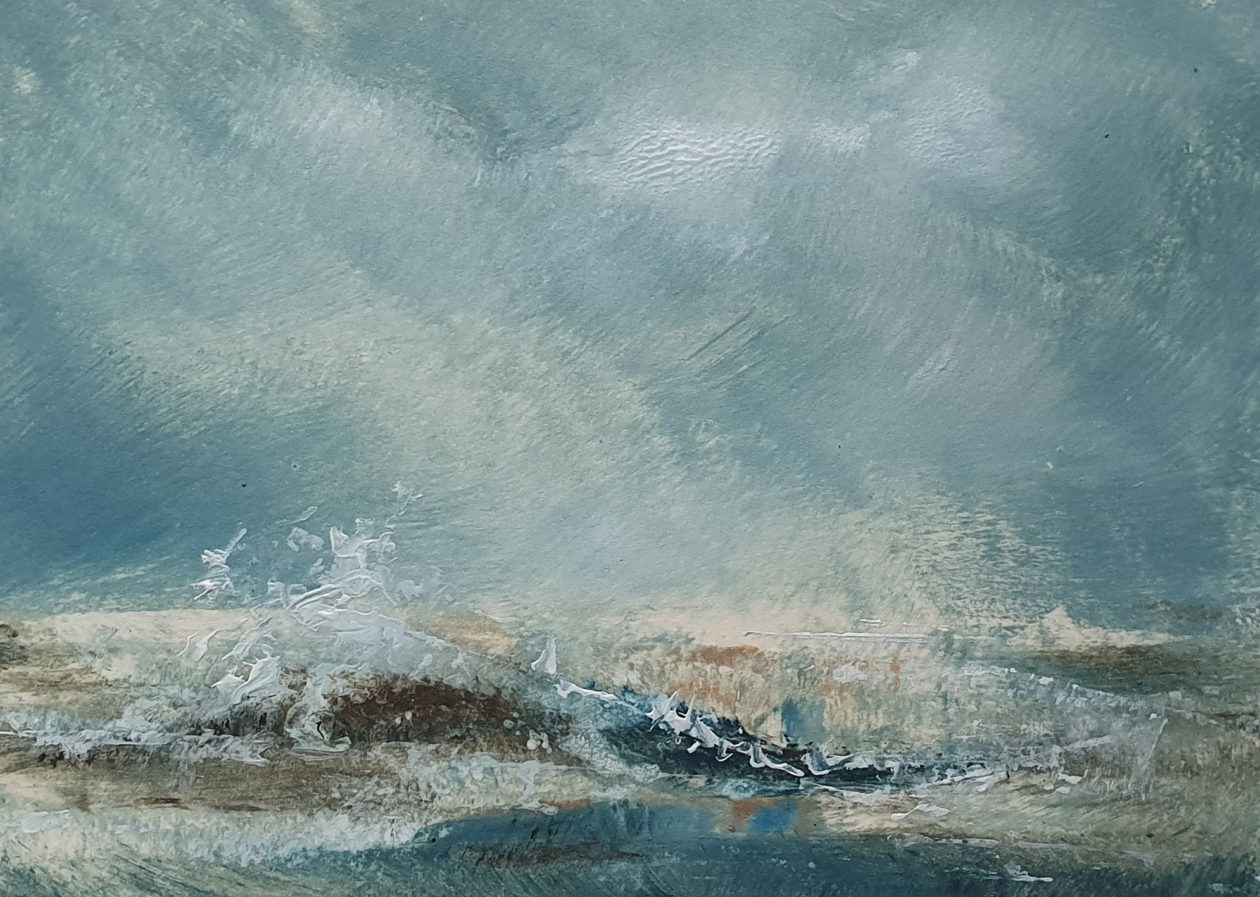 Leslie: What are the aspects of nature that most inspire you? Do you formally observe nature or immerse yourself in it? How do you find your subject matter?
Sarah: I think wildlife is what most inspires me. The birds and animals I see whilst out on my daily dog walks along the river and through woodland and heath. When possible I take photos for reference from which to do drawings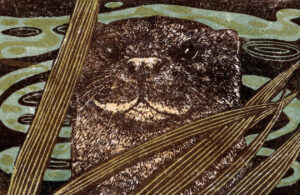 Leslie: How do your daily experiences translate into a picture? What forms of edit and enhancement occur during the creative process?
Sarah: Using drawings I have done from my photos I combine these with different backgrounds until I find a composition I am happy with. Sometimes this will be the original background, sometimes I will scan my drawing into photoshop and move elements of the composition or add a different background. I then decide the number of colours I am going to use in my print although this can change and often does as the print process goes on.
Next week I interview visionary sculptor Clare Ferguson-Walker
ABOUT LESLIE TATE'S BOOKS:
Love's Register tells the story of romantic love and climate change over four UK generations. Beginning with 'climate children' Joe, Mia and Cass and ending with Hereiti's night sea journey across Oceania, the book's voices take us through family conflicts in the 1920s, the pressures of the 'free-love 60s', open relationships in the feminist 80s/90s and a contemporary late-life love affair. Love's Register is a family saga and a modern psychological novel that explores the way we live now.
Heaven's Rage is a memoir that explores addiction, cross-dressing, bullying and the hidden sides of families, discovering at their core the transformative power of words to rewire the brain and reconnect with life. "A Robin Red breast in a Cage / Puts all Heaven in a Rage" – William Blake. You can read more about/buy Heaven's Rage here.
The Dream Speaks Back, written by Sue Hampton, Cy Henty and Leslie Tate, is a joint autobiography exploring imagination and the adult search for the inner child. The book looks at gender difference, growing up in unusual families and mental health issues. It's also a very funny portrait of working in the arts, full of crazy characters, their ups and downs, and their stories. You can buy a signed copy of The Dream Speaks Back here.