In the second part of my interview with the disabled-led theatre company Vital Xposure I talked to the company's founder, Julie McNamara and its new director Simon Startin about all the exciting shows it has researched and put on, its importance for marginalised people, and the unique qualities of inclusive drama.
Leslie to Julie: Your website mentions research. Can you give examples of how and for what purpose research has been carried out?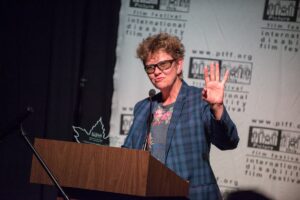 Julie: All the work we make is carefully researched, to find as many witnesses to events, to particular moments in time and place, to unearth a fuller version of the facts. The research is crucial to the emotional truth of the narratives we work with. The research is embedded in the work, it gives the work its life, it is rarely, if ever, delivered directly in performance.
Our first work The Knitting Circle, was inspired by voices recorded on an old cassette tape I had recorded in 1983. Those voices were from a women's group; women patients in a long-care institution meeting under the guise of a knitting circle to role rehearse their case conferences and talk about the closure of the hospital they knew as home and think about what life might be like on 'the outside'.
We put a call out through regional and national Mind networks, community mental health services, Out of Sight, Out of Mind, Survivor networks etc and we were inundated with people who wanted to tell their stories, who had no place to tell what they had lived through during the asylum years, years of institutionalisation, or the decant years, moving into what Margaret Thatcher had called 'Community Care'. The research of those stories beyond my own experience as group leader inside the long care system was essential to unearth the experiences that were common inside a culture of institutionalisation.
This was careful, delicate work with safeguards in place to ensure no further emotional harm was done to people who were very vulnerable. We cast the show and selected six actors who had some expertise or link to the lived experience of the mental health system. We matched those actors with former patients and former staff members who wanted to gift their stories to the developing work. We had everybody signed up to a confidentiality policy that served to remind us all that we were dealing with people's lived experiences, this was never going to be 'just a story'. The process took us time and created a culture of respect and support of everybody engaged within it. The staging of the work took place over three years and three iterations. When we staged the final version, the work had an ensemble of 8 people on stage, with integrated British Sign Language and attracted full houses everywhere it was presented. More than anything, people wanted to hear their own and familiar stories and see themselves represented on stage. On February 19 2013 Taoiseach Enda Kenny made a public apology in the Dail (Irish parliament) to the survivors of the Magdalene Laundries, created by the Church and state. We were touring The Knitting Circle at the time and delivered our own public apology to the audiences gathered at our venues, for nobody yet has apologised to the thousands of people ( countless women) who were incarcerated inside the long care system for the most spurious of reasons and never saw freedom again.
Out of the research for this first production for Vital Xposure, our researcher Lesley Willis unearthed the story of Dorothy Lawrence, a young journalist who funded her own journey to the front in WW1, arriving by bicycle. She enlisted as Sapper Denis Smith and became the only woman to serve for the Royal Engineers, Tunnelling division in the trenches. That research went on to inform the development of the next production: The Disappearance of Dorothy Lawrence and Blue Pen, an art film made with long term collaborator Çağlar Kimyoncu at filmpro studios, unveiling unpalatable truths about censorship of women's voices and the erasure and execution of women journalists across the globe, even now.
Leslie to Julie:  Are a high proportion of your performances first-person narratives, covering raw & authentic experience that has actually happened to the people on stage/film, or do you cast your players & events into third person i.e. fictionalised & distanced into a story? What considerations come into play when you decide which route to take? 
Julie: There are only two intimate works based on first person narratives. The first is Let Me Stay, based on that long goodbye with the arrival of my mother's Alzheimer's. While she was with us, we recorded her singing voice, her favourite family snaps and the filmmaker, Çağlar Kimyoncu  had 15 hours of footage taken over many years of engaging with her. Let Me Stay is a powerful love letter between mother and daughter. It is also a celebration of life itself, in contrast to the negative tropes that often accompany a diagnosis of dementia. The work remains true to the choices Shirley McNamara made throughout the development of the piece. She chose the title, the beginning and the end of the show. She selected the clips that Caglar had edited and the images she liked best to accompany stories that we had told and re-told inside the family.
The other work which we supported as far as research and development stage was This is How it Happens, a visceral, vulnerable and powerful exploration of recovery after sexual harm, based on the true stories of three very different men who were sexually assaulted.
Our stories start with first person narratives, but they do not remain there, all stories live at the heart of communities, often communities experiencing unremitting oppression. I have written a play: Whisper Me Happy Ever After, based on the testimonies of young children surviving violence at home or in the country of origin where they have fled war zones and political conflict. The story begins with one child's viewpoint, one child who we become witness for, who tells the story and we see the world through their eyes. But it is essential if we are to learn from that child's eye view, that we bring in the voices of the people the child is watching, we need their stories to understand what the child is living through and for the children (and adults) in the audience to understand how they might make changes or get support to help make things better.
Leslie to Julie: Can you take us through a few seminal anecdotes (behind the scenes and/or on stage) that sum up the Vital Xposure experience, please?
Julie: I can let you have some of my favourite moments as a creator…
Snapshot 1: Inviting my Mother Shirley McNamara, onto the stage to receive her applause for the show: Let Me Stay. That day will never be forgotten, in my mind and heart, and in those of the audience, the stage crew and the shocked commissioners from Alzheimer's Europe and Age UK, who marvelled at our star coming to life from the auditorium!
Snapshot 2: An 80 year old woman from the post show audience at Watts Gallery who begged to be allowed inside the Giant puppet to see how he works! I allowed her up the ladder to take a peek inside Pullen's Giant.
Snapshot 3: The excited full audience at the Albany who were so slow to leave after the Q and A following showing of our first stage version of White Pariahs: Quiet Rebels
Snapshot 4:  The astonishing positive feedback we had to our showing of White Pariahs: Quiet Rebels online in our Zoomed hybrid version of film, live performance and reclaimed footage.
Snapshot 5: My favourite moment is delivering a public apology after The Knitting Circle to the women of the long care system who lived many years inside a system that became abusive. That apology was timed to follow Enda Kenny's in the Dail. We gave our apology at the Bluecoat, Liverpool to a full house. We are still awaiting an apology from successive governments in the UK who sustained the long care system here in the UK, where Industrial Therapy units were linked like slave labour to every local industry where a long care hospital was built.
Snapshot 6:  The exquisite pre-recorded 'pathe' film created by Çağlar Kimyoncu  and integrated into the set of 'The Disappearance of Dorothy Lawrence' delivering sign language through Deaf and hearing actors in a shattered window of the falling asylum on the frontline trenches of WW1
Leslie to Simon:  What unique qualities does inclusive acting/drama have of the sort Vital Xposure put on?
Simon: I've always maintained that an Art that excludes is an Art that lies.  It holds a distorted mirror up to nature and purports to be 'normality'.  So when you see a stage or screen full of big eyed, cheek boned RADA gazelles, chosen because 'the camera loves them' or 'who else can play a hero?', you have to call into question the motives of the casting.  It's a problem that goes all the way back to Ancient Greece, where the role of Art was to portray an Ideal.  This is what is still happening in our storytelling today.  We are showing ourselves not as we are, but as we want to be, or worse still how the powerful want us to think we want to be.  Grasping and grateful in the shadow of the unobtainable.  However, we when we fill our stages and screens diversely, with who we really are and tell stories about who we really are, a revelation occurs.  The audience are able to say, "At last!  All humanity is here!", and more importantly, "At last.  I am here."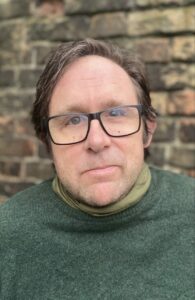 This has a profound effect on disabled people.  By being represented we are acknowledged as part of the human condition.  By telling the truth we are humanised.  Further, in the context of the 130,000 preventable deaths brought on by austerity since 2012, many of whom were disabled, and now the 86,000 and rising deaths brought on by Covid, my hope is by raising disabled people's visibility in our culture and leading on our narrative, it will make it harder for the powerful to sacrifice our lives in the name of economic 'probity'.
Moreover, it has a profound effect on theatre making itself.  In order to make theatre, disabled people often have to break theatre.  Artistically, that's where the gold is found.  So in a way, Disabled Theatre is the last Avant Garde, and that is very exciting.
Next week I interview Tamsin Abbott about her innovative stained glass, as featured on BBC TV's Countryfile and in Country Living magazine.
ABOUT LESLIE TATE'S BOOKS:
Love's Register tells the story of romantic love and climate change over four UK generations. Beginning with 'climate children' Joe, Mia and Cass and ending with Hereiti's night sea journey across Oceania, the book's voices take us through family conflicts in the 1920s, the pressures of the 'free-love 60s', open relationships in the feminist 80s/90s and a contemporary late-life love affair. Love's Register is a family saga and a modern psychological novel that explores the way we live now.
Heaven's Rage is a memoir that explores addiction, cross-dressing, bullying and the hidden sides of families, discovering at their core the transformative power of words to rewire the brain and reconnect with life. "A Robin Red breast in a Cage / Puts all Heaven in a Rage" – William Blake. You can read more about/buy Heaven's Rage here.
The Dream Speaks Back, written by Sue Hampton, Cy Henty and Leslie Tate, is a joint autobiography exploring imagination and the adult search for the inner child. The book looks at gender difference, growing up in unusual families and mental health issues. It's also a very funny portrait of working in the arts, full of crazy characters, their ups and downs, and their stories. You can buy a signed copy of The Dream Speaks Back here.