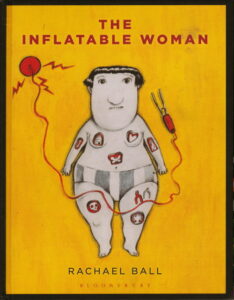 I interviewed cartoonist and art teacher Rachael Ball, whose first graphic novel, The Inflatable Woman, was listed as a Guardian Best Graphic Novel and one of Paul Gravett's Top 10 British Graphic Novels for 2015. Amongst Rachael's other graphic publications are, Wolf  (Self Made Hero, 2018), and a work in progress, The Patsy Papers, which satirises her experience teaching in secondary schools, She also co-ordinates the London branch of 'Laydeez do Comics', which promotes women in comics.
Leslie: Tell us about the making of The Inflatable Woman and its relationship to having cancer.
Rachael: Making The Inflatable Woman was revolutionary for me. It was the first graphic novel/ cartoon strip work I'd done at all in possibly 15 years. I actually had 2 stories I wanted to make at the time. One, Shadows (a fairy tale I wrote when I was in hospital about a witch who stole shadows), and The Inflatable Woman. Both were closely connected to my illness and I wanted to work on them both. I decided on The Inflatable Woman for a few different reasons- I thought there would be a market there, which sounds very calculating! Secondly the story wouldn't be too difficult as it was very autobiographical and thirdly I knew it would be comical and I was looking forward to that. Shadows– I made short strip versions over the years. I recently revised it and am now writing it as a prose novel for a YA audience which has quite transformed it..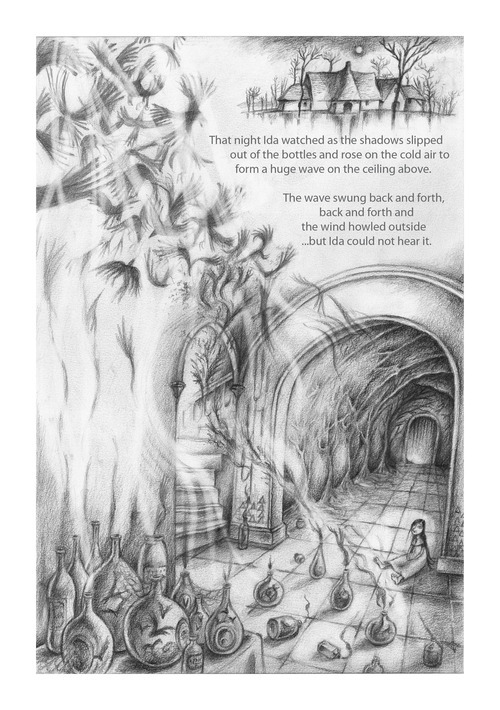 As it turned out The Inflatable Woman became a very cathartic experience (in a way that visual narratives often are), and I really don't understand why that is. There's a magic to drawings and dialogue and remaking memories that connects with the heart and trapped experience and trauma. There was one chapter when Iris is having chemo and Sailor Buoy rejects her and she falls into despair. That was such a hard chapter to work on because it was close to a lived experience. It took me 5 weeks to create that chapter and I felt so unhappy making it. But so light afterwards.
During the chemo itself I really felt like I had to grit my teeth and get on with it. Couldn't really think about the orange fluid coursing through my blood, the possibility of not being cured, the constant tension caused by steroids. It felt healthy to revisit the experience afterwards. Give it due respect and closure perhaps.
Leslie: How did you set out to create empathy in the reader without losing the gritty & horrific nature of illness?
Rachael: I think that comes from observation of your characters; being authentic in how they move, relate to each other, speak. Also, working hard at looking for the right character when designing then and avoiding cliché like the plague. The genuine ticks, nuances and odd characteristics of characters is what makes us connect with them.
I also edit my scripts a lot and redraw panels loads until they are right
But humour combined with pain is a strong combination as well.  We all get that- we often have this cliché of how people behave at funerals say- all sombre, grieving and of course that's true but also funerals can be joyous and funny. Its cathartic and human to find humour in pain. I found hospital such a humorous and often light hearted place. 'Got to laugh or you'll cry' I guess. And there's something in that ability to laugh during tragedy that is a kind of strength.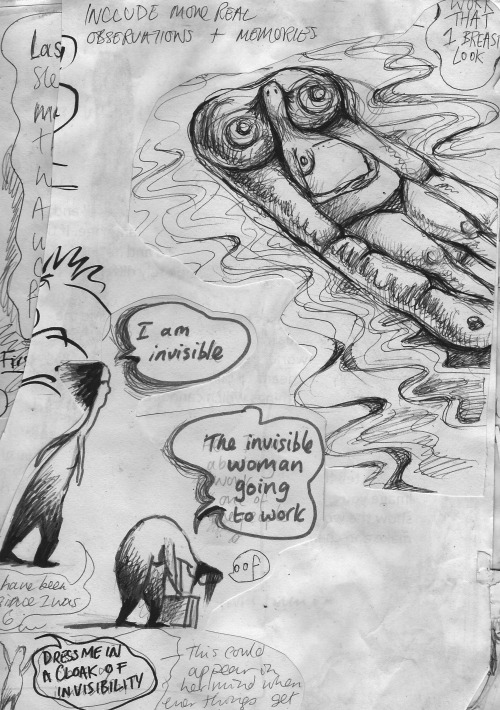 Leslie: How and why do the characters in your Wolf cartoon change and develop?
Rachael: I'm not sure they all change. It was important to me that Hugo did. He had to because he was stuck in refusing to believe he would never see his father again and it made him fixed, stubborn, more childish, more fearful. He needed something huge to make him overcome that refusal and accept the worst truth of grief. That's when I brought in the Wolf Man as an agent for change. In the way that the worst experiences can often be our greatest teachers. The Wolf Man had to be this figure of terror that would challenge Hugo to overcome his own frailties so he could get help to build his time machine. The relationship with Wolf Man pushes him into a new arena. One where he has empathy for another person. New experiences push us all into new ways of being.
The other characters change in more subtle ways. Eric gradually softens as he becomes friends with Icky and finally becomes nicer to Hugo. Sonia, I always felt needed her own book. I quite like the idea of writing a story just about her. It felt like of all the characters she was the one that was the most trapped and a bit lost. Maybe one day I'll develop her story more.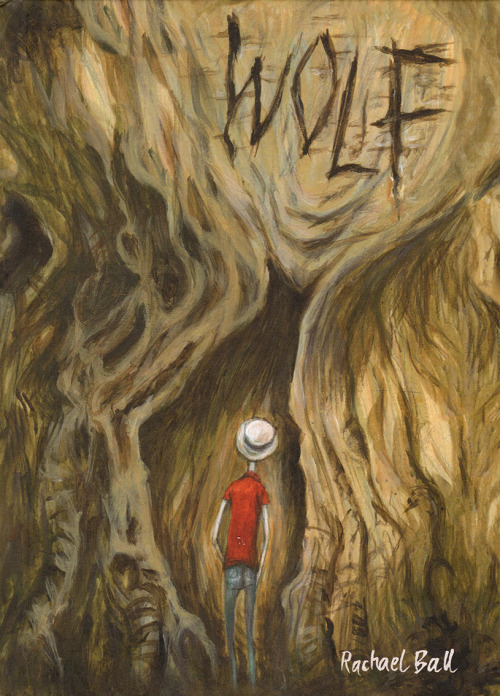 Leslie: What's the role of machinery, inventions and male bonding in Wolf? What's the personal background to this story?
Rachael: The invention of the go-kart/ time machine I found really difficult. I've never had any interest in mechanics and I'm sure the practicalities of how the go-kart worked was probably unrealistic.
It's true there is a lot of male bonding in the story which actually I haven't paid attention to. The whole idea of shifting the gender of an auto bio story was an odd decision. I just felt I wouldn't be able to create an authentic story if I wrote it from a female point of view so I further fictionalised it so it became a more general idea of childhood grief.
I have a lot of memories of boys in my childhood. Memories of games with my brothers and neighbours' kids and playing out and my brothers and their friendships. We were a very out doorsy family and I was quite tom boyish so I think there was an inherent admiration for boys and their mates. There certainly was a lot of go kart making and bikes and my brothers were often going to the beach surfing or skim boarding.
The relationship between the father and Hugo at the start of the book was invented but still connected to truth. My Dad loved singing and folk songs and country walks so the idea of Hugo's Dad singing to Hugo to chivvy him along made sense. But really I remember my Mum singing us funny or horrifying songs on long car journeys to keep us entertained.
Leslie: What was different about producing animated cartoons?
Rachael: My role in animation was very simple. I worked in animation studios off and on for a few years in my 20's. This was pre-digital animation. I was a renderer which meant I animated shading and shadows so the shadows didn't jump and were soft and gradated. It wasn't terribly creative.
I certainly think about animation and movement of my figures when cartooning them- trying hard not to alter proportions etc (often not succeeding!)
I made a little animated GIF of Icky doing a kind of break dance/ Northern soul drop when Wolf came out. Guillaume Rater (Editor at SelfMadeHero), put it together for me.
I really enjoyed doing that. Watching him come to life; giving him another dimension.
Icky's GIF is on my website.
I m chatting to Jude Cowan Montague on Resonance FM at 2.30 today about Wolf and Laydeez and ..wolveshttps://t.co/J4fJdURgKR pic.twitter.com/FonuPE7NZ2

— Rachael Ball (@Rachaelcartoons) December 8, 2018
Next week, Rachael Ball talks about effective dialogue, her experiences teaching art, her creative highs and lows, and the technical and imaginative work that goes into her art.
ABOUT LESLIE TATE'S BOOKS:

Love's Register tells the story of romantic love and climate change over four UK generations. Beginning with 'climate children' Joe, Mia and Cass and ending with Hereiti's night sea journey across Oceania, the book's voices take us through family conflicts in the 1920s, the pressures of the 'free-love 60s', open relationships in the feminist 80s/90s and a contemporary late-life love affair. Love's Register is a family saga and a modern psychological novel that explores the way we live now.
Heaven's Rage is a memoir that explores addiction, cross-dressing, bullying and the hidden sides of families, discovering at their core the transformative power of words to rewire the brain and reconnect with life. "A Robin Red breast in a Cage / Puts all Heaven in a Rage" – William Blake. You can read more about/buy Heaven's Rage here.
The Dream Speaks Back, written by Sue Hampton, Cy Henty and Leslie Tate, is a joint autobiography exploring imagination and the adult search for the inner child. The book looks at gender difference, growing up in unusual families and mental health issues. It's also a very funny portrait of working in the arts, full of crazy characters, their ups and downs, and their stories. You can buy a signed copy of The Dream Speaks Back here.