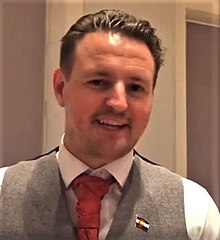 I interviewed actor and theatre director Scott Kyle, best known for his film roles as Ross in Outlander, Clancy in The Angels' Share, and Corporal Stu Pearson in the film Kilo Two Bravo. Kyle received the 2010 Stage Awards Best Actor Award for his role in the play Singin' I'm No A Billy He's A Tim.
After growing up in Rutherglen, Scotland, the son of a single mother, Kyle worked night shifts at a supermarket in order to study acting. During that time, he founded the NLP Company to create more opportunities for students wishing to act while still in school.
Leslie: You have a tremendous work ethic. Could you explain please, how it first began, where it came from, and how it has continued in your stage and screen career.
Scott: I have to credit this one to my mother, Joyce Wilson. As I grew up, my mum worked multiple jobs (as my dad wasn't around) and I definitely picked up my work ethic from her.
Another key moment in my life happened when I decided to go back to college to study acting. I told my mum of my plans to go back to further education and she told me, "You can't go to college, because I need your dig money" (this was my weekly/monthly contribution to the bills). She was right. After my big brother Craig moved out of the family home, I became the only other person staying at my mum's house, and therefore I had to pay my share (50%) of the bills.
This situation forced me to change my thinking, I had to look at how I could keep up a full-time job, pay my 50%, and follow my dreams. I broke down my days and decided to work nightshift at the local supermarket 10pm – 8am. After my shift I would then head straight to college on my moped to start class at 9am. After college I would ride home, grab a few hours sleep, go to football (another passion of mine) or see my girlfriend Karen, and then head to work. I did this for 3 years.
This technique continued when I graduated and started touring as an actor, performing to schools as part of various theatre-in-education productions, I was also running my own theatre company and performing shows in the evenings and weekends/school holidays.
I've always maintained an income from my various other jobs as well as making the time to work on stage, television and films.
I still hold down a full time nightshift job, which allows me the time to produce my own Fling events and continue to work as an actor throughout the day, catching a sleep whenever I can. "I've got a dream that's worth more than my sleep." – Eric Thomas.
Leslie: Your early stage career was very much DIY. Can you describe that period – the highs, the lows, the funny/lucky incidents – and the qualities of that kind of drama that characterise grass-roots community engagement?
Scott: While studying acting at college I saw the most talented students (the third year drama students) at the college graduating and not being able to get a job in the industry. I was only a first year student but I decided to start my own theatre company to help create opportunities for my fellow classmates and myself. While holding down a full-time nightshift and attending weekdays at college, I set up my own theatre company (No Limit People Theatre Company) to allow me to take the college's productions that we were performing on tour at the weekends.
I would produce and deliver the marketing materials, book the venues, organise the transport and project-manage the tours. This work resulted in my receiving numerous awards from the college and graduating at the top of my class.
Upon graduating I went to my local library to look for my first production and while browsing the shelves I came across the anti-sectarian comedy Singin I'm no a Billy he's a Tim by Des Dillon. I read the script and instantly fell in love with it, I recruited two former college friends (Colin Littlie and James Miller) to play the other parts and my college lecturer (Stephen Cafferty) to direct the play. We started out doing the show in pubs and clubs before moving on to arts centres and eventually theatres (over a five year period) cumulating with tours of Northern Ireland/Ireland and performances to 3,000 people a night in Glasgow.
The success of the show was down to my "insanely" unique marketing strategy, which was the key to the show's success! When we booked in a show at a bar, arts centre, theatre or auditorium I would spend most of my year delivering leaflets to promote the show. My daytime hours were spent travelling around the country delivering my leaflets door to door until the show SOLD OUT! I didn't care if it cost more to sell the show than it would make in a return from the box office. My goal was very simple, I wanted to perform to a full house and I was willing to do whatever it took to fill the theatre. Looking back I had no idea at the time that this marketing strategy could take us from the back rooms of local pubs all the way to the SECC in Glasgow. The success of the show allowed me to pay off my mum's mortgage, settle her debts and I hoped it would set me the way to an amazing life with Karen, who I later married.
Leslie: How has being Scottish moulded and affected you as an actor and director?
Scott: it's the world that I have grown up in, hearing and sharing Scottish stories. I've been fortunate enough to play some amazing parts of characters/people who have done the same.
In the The Angels' Share movie directed by Ken Loach I was asked to portray the bully "Clancy" who was very much immersed in Glasgow gang culture. Knowing this world from childhood, proved to be a real asset on set.
In the doc-drama film Kajaki the British War, with director Paul Katis and academy award-winning producer Gareth Ellis Unwin (of The Kings Speech) I was asked to portray paratrooper, Stu Pearson, who lost his leg in the incident depicted in the movie. Stu was brought up in East Kilbride which is a short drive from where I grew up, so I had a great understanding of his world.
In Outlander I play Ross the Smith who is a blacksmith from the 1700's. Again, growing up in Scotland really helped with creating the character and understanding what it means to be Scottish.
Leslie: What did you learn from working with Ken Loach?
Scott: The techniques Ken used on set to get the best out of the cast were second to none. I use many of the improvisational techniques in my drama classes when teaching the next generation of actors, and it's nice to be able to pass those skills on. One thing that Ken Loach taught me was that you have to be ready for anything. Ken didn't release a script to the cast for The Angels' Share so we all arrived on set knowing very little about what we would be doing each day. Normally on a set the cast know what we are filming and learn their lines before arriving on set. One day, when I arrived on set in Glasgow, all I knew was that we'd be filming a scene in a sun bed shop. It turned out that my character was going to be naked in the scene! We ended up filming a scene where the lead actor Paul Brannigan's character breaks into the sun bed shop and threatens the person I was playing. It was a long day but great fun!
Leslie: How have you developed as an actor in the films you've appeared in? Which acting parts developed and matured your acting the most – and why?
Scott: I think you take lessons and pick up things from each project you work on, I learned a lot from Ken on The Angels' Share and enjoyed being free to improvise on set each day. When I worked on Kajaki my responsibility was to portray Stu, who was a real person and whose life was affected massively by the incident we were depicting on screen. Although it waws a different pressure, I did manage to improvise in a number of lines in scenes where the soldiers were maybe having banter or exchanging insults.
On Outlander the production is much bigger and there are hundreds of people who are working to make the show the best it can be, so you need to really know your role when you arrive on set. One of the techniques I used on Outlander was to try and be invisible until the camera was rolling, as that's the only time that I wanted to be noticed. It's such a busy set and there are so many people, all of whole are very busy that it's not the environment to make small talk and/or ask too many questions. This was very different to my times of set with The Angels' Share and Kajaki.
Leslie: What's are the most important differences between working in films and in the stage shows you've acted in/directed?
Scott: The difference between film and stage is that on stage you have audience who need to know what your character is thinking and feeling and they are at the back of a huge auditorium. On film you will be on a huge cinema screen and people can see every movement that your face makes, so really you just have to think/feel the emotions and the camera will do the rest of the work. On stage you might need to be making huge gestures to be seen and speaking very loudly to be heard.
Leslie: You have a major commitment to helping young actors and other charitable causes. Can you describe this work, please, with some stories of the difference your work has made to individuals?
Scott: I can take no credit for the workshops that I deliver as most of the time someone asked me to deliver a workshop either locally or internationally. The kids are really excited to be working with someone they have seen in the movies and/or on television so all I have to do is turn up and try to help and guide the students in the best way possible. Over the years I have been asked to deliver workshops in Canada, France, America and all over the UK. A lot of these workshops are made possible through incredible individuals like Laure Viennet who teaches at a school in France for children who have additional support needs. Laure asked me to go over and work with the kids on a school project about Scotland, we then sold t-shirts, scarfs etc to raise the funds for the project. We did similar projects in Canada and America, and I hope to do more again in 2022.
Leslie: How can readers who enjoyed your interview help your charitable work? Where should they go to find the best performances you've acted in and/or directed, please?
Scott: All of the information on what I'm up to is on my website Scott Kyle and/or on my social media pages which are accessible through my website. There is a workshops page on the website too for information on my various workshops.
Next week I interview ex-BBC and freelance journalist Barbara Bloomfield, who is former chair of Lapidus International, and author of The Relate Guide to Finding Love.
ABOUT LESLIE TATE'S BOOKS:
Love's Register tells the story of romantic love and climate change over four UK generations. Beginning with 'climate children' Joe, Mia and Cass and ending with Hereiti's night sea journey across Oceania, the book's voices take us through family conflicts in the 1920s, the pressures of the 'free-love 60s', open relationships in the feminist 80s/90s and a contemporary late-life love affair. Love's Register is a family saga and a modern psychological novel that explores the way we live now.
Heaven's Rage is a memoir that explores addiction, cross-dressing, bullying and the hidden sides of families, discovering at their core the transformative power of words to rewire the brain and reconnect with life. "A Robin Red breast in a Cage / Puts all Heaven in a Rage" – William Blake. You can read more about/buy Heaven's Rage here.
The Dream Speaks Back, written by Sue Hampton, Cy Henty and Leslie Tate, is a joint autobiography exploring imagination and the adult search for the inner child. The book looks at gender difference, growing up in unusual families and mental health issues. It's also a very funny portrait of working in the arts, full of crazy characters, their ups and downs, and their stories. You can buy a signed copy of The Dream Speaks Back here.