I interviewed Caroline McPherson, whose art focuses on the Anthropocene, using nature as an expressive vehicle to make powerful statements about climate and ecological breakdown. Caroline uses strongly-coloured acrylics and sometimes mixed media in her immersive art. She comes from Leicestershire, UK.
Leslie: What led you to become an artist? What were the key experiences from childhood onwards and the most important people who made you into the kind of artist you are today?
Caroline: I've always wanted to be an artist, something I remember from as early as the age of five. I think it's a feeling that has always been there, and I've always had more of a creative spark. I come from a working-class family, and I was fortunate in that they were always supportive, more so than any other academic subject, and I was the first from my family to attend University where I studied fine art. Even from early primary school I remember that the teachers and my classmates would always tell me how much they liked my drawings, and I was always encouraged to keep practising.
This encouragement was key, particularly from my late father, who helped me not only to develop my self-confidence, but also my love for nature, and the importance of fully seeing the world around us. Later, within my art education I was taught about many artists who have inspired me, beginning with the impressionists through to the 90's Sensationalists. It was here that I found an interest and passion for bright, colourful and challenging work, as well as the abstract arts.
In many ways my journey to be the artist I am today has been full of reflection and solitude. It's been a personal journey to really get in touch with a sense of seeing things in an artistic way.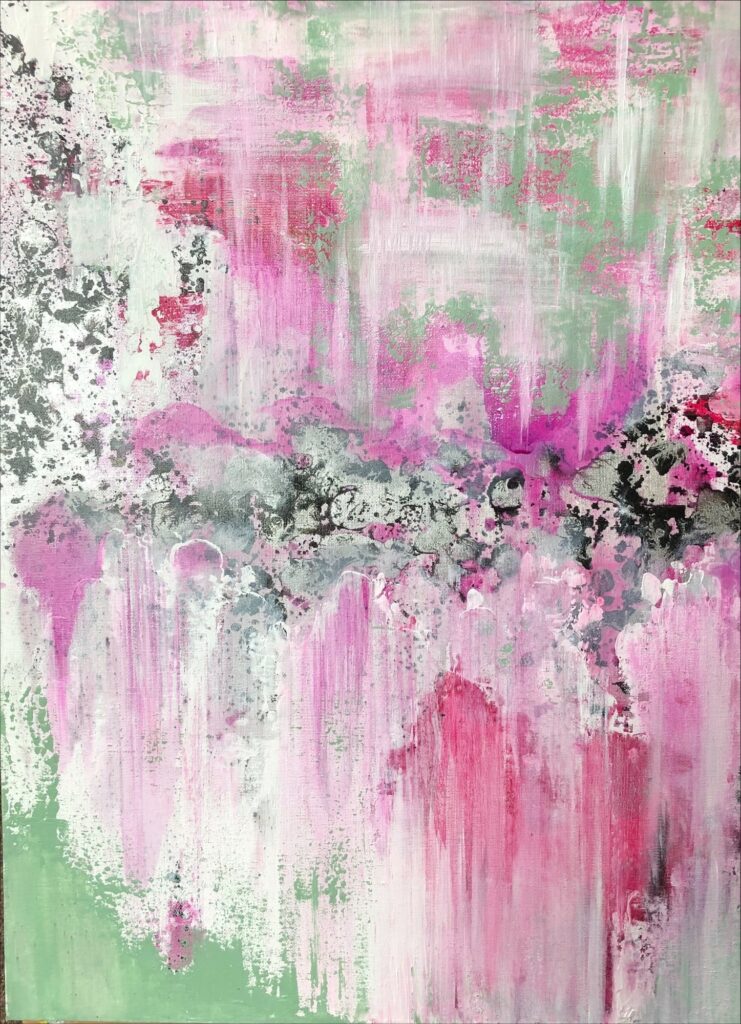 Leslie: A lot of your art appears to be abstract but actually has a subject and figurative basis. Could you explain, please, with a few key examples why you've adopted this approach?
Caroline: In a way this links to my focus on tuning in. Academically, early art education teaches you the skills to draw an object or a person before you, and in the detail that it offers. I found it interesting to take parts of a picture and enlarge it, to make it more abstract, but still embodying its key meanings or communication, or sometimes changing it. I liked the idea of obscuring an image, to make it less obvious, still keeping the same information to be communicated to the viewer, just from an unfamiliar perspective. I think that the use of colour is great for this also. For example, when we squint an object can take on a completely distinct colour. The use of light and shadow can also have a similar effect.
In addition, my love of abstract art and the importance of using emotion whilst painting as a reflective practice interests me greatly. Sometimes this process feels very 'automatic' and trance-like, a meditative state to make marks from another place or from the subconscious. Equally, this has to be balanced with composition, something I'm acutely aware of. A recent example of this can be seen in one of my paintings called 'Overcome.' This work is rooted in mental health as a subject and looks at the possibilities of overcoming the struggles caused by mental health illnesses. I used colour, black ink in particular, to give a literal sense of darkness, with the use of silver breaks to represent the 'preciousness' of an unworried mind. I really homed in on my emotional response in order to create this piece. I adopted this approach because it really makes me become one with the work, it taps into the passion and emotion I have about the subject and helps me to produce something raw and authentic to me and my art.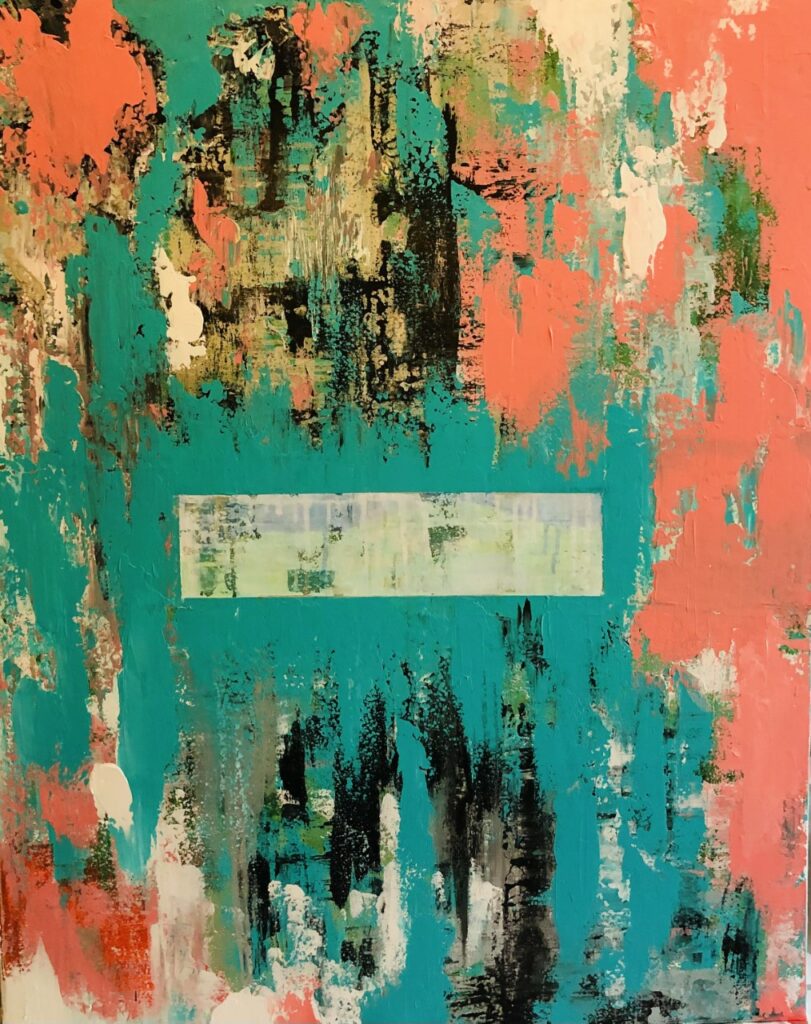 I remember the first time I realised this importance of connection. I was 15 years old and decided to meditate and then try painting whilst still in a meditative state. I was listening to ambient music (as I still do now whilst painting) and worked by candlelight. I liked the idea of inaccuracy, of blurred lines and colours forming the shapes, a movement away from the perfected still life pieces I was being taught to produce at the time. What I created in that moment opened my eyes to a way of becoming emotionally connected to the paint in a very fluid and abstract style.
Leslie: How do put under-represented or difficult viewpoints into paintings? How can you mirror the deep unease and urgency of these subjects through paint?
Caroline: The difficult viewpoint are simply my viewpoints which I am very enthusiastic about. By being so emotionally involved, I can use these feelings to create discussion though paint. In reference to one of my paintings called "The Grass Isn't Greener On The Other Side"- an artwork concerned with live animal export and exploitation, was a direct expression of this from my own ethical viewpoint as a practising and passionate vegan. I began this piece by watching video footage of animal exports, and protest, to really allow my emotions to come to the surface, and to mirror my sadness and heartbreak for the animals who were suffering.
In this piece, the rectangle in the centre is a direct representation of the small slot in the side of a lorry that an animal might look through. I used colour to create the feeling of fear and chaos and tried to represent this from the animal's perspective.
Leslie: You also paint pictures inspired by love, hope and personal connectedness. Where does this strand of your work come from, please? How do you develop, technically and emotionally, this kind of work?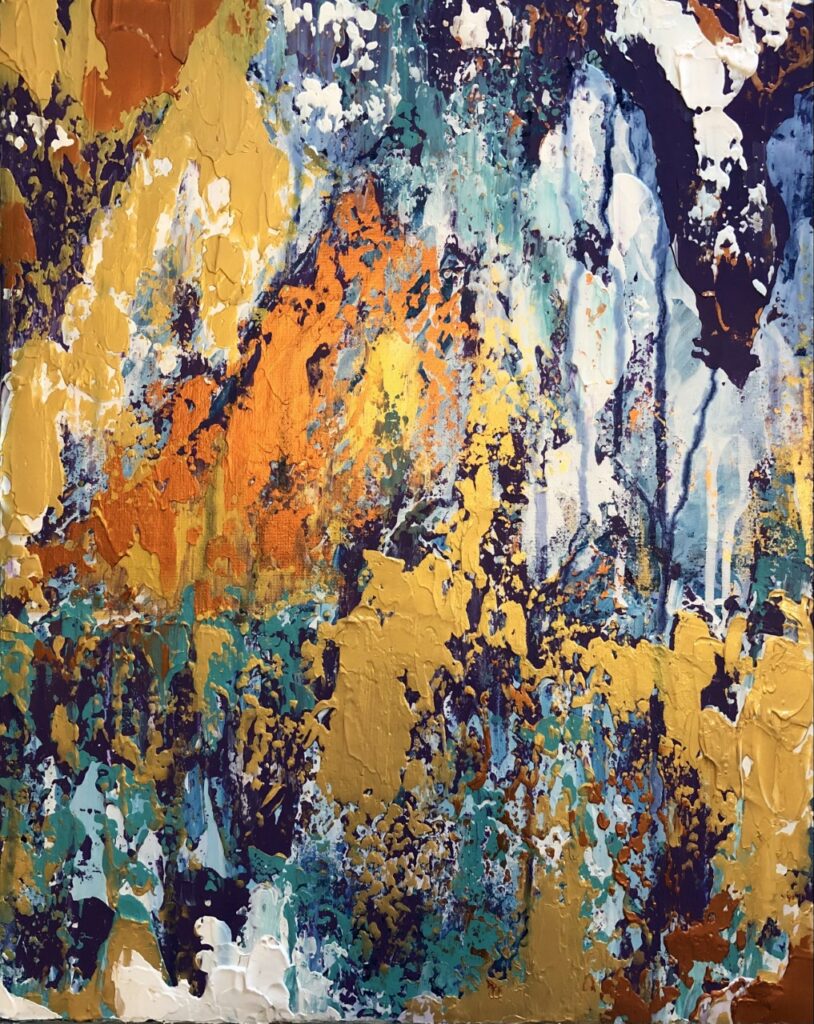 Caroline: I love to create emotive work and many of my paintings are produced whilst drawing from thoughts, memories, experiences and passions, using these feelings to guide me as I paint. Over the years I have looked at processes such as colour therapy, and I often use this to select colours if I am trying to express a certain emotion. I regularly use metallic paints- golds and silvers, as representation of wealth or preciousness. In my anti-capitalist work, such as the painting 'A-76' (named after the iceberg that broke off the brunt ice shelf in February 2021) I used the golds to represent how capitalism is playing such a huge role in climate change. Purples were also used (a colour often used in marketing to attract a consumer to a product) to represent consumerism and how we all play a part in determining the fate of the planet.
In stark contrast, I have painted pieces like "Aetna" which was a commission for a family who were celebrating ten years of marriage and wanted something that reflected their family, love and devotion. I used golds to highlight the value of their love and togetherness. Mount Etna also influenced the painting, where they visited for their honeymoon. I always try to tune in with my paints to produce something emotive. This might mean love, hope, or even anger and rage.
From a technical point of view I have practiced various mark-making techniques to project my feelings onto the canvas. I love to work with thick paint and create texture, which developed from my time studying at Bradford University. I specialised in textiles and painting and enjoyed experimenting with both paint and mixed media.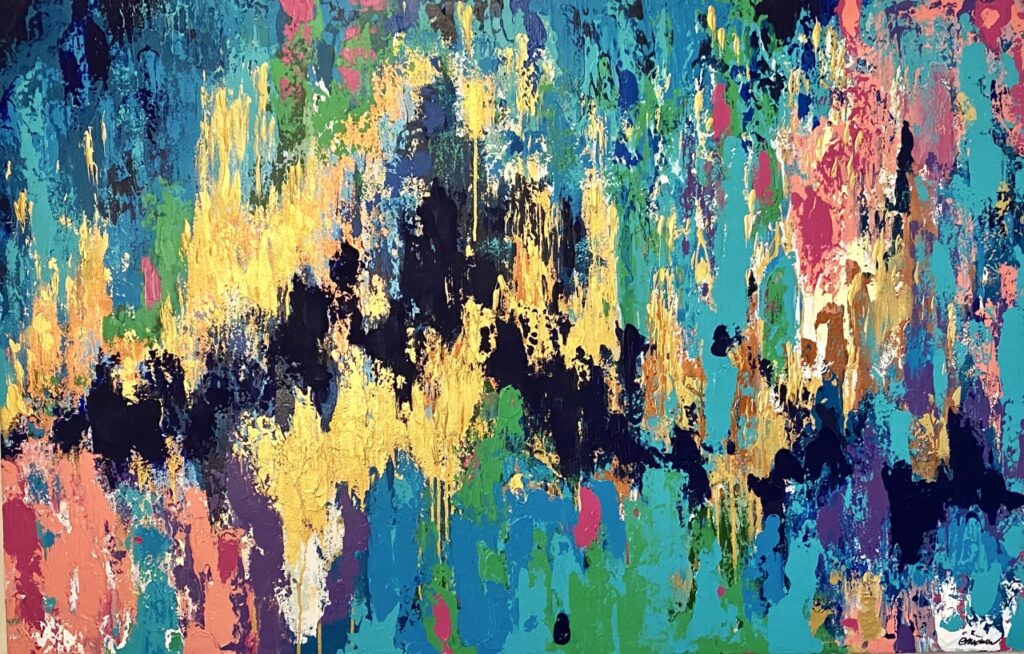 "This piece was painted to represent a beautiful family and their love. It's a special year for their wedding anniversary and they wanted something to symbolise their honeymoon to Sicily and Mount Etna which is a very special place for them. The painting will be hung in the heart of their family home and I wanted to use colours to reflect the painting's surroundings as well as giving a feeling of warmth and love." – Caroline McPherson
Next week, in part two of her interview, Caroline talks about her underlying passions, including childhood, Yorkshire and her relationship to the natural world.
ABOUT LESLIE TATE'S BOOKS:
Love's Register tells the story of romantic love and climate change over four UK generations. Beginning with 'climate children' Joe, Mia and Cass and ending with Hereiti's night sea journey across Oceania, the book's voices take us through family conflicts in the 1920s, the pressures of the 'free-love 60s', open relationships in the feminist 80s/90s and a contemporary late-life love affair. Love's Register is a family saga and a modern psychological novel that explores the way we live now.
Heaven's Rage is a memoir that explores addiction, cross-dressing, bullying and the hidden sides of families, discovering at their core the transformative power of words to rewire the brain and reconnect with life. "A Robin Red breast in a Cage / Puts all Heaven in a Rage" – William Blake. You can read more about/buy Heaven's Rage here.
The Dream Speaks Back, written by Sue Hampton, Cy Henty and Leslie Tate, is a joint autobiography exploring imagination and the adult search for the inner child. The book looks at gender difference, growing up in unusual families and mental health issues. It's also a very funny portrait of working in the arts, full of crazy characters, their ups and downs, and their stories. You can buy a signed copy of The Dream Speaks Back here