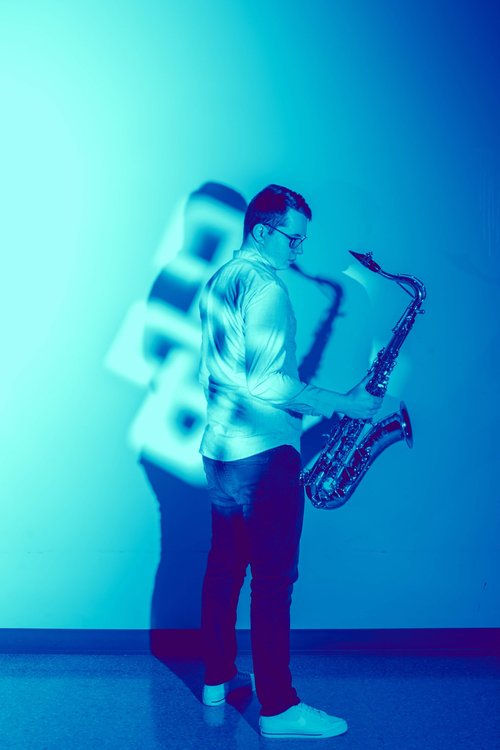 I interviewed new music virtuoso saxophonist Andrew J. Hosler who has commissioned, premiered, and collaborated on over 150 pieces by award-winning composers such as Andrew Mead, Jamie Leigh Sampson, David Heinick, Matthew Kennedy, and Marilyn Shrude. Andrew won first prize in the 2022 Vivaldi International Music Competition and is the Assistant Managing Director for the Cleveland Uncommon Sound Project. He also runs and maintains a private saxophone studio of students from all over the USA.
Leslie: When and how did music first enter your life? What were the key moments from then on that led you to being a highly-trained musician? What have been the difficulties you've had to overcome?
Andrew: I did not grow up in a musical family, so it was not a part of my everyday life growing up. It wasn't until 6th grade that I stumbled upon band class– I was (and still am) an overachiever who wanted to participate in everything I could, so I wanted to add something else to my list of activities! I started on clarinet – but switched to saxophone after my cousin offered to give me hers. It was bigger, shinier, and louder so I thought; "it's free, why not?" I had no idea what I was getting into then; that it would lead me down a path where I would meet my closest friends, future wife, give me confidence in myself and such passion and purpose to do what I love.
As I've grown as a musician and person, my favorite part of participating in this art form is the collaboration that comes with it. Some key moments for me have been working with phenomenal composers and performers, and witnessing some of my biggest inspirations perform their work live!
One of my biggest difficulties has simply come from the type of music I tend to specialize in. Typically, I perform music for tenor saxophone, an instrument that has been grossly underutilized in western art music. However, I feel that is changing– slowly, but surely!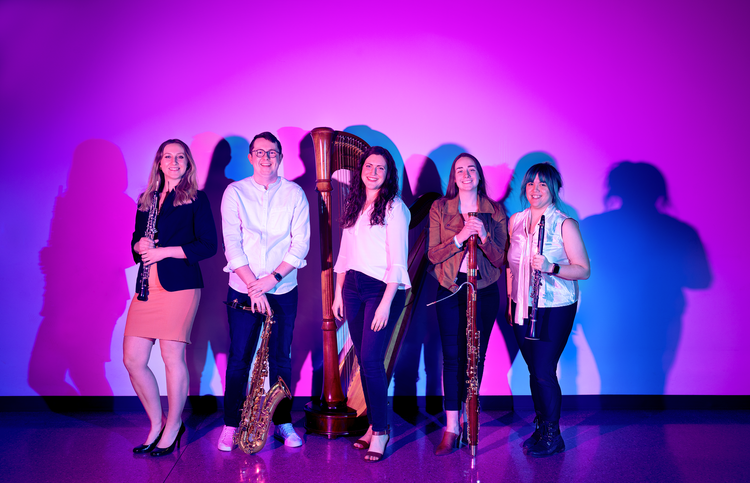 Leslie: How do you use the various saxophones you play in terms of colouration, rhythm, tone, range and expressive feel?
Andrew: Personally, I feel that is up to the composer. My role as a new music performer is to showcase and interpret the art created by the composer. I try my best to tailor a lot of these nuances to what the composer wants or hears in their head.
Leslie: What are the psychological, expressive and technical differences between playing saxophone by yourself and with the group The _____ Experiment?
Andrew: Chamber music has always been a huge part of my education and beyond. My time with The _____ Experiment has been some of the most rewarding parts of my career. At the end of the day, music is about people– and more importantly, the relationships between people. Getting to perform as a member of The _____ Experiment reminds me why I love what I do.
Leslie: How did you discover the hidden history of classical saxophone music? What are the hidden gems and characteristics of this tradition? What went into making an album of this music?
Andrew: I love to learn. Even though I am out of school now, I still am never done learning, whether it be going down YouTube rabbit holes, Wikipedia rabbit holes, listening to new composers, geeking out about the saxophone to others, or just reading new books – I love to try and discover as many new pieces as possible.
For me, picking a tracklisting for my forthcoming album was incredibly difficult. I started with around four hours and music and had to pair it down to the pieces I chose. The biggest factors that went into choosing these is that I wanted to record pieces that have not been recorded and I wanted to showcase a wide range of styles with 21st century tenor saxophone. That is why I chose pieces like Andrew Mead's Etude I and paired it with something like Janay Maisano's My Darling Pearl. The pieces sound so incredibly different – but were written within a year of each other.
Leslie: You perform other people's music – a lot of which you've commissioned. Can you describe, please, how you work with the composers? Do you see yourself as an adaptive interpreter or an active shaper?
Andrew: Every single relationship I have built with a composer has been vastly different. Some composers like for me to be very hands on with the process, recording snippets, testing passages, and others send me a final piece of music that I haven't seen before. I tend to leave that relationship up to the composer. I view myself as an interpreter of what the composer has written. The composer writes and creates the art, and I view myself as the medium for which it can reach an audience.
Leslie: As a community musician, can you tell us a few typical stories from teaching marching band camps, please. What are the key differences between this arena and playing the classical concert circuit?
Andrew: Just because someone is a good performer does not mean they will be a good teacher and vice versa. I get asked a lot if teaching lessons ever gets boring, and the short answer is not at all. My students never cease to amaze me. Nothing beats giving a student a piece of music by a living composer and them at first being scared of it, but then coming to love it. Teaching and performing are so incredibly different. The biggest crossover would be the fact that I regularly inform my students of my performances, because I know how important it is to have a role model.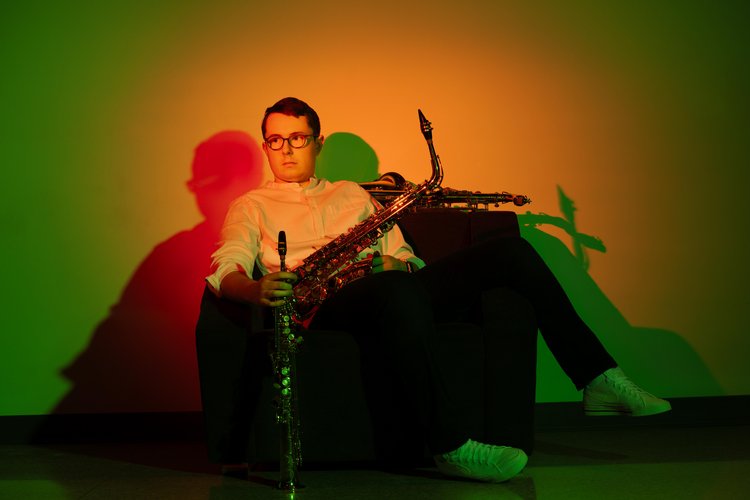 Leslie: What does the umbrella term 'New Music' mean? How would a listener recognise the style? Can you name a couple of seminal New Music pieces, please – why them?
Andrew: New music means whatever you want it to mean. To me, new music means works created recently in the last 20 years or so.
I do not think there is a way to recognise the style of new music. Something like a David Maslanka's later Symphony may not sound as "new musicy" as the works of Milton Babbitt or even those of the Second Viennese School written almost 100 years earlier.
I think it is hard to define seminal New Music pieces. The masterworks of our time are not for us to decide. We do not know what will stick around until it does. The pieces that I go back to always change alongside where I am in my life and what best resonates with me in that very moment. At the moment some works I have been inspired by have been Du Yun's Angel's Bone, Wang Lu's An Atlas of Time, Steven Banks' Come As You Are, and James Tenney's Saxony. I have also been incredibly inspired by some works that I have worked on with the composer such as Xenia St. Charles Gilbert's Brown-Bristled Brush, Walter Mays' Saxophone Concerto, JaeEun Schermerhorn's Back When The Tigers Smoked…, Griffin Candey's A Triumph For The Persistently Nice, Josh Trentadue's To fly and to fall, among others, the list could easily keep going!
Leslie: How well represented are Afro-Americans in the music you play and the people you play with? What's happening to ensure that New Music is led by a diverse range of musicians, please? (And is the world of sax playing very male dominated, perhaps?)
Andrew: This area always needs improvement. I try my best to diversify the composers I work with and broaden my horizons in order to introduce me to as many different types of new music composers as possible. I believe there are some incredible leaders who are leading the charge in ensuring diversity is talked about. I truly do believe representation matters, and I try to make sure I offer a diverse concert program every time I can.
Next week I interview Elaine Tanner about her work to protect the Appalachian Mountains from destructive floods and pollution caused by legacy mining, oil and gas.
ABOUT LESLIE TATE'S BOOKS:
Love's Register tells the story of romantic love and climate change over four UK generations. Beginning with 'climate children' Joe, Mia and Cass and ending with Hereiti's night sea journey across Oceania, the book's voices take us through family conflicts in the 1920s, the pressures of the 'free-love 60s', open relationships in the feminist 80s/90s and a contemporary late-life love affair. Love's Register is a family saga and a modern psychological novel that explores the way we live now.
Heaven's Rage is a memoir that explores addiction, cross-dressing, bullying and the hidden sides of families, discovering at their core the transformative power of words to rewire the brain and reconnect with life. "A Robin Red breast in a Cage / Puts all Heaven in a Rage" – William Blake. You can read more about/buy Heaven's Rage here.
The Dream Speaks Back, written by Sue Hampton, Cy Henty and Leslie Tate, is a joint autobiography exploring imagination and the adult search for the inner child. The book looks at gender difference, growing up in unusual families and mental health issues. It's also a very funny portrait of working in the arts, full of crazy characters, their ups and downs, and their stories. You can buy a signed copy of The Dream Speaks Back here