I interviewed Rezia Wahid who weaves using nature-based, hand-dyed materials. Rezia has exhibited in London and international galleries, and was the winner of the Alhambra Award for Excellence in art. She is also a community weaver, commissioned by Sky TV, running workshops at The Barbican and other galleries.
Leslie: How did your childhood point you towards the creative person you are today and what set you off weaving?
Rezia: My childhood played a significant role in developing and seeing beauty around me– Spanning from the natural surroundings along with the tactile, textural, forms, colour and a holistic form of art being a way of life.
As a child, I had access to art, photography, architecture, poetry, embroidery, cooking, sports-galleries but not weaving.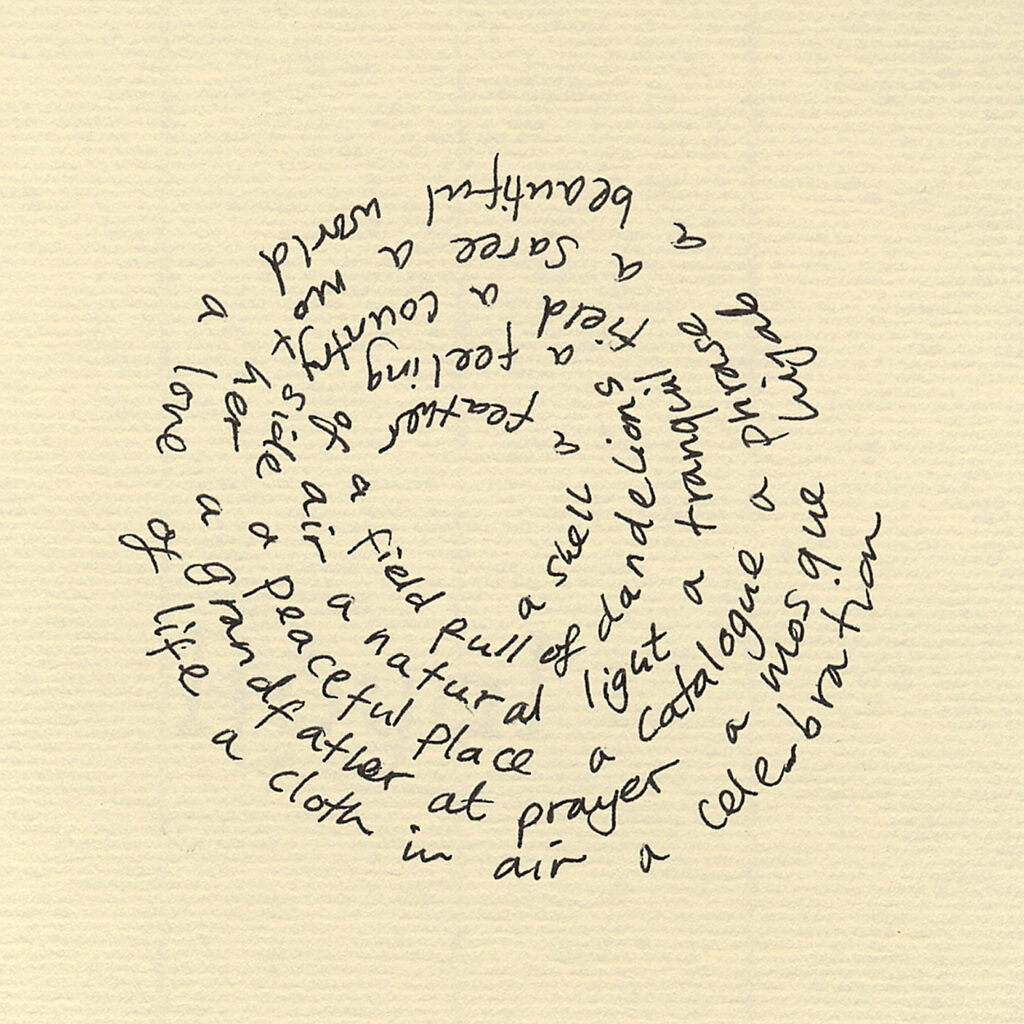 Leslie: What are the main skills you've had to learn as weaver? What materials do you use, and why?
Rezia: I had to learn to be patient and how to use different types of looms.
I use natural fibres: silk, cotton, linen and wool. I specialise in using fine yarns as I weave very fine pieces of cloth.
Leslie: Tell us about some of the people you've met and uplifting experiences you've had as a community weaver.
Rezia: Being able to help people with one's art and passing on a skill to others is the most satisfying and fulfilling achievement. I have been very fortunate of having people from all walks of life, all around the world come and watch my weaving demonstrations, workshops and performances. I have had the privilege of meeting and sharing ideas with great inspirational artists such as Benjamin Zephaniah to Japanese textiles master Junichi Arai. The most uplifting experience has been when little children don't want to leave my weaving workshops.
Leslie: What historical and cultural practices underpin your work?
Rezia: I have a varied sense of history and culture. The British Art education made had equipped me with a sense of determination to be inquisitive about every form of art. My unusual and unique upbringing led me to accept and question history with respect and view things democratically. The cultural practices which truly underpin my work are the Japanese ethos of less is more and Art Modernism. My journey into the Islamic Art was through my travel and the research into achieving a 'cloth' that moves in air led me to the Bangladeshi Jamdani technique which now plays a significant role in my work.
Leslie: You tell stories in your work. Which stories are you drawn to? Why them?
Rezia: Although I work with yarns on a loom which makes my work focus on technique, my projects and pieces are very much conceptual. I am drawn by the poetics of nature, my surroundings, experiences of my everyday life, history, mythology, diversity, identity, feminism, motherhood, equality and sometimes current issues.
I do believe that our art can be used to make a positive change or difference in the world. I started with telling the story of weaving – just weaving as 25 years ago, when I started weaving- its history and how it is a form or art was rather unknown. Therefore, I felt it was my responsibility to teach people about weaving. Then, over a decade ago I felt rather invisible as a mother – weaver- artist so the feminist within me came out to slowly but surely. And I felt that story had to be told and the only way I could do this is being absolutely true to myself as an artist-mother.
Leslie: How does religious faith impact on your work?
Rezia: Islam is a way of life and there is a verse in the Quran where everything we do is/should be ibadah (service or worship/prayer). After travelling to Japan, Turkey, Egypt, Syria, Italy, Spain and so on I realised that every faith teaches us to be of service to others and if we have a skill – it is a gift from God. When I weave, I feel exactly that. And that it is my duty to weave, create and so I am closest to the spiritual part of me.
Leslie: How did you put together your book and the exhibition 'dancing in the womb'? How did you build on that experience to produce 'Weaving Light'?
Rezia: dancing in the womb was produced after Weaving Light, though it was brewing within and around me for few years. Weaving Light was edited by Khaled Hakim and I worked very closely with him. I was very much involved from giving the title to the editorial aspect. The process of putting together Weaving Light with Khaled Hakim taught me about the process of producing a book. This made dancing in the womb easier for me to imagine, to know exactly what I wanted.
Rezia's latest exhibition opens on Jan 10th. You can find out the details here.
Next week I interview neurospicy crime writer Suzy A Kelly
ABOUT LESLIE TATE'S BOOKS:
Love's Register tells the story of romantic love and climate change over four UK generations. Beginning with 'climate children' Joe, Mia and Cass and ending with Hereiti's night sea journey across Oceania, the book's voices take us through family conflicts in the 1920s, the pressures of the 'free-love 60s', open relationships in the feminist 80s/90s and a contemporary late-life love affair. Love's Register is a family saga and a modern psychological novel that explores the way we live now.
Heaven's Rage is a memoir that explores addiction, cross-dressing, bullying and the hidden sides of families, discovering at their core the transformative power of words to rewire the brain and reconnect with life. "A Robin Red breast in a Cage / Puts all Heaven in a Rage" – William Blake. You can read more about/buy Heaven's Rage here.
The Dream Speaks Back, written by Sue Hampton, Cy Henty and Leslie Tate, is a joint autobiography exploring imagination and the adult search for the inner child. The book looks at gender difference, growing up in unusual families and mental health issues. It's also a very funny portrait of working in the arts, full of crazy characters, their ups and downs, and their stories. You can buy a signed copy of The Dream Speaks Back