I interviewed Adam Farrer about writing creative non-fiction, and its relationship to his life. Adam, who has performed at the Edinburgh International Book Festival and is editor of the creative nonfiction journal The Real Story, won the NorthBound Book Award for his memoir-in-essays Cold Fish Soup.
Adam says about Cold Fish Soup: "I wanted to write a book about the compelling, idiosyncratic, crumbling Yorkshire seaside town that shaped me, and tackle some challenging subjects but still make it funny and entertaining while not undermining those subjects. Readers say I managed it."
Adam has been a photo lab technician, a kitchen porter, the voice of an automated phone system, an illustrator, a ceramicist, a musician, a music journalist, and currently works at the University of Salford.
Leslie: Tell us about creative non-fiction and how that label fits/doesn't fit your output as a writer.
Adam: Creative Nonfiction (or CNF for short) is a form of nonfiction writing that utilises the toolkit of fiction. It allows for all the fiction dynamics of arc, dialogue, plot and scene to be deployed in the telling of true stories. People might be familiar with the form through writers like Joan Didion, David Sedaris or Truman Capote. When I first started writing stories from my life, I didn't realise that I was writing CNF, as I'd never heard the term before. Honestly, I kind of stumbled into it.
Back in 2013, my writing didn't seem to be going anywhere. I'd been wrestling with a crime novel for a number of years, and something about it wasn't clicking. A writer friend advised me to take a breather from it and suggested I start a blog, where I could post some of the anecdotal stories that I often told her, and which she found to be very funny. Because I'm susceptible to flattery, I followed her advice and began writing about weird experiences I'd had, relationships, family, calamities. Anything I thought might interest people and, ideally, make them laugh. As my natural inclination had been to write in a novelistic form, I just took that method and applied it to my life writing, telling true stories with the dynamics I'd been applying to my fiction. These stories came naturally to me, didn't involve the struggles that my novel had involved and crucially, they did what I wanted them to; engage readers and make them laugh. I quickly picked up a small but supportive audience and decided to put the novel aside (it remains very much aside), dedicating myself entirely to writing true stories.
Somewhere along the line it was pointed out to me that I was a creative nonfiction writer, and this was a transformative moment for me. It meant that I wasn't just writing a blog, I was writing in a legitimate, recognised literary form. Having this label for my work was liberating and acted as a kind of permission, proving that writing from my life was something I was allowed to do, even though I wasn't famous or notable, and that there might be a broader audience for my work. This encouraged me to go beyond the blog, submitting my stories to literary journals and performing them at spoken word shows. This would lead me to join The Real Story, a creative nonfiction journal and spoken word event series in Manchester, eventually becoming its owner and editor in 2018 and providing a platform for other CNF writers. In a nutshell, discovering creative nonfiction was the thing that kickstarted my writing career.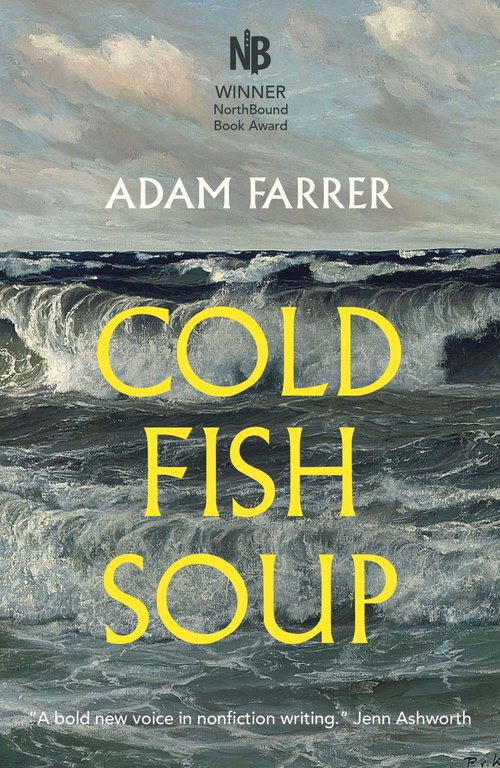 That said, I tend not to use the term 'creative nonfiction' to define myself these days, simply because it seems to cause confusion. People tend to focus on the nonfiction part and assume I specialise in straightforward factual writing, which is very different from what I do. Over the years, I've been told that I am a life writer, a humourist, an essayist and a memoir writer, but it all boils down to the same thing for me. I tend to refer to myself as specialising in life writing and that perhaps conveys my work the best. I do still write the occasional piece of fiction (my most recent commission was to write a Christmas ghost story), but however it's labelled, I feel that, in writing from life, I have found my natural creative outlet.
Leslie: What are your working methods and how do you get-ready-for/trigger/complete your writing?
Adam: I tend to sit on my personal essays for a long time, making notes (I do this constantly), writing the odd sentence or scene that I want to include and storing them until I feel ready to write the actual essay. I think with life writing it's important to be truly ready to tell a particular story, as the emotional investment is often great and if you're going to write about something uncomfortable and go through the labour of that, you might as well get it right.
It can take me months or even years to feel ready to dig into a particular experience, but once I do feel ready, I start what I refer to as 'disembowelling'. This involves getting as much of the story onto the page as possible. Everything I want to convey, ideas for scenes, chunks of dialogue, every joke, every emotion and uncomfortable feeling until the broad idea of the story I went to tell is there. It can be inarticulate, formless and broadly terrible, but perfection isn't the aim at that stage. Once I have all this information, these bits and pieces, I begin sifting through it all, working out what is essential, what makes up the core of the story and which bits I can build upon. What follows is a long process of deletion, construction and basically patting the essay about. I move sections around, altering the pace, shape and rhythm of the essay and following where it takes me until it finally feels right. This is where so much of the pleasure in writing comes from for me. Seeing a story come together and eventually click.
During the writing process, I read a lot of my work out loud. For me, if it doesn't sound right when spoken then it isn't quite working. I think this comes from the fact that performing my work in front of audiences has long been part of my creative process. Before the pandemic, it was an essential part of my method to try out my in-progress essays at spoken word events. I'd book a 4-5 minute slot on a line up, read sections of my work and see how it landed with the audience. Spoken word shows allow for immediate audience feedback and you get a very good sense of what's working and what isn't. It makes it so much easier to kill my darlings when I've already seen them die in front of an audience. The flip side of this is that you can tell which bits are working and get to feel good about them. You also end up in a room full of other writers that you can discuss your work with, and this has immense value. I've never been part of a writing group, so the stage and these shows in the back rooms of pubs are where I get most of my feedback. When I start writing my next collection of essays, I will (COVID willing) go back to airing new excerpts at spoken word events. I would recommend this to anyone who doesn't mind getting up in front of an audience. It used to be my idea of hell, but once I overcame the nerves it became a big part of my working method.
Leslie: Can you give us examples from your books of how you researched content and then adapted it to your chosen literary format?
Adam: My work didn't rely too much on research until I began work on Cold Fish Soup, which required an awful lot of it. For example, one of the essays in the book focusses on the catastrophic coastal erosion on the East Yorkshire coast, and its effect on my family requiring me to trawl through textbooks, study old maps and read extensively from environmental reports. At times this was trying, and much of the information was incredibly dry, so I worked hard to make sure the reader didn't feel this, folding it into the narrative in a way that didn't adversely affect the essay's momentum. I achieved this by framing crucial facts in the dialogue portions of the essays, where I had conversations with various people about my environmental anxiety and the terrifying rates of erosion. This allowed necessary information to seep naturally into the text without it being labour for the reader. Similarly, there is an essay in the book that deals with the impact of coastal wind farms on seabirds that required detailed research of turbine-related bird death statistics and trawling through newspaper archives for reports of gull crimes (there are many). For that essay, I presented most of this information in the form of humour. Humour is tremendously useful in the transfer of vital information and allows me to express a lot of quite complex ideas within a personal essay without ever feeling like I'm writing an academic one.
Next week Adam Farrer talks about his creative upbringing, being a working class author/performer, and how he achieves humour in his writing.
ABOUT LESLIE TATE'S BOOKS:
Love's Register tells the story of romantic love and climate change over four UK generations. Beginning with 'climate children' Joe, Mia and Cass and ending with Hereiti's night sea journey across Oceania, the book's voices take us through family conflicts in the 1920s, the pressures of the 'free-love 60s', open relationships in the feminist 80s/90s and a contemporary late-life love affair. Love's Register is a family saga and a modern psychological novel that explores the way we live now.
Heaven's Rage is a memoir that explores addiction, cross-dressing, bullying and the hidden sides of families, discovering at their core the transformative power of words to rewire the brain and reconnect with life. "A Robin Red breast in a Cage / Puts all Heaven in a Rage" – William Blake. You can read more about/buy Heaven's Rage here.
The Dream Speaks Back, written by Sue Hampton, Cy Henty and Leslie Tate, is a joint autobiography exploring imagination and the adult search for the inner child. The book looks at gender difference, growing up in unusual families and mental health issues. It's also a very funny portrait of working in the arts, full of crazy characters, their ups and downs, and their stories. You can buy a signed copy of The Dream Speaks Back here.