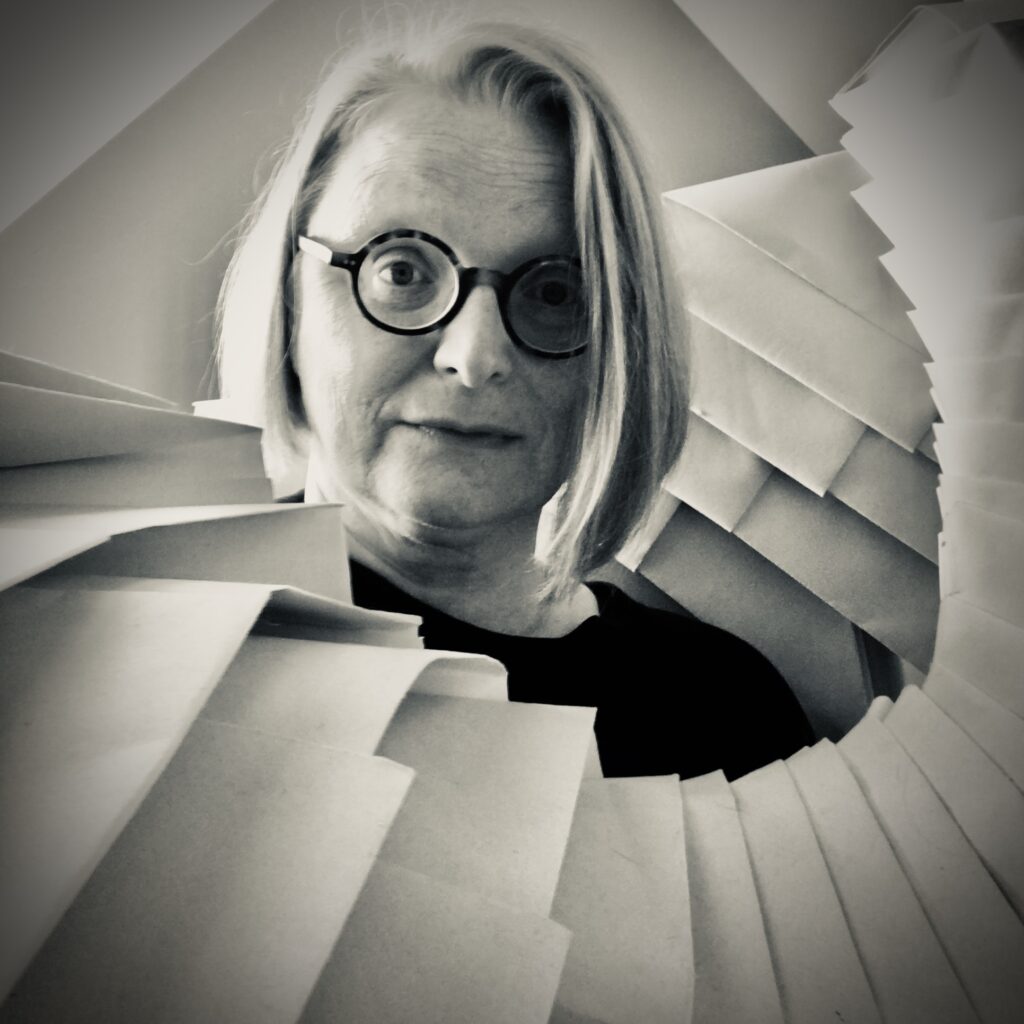 I interviewed paper-artist Ellie Clewlow about her innovative work with unwanted books and paper. Ellie uses traditional craft techniques such as origami, weaving and quilting, to explore ideas of place and identity, time passing and community. She is based in Sunderland.
Leslie: How did your paper-art begin, grow and develop? What have been the different ways you've used this form of art? What kind of skills go into using thousands of pieces of paper to build an artwork?
Ellie: I have had a varied career as an archivist, historian and policy-maker. The common thread has been words, paper and books, so paper art feels like a very natural development. I love the versatility of paper as a medium. I can fold it, quilt it, weave it, sew it, and I'm currently experimenting with making natural inks for the writing I incorporate.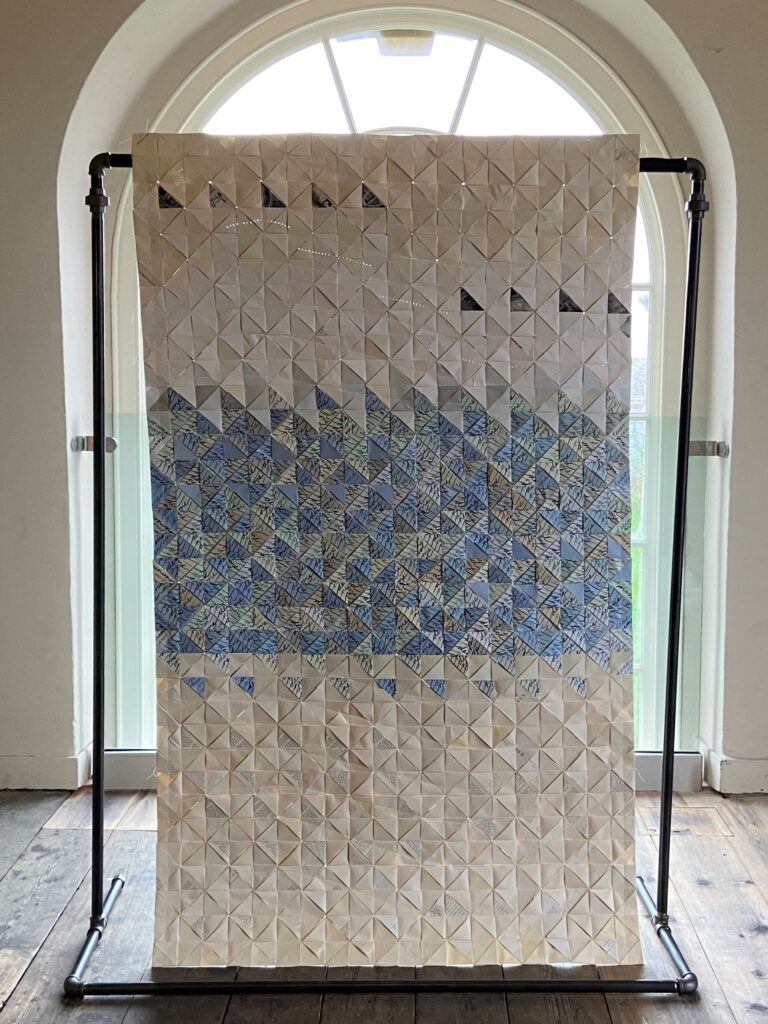 My approach to paper art developed from a more general interest in a range of craft techniques and asking myself how I might develop that with paper. For example, I had come across the use of Morse code patterns in knitting and started to explore how I could transfer that approach using modular origami.
This type of work does take an ability to visualise a finished piece that might not emerge from its constituent parts until the very final stages, as well as an ability to trust the process, adapting direction when a piece comes together in an unexpected way.
Leslie: Would you like to expand on your statement that you are: "…using traditional craft techniques to explore the ways in which we encode knowledge and reflect on place and identity."
Ellie: The ideas I keep returning are about place and belonging, tradition and community. The origami paper quilts that I make were inspired by the traditions of northern quilting: of communities coming together to quilt, of miners' wives clubbing together to support local widows. In a modern take on those traditions, I invite participants to share their memories and to fold with me. Those individual conversations and folded modules are joined together, and the resulting quilt captures a feeling of connection and communal making.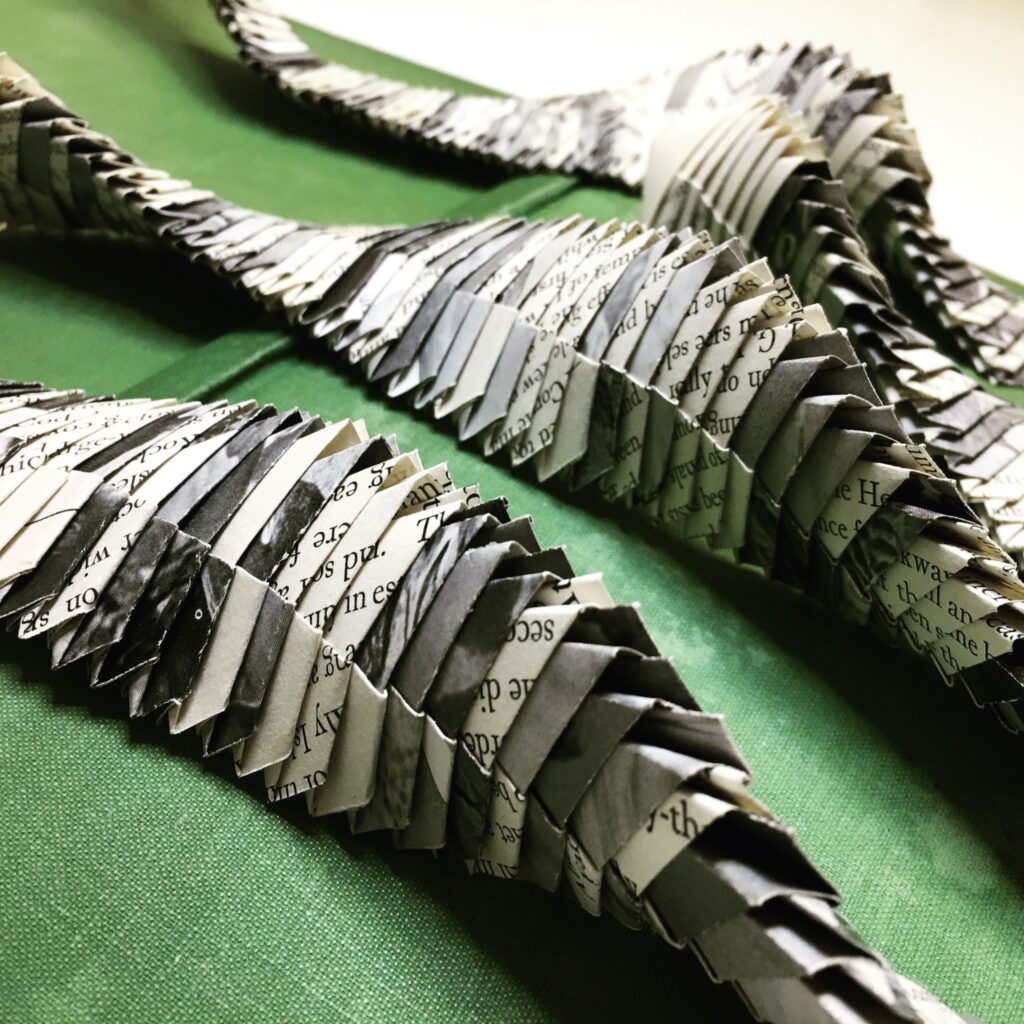 Leslie: What kind of memories are some of your paper artworks connected to? Why those particular memories?
Ellie: I like to capture moments of experience over a period of time. These can be quite mundane moments rather than memorable or historic events. The first paper quilt that I made was decorated with handwritten extracts taken from the daily texts my mother and I exchange about our day – what we're each having for dinner, where we've been.
I'm also interested in how memories and experiences can become layered over time in a particular place, each layer bearing traces of what has gone before. I live in Sunderland and love its multi-layered traditions of making: from the medieval monks of Wearmouth making manuscripts, to industrial papermaking, and to current day crafting communities.
Leslie: How has living in NE England affected you as a person and artist?
Ellie: As well as the rich local traditions of making. living in the North East of England is absolutely fundamental to what I create. Walks on the beach under the huge ever-changing skies help to clarify ideas, inspire designs, and provide materials. I also feel part of a supportive community of makers and artists who have encouraged my work. Sunderland has a do-it-yourself culture where if you turn up with an idea, there are fabulous people and places who pitch in to help you make it happen. Back to tradition, place and community again!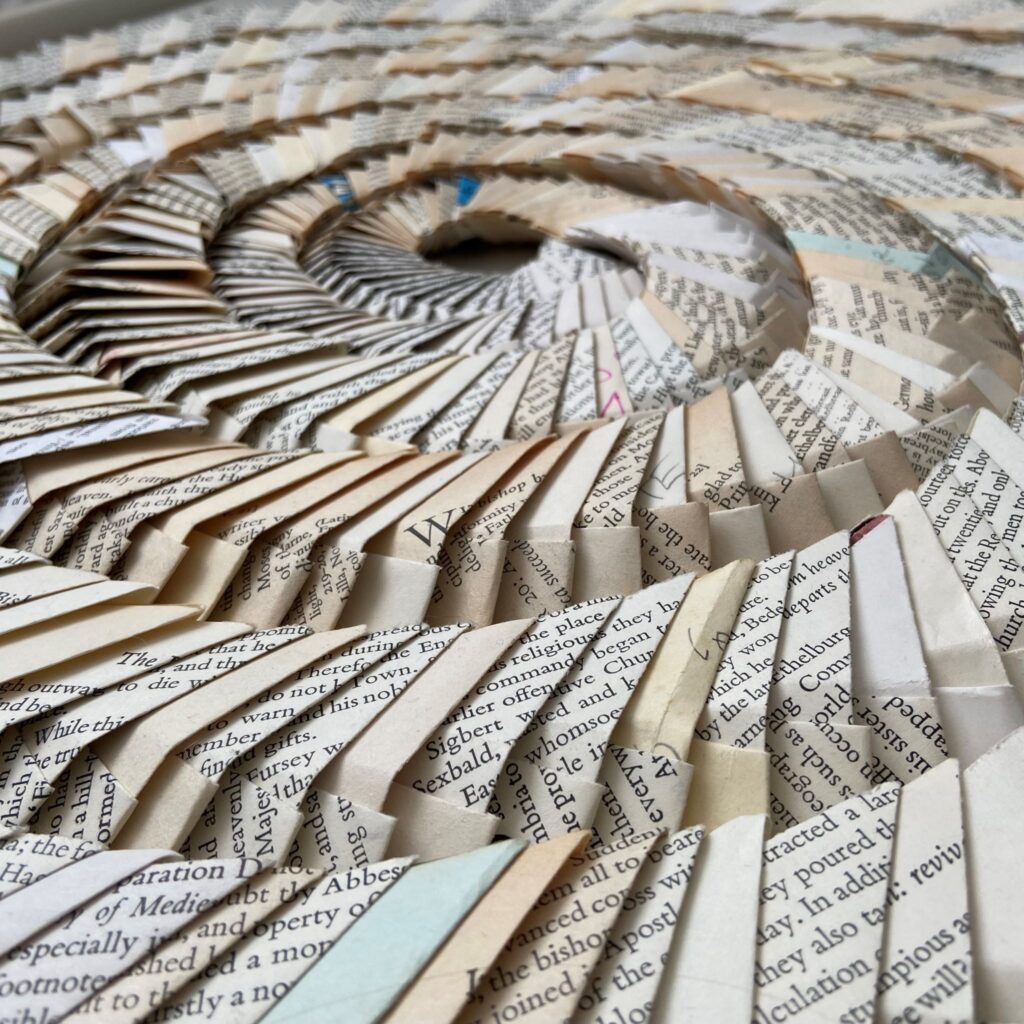 Leslie: How do you remain fresh and original as an artist?
Ellie: My key question for keeping my work developing is 'what if?'. What if I go bigger, remove this, or rework this? It's a good recipe for experimentation.
You can watch a video about Ellie's work here.
Next week I interview Phil Barnett, about how developing M.E. changed his life completely.
ABOUT LESLIE TATE'S BOOKS:
Love's Register tells the story of romantic love and climate change over four UK generations. Beginning with 'climate children' Joe, Mia and Cass and ending with Hereiti's night sea journey across Oceania, the book's voices take us through family conflicts in the 1920s, the pressures of the 'free-love 60s', open relationships in the feminist 80s/90s and a contemporary late-life love affair. Love's Register is a family saga and a modern psychological novel that explores the way we live now.
Heaven's Rage is a memoir that explores addiction, cross-dressing, bullying and the hidden sides of families, discovering at their core the transformative power of words to rewire the brain and reconnect with life. "A Robin Red breast in a Cage / Puts all Heaven in a Rage" – William Blake. You can read more about/buy Heaven's Rage here.
The Dream Speaks Back, written by Sue Hampton, Cy Henty and Leslie Tate, is a joint autobiography exploring imagination and the adult search for the inner child. The book looks at gender difference, growing up in unusual families and mental health issues. It's also a very funny portrait of working in the arts, full of crazy characters, their ups and downs, and their stories. You can buy a signed copy of The Dream Speaks Back here.