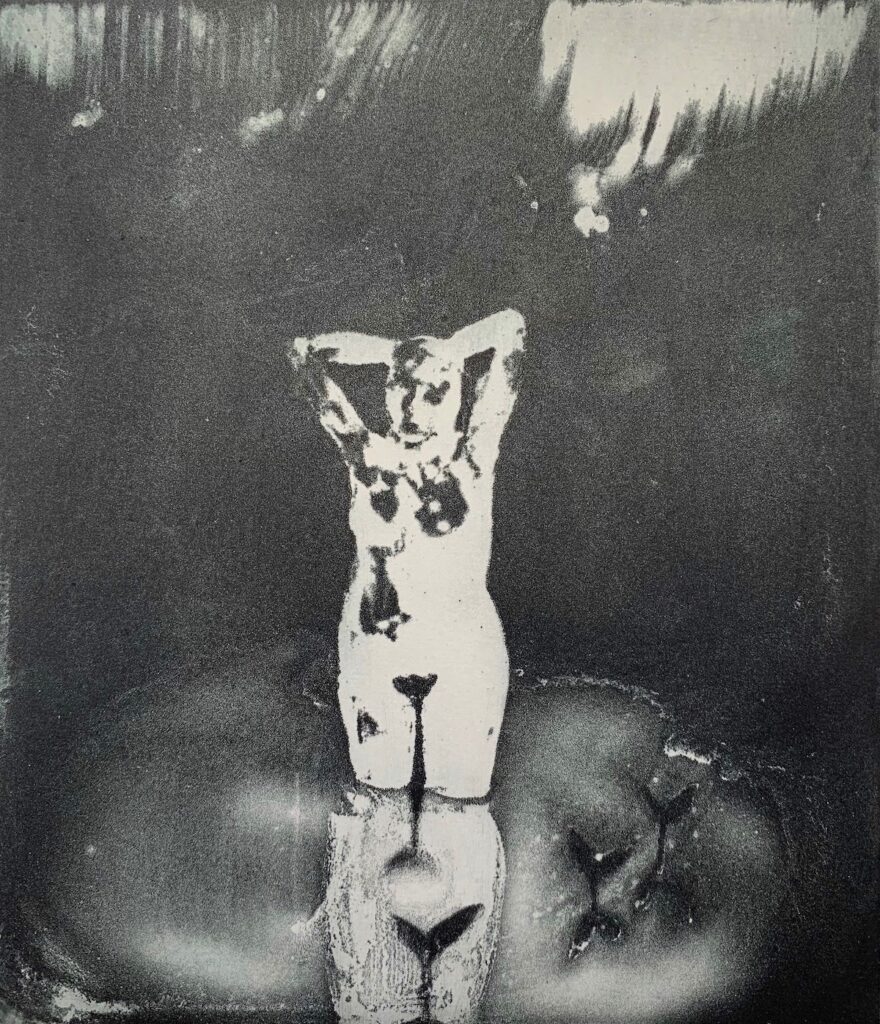 I interviewed printmaker Flora McLachlan who describes how her wild images spring from "… our ancient and enchanted landscape, roamed by guardian spirit-like animals, shadowed by woods where the holly springs green amongst the bare oaks and beeches."
Flora uses etchings and lithographs, two complimentary processes, in "… a venturing outwards and also inwards, entering the wild unruly forest of trees and thorns, searching for a transforming glimpse of the white hart."
Leslie: You describe yourself as an 'Artist printmaker making etchings of enchanted woodlands and the creatures that roam therein'. Can you tell the story, please, of how these two interests began, grew and developed?
Flora: Ever since I was a small child, I have been very sensitive to the 'spirit of place'. I loved being out in the fields, up a tree, or reading, and my mind was always trying to join up the real world and the imagined book-worlds. In fact, I don't think I saw any separation between them. I liked mysterious books like the Morte d'Arthur where you aren't sure exactly what anything means and strange and portentous beasts appear out of nowhere. I want things to be mysterious and amorphous in meaning. So when I make pictures I take care that they are something like a crossing-point of many possible stories.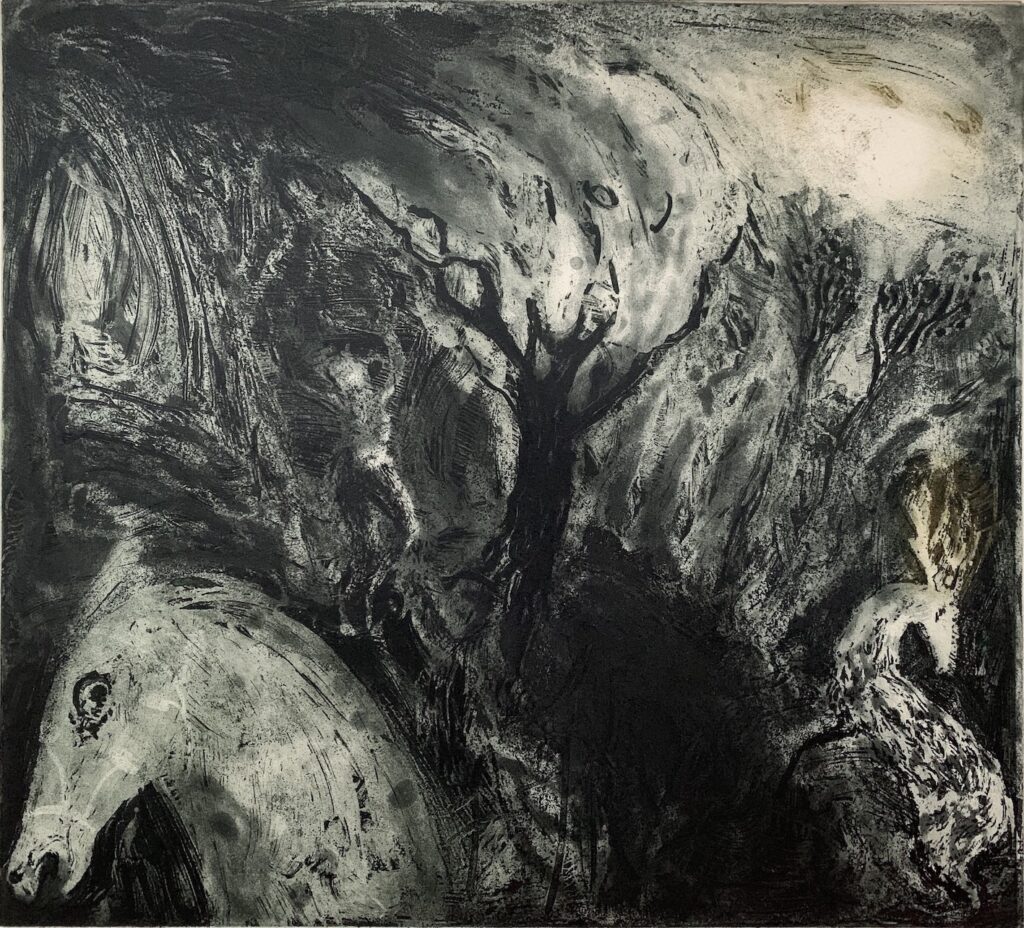 I was naturally interested in printmaking as of course books are printed. I love the magical separation between drawing and print, as the printing plate I draw on comes out reversed on the paper – it's a transformation, it feels like there has been an interaction with some sort of dispassionate material force of life.
Leslie: Can you describe the processes that went into your 'The Shelf' exhibit at Cardigan? How did the artwork change as it developed?
Flora: When Sam Vicary invited me to take part in 'Y Silff/The Shelf', I immediately thought I wanted to make it like a mantelpiece, full of things I was thinking about and things I had picked up and put together in strange ways…for example, the prim teacup with a wood-shaving that looks like a fiery flame coming out of it. This made me think of potions, the Holy Grail, the magic of the everyday, the sacred cup of tea…it had many resonances. I just hung 'The Shelf' with the art I was doing at the time, which were very elemental etchings thinking about water – pools, bogs and the sea-shore – thinking about making contact with the elements, how they hold us all up.
Leslie: What were the two phases of your life you mention in relation to 'The Shelf' work, and how did they collide?
Flora: This beach where I collected the clay at seems to be a place of new beginnings for me in a strange way, involving my significant others.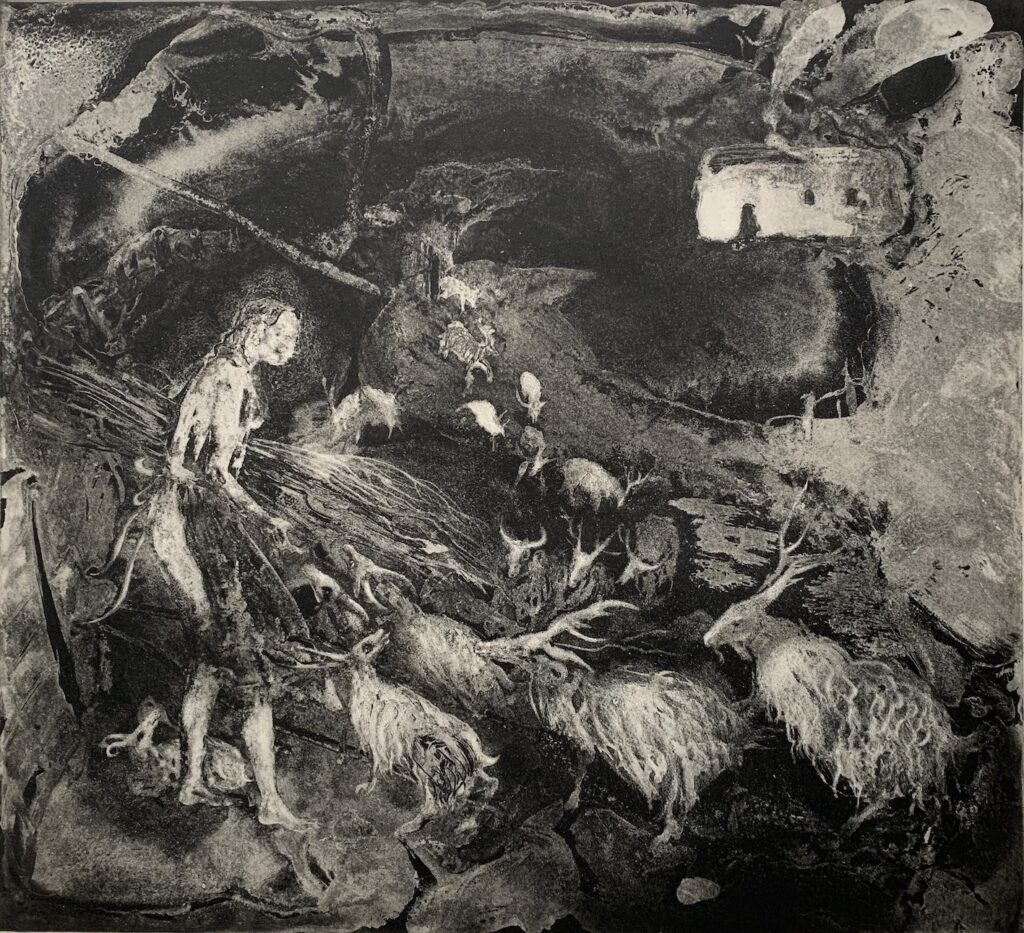 Leslie: How has your childhood reading affected/sparked some of your fairy-tale-like art?
Flora: I read many wonderful books over and over again… CS Lewis, Susan Cooper, Ursula Le Guin… I think I wanted the feeling of entering a magical world through a wardrobe in my life, and making my art does give me this. It does involve building – or perhaps being the wardrobe – instead of just encountering it, you have to work at it…it doesn't happen to you.
Leslie: Assuming you use recurring themes and techniques, what are the different ways you represent immersion and the female spirit in nature?
Flora: I draw mostly imagined landscapes from observation, if that makes sense! So they are seen through my already-immersed eyes. I can't draw from photographs as they seem distanced. I feel a great sympathy with plants, and the light shining through them, and I try to convey this by often having the viewpoint of a work actually looking through the stems of plants. Being in the sensory world is my joy and solace and I think swimming is a symbol of this joyous immersion in air, light, earth and water. It's freedom and being held at the same time. The surrounding world especially feels like a motherly embracing spirit to me as I lost my mother ten years ago.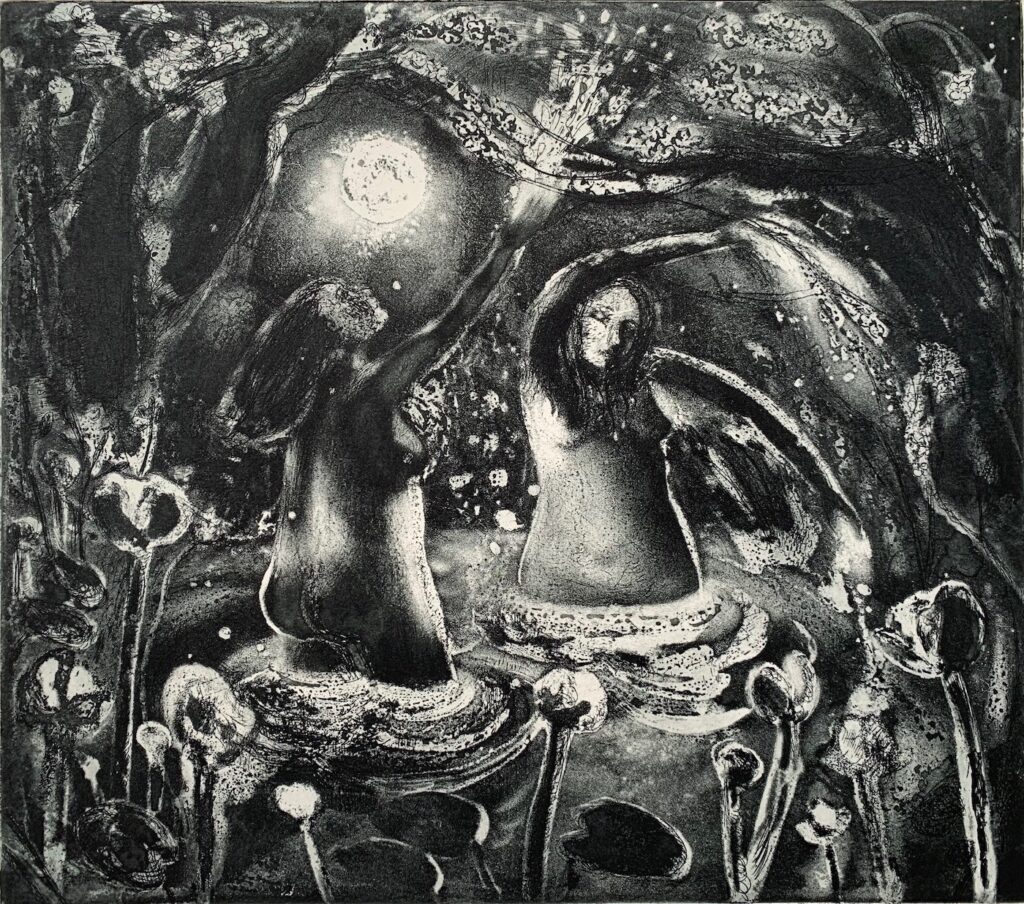 Leslie: What are your creative habits/quirks/routines, and how do you maintain your 'best self' for creative work?
Flora: I do have to make time for… gathering my spirit together into a concentrated beam, I guess? But I also think I work through just doing – polishing a copper plate and getting ideas as I work on it for example, or drawing from my dreams in my sketchbook. As I live and work in an isolated situation, I also try to throw myself into interactions with other artists because I find it sparks ideas and inspirations. So I teach etching and I host residencies and I attend a couple of online courses and classes every year. I think my best self appears when I tie on my printmaking apron. I become open and aware and clear-headed. It feels like putting on a mystic robe.
Leslie: What are the other interests and activities in your life that have contributed to your growth as an artist?
Flora: I find being an artist is pretty all-consuming but I think gardening feeds it, and walking, and trying to swim in tiny bodies of water I find on the moor… reading and the memories of books, swimming in the sea with my friends, going to gigs now and then, listening to music and getting transported far away into weird ethers… to shapeshift as much as possible is how I'd express it – I try to imagine being another entity and I feel like I am not contained within my own self. An openness to connections.
Next week I interview writer Lucy Goldring about flash and micro fictions.
ABOUT LESLIE TATE'S BOOKS:
Love's Register tells the story of romantic love and climate change over four UK generations. Beginning with 'climate children' Joe, Mia and Cass and ending with Hereiti's night sea journey across Oceania, the book's voices take us through family conflicts in the 1920s, the pressures of the 'free-love 60s', open relationships in the feminist 80s/90s and a contemporary late-life love affair. Love's Register is a family saga and a modern psychological novel that explores the way we live now.
Heaven's Rage is a memoir that explores addiction, cross-dressing, bullying and the hidden sides of families, discovering at their core the transformative power of words to rewire the brain and reconnect with life. "A Robin Red breast in a Cage / Puts all Heaven in a Rage" – William Blake. You can read more about/buy Heaven's Rage here.
The Dream Speaks Back, written by Sue Hampton, Cy Henty and Leslie Tate, is a joint autobiography exploring imagination and the adult search for the inner child. The book looks at gender difference, growing up in unusual families and mental health issues. It's also a very funny portrait of working in the arts, full of crazy characters, their ups and downs, and their stories. You can buy a signed copy of The Dream Speaks Back here.