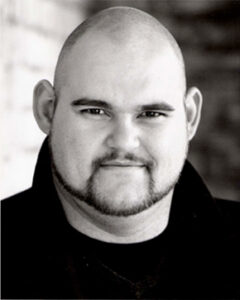 I asked Chris Norton-Walker about what drives him creatively as a stand-up comedian. Chris is an actor from the Central School of Speech and Drama with an MA and several stage, film and TV appearances, whose first love is performing on the national comedy circuit. He has reached the final rounds of several major stand-up competitions.
Leslie: What do you enjoy most about stand up and why?
Chris: The lifestyle's good. I don't mean the 'showbiz lifestyle' of parties, women and money because, I can assure you, there is none of that. I'm talking more about being your own boss, making people laugh and a lack of dreary Monday morning commutes. And I've done those, they are not fun. What is great about stand up is making people laugh, injecting fun into their evening, giving them a memorable and unique show. Something they can reminisce about for months to come. Hopefully impressing them so much they will come back and have another unique experience at the next gig. Every artist wants their work praised and we get our feedback immediately.
                                                      CHRIS, IN HIS OWN WORDS
IF… "If Carlsberg did gigs it might have to be the sort of gig where the audience don't want jokes. They don't want whimsy. They don't want clever observations about life's follies… What they actually want is for you to tell Christmas themed jokes with two women sat on your lap pretending you are Santa. GET IN!"

BANKSY?!"I don't know if you know this but I'm quite well known. In Taunton. Down a small alleyway. Next to a school… No, not like that. Get your mind out of the gutter!"

BEEN ON LONG? "Sometimes you go to a comedy night with normal people who lead boring lives with a range of ages and backgrounds. Then occasionally you go to a gig where everyone is basically the same. I don't mean a corporate, just by fluke. This gig turned out to be full of Taxi Drivers from Taunton out on a Christmas party… Suffice to say I did most of the gig with my back to them talking over my left shoulder. I didn't even mention that time my friend got in a taxi drunk and thought the time was £4.10."
Leslie: What incidents have impressed you most on the circuit? What have you learned from them?
Chris: There are incidents that happen at every gig. Many of which the audience aren't aware of. It can sometimes be a constant unseen struggle against environmental, social, sporting or architectural factors; but the show must go on! In my experience you learn something from every gig. It could be a new way of saying a joke, a bit of confidence in front of a new demographic or how  experienced acts handle themselves on and off stage.
Leslie: Who are your comedic influences and why?
Chris: Growing up I watched all the comedy there was. This was in the age before YouTube and you had to watch it live or buy a physical video. I would rehearse and practice other comedians' words, pauses and catchphrases. Along with Monty Python and Father Ted I would religiously watch Eddie Izzard. I am a big fan of playing and having fun with audiences. You could call it silly but it's more than that. It's more that everyone in room is enjoying making the comedy together. Comedy is a communal event and it should be like that on stage.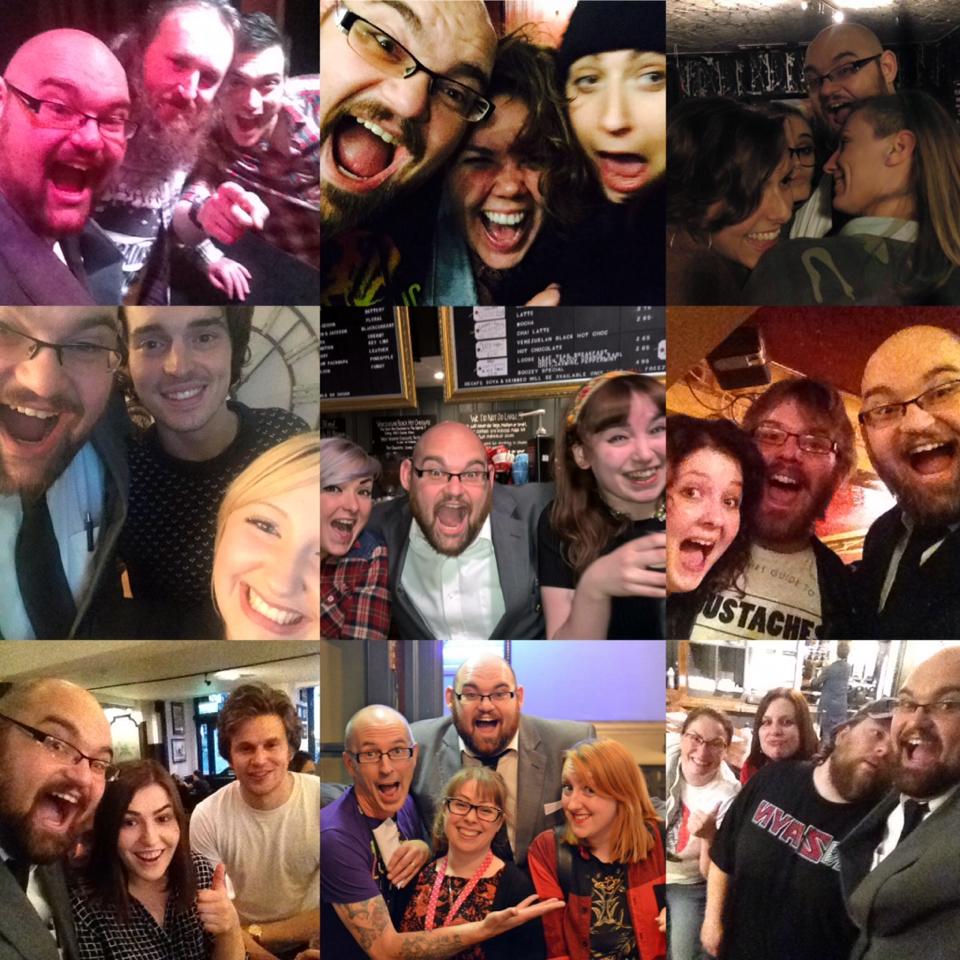 Leslie: What kinds of material do you use? How do you vary your style and persona?
Chris: I tend to use one-liners, usually self-deprecating. It wasn't what I started off doing. I've tried a couple of different styles but I think in comedy there is a join between what you as a performer want to give and what an audience will buy from you. It wouldn't read right if Peter Kay, for example, started doing political material. So there needs to be a balance between audience, performer and material. With this in mind, at gigs I do alter my style, material and pacing depending on the demographic in the room. You and your act can be much more accessible if you use language (content/energy/references) that are familiar to your audience. It can be as simple as not swearing in a church gig but could be as subtle as being a little slower with your speech for a foreign audience.
Leslie: What 'point of view' does your act offer?
Chris: My acts offers a point of view into my 'world'. It is not true to life but it is a version of my life and of my personality on stage. This is especially true of the 'joke' elements. It is not quite the same if I am just playing with an audience. It'll be more about what I observe around the room and creating a fun atmosphere. So in many respects with the improvisation my act offers a view of the audience in the room. Acting as a mirror to their own lives and their interactions and relationships with the people around them.
Leslie: What kind of changes have you made to material because of trials on the circuit?
Chris: When you first start out in any artistic endeavour you will try and copy other successful acts. Although with comedy it won't be jokes it might be the style of others. When I first started out I was a lot more withdrawn, less physical, and verging on deadpan. My act has certainly changed since then. Mainly due to that style of act not working very well in distracted rooms or places with lack of theatricality and tension.
BLINK & YOU'LL MISS IT.

"I'M A TV STAR! This is not quite true. I have recently been on TV – The Royal BodyGuard. It starred David Jason, it did not star me, I was just in the background… Hardly worth mentioning, unless you're impressed with that sort of thing.

Which I hope you are."

IT'S NOT ALL SHOWBIZ

"Sometimes in this business we call show, there are times that we think we are doing well and everything is going our way and fame is just around the corner. I thought this picture of the Birdcage, Norwich FULL was pretty cool and 'showbiz'… Then someone said "Oh look Chris, it's all of your fans in one place"

Everyone's a comedian!"
Leslie: Where does your sense of humour come from? How do ideas for jokes/routines come to you?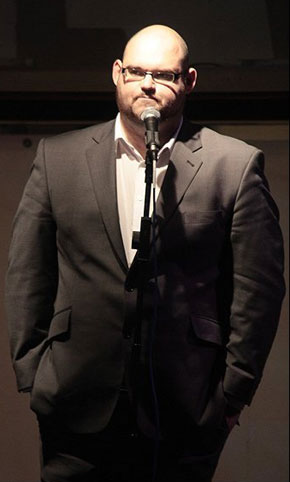 Chris: I think my humour comes from play. The type of play where everyone in the room is on board with you. It's not just about comedian and audience but everyone, from the person on stage to the groups of audience to the lighting technicians working together to create an atmosphere of fun. Jokes are hard but it is often worth the work and failure to find something that makes people roar with laughter.
Leslie: How can stand up affect/change an audience?
Chris: I'd like to say usually the audience comes with certain expectations and are usually in a good mood in expectation of comedy. All aspects of a night can bring audiences closer and tie them together. Village gigs can have their close bonds solidified by an outside poking fun at them and an audience with a wide mix of people from vastly different backgrounds and cultures can all laugh together and feel like they have been part of something special.
ABOUT LESLIE TATE'S BOOKS:
Love's Register tells the story of romantic love and climate change over four UK generations. Beginning with 'climate children' Joe, Mia and Cass and ending with Hereiti's night sea journey across Oceania, the book's voices take us through family conflicts in the 1920s, the pressures of the 'free-love 60s', open relationships in the feminist 80s/90s and a contemporary late-life love affair. Love's Register is a family saga and a modern psychological novel that explores the way we live now.
Heaven's Rage is a memoir that explores addiction, cross-dressing, bullying and the hidden sides of families, discovering at their core the transformative power of words to rewire the brain and reconnect with life. "A Robin Red breast in a Cage / Puts all Heaven in a Rage" – William Blake. You can read more about/buy Heaven's Rage here.
The Dream Speaks Back, written by Sue Hampton, Cy Henty and Leslie Tate, is a joint autobiography exploring imagination and the adult search for the inner child. The book looks at gender difference, growing up in unusual families and mental health issues. It's also a very funny portrait of working in the arts, full of crazy characters, their ups and downs, and their stories. You can buy a signed copy of The Dream Speaks Back here