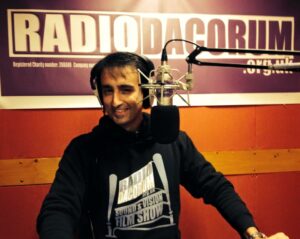 Sherief Hassan is a multi-talented actor, scriptwriter and consultant who has co-ordinated film-based events for Channel 4, Sadlers Wells and the Royal Festival Hall. He is the inventor of the Sine Player 'edutainment' app which links film studios, producers and creative researchers in the digital field. He is also a committed environmentalist and chair of Dacorum Green Party. I asked Sherief to talk about what inspires him to be green both in his personal life and in the arts, media and politics.
Leslie: Who are your green heroes and why?
Sherief: James Lovelock was the first. He made me recognise my green roots when I read The Ages of Gaia. His bravery to state 'unthinkable' ideas in the face of pressure from the adopted and adapted morals of business and society was a shock to the system. After reading his work, how could I be anything other than green?
Leslie: What works of art speak to your heart and why?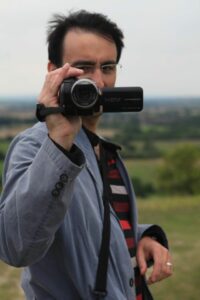 Sherief: The Arts have always been part of my life – from childhood to the present.  Cinema has been my passion, and I feel lucky to have had the education to see more than the big blockbusters. The pivotal movie that I realise now set me on my green path was the 1972 since fiction film 'Silent Running' – a sometimes sentimental, but fiercely environmental movie. I have been an avid follower of both Douglas Adams and Terry Pratchett – both environmental flag-bearers with strong satirical tongues. It grieves me to know that there will be no more works by either of them, but I look forward to the appearance of their inevitable heirs.
Leslie: Who are your favourite performers – comedians, actors, dancers, musicians (dead or alive) and why?
Sherief: I love performance that is out of the ordinary. I loved discovering the folk group Bellowhead who have just finished their farewell tour. They have music with a soul. I also love the frankly bonkers sound from the French Electro-swing group Caravan Palace. I have been moved to tears by a well-performed piece of classical music, and tears of laughter at comedy like Father Ted, Black Books, and the League of Gentlemen. Despite his many failings, I still admire Spike Milligan for his frenetic comedy and his environmental zeal. I'm a sucker for a movie starring Cary Grant, David Niven or James Stewart. Dance is an expensive hobby – but I used to attend every visit from the Momix dance company founded by trailblazer Moses Pendelton, and as a teenager, I would regularly visit the Ballet Rambert and London Contemporary Dance Company. These dance companies expressed a freedom from the strict rules of classical ballet and threw in an exuberance that was intoxicating.
Leslie: What is your favourite place, country or community and why?
Sherief: Although I look back at my life with my own share of rose-tinted specs, I love my own home and town. I have found a sense of belonging in Hemel Hempstead that I didn't really feel when I was growing up. Perhaps it is because I have put more into this place than others, and that my local friends make this already beautiful part of Britain into a real home. I think we close our eyes to the wonder on our doorsteps.
Leslie: Which sports or pastimes do you enjoy and why?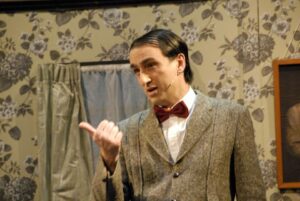 Sherief: I'm not a sportsman – it was a great disappointment to my father and grandfather. I get a sense of peace and escape in swimming, although I don't do it as much as I should. My biggest pastimes are as a presenter at Radio Dacorum and as a member of the Hemel Hempstead Theatre Company. There is nothing I like more than performing for an audience.
Leslie: If you have ever had hobbies, what were they and what did you get out of them?
Sherief: Working in the arts is a vocation, not a 'job'. Vocational creatives don't really have a space in the head called 'hobby'. When working at jobs that I actively disliked, I found a release in writing comedic scripts with an old college friend. To be able to step back from the madness of corporate life and parody the society we live in was a great relief. I still try to write, but I now focus on slightly more serious subject matter.
Leslie: What do you feel about your education and why?
Sherief: I feel very lucky that I was one of the last to receive a full education free of the worry of debt. The option to make the wrong choices that would become the guiding light to another path is something that today's kids can't allow themselves – unless they are very wealthy. The pressure to study a 'popular' subject in order to enter a profession purely on the grounds of financial return is understandable, but also lamentable. Many great creative minds from the fifties to the present felt able to make their choice without that pressure. With nearly 25% of the UK's GNP coming from the creative industries, we have prepare for a world that we are unprepared for. Only creative minds will have the flexibility for that.
Leslie: What have been your greatest challenges and how have you dealt with them?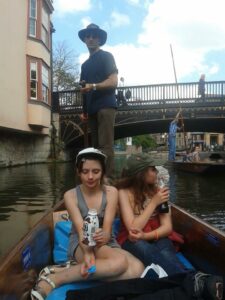 Sherief: There are many challenges that I haven't dealt with, but the one that I feel I have had some success with is being a good parent. I have tried to be there for my children, and to prepare them for a difficult world. Being a good parent is probably the hardest thing to achieve – being the friend who doesn't always say yes, but will always forgive.
Leslie: What things in the world and your personal life give you hope and why?
Sherief: Sometimes, I have to admit, I despair of our species and how we treat the world. The next generation has a heavy burden on their shoulders, but when I look at my children and their peers, I can see some fundamental changes in the way they think that makes me believe we have a chance. In the face of environmental, ideological and economic dogmatic responses by most world leaders, I find hope in the fact that even with such madness, people like Bernie Sanders, Caroline Lucas and even the Pope can be the popular choice, and that they can spread a human message that includes a recognition of the world we live in. These are small torches held up in a very dark time, but they are there.
ABOUT LESLIE TATE'S BOOKS:
Love's Register tells the story of romantic love and climate change over four UK generations. Beginning with 'climate children' Joe, Mia and Cass and ending with Hereiti's night sea journey across Oceania, the book's voices take us through family conflicts in the 1920s, the pressures of the 'free-love 60s', open relationships in the feminist 80s/90s and a contemporary late-life love affair. Love's Register is a family saga and a modern psychological novel that explores the way we live now.
Heaven's Rage is a memoir that explores addiction, cross-dressing, bullying and the hidden sides of families, discovering at their core the transformative power of words to rewire the brain and reconnect with life. "A Robin Red breast in a Cage / Puts all Heaven in a Rage" – William Blake. You can read more about/buy Heaven's Rage here.
The Dream Speaks Back, written by Sue Hampton, Cy Henty and Leslie Tate, is a joint autobiography exploring imagination and the adult search for the inner child. The book looks at gender difference, growing up in unusual families and mental health issues. It's also a very funny portrait of working in the arts, full of crazy characters, their ups and downs, and their stories. You can buy a signed copy of The Dream Speaks Back here