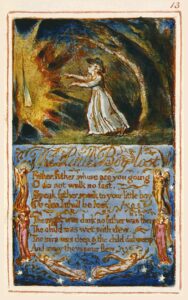 It began with a dream where I found myself alone in the woods. I'd been captured by a gang on the way to school and tied to a tree in what people called the wasteland. The boys had been cruel but I'd been brave, and now they'd left me the ropes didn't hurt. I was by myself in a world of soft leaves, warm sun and cool, gentle feelings. I could watch for animals and listen to the birds. It was as if I'd always been there.
A song went through my head: If you go down to the woods today, you're sure of a big surprise. If you go down to the woods today, you'd better go in disguise.
The song continued, cutting off at the words: But safer to stay at home.
Realising how I must look, I was glad no one could see me. And yet I was happy to be alive and in the open air. My limbs were tingling and my breath was short. Looking up, I could see the clouds as islands in the sky. I was a child awaiting rescue, feeling free, comfortable, attractive, relieved to be myself.
In my dream I was thinking about the times I'd walked home with Jenny, the girl at number 43. She was my age, small and dark, and usually walked ahead, speaking unexpectedly, and sometimes laughing when I clowned or said something silly. Her back was straight, her uniform was neat, her face was serious and she wore a beret. I thought she was rather like me.
The beret was green with a soft, black bobble on top that wobbled as she walked. It looked like a ripe blackberry. I wanted to know how it felt and how it stayed on and suddenly, without thinking, my hand shot out and lifted the bobble. The cap came with it.
"That's mine," I said, trying it on my head, thinking she'd laugh.
"Give it back," she said, not turning.
"Mine."
Jenny ignored me.
"It's here," I said, placing her cap on a wall.
She looked back.
"You have to get it," I called.
Jenny shook her head.
"Come on…"
"No," she said, pressing on.
I began to weaken, "Just stop."
Jenny kept going.
"Stop."
Still she walked.
"You can have it," I called out, blushing.
Jenny turned.
"Look," I shouted, pointing back to where I'd left it. "It's yours,"
Slowly and deliberately, she shook her head.
"Yours," I repeated, jiggling about.
"You'll be in trouble," she said, moving towards her gate.
"No," I cried.
"I'll tell," she said darkly, stepping through to the path.
Realising she meant it, I turned. "Wait," I cried, running back, hot-foot and breathless, to pick up her cap. When I returned, Jenny was there, standing quietly just inside her gate. Feeling stupid, I handed it over. "Take it," I said, fighting back tears.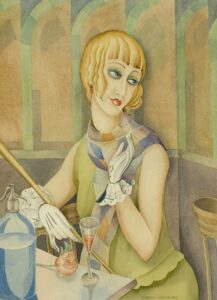 She'd won, I'd been a fool, and when she took it I was crying. The last thing I remember was her superior smile as she glanced back at me and took the cap indoors, holding it by the bobble. With it went my shame.
Back in the woods I was by myself. The air felt cool and the sun was going down. I was picturing Jenny and wondering what she'd say. The boys had mocked me and left me on display. I was there on my own, looking quite different. Though I knew what they'd done, I needed to look down to be sure. When I did, I was happy. I was myself, calmly comfortable, elaborately done up and fully protected. It felt quite special. I was dressed as a girl.
Next week's blog, MY OUTING – Part 3 INCOGNITO, describes the deceptions I practised to avoid being 'outed' in childhood.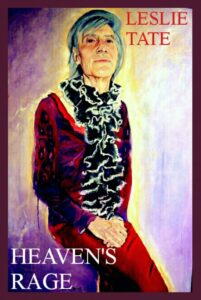 The story of my cross-dressing is part of my autobiography Heaven's Rage. In brief: 'Heaven's Rage is an imaginative autobiography. Reporting on feelings people don't usually own up to, Leslie Tate explores addiction, cross-dressing and the hidden sides of families. Writing lyrically, he brings together stories of bullying, childhood dreams, thwarted creativity and late-life illness, discovering at their core the transformative power of words to rewire the brain and reconnect with life. "A Robin Red breast in a Cage / Puts all Heaven in a Rage" – William Blake. You can read more about/buy Heaven's Rage here.
ABOUT MY NOVELS:
Purple is a coming-of-age novel, a portrait of modern love and a family saga. Set in the North of England, it follows the story of shy ingénue Matthew Lavender living through the wildness of the 60s and his grandmother Mary, born into a traditional working-class family. Both are innocents who have to learn more about long-term love and commitment, earning their independence through a series of revealing and closely-observed relationships. Purple is the first part of the Lavender Blues trilogy.
Blue tells the story of Richard and Vanessa Lavender, who join a 90s feminist collective sharing childcare, political activism and open relationships. Boosted by their 'wider network' they take secondary partners, throw parties and observe the dance of relationships amongst their friends. But finding a balance between power and restraint, and handling shared love, proves difficult… Blue is the second part of the Lavender Blues trilogy.