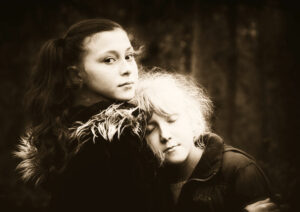 I asked Alicja O'Sullivan, whose photographs have been exhibited in several major cities and in Italian Vogue, about what inspires her. Alicja writes:
'Photography has been my passion since I remember, although I started professionally quite late. I am from Poland, which was at that time a quite rigorously restricted country…. When I was about 12-13 years old I wanted to join our school photography club, but was laughed at by my teacher and was told to forget it as photography is not for girls. For some reason I kept that in mind for a long time, and was taking photos privately, almost secretly, just to fulfill my passion…. My first inspiration came from the Benetton adverts in the streets of Wroclaw where I was studying. I felt those photographs were so brave in sending powerful messages about the important issues of the World. I remember walking around Wroclaw in the rain and cold, photographing them with my first proper film camera, a Zenit.
Then I came to England and only after meeting other photography-minded people I realised how wrong my teacher was. I started feeling the freedom to openly express my vision of life in photography.
After my daughters were born, I loved watching them grow and seeing how their expressions and reactions changed as they got older, and I always had a camera with me. I still photograph my girls, we create our special time, and they are both very creative and come up with their own amazing ideas too. They will always be my greatest inspiration.
Although I am a portrait photographer, the photographs I create might be more fine art portraits. They are not just documentary portraits, I like adding a bit of mystery, an emotional touch to create a special climate…
I find people fascinating. Their inner souls are so deep and beautiful, like the universe. There are no definitions, rules, structures in a human's soul. The feelings, thoughts and emotions you have create a unique image of who you are. As long as we live we are influenced by different experiences and other people, which makes our "Soul Image" change constantly. And each "Image" is different and beautiful in its own way. If you step into your spiritual "I", you feel the freedom, peace and calm. Nobody will judge you or criticise. It's just you with yourself. That is what I'm looking for when photographing people to create these portraits. I want them to feel emotionally close to their own mind and soul… It's fascinating watching their expressions and emotions and photographing those special moments!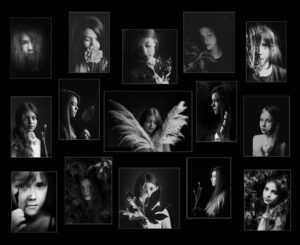 Apart from people, I find inspiration everywhere, even in the most trivial things. It could be the sun fighting it's way through a gap in a fence determined to touch the other side, or a powerful but fragile twig, or a frozen leaf found on the path – nature is the greatest artist. It creates unique pieces, available everywhere, to everyone. We are so busy with our everyday lives we don't always see what's around, but if you dedicate each day to finding something beautiful, even in the most unexpected places or situations, you will notice the difference in how you feel about life and yourself.
I believe that nature has got a soul and feelings – or maybe it's the emotions it evokes when you feel close to it? Nature is similar to human beings, powerful but fragile, impulsive and calm, strong or feeble, it wants to feel loved and accepted, just like we do….. That's why I like using "a touch of Nature" in my portraits.
I love art of any kind. It reflects people's vision of life expressed through their creativity and skills. But I think there's more to it than that, because how can you put a definition on something so beautifully wide and deep? Art is anything that's creative, passionate, and personal. Life is a creation therefore it is a piece of art! I believe everyone has got an artist in them. Children are not afraid to express their imagination and creativity and they do it in such a beautifully naive way. As we grow older we often seem to fall into the regimen of routines and rules, blocking ourselves and we don't just let our creativity go free…. And there is so much hidden magic in everyone!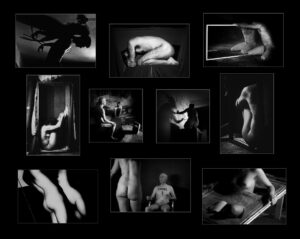 Often when you create something and show it to the world it feels like exposing yourself, your vision, imagination, part of your soul, and in opening up to the world you wonder if your work will be understood, appreciated or accepted. But the truth is that if someone, somewhere, sometime, will find your work inspiring, So it's worth doing it.
Last year I was privileged to be involved in photographing Life Drawing Workshops run by the artist Nikhil Kirsh in Attico Arts Centre, Watford. Nikhil's imagination has no limits, creating a different and powerful atmosphere each week by choreographing scenes with intriguing poses and unusual props so it feels like you're part of a mysterious story. I absolutely loved photographing these workshops. It also made me realise how rewarding it is for artists to work together and support each other and to feed each other with inspiration and ideas. I do hope Nikhil will get back to organising these workshops again.
I've also started working on a new project called "Dancer's Life". My daughters do lots of dancing and I feel very emotional watching them practising, doing workouts, stretching… This is going to be more like a story about a dancer's life…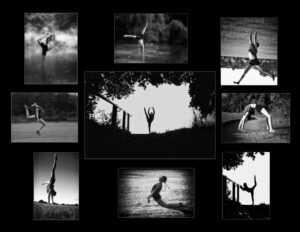 Another exciting project I've been involved in recently was to create a set of portraits for an exhibition in Poland. I feel very privileged to have had my work exhibited in Watford, London, Poland, Singapore, New Delhi, Dubai and published in Italian Vogue and other magazines. So many portraits ideas are going through my mind as well as other interesting projects, making 2017 look very exciting! I will keep you posted on my Facebook page.
I strongly believe that in photography (and any other kind of art), you have to be honest with yourself, If you stick to your feelings and your vision, if you listen to your hunch and intuition, you will be able to create something unique. There is nothing wrong with commercial photography as long as you are not "selling your soul". Because at the end of the day if you are yourself you are already unique and special.'
In next week's interview, DAWN FINCH, librarian, activist, novelist and historian talks about her amazing range of cultural interests.
ABOUT LESLIE TATE'S BOOKS:
Love's Register tells the story of romantic love and climate change over four UK generations. Beginning with 'climate children' Joe, Mia and Cass and ending with Hereiti's night sea journey across Oceania, the book's voices take us through family conflicts in the 1920s, the pressures of the 'free-love 60s', open relationships in the feminist 80s/90s and a contemporary late-life love affair. Love's Register is a family saga and a modern psychological novel that explores the way we live now.
Heaven's Rage is a memoir that explores addiction, cross-dressing, bullying and the hidden sides of families, discovering at their core the transformative power of words to rewire the brain and reconnect with life. "A Robin Red breast in a Cage / Puts all Heaven in a Rage" – William Blake. You can read more about/buy Heaven's Rage here.
The Dream Speaks Back, written by Sue Hampton, Cy Henty and Leslie Tate, is a joint autobiography exploring imagination and the adult search for the inner child. The book looks at gender difference, growing up in unusual families and mental health issues. It's also a very funny portrait of working in the arts, full of crazy characters, their ups and downs, and their stories. You can buy a signed copy of The Dream Speaks Back here