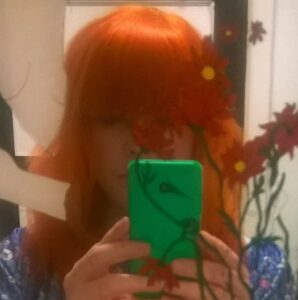 I interviewed artist Sharon Skipper about her experience as a highly creative individual facing mental health issues.
Leslie: When and how did your interest in creating art begin? How did it grow and develop?
Sharon: My dad was always the one behind my art since I was very young, I loved art from a very early age but stopped at the age of 16. I remember winning a competition in a magazine around 10 years old for clothes design and my dad showing it to everyone where he worked. He was very proud of me. I started a couple of years later after my dad's death to draw again which was followed by paintings then I progressed later on to photography, collage and  use of text from newspapers about life, my experiences and what others may think or feel, everything really…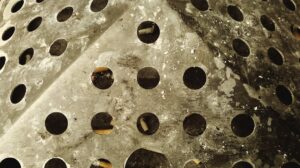 Also I had ideas for installations and put my work forward for competitions. I had a studio in Hoxton where I exhibited. I wrote a book about text-based contemporary art, which took 6 to 8 months to write
Leslie: You've also had mental health issues. Can you describe them in a way that helps people to understand your experience?
Sharon: At the end of writing the book I could feel myself starting to gradually fall apart, which then became voices and hallucinations. I continued my art through this madness with a lot of written art work. I'd write most of it down planning to accomplish something with it later in life. I went through schizophrenia for almost a year with no understanding that I had an illness and thought actually what I was going through was something real.
Leslie: When you hear voices, what's it like? Are there strategies that can help?
Sharon: After a year a male voice from the bedroom door said, "She has schizophrenia." I then looked it up and found out everything possible about the condition. I went on medication and I was then sedated with depression for six years. I completely lost interest in art and everything else. At the age of 35 I stopped taking my medication without letting my psychiatrist know. For two months I felt great, I was myself again and creating my art. I then started to hear a voice telling me to take my medication. My voices became full-on after I'd completed one of my paintings called The Relapse, I carried on with video work, more paintings, collages, and written art. This led to a stay in hospital.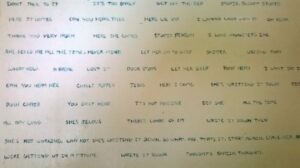 Over the years I've tried numerous medications but have stuck to one for the past couple of years. My voices are good and bad. I have male voices, young and old which care and try to pull me through. The bad ones – well I don't want to be the centre of their attention, or anyone else's. I won't give them the time of day. But when it's bad it's mental abuse which can last for days or even a few months. I do suffer quite severely at times, I tend to get on with it on my own without support, I have learnt to get through it by myself. There's quite a lot of art in my good voices which come through and are very comforting. I'm still trying to find my strategies with my voices; it's taking quite some time to learn this.
Leslie: In what ways has medical treatment been helpful and unhelpful, please?
Sharon:. We all need to find a balance. I don't think we have enough say when it comes to medication. Patients know; doctors think they know. I'm not saying every doctor is like that, but they haven't arrived at #EndTheStigma yet. There is a lot of ignorance about mental health, and the label sticks. We are judged when actually we are all the same, but struggling more than others.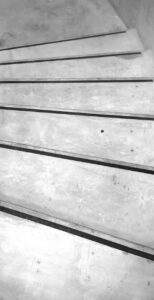 Leslie: What's your experience of the art world? Who are your artistic heroes – and why?
Sharon: I exhibit my work for the time being here on Saatchi online, where I've had many views. My experience of the art world is trying to put my feet forward and walking into it, but I'm normally falling. I do still enter for competitions and photography, along with written art. But I do believe that creativity in art and mental health can go together. To name a few examples: Richey Edwards from the Manic Street Preachers, who was a very good song writer and poet… and from art, Van Gogh, Mark Rothko, Agnes Martin... In Agnes Martin's paintings you see calm, which she must have found from a place within her schizophrenia.. I hope I will be able to follow her into that place.
Next week, I ask artist and writer Jo Clutton about how she has rebuilt her life after thirty years of depression. Jo speaks with absolute honesty about her negative family, her loving husband and her numerous and eccentric interests.
ABOUT LESLIE TATE'S BOOKS:
Heaven's Rage is a memoir and a collection of lyrical essays. In brief: 'Heaven's Rage is an imaginative autobiography. Reporting on feelings people don't usually own up to, Leslie Tate explores addiction, cross-dressing and the hidden sides of families. Writing lyrically, he brings together stories of bullying, childhood dreams, thwarted creativity and late-life illness, discovering at their core the transformative power of words to rewire the brain and reconnect with life. "A Robin Red breast in a Cage / Puts all Heaven in a Rage" – William Blake. You can buy Heaven's Rage here.
Purple is a coming-of-age novel, a portrait of modern love and a family saga. Set in the North of England, it follows the story of shy ingénue Matthew Lavender living through the wildness of the 60s and his grandmother Mary, born into a traditional working-class family. Both are innocents who have to learn more about long-term love and commitment, earning their independence through a series of revealing and closely-observed relationships. Purple is the first part of the Lavender Blues trilogy. You can read more about/buy Purple

here

.
Blue tells the story of Richard and Vanessa Lavender, who join a 90s feminist collective sharing childcare, political activism and open relationships. Boosted by their 'wider network' they take secondary partners, throw parties and observe the dance of relationships amongst their friends. But finding a balance between power and restraint, and handling shared love, proves difficult… Blue is the second part of the Lavender Blues trilogy. You can read more about/buy Blue

here

.