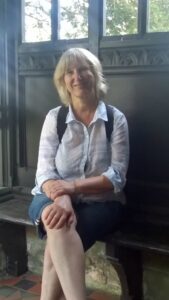 I asked artist and writer
Jo Clutton
about how she has rebuilt her life after thirty years of depression. Jo spoke with absolute honesty about her negative family, her loving husband and her numerous and eccentric interests. Her interview is a personal testimony to how love, creativity and 'truth talk' can restore mental health. In Part One Jo talks about her creative interests, in Part Two she describes her recovery from depression.
Leslie
: What's the story of your many and unusual interests, please?
Jo
: I think I was born creative and identify with the unusual and unconventional. I never wanted to do what's considered 'the norm'. Creative people are known for this, for which I'm grateful, and I've been called 'pleasantly eccentric', which I love. The Wild West fascination developed after watching programmes such as
The Virginian
,
High Chaparral
,
Alias Smith and Jones
, and seeing
Butch Cassidy and the Sundance Kid
way back in 1969. (My Wild West has to have humour and preferably gutsy gals!). So buckskin, fringed clothing and holstered revolvers lodged in my young head and I began to want to develop a Wild West persona on the likes of
Calamity Jane
or
Annie Oakley
, although this didn't happen for some years. I was becoming a bit of a feminist, and wanted to prove that not all women in the West were petticoated martyrs, which seemed to be the way in all stories. That wasn't the case in reality, but my young mind was determined.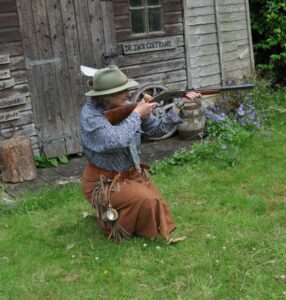 My father owned an air rifle and I started using it as a teen on empty plastic washing up liquid bottles in the back garden. I wasn't a bad shot either, and dad began calling me
Annie Oakley
, which I thought was brilliant!  I've joked in recent years that I must be reincarnated from
Calamity
. My parents told me that two great-great uncles, only one of them a blood ancestor, had emigrated to British Columbia during the gold rushes of the 1890s and that the West must be in my genes/jeans. Finding out about them has been part of my research into family history – yet another interest. My husband Graham, who's looked after me throughout my depression, is my soulmate and best friend. We're like a couple of kids, especially now I'm literally cured, and he's the one who's encouraged and inspired me to pursue all my passions. He's the one who helped me develop my Wild West image, and he's developed his own persona. You can read about it on my website:
www.kitty-le-roy.co.uk
Incidentally,
Kitty Le Roy
was a fully armed shootist and gambler killed in a shootout by husband number five during the 1880s in Dallas,Texas. I loved the idea of her from an article I read in Titbits magazine many moons ago, and my grandmother was Kitty, so Kitty I had to be! After my children were born I found Western groups I could join and costumes to wear, including holstered blank firing Colt revolvers. My husband and I got involved in fast draw contests, but we actually hated them! I did them on principal, being female, and Graham was supporting me. In recent years we created a living history camp. We also joined a local club for Western 'round ups', until depression and anxiety reared its ugly head and stopped me getting involved for a few years. We attended our first camp last year, and after my initial nerves and a few tears, met old friends, made new ones, and will definitely be camping again this year. As for my other interests:
I have always cycled, since I grew up in the flat landscape beside the Thames and rod a bike to school. Today it's harder, because, where I live, in Alton, Hampshire, is very hilly! Now I use an electric bike.
Rowing. We owned a clinker-built dinghy. I learned to row as early as I could. In later years, owning our Canadian canoe seemed the natural thing to do, associated as it is with the Wild West!
I remember watching my uncle practising archery. Years later, when my kids were in a crèche at my local sports centre, I indulged for the first time as one of the choices of sport on offer. I enjoyed it so I joined a local archery club and bought the kit, including pearly pink arrows!. Unfortunately, again, depression stopped me indulging for years. I intend to return to it this year.
I had always wanted to fly ever since my father used to drive us and my cousins to Heathrow airport to join their parents, who lived and worked in India. I watched planes landing and taking off with enormous excitement, and determined to fly someday. My first chance to fly came while I was sixteen or seventeen and still at school. My father was a police officer and when I voiced an interest, he suggested we both have a go at learning to fly a small plane at the Metropolitan Police Flying Club. I didn't get very far, only a few hours, and Dad managed twelve, but at least I did manage to learn straight and level flight before my money ran out! A newspaper cutting about me appeared on my school noticeboard, and the kids asked: "Why can't you learn to drive like everybody else?!" And some bright spark had drawn a moustache on me. Hah!  I eventually flew my first commercial flight to Turkey with a friend in '74, and I was so excited, my friend had to calm me down. Today, many flights later, I still love the take off. We're very fortunate to have a close friend whose family company own two small aircraft, and we've been on flights with him. He suggested I fly straight and level round the Isle of Wight. I'll never forget that.
Leslie
: And what's the story of your creative interests?
Jo
: My great grandfather on my dad's side was an artist who taught the subject at a renowned boys school in
Hammersmith
and my dad inherited some of it, painting and drawing after he retired from the police force. My grandfather on that side was musical, taught music at the same school and composed music. He even composed
The Laughing Policeman
, which is played today! On my mother's side, her grandfather was an engraver and her brother, my uncle, was also an engraver and photographer and very creative. I always wanted to be an artist, and attended a foundation art course in London, which grounds you in several creative disciplines – photography, graphics, sculpture, fine art, and printing. I regret not going on to a three-year course at art college. Instead I went to work in an art studio, but the attitude back then was pretty chauvinistic, which resulted in me leaving after a year. I didn't write until I was older, I think after my kids were born. That's when I began writing my humungous novel, a western. I'd had the idea of a female
Robert Redford
character in my head for years, a woman who encompassed the ideal of the traditional western hero – was the fastest gun in the west! She was also bisexual, which was a bit of a twist. It was my husband who encouraged me to 'get on with it'. I'm still working on it, but the whole plot is definitely there. I also write light-hearted anecdotes, resulting in several articles published, including a year's worth in my local paper. Now I'm running
my blog
, which is an ideal vehicle for that creativity. Archaeology was something I'd always fancied having a go at, but never quite managed. Numerous television programmes later, the idea of unearthing a piece of pottery etcetera, cleaning it and recording it really appealed. At one point I considered becoming a 'mud lark' in London. I dug around the muddy shoreline of the Thames at low tide, unearthing some amazing items, which have included a prisoner's ball and chain and umpteen clay smoking pipes circa 1700s. But insurance, declaring your treasure and travel to London proved awkward. But we have 'mud larked' in Looe, Cornwall, uncovering what looks like a carved chess piece, many items of broken patterned china, the jaw and teeth of a small fish, and a button covered in glass diamonds! I've inherited my ribald, irreverent, schoolboy sense of humour, which I share with my husband, from my family. We'd listen to
The Navy Lark
and
The Goons
on the radio at Sunday dinner often accompanied by my mother's homemade apple wine.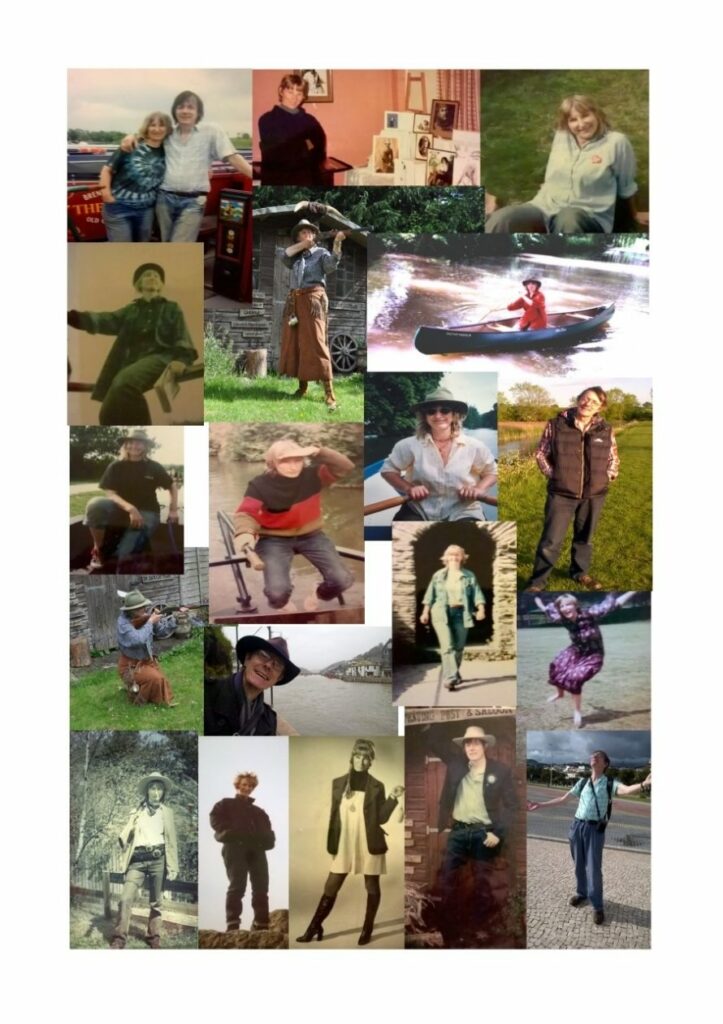 Leslie
: What sparks your creativity, please? What is the process you go through to flesh out your feelings into a concrete form?
Jo
: I take zillions of photos on my phone of anything that catches my eye for future reference. People, the landscape, colours, shapes. I collect antique curios and some of these can spark ideas. When an idea sparks, if it's an art idea, I decide which medium to use – acrylics, gouache, pastels, pencil, and the image grows organically. I never plan, it just happens. The same with writing. I have an idea and out it tumbles, except it usually has to be edited afterwards. I have my favourite artists and movements, including
Mucha
,
Aubrey Beardsley
,
Art Nouveau
,
Art Deco
,
Charles Rennie Mackintosh
,
Arts and Crafts
…
Next week, in the second part of my interview with Jo Clutton, she talks very honestly and openly about her family and depression, her medication crisis and how that led to her recovery.
ABOUT LESLIE TATE'S BOOKS:
Love's Register tells the story of romantic love and climate change over four UK generations. Beginning with 'climate children' Joe, Mia and Cass and ending with Hereiti's night sea journey across Oceania, the book's voices take us through family conflicts in the 1920s, the pressures of the 'free-love 60s', open relationships in the feminist 80s/90s and a contemporary late-life love affair. Love's Register is a family saga and a modern psychological novel that explores the way we live now.
Heaven's Rage is a memoir that explores addiction, cross-dressing, bullying and the hidden sides of families, discovering at their core the transformative power of words to rewire the brain and reconnect with life. "A Robin Red breast in a Cage / Puts all Heaven in a Rage" – William Blake. You can read more about/buy Heaven's Rage here.
The Dream Speaks Back, written by Sue Hampton, Cy Henty and Leslie Tate, is a joint autobiography exploring imagination and the adult search for the inner child. The book looks at gender difference, growing up in unusual families and mental health issues. It's also a very funny portrait of working in the arts, full of crazy characters, their ups and downs, and their stories. You can buy a signed copy of The Dream Speaks Back here