I'm lying on my side in a darkened studio with lights and a camera pointed at my bare back. Christoffer is taking the pictures, directed by Andreas and Dagmara. The studio is in Aarhus, Denmark, I'm naked, and the film, called 'Landscapes', puts together close-up images of seven LGBTQI people over 60.
It's a four-hour shoot, first across my back then tight on my chest, moving to my hand and finally to my upper body and face. While the camera pans through smoke effects and I'm in the picture, the film crew are exclaiming how beautiful it looks. Dagmara calls the session 'funky'. It's as if they're sightseers in a gallery being constantly surprised and astonished by the artwork they see there. As I stretch out, the words 'truth to material' pass through my head. I think of Jean Arp's mixed organic/inorganic forms and picture myself inside my body image. I feel as if I'm a figure in The Garden of Earthly Delights.
So why are we doing this? Possibly because it's funded and will be shown at a gender festival, maybe as the beginning of a cultural change, or perhaps just because we can.
—————————————————-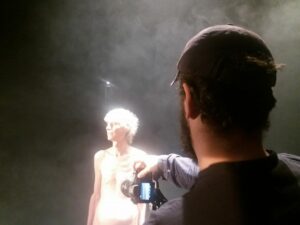 I'm on my way to board a plane to Aarhus at Stanstead Airport. To reach my flight I walk down a winding concourse between open shop fronts selling luxury perfumes, make-up and jewellery. Everything appears to be rah-rah-rah. It seems we're living in a land of milk and honey; either that or it's Christmas all the time. There are young, glamorous assistants on both sides holding out cards and free give-aways. I've a feeling, because I'm wearing women's clothes, they think I'm going to sample something. In fact, I'm seeing the shopping mall through the eyes of displaced people and other have-nots. It's a fake fairy tale, a pretence that everything's hunky-dory. And while I can see that the women are all beautiful, I know they're under heavy manners. They are their tight clothes and eye shadow and tinted mascara, because they're off-the-peg examples of what they're selling. And behind their dolled-up appearance they're overdressed, and their wares are placebos.
After boarding and take-off, our plane climbs over houses and fields, through cloud and out into sun. It's a cheap flight, the cabin is crowded and there isn't much legroom. I'm sitting in the middle of a row, wondering whether to ask the man on my right to let me out to the toilet. The man is 35-ish, wearing denim, and plugged into what I imagine to be music, possibly instrumental. His headphones are like cannula; they make him oblivious and hard to reach.
I ask him, of course, after wondering how to get his attention and measuring his reaction when I do. He says nothing, simply moving out and in, reversing the process when I return. He doesn't appear to notice, but I have to wonder if he's making a point about what I'm wearing. I imagine – absurdly – taking the gangway as my catwalk and displaying my dress. It's blue with tassels and crocheted arms and I wear it with leggings and Mary Jane shoes. It makes me feel comfortable, and though the cabin is crowded, I'm protected in my own quiet space, just as I am.
When the plane descends my ears hurt as if I'm ill.
Before the shoot I chat with Dagmara and Andreas in an Aarhus café. We sit by a large picture window looking out on cyclists, painted buildings and casually-dressed shoppers. It's an urban world, carefully constructed, with everything in place. So this is Denmark, I think: close-knit, urban, trusting – though Dagmara and Andreas warn me about the flipside: the Folkeparti with its popularist agenda.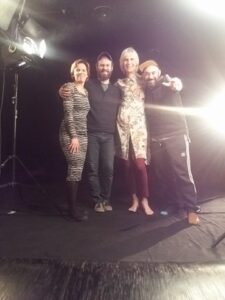 We talk performance. When I ask about 'Landscapes', Dagmara tells a story – how she and Andreas met at art college and put on shows, mainly experimental, continuing since as artists and dancers, organising events and community projects. "It's about working with people," she says, turning to Andreas, "and continually reinventing yourself."
Andreas grins. "You mean like this?" he asks, pointing to his beard.
Dagmara smiles. "Oh yes, Mr Man."
I understand the joke but not why he's changed. I'd seen him on the website in ultra-high heels and make-up, covered with blood and flowers and dancing like Salome. I'd assumed that was why they'd invited me. He'd been wildly, defiantly arty and gender-queer. But in the flesh, Andreas is quite different. Short and compact, wearing jeans and a jacket, he looks like an average, dressed-down student; an easy-going guy without too much femme.
"I used to be all-girl, everywhere," he says, lengthening his vowels, "but then this came over me."
"Anyway," he continues, "it's much easier now on the street."
Afterwards, on our way to the shoot, I enjoy the sunshine. It's always easier walking outdoors in a dress when you're with others, and Dagmara and Andreas are my guardians and psychopomps.
As we leave the busy shopping streets, I glance up at the sky. It's an untouched canvas. We talk about the filming.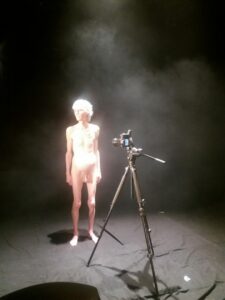 "You know what to expect, yes?" Dagmara asks gently.
I do mainly, I say, but ask about the ending.
Andreas answers. "That's when we go inside. But we don't, of course. We'll close in on your mouth, but only a bit. The camera does the rest."
"Non-invasive, then?"
"It's not an operation. Promise."
"But on screen? What do the audience see?"
"That'll be the beach shots. Taken in North Denmark."
I express my surprise and ask about the beach. They tell me it's a desert: out of this world, and very beautiful. I think of Surrealist pictures and the work of Franz Marc. Above, the sky is a clear bare screen.
We continue walking, chatting about ideas. Dagmara and Andreas guide me past statues and benches, across a planted square and in through a door to enter a shadowy area with a low stage and a darkened auditorium. Christoffer joins us, switching on the spotlights. Their beams spread evenly on an exercise mattress at the front of the auditorium. Behind that the light fades from grey into black. It makes the room seem cave-like and unreal. When the filming begins I visualise the journey I've been through to get here.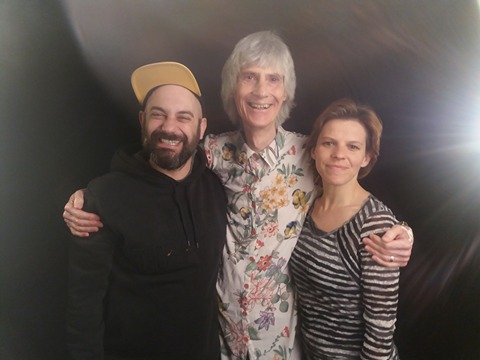 ---
—————————————————-
The film in my head begins on the beach. I can feel the wind against my body, tickling my skin. I'm imagining myself in a swimsuit, the sort worn in secret, taken from a drawer. It's tight and wraps my chest in touchy-feely stuff. I'm stretched and alive; in my own element and breathless. It's as if I've been caught on camera like one of those smooth-faced models I kept hidden in my schoolbag. She's in there, smiling. Later on, I'll carry her inside me, doll-like and invisible. And she's still there: the half-and-half child who poses in the mirror and dreams of being loved.
In the frames that follow, my journey becomes an escape or a quest. It's a high-up adventure over sea and land to arrive at a city where I'm met at the station by Dagmara and Andreas who, without saying anything, shift me to their studio. It's an operating theatre and they're my consultants. As the camera moves slowly across my body to my mouth, it's as if they're voices from the past, God-like and dispassionate, talking me through. Suddenly I'm in the dark.
When the light returns, the landscape has changed. It's a bare white beach, where heaven and earth come together. It's before dawn, where light meets dark and new shapes arise. As the camera pulls back the film rolls out like a DNA strip. It stretches away to a long curving landscape with an art-space feel. I'm newborn. Making my way into unexplored territory. Without shadow and genderless…
The film is made.
Leslie Tate
You can read more about 'Landscapes' on the Facebook event page here.
'Landscapes' is part of the Genderhouse Festival 31. August – 27. September in Aarhus, Denmark.
Next week I interview international poet Kinga Fabó whose work has been translated into 17 different languages and published in Modern Poetry in Translation, The Significant Anthology, Women in War and World Poetry Yearbook 2015.
ABOUT LESLIE TATE'S BOOKS:
Love's Register tells the story of romantic love and climate change over four UK generations. Beginning with 'climate children' Joe, Mia and Cass and ending with Hereiti's night sea journey across Oceania, the book's voices take us through family conflicts in the 1920s, the pressures of the 'free-love 60s', open relationships in the feminist 80s/90s and a contemporary late-life love affair. Love's Register is a family saga and a modern psychological novel that explores the way we live now.
Heaven's Rage is a memoir that explores addiction, cross-dressing, bullying and the hidden sides of families, discovering at their core the transformative power of words to rewire the brain and reconnect with life. "A Robin Red breast in a Cage / Puts all Heaven in a Rage" – William Blake. You can read more about/buy Heaven's Rage here.
The Dream Speaks Back, written by Sue Hampton, Cy Henty and Leslie Tate, is a joint autobiography exploring imagination and the adult search for the inner child. The book looks at gender difference, growing up in unusual families and mental health issues. It's also a very funny portrait of working in the arts, full of crazy characters, their ups and downs, and their stories. You can buy a signed copy of The Dream Speaks Back here.