I interviewed prolific Welsh artist Penny Jones about her struggles to become a professional artist, her journey from landscape painting to abstraction and her courageous performance art.
In Part One, Penny talks about working and bringing up children while studying to be a full-time artist. She also describes her artistic influences and her 'Washing' and 'Nappies' performance art.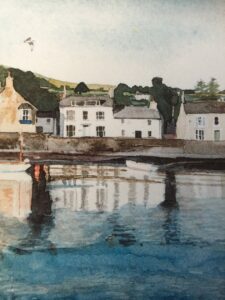 Leslie: Can you tell us your story, please, as an artist. What have been the key moments in your creative history – the experiences that fired you up and directed your energies?
Penny: I was self-taught watercolour painter, originally in Ireland, where I had a challenging job (managing a team of Social Workers, and a Community Worker) and spontaneously started painting with my five year old son's paint box in rural West Cork. I painted more and more, and people wanted to buy them.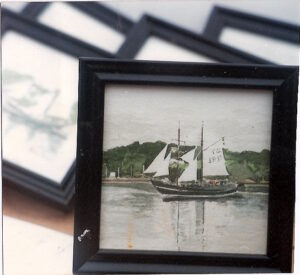 Another key moment was when I had moved to Cork City and was driven to paint the Irish training ship, the Asgard as it entered Cork Harbour. I then sold these little paintings on the street in Cobh for £8 in small £1 shop frames. I then had an exhibition in Schull with a potter and the Asgard was docked there on the opening night and the captain and the crew came to the opening! I moved back to Wales with this exhibtion that summer of 1992.
The Welsh exhibition gave me contacts there that led to the Newport Collective being set up with other local artists and craft makers in 1995. I studied courses in the community (Aberystwyth University) and began to become more abstract. This led to me embarking on an access course at Carmarthen Art school where I started to paint using acrylics and creating art that involve ideas – I remember using broken china in some of my art.
At this time I was working part-time as a social worker and driving a school bus. I gave up work in 1999 to be a full-time artist. It was a risk and I was initially on unpaid leave. I had done lithography (printmaking) at the Art school in Cork while living there. I was part of the Open Studios around Cardigan and one visitor who was taking the degree course in Carmarthen explained how I could do it financially through the student loan system.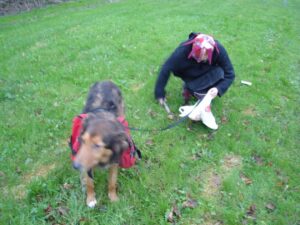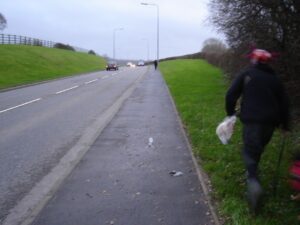 I had my last solo exhibition in Swansea just as I started my degree in 2004. I had visited our nephew in East Germany with my sister earlier that year and in the Weimar Gallery I had first seen contemporary art – Pipolotti Rist and Anselm Kiefer.
The moment I arrived in art school in Wales I was opened up to the idea of contemporary art. What most directed my energies was a 19yr old man who was enthusiastic about the experience of art – which could even be listening under stairs! I found out it could be about experiences, feelings, relationships. When the college library was moved 2½ miles away and the shuttle bus was discontinued, I wanted to protest. Combining ideas about women's rights and work and the Welsh language, I planted daffodils (which are a symbol of Wales) along the whole route and then did performance walks along it, which were filmed. I put on my first performance for this 19yr old man of 'Expectation' where I just stood!! The other person who inspired me was our contextual studies tutor who explained and sold contemporary art.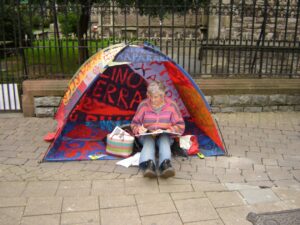 I continue to try to push the boundaries and get excited by ideas for example painting the names of lovers I had had on a tent ON THE BEACH – not in a gallery but in the real situation.
Leslie: Can you tell us about your 'washing' art, please.
Penny: The washing art is to do with my mother whose love was washing, and as she took her own life in 1977 aged 55 I was determined that my life was to be different but I wanted to remember her. I started the degree funnily enough when I was 55 just after my father died.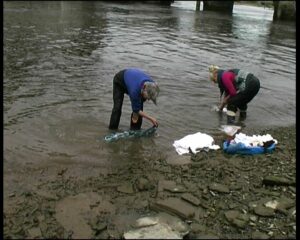 The idea of a washing performance came to me, like many of my ideas, from nowhere. I first started my washing performances in Sheffield, filmed by a friend visiting from Carmarthen. When I was lonely in Sheffield and was walking across the city to a potential friend I made the work 'Plus One' because I had a camera on me, borrowed from the University. Another spontaneous idea came after writhing on the floor saying I wasn't going to work with video and then getting really stuck in to video-making with 'Final Cut Pro'.
Leslie: Can you describe, please, your most enduring/seminal work from the wide range of projects you've been involved in.
Penny: The work I tell people about most is the daffodil planting. I also tell people about the nappies hanging in the garden in Ninian Rd in Cardiff with a poem by Gillian Clarke about a mining disaster. This happened to coincide with the centenary of the Senghenydd mining disaster in 2013. It was later hung in a mining museum in Neath. The one other work people talk about is my rant of 2009 which was my final piece for the MA in Sheffield.
                    in Part Two, next week, Penny Jones talks about collaborating with visually-impaired people for her 'feeling voice' exhibition and the 'Boatshed Artists' and the group 'Rhôd'.
ABOUT LESLIE TATE'S BOOKS:
Love's Register tells the story of romantic love and climate change over four UK generations. Beginning with 'climate children' Joe, Mia and Cass and ending with Hereiti's night sea journey across Oceania, the book's voices take us through family conflicts in the 1920s, the pressures of the 'free-love 60s', open relationships in the feminist 80s/90s and a contemporary late-life love affair. Love's Register is a family saga and a modern psychological novel that explores the way we live now.
Heaven's Rage is a memoir that explores addiction, cross-dressing, bullying and the hidden sides of families, discovering at their core the transformative power of words to rewire the brain and reconnect with life. "A Robin Red breast in a Cage / Puts all Heaven in a Rage" – William Blake. You can read more about/buy Heaven's Rage here.
The Dream Speaks Back, written by Sue Hampton, Cy Henty and Leslie Tate, is a joint autobiography exploring imagination and the adult search for the inner child. The book looks at gender difference, growing up in unusual families and mental health issues. It's also a very funny portrait of working in the arts, full of crazy characters, their ups and downs, and their stories. You can buy a signed copy of The Dream Speaks Back here