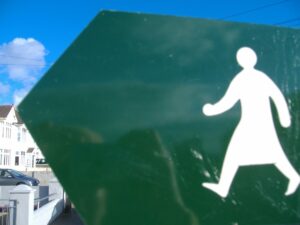 In Part Two of her interview, innovative Welsh artist Penny Jones talks about collaborating with visually-impaired people for her 'feeling voice' exhibition, as well as working with the 'Boatshed Artists' and the group 'Rhôd'.
In this section, the illustrations include some examples of Penny's more recent work.
Leslie: Can you describe, please, the idea of your 'feeling voice' exhibition.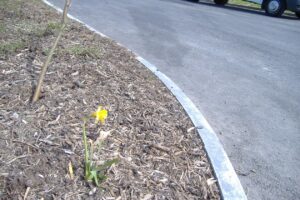 Penny: I am interested in the oppression of women and giving women in Wales a voice.
Myself and artist Gemma Green-Hope applied for a grant from the Arts Council of Wales to research and record women's conversations about their life in Welsh. We were successful and the result is Llais Menywod (Women's voice). It is a series of recordings displayed through interactive objects that people can listen to by touching. It became apparent that this would be ideal for sight impaired people.
I contacted groups for blind people in Wales and this led to working with Mared Jarman who was 22 and visually impaired. She and Gemma devised questions gleaned from our original research, about things like women feeling their voices are not heard and that they apologise too much.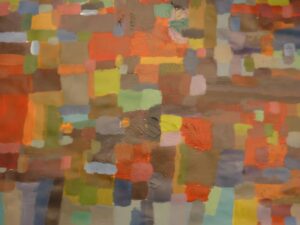 Spontaneously, I changed a bag of offcut material we had been given into a black quilt – which also fitted with the idea of women's work. I am also committed to recycling, and used leftover pieces of material to make the quilt. The company that makes the touch boards for the interactive sound is called Bare Conductive. They supply conductive thread so it was all possible. One of the contributors to the ceramic quilt was Bev Bell-Hughes who is well known in Wales and is sight-impaired.
I later worked with another friend, the ceramicist Sally Richmond who was at Carmarthen Art School with me, inviting ceramicists to make artworks in response to the questions.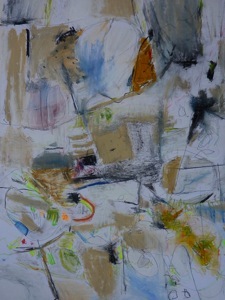 Leslie: You're a member of the 'Boatshed Artists'. Can you explain the name, what you do and how you've helped each other as artists?
Penny: The Boatshed group is called that because we meet in a studio that is a boatshed by an estuary, where one of the group also lives. This group has been a part of my life from while I was taking my degree. It's a group of rather aged women artists (I am one of the youngest) who are of great support to each other. We meet every Thursday (I go when I can) and bring lunch. We have amazing meals and conversations but there are only two of them who really understand what I am doing, but they are all supportive anyway.
Leslie: You say in your statement that you 'use myself and the present moment in my work striving as a woman and visual artist to find a language.' How does that mean you work creatively?
Penny: I am striving to find a way to communicate political messages through my art, such as women's rights, the oppression of the Welsh language, using public transport, recycling and reusing. I do reflect my age and having come to contemporary art so late in life.
I love journeying and extended these walks and journeys while doing my degrees and afterwards, finding a way to make them into art. I am still exploring this.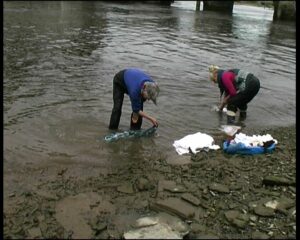 I was diagnosed with a learning problem meaning I can be extremely literal in how I understand the world, hence my working methods. Ideas tend to come to me when I wake up in the morning. Sometimes I work them out by brainstorming and then trying to connect them to the practical possibilities. I get immersed in what I am doing like when I did my piece about washing the lovers' shirts in the river Teifi in Cardigan.
I want to spend time experimenting with painting and installation, in one of the two current projects I have at the moment. One involves collecting stories from people in the Preseli mountain area, which will be displayed via an interactive quilt. The other involves people talking about what has happened to the Welsh language in Pembrokeshire. Both operate through the medium of Welsh.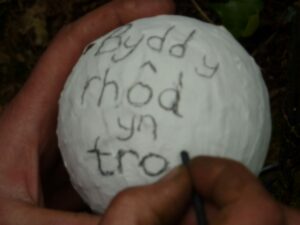 One important activity I must mention is my work with the group Rhôd, which means 'wheel' in Welsh. I am on the committee and we work between West Wales and Cardiff – it's an urban/rural dialogue – and we show contemporary art here and in Cardiff (hence the nappies in Roath). You can see in this image the first work I did with them, which was biodegradable buoys after the big art project had been rejected in Cardigan for not being environmentally friendly enough.
Although I'm constrained by my health and age, when I'm working I become very excited, stimulated, and can't keep up with myself!
Next week I interview prolific author and blogger, Debby Gies, about her memoirs, her book and travel blogs, and her work with online groups.
ABOUT LESLIE TATE'S BOOKS:
Love's Register tells the story of romantic love and climate change over four UK generations. Beginning with 'climate children' Joe, Mia and Cass and ending with Hereiti's night sea journey across Oceania, the book's voices take us through family conflicts in the 1920s, the pressures of the 'free-love 60s', open relationships in the feminist 80s/90s and a contemporary late-life love affair. Love's Register is a family saga and a modern psychological novel that explores the way we live now.
Heaven's Rage is a memoir that explores addiction, cross-dressing, bullying and the hidden sides of families, discovering at their core the transformative power of words to rewire the brain and reconnect with life. "A Robin Red breast in a Cage / Puts all Heaven in a Rage" – William Blake. You can read more about/buy Heaven's Rage here.
The Dream Speaks Back, written by Sue Hampton, Cy Henty and Leslie Tate, is a joint autobiography exploring imagination and the adult search for the inner child. The book looks at gender difference, growing up in unusual families and mental health issues. It's also a very funny portrait of working in the arts, full of crazy characters, their ups and downs, and their stories. You can buy a signed copy of The Dream Speaks Back here