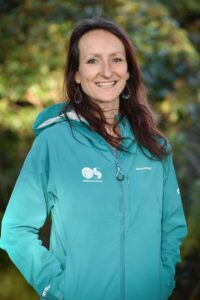 I interviewed long-distance cyclist, Anna Hughes, about her rides across the UK and Europe, her books, her veganism, living on a houseboat and her organising role in  'Flight Free UK'. Anna is a passionate environmentalist who campaigns for climate change awareness, and promotes an active, outdoor lifestyle.
Leslie: Tell us about your books. What have been the difficulties and the rewards of cycling for you?
Anna: My first book, 'Eat Sleep Cycle', is about my ten-week bike ride around the coast of Britain. It was an adventure I did back in 2011, and it was my first big bike ride. Even though I've been a cyclist my whole life, that was the first time I packed up my bags and set off on a proper adventure. It was a life-changing experience and really opened lots of doors afterwards; I would never have become an author without it, and I am fortunate enough to be offered sponsorship and events from time to time as a result. The adventure had it all – the most amazing scenery I had ever had the pleasure of seeing; battles with terrain and weather of course; self-discovery; massively improved fitness; aches and pains and sores! It's incredibly freeing to hit the open road and to go wherever the wind takes you (or not as it happens: one day, I was prevented from riding by a hurricane!). Cycling can be physically and mentally tough, especially when things seem to not be going your way, but it can also be rewarding, just feeling that freedom and fresh air. It's very empowering being able to travel completely under your own steam.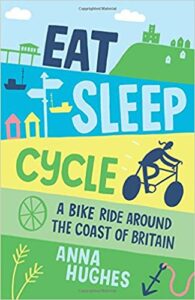 Leslie: What have you learned about yourself from cycling? How has it changed you?
Anna: I've always been a cyclist, so I see it as part of my personality. I am quite a staunch advocate for cycling, just because I see it as a way to solve so many of the world's problems! Reduced congestion, reduced stress, improved air quality, reduced carbon emissions, increased activity therefore less burden on the NHS, cheaper, and great for our mental health.
Leslie: Can you explain the term used by cyclists to 'Copenhagenize', please?
Anna: Copenhagen is a fantastic example of a city in which cycling works. Bikes are everywhere, and there are far fewer of the problems that we see in a city such as London: congestion is lower, air quality is better, and safety is improved for everyone including cyclists and pedestrians. The thing is, Copenhagen and London are not all that different – many people say 'There's not enough space in London, so it would never work.' But that's not the case. Cities like Copenhagen and Amsterdam once had all the same problems as London, but the difference was the government decided to do something about it, to focus on cycling instead of the motor car, and this is the result. Cycle campaigners use Copenhagen as a case study of how to make a city more liveable by increasing cycling levels, and that's how 'Copenhagenize' came about.
Leslie: Please tell us about your no-fly campaign – how it started and the successes so far.
Anna: Flight Free asks people to pledge not to fly in 2020 – provided 100,000 others make the same pledge. It started in Sweden last year (they ran Flygfritt2019) and after hearing an interview on the BBC with the founder of that campaign I was inspired to start it here in the UK. We have only been live since the start of February so we are really just beginning, but I'm hoping we can engage many people in the pledge, including people of influence such as politicians and known environmental activists. Climate change and the impending climate disaster are such pressing issues – if only the government spent as much time debating that as they do Brexit! As one youth protestor put it at the recent #youthstrike4climate, there is no Brexit on a dead planet.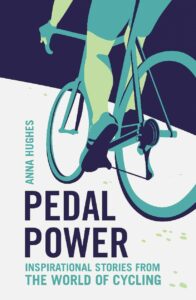 Leslie: What things have surprised you about living on a houseboat? What are the advantages/disadvantages of this way of living?
Anna: I've lived on a boat for five years now. It's a wonderfully simple way of life, though it's also very hard work. For example, my toilet doesn't empty itself – I have to do that. And I have to fetch firewood, and make sure I moor in a sunny spot so my solar panel can generate enough electricity to power my fridge etc. The maintenance list is never ending! So it's a very freeing way of life, with no rent/mortgage/council tax/stamp duty, but it can also be quite a hard life. I love the sense of adventure that it brings, though I am constantly worried it's going to sink!
Leslie: What made you go vegan and what are its benefits?
Anna: I have been vegan on and off for about ten years, though I've been full-on vegan for the past five. It's almost exclusively about the environment for me – the meat and dairy industry is just so damaging, I don't want any part of it. The amount of energy and water it takes to produce all the animal products we consume, not to mention the emissions, is just completely unsustainable. To put it in context, the most polluting form of plant-based protein (soya) doesn't even come close to the least polluting form of animal protein. Beef is the worst, then lamb – then cheese!
I adore being vegan, and I've really noticed that in the last few years, vegan options have increased dramatically. It's fantastic! I can go out for dinner with my friends and eat something other than a salad. Animal welfare is important too, and so is health – I feel amazing now I'm vegan. I get plenty of protein (lentils, beans, nuts – even potatoes contain protein!) and I'm just as active as I've ever been. In fact, I completed an Ironman triathlon as a vegan. If I can do that, it goes to show there's no problem with fuelling a body on a vegan diet!
Leslie How did your love of the outdoors begin, grow and develop? What do you do to inspire a love of the environment in other people? What's special about the outdoors?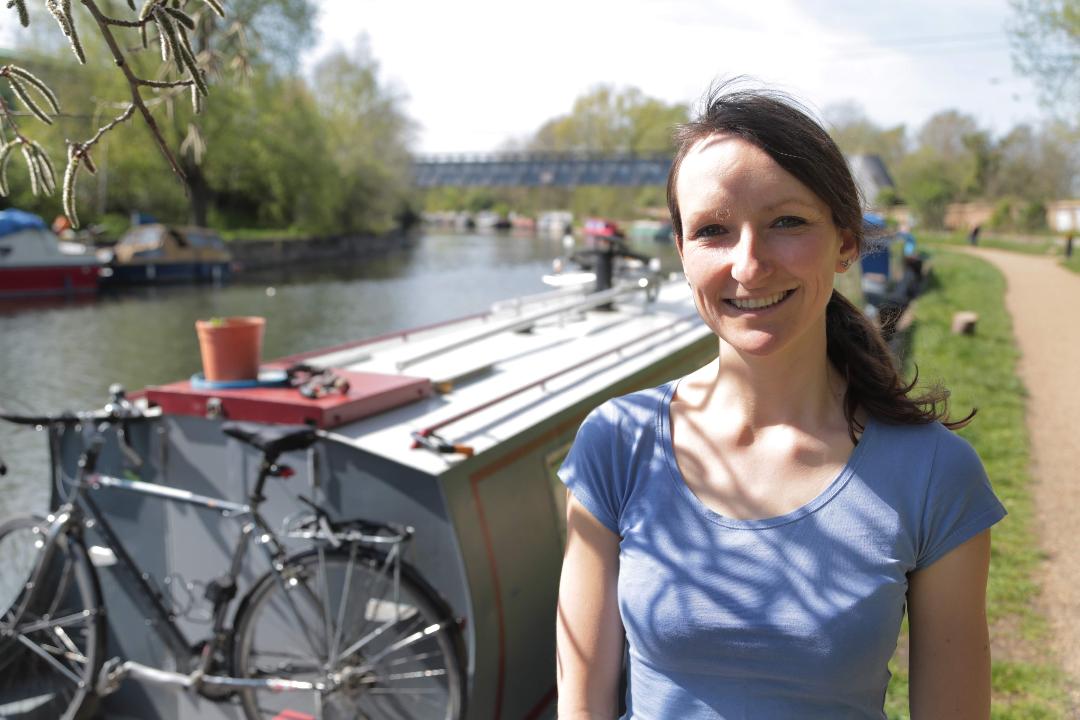 Anna: My parents would take us camping when we were little so I've always been at home in the outdoors. I used to fantasise about building myself a little cave in the woods and living in it – not a million miles away from the home I have now, I guess! It's so important to spend time outdoors, even if it is just for a walk to get some fresh air and stretch your legs. I have never been someone who goes to the gym – give me a run round the park any day. You don't see wildlife or sunshine in the gym – and these are the things that are good for the soul. No one can look at a bunny rabbit without smiling. I'm currently a #GetOutside ambassador for Ordnance Survey, and I write blog posts inspiring people to explore the great outdoors for all the benefits that it brings. Staring at computer screens all day is terrible for our physical and mental health! And on that note, I need to stop staring at mine and get out for a run…
Next Monday campaigning busker Zoe Wren talks about RECORDING, BUSKING AND WINNING PRIZES.
ABOUT LESLIE TATE'S BOOKS:
Love's Register tells the story of romantic love and climate change over four UK generations. Beginning with 'climate children' Joe, Mia and Cass and ending with Hereiti's night sea journey across Oceania, the book's voices take us through family conflicts in the 1920s, the pressures of the 'free-love 60s', open relationships in the feminist 80s/90s and a contemporary late-life love affair. Love's Register is a family saga and a modern psychological novel that explores the way we live now.
Heaven's Rage is a memoir that explores addiction, cross-dressing, bullying and the hidden sides of families, discovering at their core the transformative power of words to rewire the brain and reconnect with life. "A Robin Red breast in a Cage / Puts all Heaven in a Rage" – William Blake. You can read more about/buy Heaven's Rage here.
The Dream Speaks Back, written by Sue Hampton, Cy Henty and Leslie Tate, is a joint autobiography exploring imagination and the adult search for the inner child. The book looks at gender difference, growing up in unusual families and mental health issues. It's also a very funny portrait of working in the arts, full of crazy characters, their ups and downs, and their stories. You can buy a signed copy of The Dream Speaks Back here