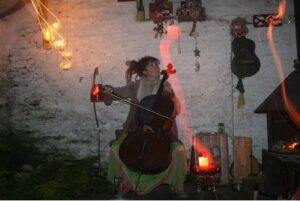 I interviewed musician and storyteller Ailsa Mair Hughes who improvises on her cello outdoors, sings, composes, and works with other artist in dynamic site-specific creative projects. Ailsa describes herself as 'an untamed musician' who performs 'up trees, on boats, streets and beaches and more'.  In all of her projects, Ailsa says that she brings with her, 'A passion for the connection between music and nature'.
Leslie: How did your musical and artistic journey begin, grow and develop? What characterises your instrumental/vocal music today?
Ailsa: My 'official' musical training began aged 7 when a lady brought a cello into school and there were four spaces for people to have lessons. (I had wanted to learn flute but had been told I couldn't because of a gap between my front teeth – a claim which turned out to be rubbish!) I got a much better teacher a year later, who I had until I was 18, a wonderful being called Emma who not only taught me how to play the cello but who gave me endless and necessary advice on unrequited love, etc. I also had a fabulous class teacher in Junior school – Sue Morris – who was extremely musical, a pianist, and creatively inspiring and encouraging. I did loads of singing in school in English and Welsh from an early age. My musical upbringing was held, nurtured and greatly diversified at home – my dad Steve was always playing 60s classics on guitar and I started jamming with him from the start – learning my first tune in school cello lessons was paralleled by him teaching me the bass riff to Deep Purple's 'Smoke on the Water', and I used to attempt making up little solos for all the songs he played. Dad also took me to a huge range of gigs from a very young age – including Radiohead, Super Furry Animals, artists at the Brecon Jazz Festival, Bob Dylan, the Kronos Quartet, Joanna Newsom and so many more, which greatly influenced my eclectic musical nature. My mum, Rosemary, was working as a nursery nurse and always singing little catchy songs around the house, as well as being visually artistic and making things. My whole creative self was definitely nurtured by this environment.
At school I had had the privilege of an active – and cost-free – musical life, and county youth orchestral activities made up the main part of my social life. Afterwards, I made the decision to get a conservatoire training, and took myself to the Royal Welsh College of Music and Drama. In retrospect, I'm not sure if this was really right for me, but I did it because I felt I 'should' go and get a 'proper' musical training. I almost chose to go to Dartington College of Arts, where I had an unconditional offer – but it's impossible to disentangle life now from a decision already made!
At college, I was immersed in a whole variety of musical opportunities, ranging from classical, early music and folk to brand new compositions and experimental music, and I had great friends, but I soon began to have a really challenging time. There were so few cellists studying there then and I got put in absolutely every ensemble going, while having pressure from my new cello teacher to practice 5 hours a day and perfect my basic technique. It was completely unsustainable and at the beginning of my second year I got injured – pretty severe tendonitis that stopped me playing and quickly spread to affect both my arms, basically crippling me so I could barely write or lift a kettle. This was a time of total identity crisis. I couldn't do what I had learned to define myself by, and I suffered with depression. In the end I had to drop out of college, but meanwhile I had started to sing more.
Despite everything, I had carried on attending the college orchestral rehearsals, and one day I sat with the conductor, who was following the sheet music and singing one of the lines meant for an absent player. I began to do the same, singing a different line on the score. There was this moment when the strings went silent and my line, having suddenly ascended to a top A, carried on. I was unexpectedly exposed and everyone turned to look at me. That hadn't been what I'd wanted at all but after that I seemed to receive a lot of encouragement with my voice. Having always sung in school choirs, I auditioned for the BBC National Chorus of Wales and sang with them for a couple of years. Meanwhile I found a night class called the 'Physical Principles of Instrumental Performance' and began to learn about the body and looking after it as a performer – and was introduced to the concept of musician as athlete, which has now become much more widespread and very important to sustaining my life as a musician now  (e.g. through the British Association for Performing Arts Medicine).
I didn't want to leave Cardiff and when my student loan stopped, I got three jobs to pay my rent. One was at the Wales Millennium Centre as an usher, where by divine chance I was introduced to someone who became a dear friend. She was a cellist too and weirdly had had to drop out of uni for exactly the same reason as me. We chatted non-stop throughout that shift and she was my window into a new world where I began to really discover myself – a world of endless folk music jams, communal living and green festivals. I had already arranged to transfer to Cardiff University to study a straight academic music degree by then and we returned there together, bound together by a strong friendship that is still unfolding today.
Musically for me, uni was not massively fulfilling. I was frustrated and depressed at not being able to play much throughout – but I learned to strengthen my writing skills and explored composition, and sang. When I left, I retreated to Aberystwyth to live with my grandparents for a while. There, safe in a cocoon, I began song-writing with the cello. Being completely in control of how much I was playing was manageable for me, and I started to take my first songs to the local Folk Club. This was really a period of transformation for me – it was a new way of expressing myself and was massively healing. I had wanted to learn to sing with the cello for ages and had never found the time – this was it.
In Aberystwyth, I also began to work with storytellers. Back then I didn't even know storytelling as an artform existed but now, 10 years later, it is a HUGE part of my life – and I have recently begun storytelling myself. Over this last decade I've collaborated with dancers, poets, aerialists and actors, too. I spent 6 years touring with Whispering Woods, a wonderful outdoor aerial circus company that gives family audiences totally magical immersive experiences in woodland settings. I also played music for the Royal Shakespeare Company in 2016 – but really I most love playing outdoors when I can!
Improvising, especially in the landscape with voice and instrument, has become vital to my being. I have also been running vocal improv workshops for several years now, helping others to liberate their voices. Singing, sounding, not worrying about 'being right', just seeing what comes, activating our inner power through the voice, can be so transformational.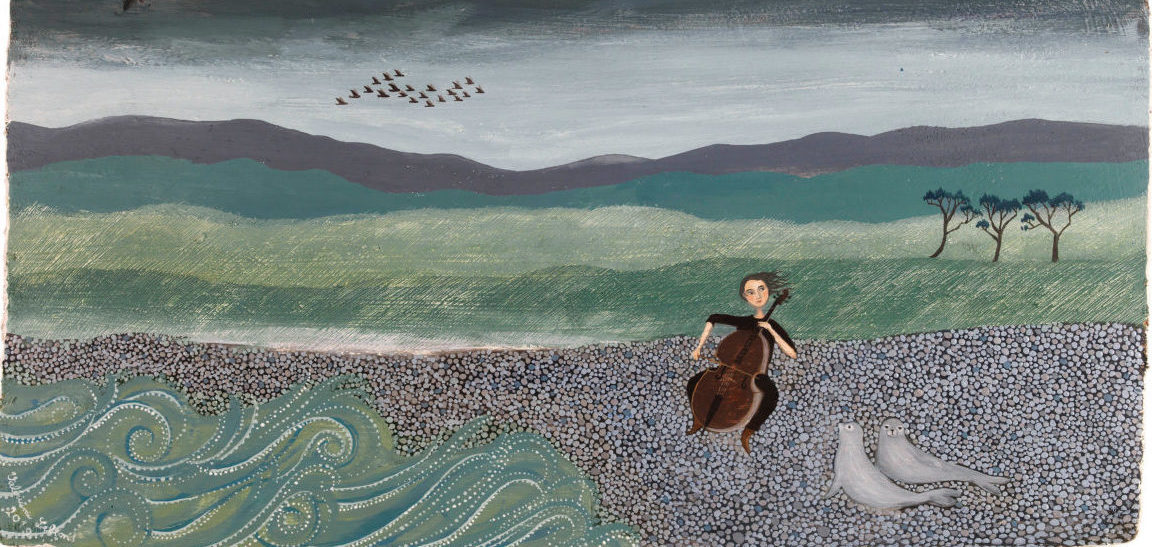 There have been certain notable shifts in my musicianship, and one particularly important one came when I met Pixy Tom, who is a truly natural musician – someone who can literally pick up a mug and make music with it. He taught me not to just define myself as a 'cellist' or 'singer' but to be a musician. We used to take a whole variety of instruments out into the castle ruins by our house and play them at sunset. And we busked a lot. We were in two bands together – our duo Mackerel Sky, in which we did a really beautiful mix of improvisations, reworked folk tunes and original songs; and the gypsy swing band Chocolat, in which I uncovered my absolute love of scatting!
Another of those essential, defining – almost archetypal – moments was when I met a woman called Clarity on a train. I was on my way to visit my Granny from Cardiff and I had an orange sparkly cello case at the time which was a proper conversation starter! Clarity offered me my first Booja-Booja chocolate from a wooden box and proceeded to ask me deep life questions. At some point we got onto environmental issues and she encouraged me to write to bands to get them to compose songs about saving the planet. This was before I had considered song-writing myself but it still felt like one of those 'ding!' moments. We had a great connection and Clarity sent me a postcard which I still have on my visionboard today.
Nowadays, I am dedicated to using music as a healing force and as environmental action. I'm still song-writing and performing a lot, solo and in a duo with Sianed Jones called Tinc y Tannau. I am inspired and informed by music from all over the world, especially Mongolia and Tuva, where music is said to come from the spirit(s) of the land. I'm also called to delve into my own ancestry, above all connecting with my own homeland; ultimately I think we all want a sense of belonging. There has been so much destruction, fear and separation, and music and story can help to repair this.
Right now, I am starting on a social enterprise of sorts – called Wild Notes/Nodau Gwyllt – to engage people with the wild soundscape. I spend a great deal of time immersing myself in nature and listening to the land and seeing what music comes through. Listening, starting from silence and tuning into what wants to be heard, is what defines my musicianship now. Improvising – playing the music of the moment and of the place and of the spirit of the place, and dedicating music as prayer – is what I feel most aligned with. As a non-religious person, music has become a sacred practice for me, and with this has come a greater sense of responsibility. Sound vibrations, and the intentions that they are infused with, do change the world.
Leslie: Why did you call your EP 'Finding Dashti'?
Ailsa: The title is connected with my soul-connection with Mongolia. I've fallen in love with the music there, and the idea of nomadic culture, however romanticised this may be! Several years ago, a good friend gave me a book to read called 'The Book of A Thousand Days' by Shannon Hale. It's kind of a kids' fiction set in Mongolia, and based on  fairy tale, where the main character, Dashti, is brought up learning healing songs, which she has for every occasion. I felt a stirring in me when I read about this girl, an acknowledgment that this is my own mission in life! So, I named my EP after her, and as part of my dedication to use music for healing, in whatever way feels appropriate. The four songs on the EP are about emerging, unmasking the truth, journeying into freedom, and creating a new paradigm from the footsteps of old.
Next week, you can read Part Two of Ailsa's interview.
ABOUT LESLIE TATE'S BOOKS:
Love's Register tells the story of romantic love and climate change over four UK generations. Beginning with 'climate children' Joe, Mia and Cass and ending with Hereiti's night sea journey across Oceania, the book's voices take us through family conflicts in the 1920s, the pressures of the 'free-love 60s', open relationships in the feminist 80s/90s and a contemporary late-life love affair. Love's Register is a family saga and a modern psychological novel that explores the way we live now.
Heaven's Rage is a memoir that explores addiction, cross-dressing, bullying and the hidden sides of families, discovering at their core the transformative power of words to rewire the brain and reconnect with life. "A Robin Red breast in a Cage / Puts all Heaven in a Rage" – William Blake. You can read more about/buy Heaven's Rage here.
The Dream Speaks Back, written by Sue Hampton, Cy Henty and Leslie Tate, is a joint autobiography exploring imagination and the adult search for the inner child. The book looks at gender difference, growing up in unusual families and mental health issues. It's also a very funny portrait of working in the arts, full of crazy characters, their ups and downs, and their stories. You can buy a signed copy of The Dream Speaks Back here