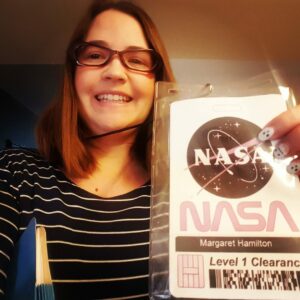 Systems engineer Suzie Olsen is a children's author who performs various science, technology, engineering, art and math experiments with her family. Through her books and her website, Suzie aims to, "show children, especially girls and minorities, that maths is fun" and to "spark their curiosity" in both the arts and the sciences.
Leslie: Can you give examples, please, of what you do as a systems engineer? What's exciting and challenging about this work?
Suzie: Yes, I work on the search and rescue system for the US Coast Guard.  The system is large scale, meaning the system is a combination of computers, radios, and other off-the-shelf parts that are connected through a network.  As an engineer on this system, I work to integrate and maintain the computers, radios, and other equipment. The US Coast Guard Service uses this system to locate boaters in distress; I can honestly say that the system I work on saves people's lives.  That is the most exciting, challenging and rewarding part about my job.
Leslie: Can you explain what STEM Spark is, please, and how it came out of your experience as a child.
Suzie: STEM Spark is a blog where my family and I perform different science, technology, engineering, art and math (STEM or STEAM) activities together as well as review and giveaway various STEM products. I'm an engineer by day, children's author/writer at night, and mom 24/7, and STEM Spark is where I can mash mom, engineer, and writer together.
Looking back, I became an engineer mainly because of my parents. They always encouraged me in math, and they put me in an elementary school that had a STEM program before STEM became a buzzword.  I also was a creative child, making up stories for my stuffed animals and dolls, which also led to me being an engineer and an author. Both engineering and writing require creativity in solving problems; just the type of problems are different.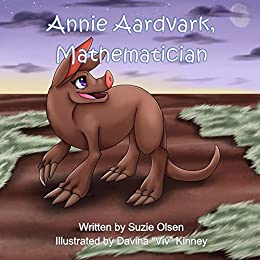 Leslie: What first led you to be a children's author? How have you learned your craft and how do you tailor your books to your intended audience?
Suzie: I wanted to show children, especially girls and minorities, that math is fun, so I wrote the Annie Aardvark series.  I learned about writing picture books through the Society of Children's Book Writers and Illustrators (SCBWI) and the 12×12 Challenge.  Both organizations give great advice and tips on how to tailor your writing to children.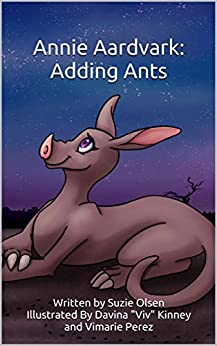 Leslie: Can you describe what sets off your writing, please?
Suzie: Someone, most likely my child, will say something that makes me think 'there's an idea for a picture book', and I write the idea down.  Occasionally, I'll get an idea from watching a TV show or movie or reading an article, but usually my source of ideas come from something someone said.  After I've written the idea down, I think about it for a few days to a few months, and then write a first draft.
Leslie: Can you give us a picture of what it's like setting up various arts/science activities as a family, please?
Suzie: One of my family's amusing experiences was with the Diet Coke and Mentos mints experiments.  We knew from watching other people's videos of the experiment to expect a messy explosion of Diet Coke, so I put my child in a raincoat.  However, we used such a small amount of Diet Coke the first time around, about 8 oz, that it only shot about 5 cm in the air.  My child was standing a meter away, so the liquid didn't touch my child at all.  The raincoat was for nothing.
Leslie: Where do you fit  in amongst the group of STEM authors? How have you built up the group?
Suzie:  I grew my network of authors, writers and other creators through SCBWI and the 12×12 Challenge.  There's also another good resource for children's authors called KidLit411, and plenty more that I'm missing.  I joined as a paid member of SCBWI and 12×12 Challenge and then from there joined their social media groups.  Slowly I worked up the courage to ask questions or make comments in these social media groups, which eventually led to collaborations with other authors on posts for my blog.  The kidlit community, as it's referred to, is a (mostly) kind and generous community.  I feel fortunate to be a part of it.
Leslie: From your experience, what are the differences and similarities between 'arts-led' thinking and 'science-led' thinking?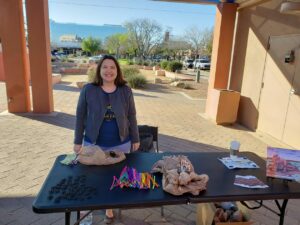 Suzie: From my anecdotal observations an artist can be very methodical and scientific in how they approach their work.  And a scientist can be very creative and artistic in how they approach their work.  But then there are some artists and some scientists who stick to the traditional 'arts-led' thinking and 'science-led' thinking.    So my conclusion is that thinking (and learning) is an individual based preference, and that is why both artists and scientists should be open to the idea of STEAM (the merging of art and STEM).
I know I was resistant at first to use the term STEAM, but then I thought about how art has influenced my job as an engineer: I've had to draw schematics and diagrams, I've had to write papers and reports, and I've used creativity to solve problems. To give another example: Davina, the illustrator of Annie Aardvark, uses a top-down method for her drawing process and a technical software program to create the final illustrations. That means, she seeks to identify the big picture and all of its components – and that, in turn, becomes the driving force for the end goal and the fine detail.
My conclusion is, science and art merge more than I thought; we don't have to be only one (artist) or the other (scientist).  We can dabble in both.
Next week I interview I interviewed theatre/circus director Catrin Osborne about her spectacular stage adaptations of ground-breaking books.
ABOUT LESLIE TATE'S BOOKS:
Love's Register tells the story of romantic love and climate change over four UK generations. Beginning with 'climate children' Joe, Mia and Cass and ending with Hereiti's night sea journey across Oceania, the book's voices take us through family conflicts in the 1920s, the pressures of the 'free-love 60s', open relationships in the feminist 80s/90s and a contemporary late-life love affair. Love's Register is a family saga and a modern psychological novel that explores the way we live now.
Heaven's Rage is a memoir that explores addiction, cross-dressing, bullying and the hidden sides of families, discovering at their core the transformative power of words to rewire the brain and reconnect with life. "A Robin Red breast in a Cage / Puts all Heaven in a Rage" – William Blake. You can read more about/buy Heaven's Rage here.
The Dream Speaks Back, written by Sue Hampton, Cy Henty and Leslie Tate, is a joint autobiography exploring imagination and the adult search for the inner child. The book looks at gender difference, growing up in unusual families and mental health issues. It's also a very funny portrait of working in the arts, full of crazy characters, their ups and downs, and their stories. You can buy a signed copy of The Dream Speaks Back here.