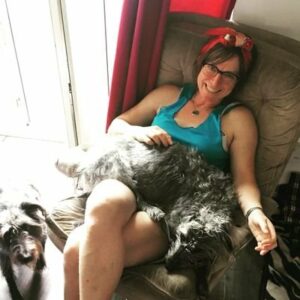 I interviewed theatre/circus director Catrin Osborne of Osborne and What about her spectacular stage adaptations of groundbreaking books. Catrin describes herself as a: "Neuro-diverse artist & writer, winter swimmer and dog lover."
Leslie: Why do you call your theatre/circus company Osborne and What?
Catrin: I wanted to use my surname and I like the idea of "What" like whatever, or what? So it leaves possibilities open for the kind of work the company can make. As my MA was in performance design in the loosest sense of the word, I trained with visual artists, choreographers, writers, set designers, and directors. My work is very varied and inspired by visual art and literature as well as difficult and important themes. The other thing was I wanted it to sound like an estate agent's or a solicitor's, like a really boring company owned by two really boring, straight people.
Leslie: Tell us about the basic idea for your recent show 'Birdy'. Why did you choose that book as the basis of a show? What techniques did you use to transfer the book to stage?
Catrin: The basic idea was to tell the story through theatre and circus. I love abridging books – i.e. deciding which bits to show and in what order – I also love circus because it allows us to use the whole space, i.e. the walls, the ceiling and the floor. I also used to be a professional aerialist so I have a good understanding of the form. Sometimes circus can show emotions and feelings better than words, or text. It's like dance in that way – it can be really moving and surprising to watch. I pulled bits of text out of the book, printed them out and used them as a starting point for scenes. We (the company) then used devising as a method of figuring out how we would "show" the story – sometimes physically, sometimes using some text and some action, and sometimes through sound. The dramaturg, or the order in which we show stuff, is really important as well. I enjoyed working with another director Mitch Mitchelson as we could bounce ideas off each other, the performers as well have a big say on deciding what goes into the plays, we work as a team. A large part of the production was the sound track. Pete Helmer was amazing – he wrote it and he was in the studio while we were making the show, so we could say "can we have a dog barking" etc. He also used some of the text in beautiful ways…here is one of my favourite bits he used "Birds can't cry. I guess the only animals that can cry, laugh and lie are people. We're probably the only ones that have some idea about being dead too. Most animals try to keep from dying, but I don't think they make much of it."
My little brother died very young – in a car crash, he was 23 – I was 26 and it had a huge impact on my life. I went through a lot of grief in my 20s. Maybe that was why I was drawn to the book as well, it's about young men dying pointlessly. I was interested in death for a while because of that.
Leslie: What are the 'complex and disturbing' as well as the 'redemptive' sides of 'Birdy' the show? What are the key elements that went into this production?
Catrin: I love the book, I find it quite dark, which I like. I think the themes are really interesting, as in it asks the question what is more "mad" – sending young men to war to be killed, injured or traumatised, or a grown man who has PTSD refusing to stop acting like a bird. I'm also very interested in escape in my work, and Birdy never really "fitted in" he was an outsider who escaped from what he found to be a difficult reality – life – through his avian obsession. I suppose he found redemption through a close friendship with his friend Al – who had been damaged physically and was into girls and sport – whereas Birdy was injured psychologically and was into birds. An unusual but close friendship between two men who had been through war at a very young age. I find war disturbing. I think mental health and how it's treated is complex and I'm interested in that – I wrote my dissertation in my first degree (Social Sciences) on schizophrenia and whether it should be treated in the community or in hospital. My partner says mental illness is a normal reaction to an abnormal world – I agree with him although it's never that simple. It's complex. A few of my relatives are schizophrenic. Also, my Dad is a birdwatcher and I dedicated to the play to him as he was going through a fight with cancer during the time we made it.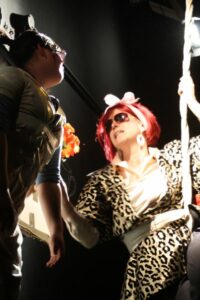 Leslie: Why and how did you adapt the book 'Postcards from the Edge' to stage? What did you learn from this production that you carried over to 'Birdy'?
Catrin: I love this book. It's so funny. I love the main character's "voice", she's struggling – like most of us are – but the way she writes about it is hilarious, really dark humour. I was drawn to the fact that it's about a woman in her 30's – which I was at the time – and who somehow hasn't got her shit together. She's an addict, she can't imagine having kids, I love how honest she is, and how observational. At that age you feel like you should change to fit in, and she's often making lists about that, or writing postcards to her grandma about it. And then there's her mum who is an addict too really but it's more acceptable or something, because its alcohol not drugs, I think this happens a lot. But I love the protagonist's honesty. I remember I bought the book in a thrift store in California for something like a dollar 50 – when I was working there performing aerial in a theme park – all my favourite books have kind of found me. The protagonist was "stuck" and I showed this in the show by her being strung on the wall (in a full body harness) as if the wall was her hospital bed. Her mother came to visit her in hospital and climbed a rope to get up to her. I played the mother; it was a lot of fun. The music was brilliant in the show; it was all from the 90's. We had so much fun at St Martins making this show, so many good memories. I loved going to St Martins – I finally found somewhere where I fitted in – I was accepted there. A lot of how I made the show spilled over into Birdy – although Birdy wasn't funny. Postcards From The Edge was so funny, Adele Han Li (my collaborator) the girl who I put on the wall was a fine artist from California – she wasn't a performer – but she was so funny!
Next week, in part two of Catrin's interview, she talks about her stilt walking, portraits of menopausal women,  her creativity, neuro-diversity and winter swimming.
ABOUT LESLIE TATE'S BOOKS:
Love's Register tells the story of romantic love and climate change over four UK generations. Beginning with 'climate children' Joe, Mia and Cass and ending with Hereiti's night sea journey across Oceania, the book's voices take us through family conflicts in the 1920s, the pressures of the 'free-love 60s', open relationships in the feminist 80s/90s and a contemporary late-life love affair. Love's Register is a family saga and a modern psychological novel that explores the way we live now.
Heaven's Rage is a memoir that explores addiction, cross-dressing, bullying and the hidden sides of families, discovering at their core the transformative power of words to rewire the brain and reconnect with life. "A Robin Red breast in a Cage / Puts all Heaven in a Rage" – William Blake. You can read more about/buy Heaven's Rage here.
The Dream Speaks Back, written by Sue Hampton, Cy Henty and Leslie Tate, is a joint autobiography exploring imagination and the adult search for the inner child. The book looks at gender difference, growing up in unusual families and mental health issues. It's also a very funny portrait of working in the arts, full of crazy characters, their ups and downs, and their stories. You can buy a signed copy of The Dream Speaks Back here.