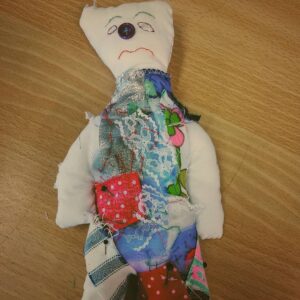 I interviewed Cheryl Hewitt about her mixed-media and stitch art inspired by nature and the discarded objects she collects. In Part 1 Cheryl talks about childhood, her use of natural  materials and processes, and her 'Mourning Dolls' and 'Mourning Vessels'.
Cheryl  says about herself: "I employ hand stitching, eco dyeing, reclaimed and found materials to create tangible, often quiet textile forms as metaphors. My most recent work has used doll like sculptures to focus on themes of memory, absence and childhood experience."
Leslie: How did your early life point towards the creative person you are today?
Cheryl: My early life has had a huge impact on my creative identity to date. I grew up and still live-in rural Herefordshire. Firstly, in a place close to the Welsh Borders and in my later childhood on a small arable and mixed-stock farm. My earliest memories of living rurally were mostly spent outside exploring the old orchard, ditches and nooks and crannies of the old cottage my parents were renovating. They did not have a lot of money, so everything was second hand, made from scratch or grown at home. This meant we learnt to be creative and appreciate the small things. The cottage was black and white with an old tumble-down wheelright's shed at the bottom of the garden, with an old Victorian dump that spilled out into the ditch; here I would spend time digging around in the dirt. Even as a young child I had a keen eye for broken treasures. I found broken, discarded jewellery, pottery, bottles and even a metal token with the name 'William' stamped into it, which 35years on I still have in my collection!  It was during this time that I started to develop my love of curiosities and their connected tales. I would love to make up stories about the people who lived in the house before my family and the things they had lost or discarded. I still do this today as I collect discarded things from the River Wye and when I have the chance, I visit London and the River Thames as I am a licensed amateur mudlark.
As an older child I would spend more time doing this when the family moved to the farm. It was much more isolated, and I had much more space to explore, fields, hedgerows, ponds, and woodlands, all had to be discovered. I continued to develop my passion for collecting oddities and storytelling, I also started to record and express myself by drawing the wildlife and stitching gifts for my mum.
I guess you could argue I gained a lot of my creative passion from my nan (mum's mum), who was a skilled seamstress, knitter, and generally creative person. She looked after me for a period when my mum was poorly in hospital. She would sew and knit for hours making her own clothes and things for all the family. If I was good, I was allowed to play with her sewing box, in particular her button tin. Sadly, she passed away when I was 5, but my mum carried on making clothes and things for my brother and me, mainly out of necessity, rather than enjoyment.
Although I am the only trained professional artist in my immediate family, I think it fair to say there was plenty of creativity around me whilst I grew up. Perhaps, less obvious and born more out of need, not having much money, my family were always fixing, growing, making, or baking something. My dad was an aircraft engineer and is still a farmer, my mum, although a stay-at-home mum for many years would make clothes, bake bread, milk goats, make cheese, tend to the menagerie of animals or work on the farm. She also learnt to French polish and cane furniture in her spare time.  This rural and less conventional childhood really helped me to appreciate my surroundings, it trained my eye to look closely at the everyday and overlooked things and has stood my creative identity in good stead.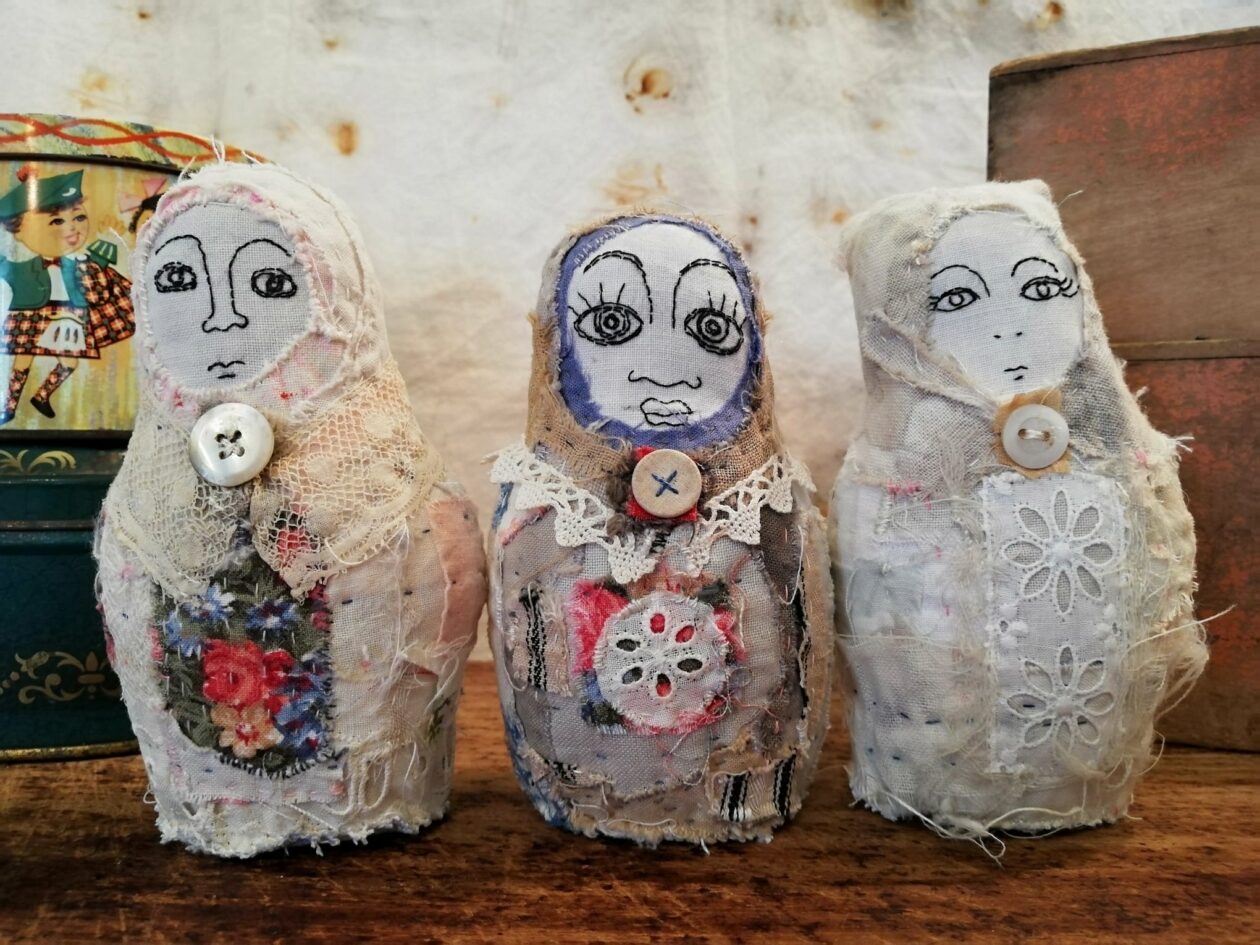 Leslie:  Can you give examples, please, of artwork of yours inspired by nature and ecological considerations? How did you put these pieces together ensuring that they related meaningfully to their subjects?
Cheryl: Recently, some of my 2D textile collages have been directly inspired by the nature that I am lucky enough to experience in my immediate environment. During lockdown I have used the time to walk and be still in the fields and orchards just outside my house. I take notes of the things I see and hear. I have also collected objects of interest and inspiration, leaves, acorns, feathers to have around me while I draw, collage and stitch. The intention of these pieces is to capture and visually share with the viewer the glancing and sometimes intimate moments that I experience in my environment. I am lucky enough to be surrounded by the Herefordshire countryside with apple orchards, woodlands, and brooks all at a stone's throw away. I often catch glimpses of foxes, badgers, field voles, stoats, woodpeckers, kingfishers. However, just as lovely are the more common creatures such as robins and blackbirds that visit the garden, my collages hopefully convey an appreciation for our wildlife and if we slow down and are quiet enough, we might just sneak a peek.
Being a textile artist, I am aware of the fast fashion industry, the harsh chemical dyes and processes used, and the mountains of textile that regularly get sent to land fill. So, to do my small yet considered part for the environment I only work with reclaimed, repurposed, and vintage fabrics. I tend to steer clear of synthetic fabrics or processes and I only use plant-based dyes or stains to colour or age my fabrics. To colour my reclaimed fabrics I forage for leaves in the Autumn and grow my own dye plants such as madder and weld. I also use food waste such as onion skins, avocado, and old tea bags. I lay my gathered leaves against my repurposed fabrics, bundling them up with found metal objects, like bottle tops or old nails. The bundles then go into a big saucepan of water, with old tea bags and other organically sourced things, to be boiled on an open, outdoor fire. Often bubbling for many hours, the pot is left to stew for as long as my temptation can withstand. The bundles are then taken out of the vat and left to mature/steep, before unravelling. This dyeing process not only creates subtle colours suitable for my work, but the collected leaves also often leave impressions, traces, on the fabric which I believe embodies the living environment from where they were gathered from.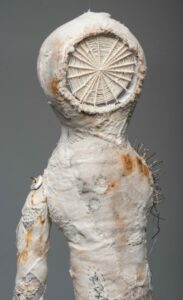 A slower alternative to this process that I often use to create a more ethereal or ancient, more museum-like feel to the fabric, is to bury the bundles in the ground for months at a time. This process has a primal more spiritual feel to it for me. It's like I am putting something (my Work) to rest for a time only later to exhume it. A rebirth perhaps!
Leslie: Tell us about how your Mourning Dolls and Mourning Vessels began, grew, and developed. What are the feelings they explore? How are they related to material cultural theory?
Cheryl: My pieces named Mourning Dolls and Mourning Vessels were part of a body of work that came out of 2 years of study for my master's degree in Contemporary Crafts. The aim of my master's project was to create a series of tangible objects that communicated a sense of absence and loss. My pieces demonstrate these themes through my exploration of my childhood memories.   At the beginning of my studies, I experienced a health scare that really shook me and made me re-address myself as an individual. I had been so busy being a mum, a wife, and a daughter that I had forgotten what made me, me! I started to look at my identity, in particular my childhood self – mainly because (as I understand now) I wanted to be cared for, I wanted my mum to tell me it will be alright.  My childhood and teenage years were far from perfect, I was badly bullied for being different and rebellious, making lots of mistakes. As I got older, I started to despise that little girl and I got rid of a lot of things that reminded me of her, especially when my children came along. One item that stuck out was my comforter teddy named 'Dog'. I did not need or even want to consider these objects until I had my health scare, as they reminded me of my childhood. But my childhood was not all bad.  I felt bereaved and a sense of loss at this realisation.  I wanted to explore these emotions and feelings to gain a better understanding. During my masters I researched discourses that discussed memory, loss, grief, and repair. The further I delved the more I realised I was grieving for the little girl who was still very much a part of me, yet I had rejected her.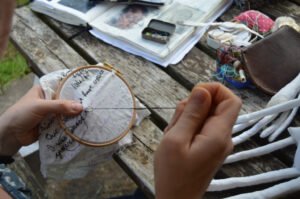 The dolls and vessels are constructed using reclaimed, repurposed, and stained fabrics that I hand stitch. The forms are intended to act as metaphors communicating the ideas within the work. Metaphors are often used to help us understand complex and unclear themes by employing more familiar concepts in everyday life. For example, I used a doll-like form to suggest childhood and the hole to express a sense of loss.
During my research for this project, I looked at psychoanalytical theories including Freud and Winnicott. I also looked at material culture theory such as the evocative nature of object and semiotics, the study of signs.
Objects are part of who we are, our identities. We can use them to communicate.  In the book Evocative Objects: Things We Think With the author, Sherry Turkle, argues that the objects are "companions to our emotional lives or provocations to thought." She believes that the evocative object brings these two ideas, emotion and thought together emphasizing their inseparability. "We think with the objects we love; we love the objects we think with." Such objects are crucial to memory and have an ability to help us recall and can have a tremendous healing effect. Hence I wanted to create objects that helped me recall my childhood and by making them it was my intention to go through a healing/grieving process.
My dolls and vessels contain photographic images taken from my childhood, stitched and placed within the holes to signify my loss of childhood and part of my identity. The staining of fabrics was not only used to create an ethereal ancient effect but also to signify that something was once there, just like a memory- leaving a trace of itself behind. The repetitive and continual hand- stitching into the dolls, not only acts as a point of reflection, of slowing down and taking time to remember, it also acts as metaphor for the process of mourning or reparation, repeatedly returning and stitching over to heal and acknowledge the disappeared.
Next week, Cheryl talks about memory and 'Personal Effects', her work habits as an artist, and 'meditative stitching'.
ABOUT LESLIE TATE'S BOOKS:
Love's Register tells the story of romantic love and climate change over four UK generations. Beginning with 'climate children' Joe, Mia and Cass and ending with Hereiti's night sea journey across Oceania, the book's voices take us through family conflicts in the 1920s, the pressures of the 'free-love 60s', open relationships in the feminist 80s/90s and a contemporary late-life love affair. Love's Register is a family saga and a modern psychological novel that explores the way we live now.
Heaven's Rage is a memoir that explores addiction, cross-dressing, bullying and the hidden sides of families, discovering at their core the transformative power of words to rewire the brain and reconnect with life. "A Robin Red breast in a Cage / Puts all Heaven in a Rage" – William Blake. You can read more about/buy Heaven's Rage here.
The Dream Speaks Back, written by Sue Hampton, Cy Henty and Leslie Tate, is a joint autobiography exploring imagination and the adult search for the inner child. The book looks at gender difference, growing up in unusual families and mental health issues. It's also a very funny portrait of working in the arts, full of crazy characters, their ups and downs, and their stories. You can buy a signed copy of The Dream Speaks Back here.