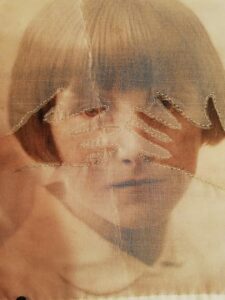 In Part 2 of my interview with mixed-media and stitch artist  Cheryl Hewitt she talks about memory and 'Personal Effects', her work habits as an artist, and 'meditative stitching'.
Cheryl says about herself: "When I am not making I enjoy collecting, rummaging in charity shops, exploring forgotten places, foraging for acorns and dye plants, wandering along the river and mudlarking."
Leslie: Tell us about 'Personal Effects'. What's their backstory – where did they come from, what do they get their deep charge from, and how do they shape and remind us of who we are?
Cheryl: Personal Effects was born out of my final year at BA level Contemporary Design Crafts, which I completed in 2018. However, I tend to see myself as more of a fine artist that loves to make things rather than a crafts person or a designer.
The piece really started when I began looking at the Grenfell Tower disaster, which happened at the end of my 2nd year of study. I found the building itself eerily fascinating and equally disturbing. I started looking at abandoned spaces, places in transitional states and the human relationship within such places such as Pripyat in Chernobyl. Often there would be haunting images attached of abandoned everyday objects. I also looked at people's personal belongings from Grenfell Tower, 2004 Tsunami Victims and the Holocaust. What intrigued me was the often everydayness of some of the objects, yet they were so poignant.   This led me to look at themes of displacement, identity, memory, and homelessness, along with Material culture, and Object theory.
Objects provide their own narratives, they can evoke feeling and curiosity, especially broken or misplaced things. They make me think about the person they once belonged to.
Personal Effects was inspired by trace, memory and identity, themes that I continually gravitate to and still influence my work. The objects I chose within the piece were intended to capture everyday life and the simple things that are important to us but are often completely overlooked. They were intended to evoke the essence of a person lost, perhaps due to tragedy, abandoned or simply overlooked.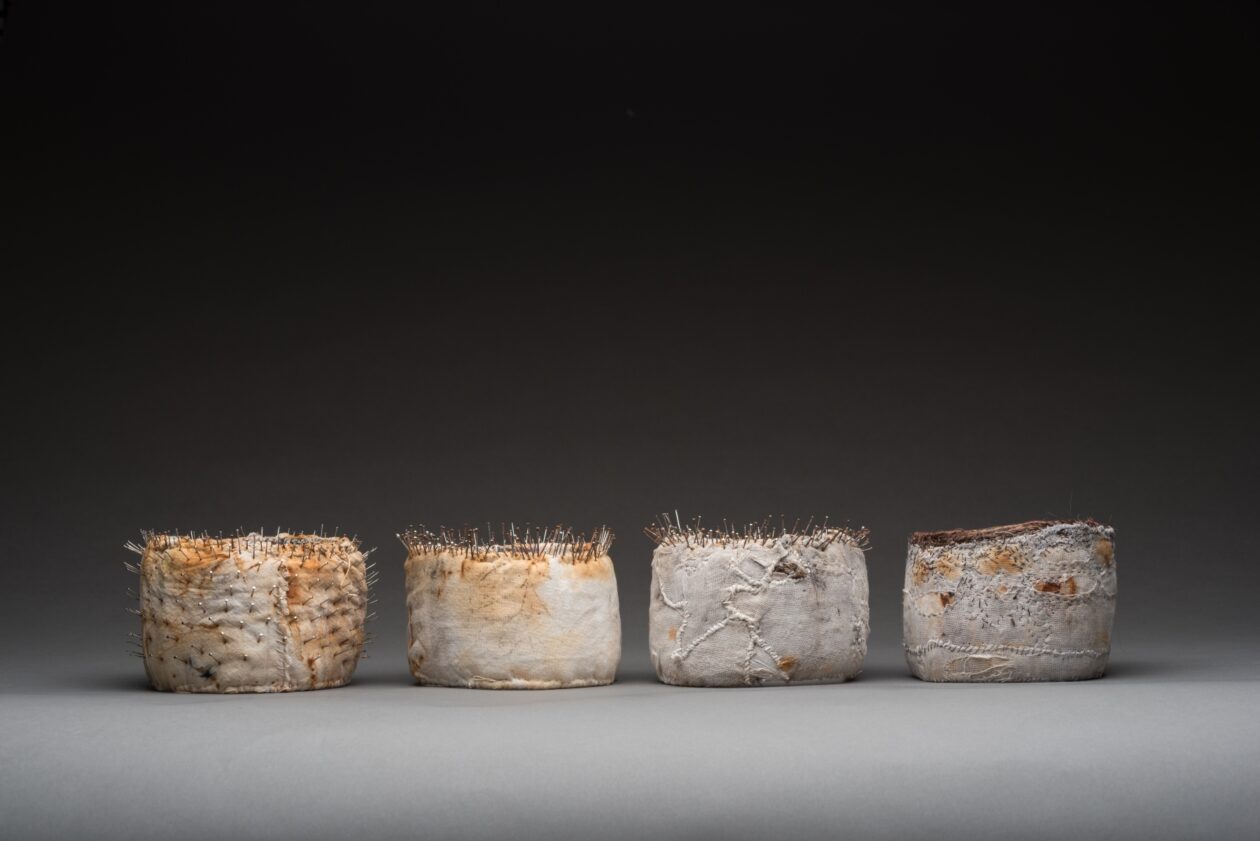 Leslie: What are your routines & personal rhythms when creating an artwork? What helps and hinders your creativity?
Cheryl: I don't think I really have a routine! When I am creating, I like quietness I guess, which is precious little in my busy household. I don't have a studio at present, so I have commandeered the dining room to work in. It's not perfect as it is at the centre of the house with a set of stairs going through it. This can be very distracting, but I learn to live with it whilst the kids are at home. The aim is to find a studio space one day so that I can shut myself away to work.
I walk a lot in the orchard and fields surrounding my house, it aids my thinking. I make notes, sound recordings, and take photos. This process is not always linked directly to my work in hand, but it helps tremendously with creative blocks. I often find if I am too close to a piece of work i.e., amid making it I must walk away from it and come back with fresh eyes a day or so later. This is where walking and collecting come into play.
I think I can confess to being one of the most disorganised, messy creatives that I know – however, out of the chaos a phoenix is hopefully born! I tend to surround myself with broken things and jars of curiosities a lot of which I collect on my walks. These objects help me think. I like to look at them and hold them. I find I am constantly drawn to decay and things in a transitional state. I tend to see most things around me as being in a transitional, maybe even a liminal state. I am constantly intrigued by the beauty of impermanence and enjoy reading about the Japanese philosophy of Wabi-Sabi.
I am easily distracted which is a huge hinderance, having 3 teenagers, a husband, and a big American Bull Dog, who are all amazing. However, distraction does come with the territory. Another big hinderance for me is my lack of self-confidence in my work, I have wondered if anybody would be remotely interested in my work, and does it even make sense to the viewer. In the past I have suffered terribly with imposter syndrome, which I am told, is quite common amongst creatives! Recently I have had some success with pieces of work, selling privately and through gallery interest. I have also been lucky enough to have won a local art bursary and of course being approached by yourself for online interview. All these things have helped in boosting my self-confidence.
Leslie: Can you describe the meditative aspects of your art?
Cheryl: Hand stitching has become my most poignant form of artistic meditation. I used to free-motion embroider using a sewing machine, but it loses something for me. Ultimately it is a quicker process but by taking my hands off the needle, threads and fabric disconnects me with my work and the sensory experience that is textiles.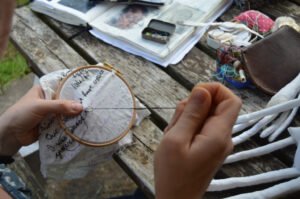 Stitching by hand and selecting materials is a slow, tactile, and contemplative process that allows me to reflect on the contexts and theme within my work, building a relationship with the object I am making. I often use running stitch like the Indian Kantha stitching or the Japanese process of Boro stitching, and sometimes I use a stab or whip stitch. Both stitching techniques are simple, repetitive, slow, and ultimately calming. The process of hand stitching builds an embodiment between the stitcher and the cloth, using the simple stitches I am simply sewing my thoughts and feelings into the cloth, which gives me a sense of well being.
Leslie: How do you experience memory through your art (and how does it differ from everyday recall, factual knowledge etc)?
Cheryl: During my master's research I explored some of my earliest memories using photos and objects, that I rarely look at, as prompts. This was purposeful, prolonged, and emotionally challenging, at times. I used psychoanalytical theory to probe my past, to help academically underpin the themes within my work and as a way of helping me understand the experience of the grieving/reparation process. The making of the dolls and vessels were an intrinsic part of this. As I made them, they were embodying my memories and feelings making them tangible.
I use the stained fabric in my pieces to act as a metaphor for memory. Material Culture theorists argue that stains are indexical marks that signify that something was there but is no longer. Just as the marks left on the fabric are the trace evidence that metal objects were once bound and in contact with fabric, the imagery I used in the holes of my sculptures acted as the trace evidence of my child self. The stitching and use of pins around the holes in my dolls and vessels were used to signify the arduous task of "mourning work", a Freudian term to describe the difficult process of letting go or severing the bond with the absent, in my case, the emotions attached to my childhood.
Next week I I interview blind martial artist and space cadet Anneliese M. Knop.
ABOUT LESLIE TATE'S BOOKS:
Love's Register tells the story of romantic love and climate change over four UK generations. Beginning with 'climate children' Joe, Mia and Cass and ending with Hereiti's night sea journey across Oceania, the book's voices take us through family conflicts in the 1920s, the pressures of the 'free-love 60s', open relationships in the feminist 80s/90s and a contemporary late-life love affair. Love's Register is a family saga and a modern psychological novel that explores the way we live now.
Heaven's Rage is a memoir that explores addiction, cross-dressing, bullying and the hidden sides of families, discovering at their core the transformative power of words to rewire the brain and reconnect with life. "A Robin Red breast in a Cage / Puts all Heaven in a Rage" – William Blake. You can read more about/buy Heaven's Rage here.
The Dream Speaks Back, written by Sue Hampton, Cy Henty and Leslie Tate, is a joint autobiography exploring imagination and the adult search for the inner child. The book looks at gender difference, growing up in unusual families and mental health issues. It's also a very funny portrait of working in the arts, full of crazy characters, their ups and downs, and their stories. You can buy a signed copy of The Dream Speaks Back here.