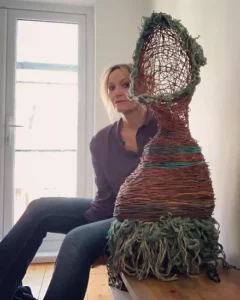 I interviewed Blandine Martin who uses "…weaving , basketry, woodworking to create installation and semi-sculptural work. " Blandine's concerns for memory are often expressed through doodling, recyled packaging and repurposed objects. Her deeply-psychological artwork has been exhibited in several metropolitan galleries in the UK and France.
Leslie: Could you describe what you do as a weaver and basket maker, please.
Blandine: I set out to learn some basic basketry & weaving techniques in order to incorporate those skills into my art practice.  So I consider myself more of a mixed-media opportunist than a weaver!  In life in general  I'm naturally curious about how things are made so I proactively explore what I need to learn to create something. Also, it's important to my art to keep up the element of personal excitement.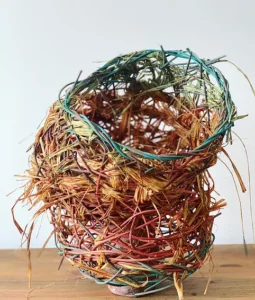 Recently, I've been working with textiles – and that has opened up a whole new world of possibilities for my upcoming project  called 3 am. This is my most personal project, using inherited family objets including 4 antique french  chairs which were found in a sad state in my mother's garage
Leslie: How do your broken chairs relate to your family, please?
Blandine: The chairs belonged to my great-great-grandmother on my mother's side . We found them after  she passed away in 2018. They were rotting away and riddled with woodworm, plus all the upholstery had gone. It was poignant and symbolic to see their 'skeleton' frames. Very quickly I made the decision that they would have a life again.  As it turned out , it was not just about mending the chairs but also mending my relationship with my late mother. Through the chairs I began to come to terms which her death and our complicated relationship.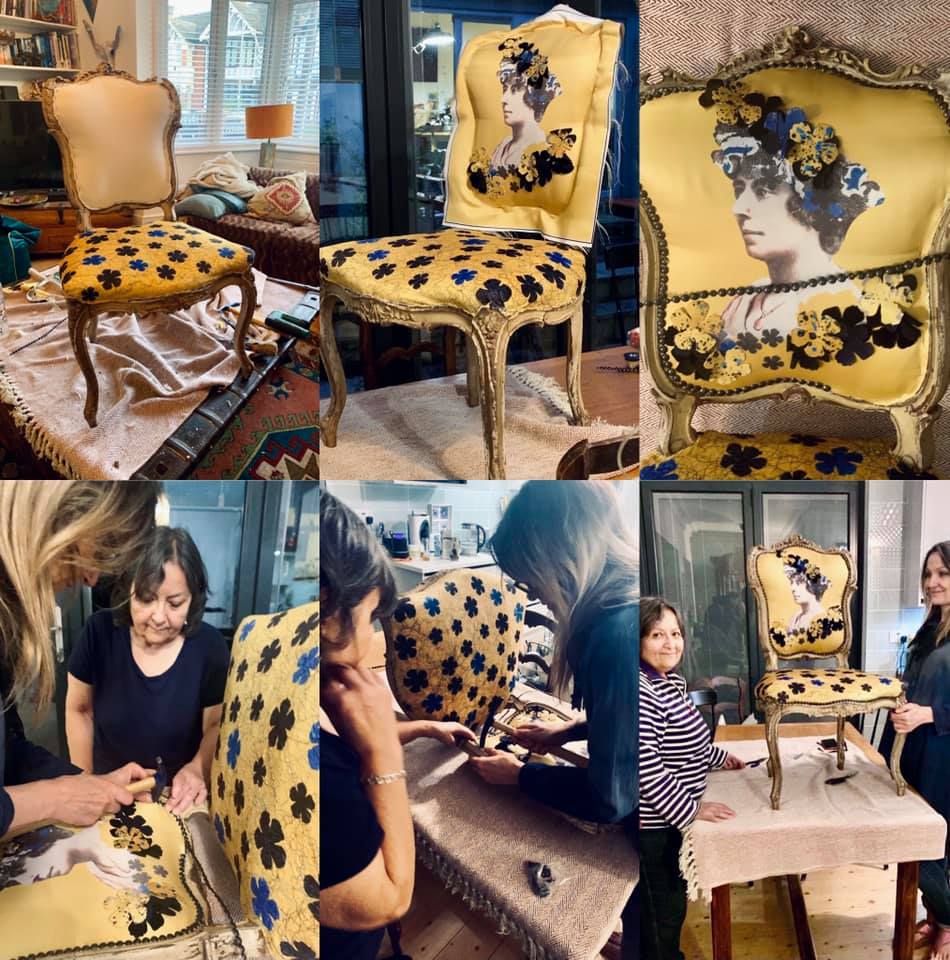 I learned upholstery with a close friend Bernadette D'Almeida . It is interesting to me how the chairs have evolved and allowed me to have a dialogue with  the past – in effect the past became my present through restoring them . At times , it was really hard emotionally –  but  magical all the same.  To see the chairs  'becoming whole' again was very healing .
 It's an act of love.  It represents grieving but also looking forward to the future, my children and the next generation. It's 'tribute art' if you like.
The chair will be exhibited at the City Lit in July 2022 with  other work from my textile group "Material Differences " Please follow me on Instagram or Twitter for updates .
Leslie: What's the artistic purpose behind your doodling?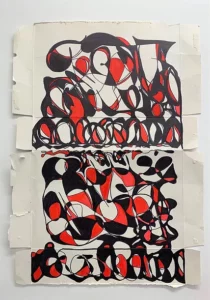 Blandine: I started using doodling on empty packaging at the beginning of the first lockdown . It was a way to be creative at home without the need of studio space or tools . To work in a contained way engages you differently, it's also very  calming .  Actually,  I have used doodling techniques with students from my secondary school as a mindful exercise tool . They did  create  some really fabulous colourful  work and enjoyed the process of letting go and to just follow the line.
 Leslie: What's the story behind your sculptures inspired by a Rajasthani village?
Blandine: In 2014 I read an article about this man called Mr Paliwal who planted 111 trees, one for every baby girl born in a  village in Rajasthan. Mr Paliwal, with the support of the girls' families, has transformed not only the ecosystem of the region but also provided a safe village for girls to be educated. The fruits  produced in the oasis are sold, so economically it makes sense too. I have met his nephew Manoj in Marseille. We Skyped Mr Palliwall while sitting in a cafe & we saw the whole  village was behind him waving. It was wonderfully surreal. On a personal level , it touches me too because my children have dual heritage , Indian & French, so it made perfect sense to keep telling their story through sculptures. There are wonderfully people out there doing wonderful things, and that alone keeps me going .

Leslie: As a creative person, what routines/habits/rituals/obsessive acts are part of the process of getting ideas and executing projects? What helps and hinders your creative process?
Blandine: My routine is pretty simple. I work and/or engage with art every single day. How long I work does always depend on what's going on in the household,  but making art is something that is profoundly woven into my every day rituals. It isn't separate from my life. Also, ideas come while you work,  so the more I work the more ideas are available to me. Though I do make a point to see and engage with other artists. We work in solitude mostly, so getting out of my own head  to bounce around ideas or just talking  with others has always benefited me, even if approaches are different .
Next week Katy Wimhurst who is housebound with M.E. writs about her debut collection of short stories, Snapshots of the Apocalypse.
ABOUT LESLIE TATE'S BOOKS:
Love's Register tells the story of romantic love and climate change over four UK generations. Beginning with 'climate children' Joe, Mia and Cass and ending with Hereiti's night sea journey across Oceania, the book's voices take us through family conflicts in the 1920s, the pressures of the 'free-love 60s', open relationships in the feminist 80s/90s and a contemporary late-life love affair. Love's Register is a family saga and a modern psychological novel that explores the way we live now.
Heaven's Rage is a memoir that explores addiction, cross-dressing, bullying and the hidden sides of families, discovering at their core the transformative power of words to rewire the brain and reconnect with life. "A Robin Red breast in a Cage / Puts all Heaven in a Rage" – William Blake. You can read more about/buy Heaven's Rage here.
The Dream Speaks Back, written by Sue Hampton, Cy Henty and Leslie Tate, is a joint autobiography exploring imagination and the adult search for the inner child. The book looks at gender difference, growing up in unusual families and mental health issues. It's also a very funny portrait of working in the arts, full of crazy characters, their ups and downs, and their stories. You can buy a signed copy of The Dream Speaks Back here.