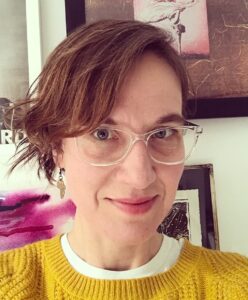 I interviewed Danish/English screenwriter Line Langebek about her work in films/TV, including lead-writing on Finnish Childrens' series THE ROYALS NEXT DOOR  and developing a feature film  REPATRIATION with the British Film Institute.
Line is the co-founder of @RaisingFilms and @libraryofchange.
Leslie: Can you tell us about how you are using your skills as a screenwriter to create change, please, and the range of approaches you have used.
Line: It all begins with a story, doesn't it? I'm not sure my screenwriting skills are always what kickstart the change, though it might help me create the structure that can tell the story – and the characters (whether entirely fictional or rooted in reality). For me my own work-journey has also been about realising what my strengths are, where it starts for – often with characters. Sometimes with one single image that I don't yet know what means, but that won't leave me alone. Or, with a sideways journey, something that sits alongside the storytelling – who gets to tell the stories, as with Raising Films, which was formed because we were frustrated by the systemic obstacles that prevented a diversity of storytellers to exist in the film and TV industries.
As you gain more experience, you also become more confident in terms of how you start. How can you start e.g. a narrative project in a different way that challenges you anew, so that you don't just end up regurgitating the same old stuff? This is a conversation with collaborators too – recently, I began working on a feature film project with images and short first-person prose texts, and that was different and exciting to me and those I was working with. But you have less freedom when you're new in the business I think (at least in paid processes) and sometimes screenwriting, as opposed to other forms of writing, can feel rigid.
Leslie: How hard/easy is it (in your experience) to get films promoting radical action about climate/eco/social justice into the mainstream?
Line: It's a challenge, because for years it just didn't seem like it was something people wanted to commission. However, I think, over the past years, more and more people do want to find ways to talk about it. And there have been stories in the past that have dealt with it, sometimes under the 'cover' of other storylines – the still powerful BBC TV-series from the 1980s, Edge of Darkness is an example. The brilliant and hugely successful I May Destroy You talks about social justice, and climate justice was a party conversation in one episode too. The recent Don't Look Up has obviously kickstarted conversations that people working in the climate change field have been having for decades, but the next step is to move away from doomerism narratives and create hopeful stories too. And it doesn't have to take centre stage, it can be in the background too. I worked recently on a kids TV series (ROYALS NEXT DOOR) and one of the episodes I did centered around Earth Day as the focus of the story. It's a comedy, so it was also about making it funny – but the essence of it was about what kids can do, that small change counts too. And the creative producers wanted to tell this story. It's just one of many in a 52 episode series, of course, and they couldn't lead with it with the commissioners I'm sure, but it's in there. Sometimes Trojan horses in the mainstream work too.
Leslie: Please tell us about any important work you've done that you haven't covered in the first two questions. How does your most creative/innovative writing begin, grow and develop?
Line: I've recently started work on a huge creative project called LOSS AND FOUND, with the Dissonant Futures collective. We're a collective of nine creatives from all over the UK who started meeting on zoom in November 2020 to talk about ecological grief and how we could create work that spoke to the theme and would help people to sit with this type of grief, but also help us think about grief as action rather than paralysis. Our first – now ACE funded – project will focus on community workshops across the country, plus creating a big Sound Memorial that will tour (and exist online) – later on, we're planning on creating a VR experience too.
It's been hugely nourishing conversations, with a bunch of brilliant people and it started with a simple thought, perhaps an article I read and then a conversation with Sarah Ticho, who runs Hatsumi VR, focused on virtual reality and mental health that expanded outwards to conversations with some of the soon-to-be other collective members. In the early phases our conversations centred around creating a virtual reality experience, but we soon realised we needed to create other experiences first. And the idea of doing this as a collective felt appropriate for what we wanted to talk about.
Leslie: Looking back, where and how did your passion for screenwriting first show itself? What have been the key experiences and people who helped you on the way to writing scripts?
Line: I started out as a poet (though I wouldn't have dared call myself that at the time!), but at some point I became interested in cinema or rather, telling stories for the big screen. I'm not sure how – there is nothing in my family background to suggest this direction (my mother was a nurse, my dad an engineer). Then I discovered The European Film College and applied, worked, saved up, and managed to get myself there, which meant eight months with people from all over the world and I realised I wanted to channel my storytelling to screenwriting. But there is a relationship between poetry and screenwriting, I think, in terms of its demand for brevity and precision, so maybe there's a link there… Later, I came to the UK to study screenwriting at Bournemouth University's Media School, which had a screenwriting course then, so that got me started. Then it was teachers there such as John Foster, who supported my journey, but also my fellow students – we were a small gang of misfits who helped each other keep the faith (you need a gang to help you keep the faith!).
Leslie: What are the unwritten rules of scripting? How did you learn them? If you've broken them, why did you do that and where did you get the idea from?
Line: There are an unbelievable amount of paradigm books that want to tell you how to write, and some of them are useful to some people, some have bits in them that are useful at certain stages of the journey, but also sometimes, beyond the formatting technicalities of a script, learning when it's appropriate to break the rules takes time. I'm not sure how I learned this. I'm still learning. Rules are a bedrock for many in this business and elsewhere and once we break them it can feel like moving onto thin ice. But we all know when we watch something that feels 'rule breaking' and how exciting that is! Yet, that's hard to teach – I can't replicate someone else's rule-breaking or it will quickly become a norm. Learning to trust the story you want to tell takes time. Whilst also still being able to hear criticism and sift through what's helpful to make it better – this is important too! It's a life long journey…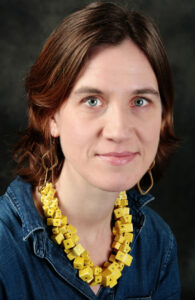 Leslie: How much of your personal experience, such as outdoor swimming, goes into your work? How far is your work a kind of autobiographical fiction?
Line: Somehow, there's been a lot of water running through my work, so maybe the swimming is always in there somehow! I've rarely done stories directly about it though. Maybe one day (commission me, haha…). I did do a half hour piece for Channel 4 some years ago as part of their Coming Up series, called Sink or Swim, which involved synchronised swimming, but that's as close as it's come. I'm not sure my life would be very interesting as a direct inspiration for a story! But one way or another, you're part of your work, whether it's as part of an individual character or an emotional storyline – we don't write in a vacuum, I think. Or my family background weaves its way into the storyline of a character, my parents, my grandparents, it's all fodder somehow…
Leslie: How has your dual identity as Danish and British contributed to your creative work?
Line: Hugely. As above, whether directly or indirectly, we bring ourselves to the table too. But the sense of being an outsider somehow has always been part of my work and looking back at who I have worked with or am working with, those have been the stories I have been attracted to – with people who are also interested in exploring that space. Clearly, as a white, cis-gendered, able-bodied woman I can fit into spaces that others can't, but deemed officially foreign (a sense of identity that has only increased in the last six years) I also move in that other space of neither here nor there. In Denmark I am somehow foreign too – I have now lived more of my adult life in the U.K than there. That sense of constant otherness can be painful at times, but it can be an interesting creative space – or that is how I now choose to think about it. A body permanently in exile, forever neither here nor there, this is also a grief that you need to learn to sit with in order for it not to paralyse you.
Next week I interview Stroud-based printmaker and artist Nat Morley about her unique processes, her protest art and her time spent with Barrel Well Aboriginal Community,
ABOUT LESLIE TATE'S BOOKS:
Love's Register tells the story of romantic love and climate change over four UK generations. Beginning with 'climate children' Joe, Mia and Cass and ending with Hereiti's night sea journey across Oceania, the book's voices take us through family conflicts in the 1920s, the pressures of the 'free-love 60s', open relationships in the feminist 80s/90s and a contemporary late-life love affair. Love's Register is a family saga and a modern psychological novel that explores the way we live now.
Heaven's Rage is a memoir that explores addiction, cross-dressing, bullying and the hidden sides of families, discovering at their core the transformative power of words to rewire the brain and reconnect with life. "A Robin Red breast in a Cage / Puts all Heaven in a Rage" – William Blake. You can read more about/buy Heaven's Rage here.
The Dream Speaks Back, written by Sue Hampton, Cy Henty and Leslie Tate, is a joint autobiography exploring imagination and the adult search for the inner child. The book looks at gender difference, growing up in unusual families and mental health issues. It's also a very funny portrait of working in the arts, full of crazy characters, their ups and downs, and their stories. You can buy a signed copy of The Dream Speaks Back here