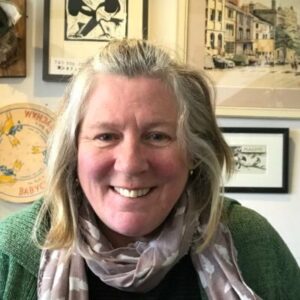 I interviewed printmaker Helen Peyton who handcrafts her lino/ woodcuts on an original Victorian printing press. Helen's Smart Gallery social museum and art gallery has been long-listed for the Turner Prize. She has created exciting popup exhibition & workshop spaces that allow the public to experience printmaking techniques hands on. Helen teaches art and design, and lives in Upper Wharfedale in the Yorkshire Dales.
Leslie: Why do you lino-print by hand on a Georgian printing press? What's special and creative about working this way?
Helen: My Columbian printing press is one of the most beautiful and iconic cast-iron presses of the modern world. Designed in America in 1813 by George Clymer but was not widely adopted so the patent was brought to Britain in 1817. It has an eagle counterbalance that flies when you print. It is the most joyful experience of the benefits of relief printing. Lino and woodcuts, especially reduction work need a relief press for registration and clarity between the colours.
Leslie: What's the story of you discovering that lino-printing was the art for you?
Helen: I was lucky enough to train under the tutelage of Bob Fraser at Duncan of Jordanstone College of Art using a Columbian printing press and learnt from a master. Linocutting absorbed my whole time and set me on a path that I have followed since.
Leslie: Can you describe how the Smart Gallery works, please? What roles do visitors and exhibitors play? How do you translate the story of a donated object into a single print?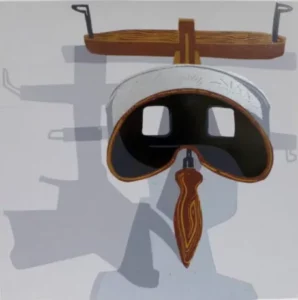 Helen: The premise of Smart Gallery (Social Museum and Art Gallery) is simple. It is a museum and exhibition space designed by and curated by the people that visit it. I developed the idea where I invite the public to loan objects that they would like to see in an exhibition and I make artworks and contemporary linocuts inspired by this collection. I chose which objects to turn into linocuts depending on my fascination with their story or a pleasing aesthetic that would transform into 2D.
The Smart Gallery premise is that the public dictate content, hanging, positioning, labelling, and curating with emphasis on condition and conservation. Workshops are chosen by visitors and sometimes, delivered by them too. Creative writing, type setting, cross stitch, knitting, printing, animation, linocutting, conservation, monoprint amongst may others are delivered on a daily basis with adult show-and-tell being a firm favourite. Starting from scratch this temporary museum returns all the visitors artefacts. A retrospective catalogue and website becomes its legacy. Engagement with the collection is key, opening up vital and varied discussions around collections, curating and archiving.
This Smart Gallery project was inspired after an extensive residency with Craven Museum & Gallery and my ongoing love of objects, their stories, histories and association to our emotions. I have worked closely with Galleries & Museum collections throughout my artistic life and have a fascination with why and how we collect, and within that, how and what engages us, how museums/galleries respond to that and what do we want from our public facilities?
Leslie: When you produce prints using objects from the past, is this a kind of historical preservation work? How do you bring the past alive, say something deeply personal and avoid nostalgia?
Helen: You tell the truth! Nostalgia is usually rose tinted, so without prejudice I produce my linocuts. To fully understand an object it helps to draw it, then you are forced to look at it properly, absorb all its detail, making original prints is an extension of that observation.
Leslie: How do your prints of the sky at night and ancient Yorkshire landscapes differ from your object-inspired work?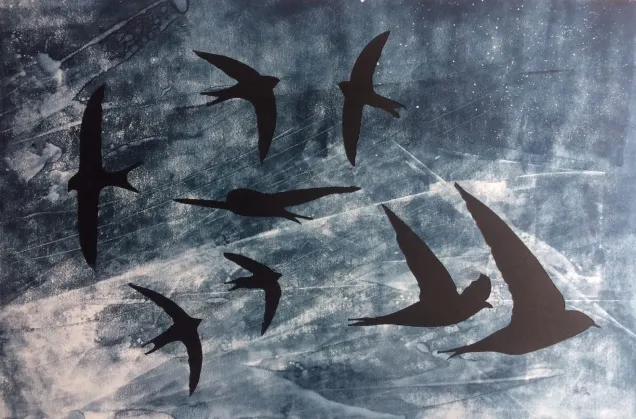 Helen: I use very different printing techniques when I am working with landscapes and night skies. Monoprints on lino are fluid and as expressive as the subject. This technique lends itself to the changing light and allows for a more creative approach. For my object inspired work I tend to use reduction linocutting which is precise and relies on technical skill, colour and registration rather than a purely personal and experimental approach.
I enjoy both techniques equally and, depending on the desired outcome, I use a variety of approaches and techniques, which in turn depend on the subject.
Next week I interview biographer of the Bloomsbury set and the Beat Writers, Regina Marler, who writes regularly for the New York Review of Books.
ABOUT LESLIE TATE'S BOOKS:
Love's Register tells the story of romantic love and climate change over four UK generations. Beginning with 'climate children' Joe, Mia and Cass and ending with Hereiti's night sea journey across Oceania, the book's voices take us through family conflicts in the 1920s, the pressures of the 'free-love 60s', open relationships in the feminist 80s/90s and a contemporary late-life love affair. Love's Register is a family saga and a modern psychological novel that explores the way we live now.
Heaven's Rage is a memoir that explores addiction, cross-dressing, bullying and the hidden sides of families, discovering at their core the transformative power of words to rewire the brain and reconnect with life. "A Robin Red breast in a Cage / Puts all Heaven in a Rage" – William Blake. You can read more about/buy Heaven's Rage here.
The Dream Speaks Back, written by Sue Hampton, Cy Henty and Leslie Tate, is a joint autobiography exploring imagination and the adult search for the inner child. The book looks at gender difference, growing up in unusual families and mental health issues. It's also a very funny portrait of working in the arts, full of crazy characters, their ups and downs, and their stories. You can buy a signed copy of The Dream Speaks Back here