I interviewed musician, songwriter and poet Katie Whitehouse who plays flute, guitar, piano and sings. Katie is the founder of music management and promotion agency From The Whitehouse, and Company of Song which runs retreats and workshops for songwriters. Katie, who lives in Totnes, talks about her connection to nature and own musical journey.
Leslie: Tell us about your how your interest in music first began, grew and developed. Who/which experiences have had the most influence on you – why them?
Katie: Music has always been there. As a child I used to while away time plinking around on the piano creating melodies and nice sounding chords or dancing around the room with my flute, dreaming up scenarios and accompanying my thoughts with random tunes. I would spend hours like this – on my own but in the good company of music – allowing what was in my head to flow out.
My father was a Classics teacher by day, and at home in the evenings he spent a lot of time writing in his study or composing or playing music at the piano. He was a very private man and I felt he didn't want people to listen, but I loved listening to him! So after supper (probably aged 6 to 8) I'd sneak into our empty living room without turning on the lights, tiptoe in and crawl under the baby grand and wait, quiet as a mouse – sometimes for what felt a very long while. I would finally hear the flick of the light switch and hold my breath as I counted my father's slow footsteps towards the piano. I would hear him sit down, lift the lid and finally begin to play. I was transported to what felt like heaven, surrounded by the smell of wood and the sounds of Mozart, Beethoven, Schubert and on rarer nights, Debussy… I remember the first time he played Claire De Lune and I knew this was somehow different. I still get that feeling of a new door opening when I hear Debussy now, and listening to and playing piano music has a profoundly relaxing effect on me to this day. The swirly patterns of the pink and grey carpet would merge with the flow of notes in my head as I would lose and find myself in the music.
Around that time I also remember my grandparents taking me to the theatre to see Gilbert & Sullivan's Mikado, where I was struck by the sound of the trio of Three Little Maids. This, along with weekly singing in the church choir, helped spark a lasting love of vocal harmonies and a capella singing. Music became a refuge, an escape from internal and external shadows. My love of songwriters came later, when I first heard Elvis Costello – this would have been on the school bus radio as Top of the Pops didn't feature in our family life – and was struck by his wordsmithery. I had always written poems, and scribbled words and phrases in notebooks, but didn't even think of writing a song until I was in my 40s and went on a workshop with Julian Marshall (of Marshall Hain). A floodgate of self-expression opened up then which has not stopped.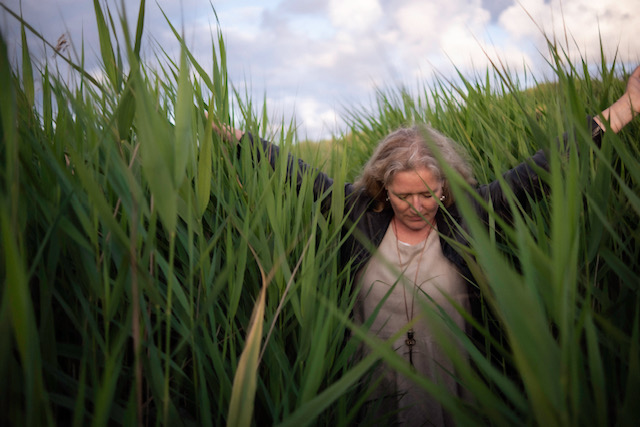 Like many others I have experienced intense imposter syndrome and insecurity throughout my life. My artist (ie myself and my art) was placed on the back burner for decades. I sometimes feel I have created massive (and very beautiful) distractions throughout my life at my own artist's expense – a complicated act of self-sabotage over the years! I have been a gymnast, interpreter, marketeer, massage therapist and an aromatherapy products manufacturer…. My journey finally began to turn back towards the world of music when I found that first song writing workshop and met Julian Marshall. Music has always been there as a backdrop, now it's forefront.
Doing The Artist's Way online during lockdown with three inspiring humans had an enormously positive impact on my creative narrative, and my perspective. Writing poetry, along with walking and yoga, are now all an integral part of my daily life and I no longer deny myself this need. Allowing the creative flow is as important as food for my wellbeing and nourishment. I slowly but steadily began to nourish and nurture my own artist, and she is now beginning to blossom. I will be eternally grateful to the author Julia Cameron and to those three artists who are now firm friends of mine.
I have just this week finished recording my first album – Drawing Lines – which I plan to release early 2023.
Leslie: How do songs come to you? What's the relationship between the natural world and your music? What does living in Totnes contribute to your music?
Katie: It's a visceral thing. There will be a phrase, a feeling or a line of melody, a sense of urgency, something that comes out of the blue or that I have overheard or read that nags me, tugs at my solar plexus and won't let me rest until the song is completed. It's the same with poetry. I absolutely have to capture (in that moment) those first thoughts/musical phrases/ideas either as voice notes on my phone or in the notebook that is my companion or it's lost!
Walking with the trees and along the river, or sitting and looking at the sea is where I feel most at peace, and where I often feel the ideas bubble up. During lockdown I got into a wonderful habit of walking into the sunrise every day and swimming in the river before doing Morning Pages (from The Artist's Way) and yoga when I return. This is now a part of my creative practice and an important to my well-being.
I feel a very strong connection to the trees, birds, sky and water here and these themes often emerge in my writing. I am very lucky to live here in Totnes where I only have to take a few steps and I am by the river. Totnes is also a very creative community. I feel sure that, had I stayed living in London 24 years ago, I would not have thrived and evolved in the way I have.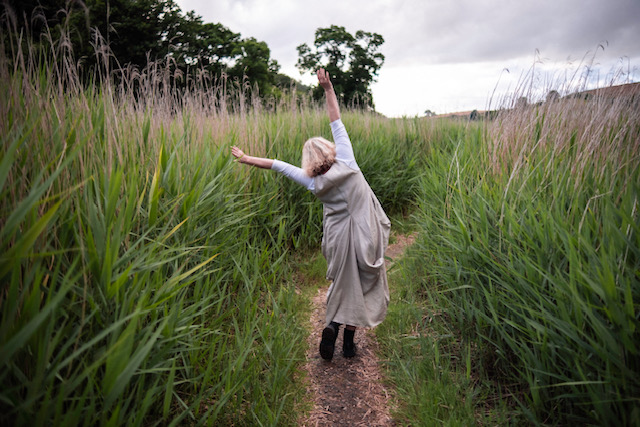 Leslie: How do you work with people in your song writing retreats/online courses? Can you describe the different approaches to creativity needed by different people?
Katie: I started creating and running song-writing workshops and retreats with Julian Marshall in 2010. We set up an organisation called London Song Company together, along with a wonderful musician and songwriter Paul Hussle. I learnt so much from working with Julian, who now teaches with the Institute of Contemporary Music and Production in London. I was keen to continue along the less formal and non-academic path and so I set up Company of Song in 2018.
I love crafting retreats and workshops – whether online or in person, each one will be a varied mix of creative group work, one-to-one attention and ideas for individuals to work on privately. There is no 'one size fits all' and so our approach at Company of Song is also multi-faceted, the aim being to facilitate an environment that allows each individual to feel supported and comfortable enough to dig deep and explore new ground in their song writing. Songwriters often get stuck in their ways and part off what we do is suggest new approaches. I also enjoy bringing in wonderful professional songwriter facilitators to run/teach. I'm the glue – I leave the teaching to the experts.
There will always be a walk included (space to connect with nature), a meditation and an invitation to free writing, and each evening we make time to relax and share songs. We encourage beginners to work alongside the more experienced writers: we can all learn from one another and some of the most wonderful songs and breakthroughs emerge from unlikely collaboration.
Leslie: What are you looking for as a music agent/promoter/manager? What skills do you most often need to develop in your clients?
Katie: At From The Whitehouse we work with musicians who resonate with us as human beings as well as musically. It's as simple as that. We begin a journey together with an overall destination and milestones along the route, whilst remaining open to change and flexibility along the way. Playing to strengths and being clear about each artist's uniqueness is as important as developing new skills, such as planning and developing a strategy for communication.
The most important thing to me is to be making a difference in this world, so I work with musicians who inspire and move people through their work. Humans who have a social conscience as well as being incredibly talented.
Leslie: Who are the top seminal musical acts for today that you'd like to introduce the reader to? What's special/unique about each act you've mentioned, please?
Katie: I could truly include any of the musicians we work with at From The Whitehouse but, if I must choose then here are two:
I will first point you to the flautist Eliza Marshall, who plays with the likes of Peter Gabriel and Paul MacCartney, and who more recently has spearheaded an incredible and far reaching project – Freedom To Roam – celebrating positive solutions to today's problems through music, film and visual art. Climate change, compassion, human migration, animal rights, biodiversity, rewilding, mental health, our relationship to the land and each other all constellate within and around this far-reaching project..
Eliza is extremely talented and a positive force for good in the world.
And the true modern troubadour Reg Meuross – who was the first musician I took on, and actually the reason From The Whitehouse exists.
The breadth and depth of Reg's material is unparalleled in contemporary folk: songs about forgotten heroes, famous names, folk legends, the climate emergency, tales from the kitchen sink and news from the world stage; if something needs to be sung about then Reg Meuross has a song for it. He is not afraid to speak out if something needs to be said, and yet his delivery is always beautiful, never from a soap box. And I think this makes some of the difficult subject matter in his songs easier for people to digest. Next year he will be releasing Stolen From God – a song cycle about England's involvement in the Slave Trade.
Next week I interview international poet and translator Mark Statman about Hechizo, his 11th published collection.
ABOUT LESLIE TATE'S BOOKS:
Love's Register tells the story of romantic love and climate change over four UK generations. Beginning with 'climate children' Joe, Mia and Cass and ending with Hereiti's night sea journey across Oceania, the book's voices take us through family conflicts in the 1920s, the pressures of the 'free-love 60s', open relationships in the feminist 80s/90s and a contemporary late-life love affair. Love's Register is a family saga and a modern psychological novel that explores the way we live now.
Heaven's Rage is a memoir that explores addiction, cross-dressing, bullying and the hidden sides of families, discovering at their core the transformative power of words to rewire the brain and reconnect with life. "A Robin Red breast in a Cage / Puts all Heaven in a Rage" – William Blake. You can read more about/buy Heaven's Rage here.
The Dream Speaks Back, written by Sue Hampton, Cy Henty and Leslie Tate, is a joint autobiography exploring imagination and the adult search for the inner child. The book looks at gender difference, growing up in unusual families and mental health issues. It's also a very funny portrait of working in the arts, full of crazy characters, their ups and downs, and their stories. You can buy a signed copy of The Dream Speaks Back here